Disney faces LGBTQ+ test, Facebook accused of sharing abortion-related data and low levels of trust in CEOs
Also: Away luggage company uses old TikTok trend to get fresh engagement.
Hello, communicators:
Luggage company Away took an old TikTok trend and made it new again, resulting in a video that garnered more than 2,000 likes and over 27,000 views. It's most views an Away TikTok has reached since April of this year.
In the video, an Away suitcase takes on a "Mamma Mia" trend, riffing on Amanda Seyfried's now-iconic ocean-side singing scene in which she rolls around in the sand, singing "Lay All Your Love On Me" by ABBA. The suitcase rolls along the beach to the song until someone throws it into the water — inadvisable, for the record, given the luggage has a built-in battery.
It's a great example of taking on an older trend and making it new again, as evidenced by the high engagement on the video.
Here are today's other top stories:
Facebook faces another data privacy scandal
A new report from Reveal from The Center for Investigative Reporting and The Markup accuses Facebook of allowing controversial "crisis pregnancy" centers to share data about abortion seekers as well as allowing advertisers and other organizations to access that data.
From Reveal News:
Using Blacklight, a Markup tool that detects cookies, keyloggers and other types of user-tracking technology on websites, Reveal analyzed the sites of nearly 2,500 crisis pregnancy centers – with data provided by the University of Georgia – and found that at least 294 shared visitor information with Facebook. In many cases, the information was extremely sensitive – for example, whether a person was considering abortion or looking to get a pregnancy test or emergency contraceptives.
Facebook spokesperson Dale Hogan gave a statement to Reveal and The Markup:
It is against our policies for websites and apps to send sensitive information about people through our Business Tools. Our system is designed to filter out potentially sensitive data it detects, and we work to educate advertisers on how to properly set up our Business Tools.
Reveal writes that Facebook "declined to answer detailed questions about its filtering systems and policies on data from crisis pregnancy centers."
Why it matters: Facebook's issue with data privacy is nothing new, but the report shows that this most recent example could have significant consequences for Facebook users. News like this continues to batter the tech giant's reputation, which has already taken hits related to user data privacy and ethics.
---
MEASURED THOUGHTS
New research from Morning Consult pegs company CEOs as the least trustworthy institution in the United States — especially for Gen Z.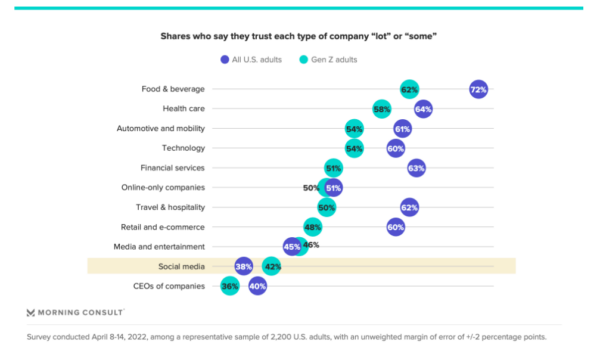 Just 40% of poll respondents said they trust company CEOs "a lot" or "some," trailed by 36% of Gen Z respondents who said the same.
It's a damning indictment of corporate America's attempts to regain and build trust with its audiences and stakeholders, especially as the country could be heading into an economic recession. PR pros, the data is a good reminder that CEO comms should be an integral part of your trust and purpose messaging.
Disney faces LGBTQ+ censorship decision with release of "Lightyear"
Disney will likely have decisions to make about whether to cut a scene in its new animated movie, in which two same-sex characters kiss, in order to placate socially conservative countries.
The United Arab Emirates has banned "Lightyear" from public screenings, and Malaysia has asked Disney to cut several scenes from the film before it can be shown in local cinemas, according to officials in the Muslim-majority countries.

In Indonesia, the nation with the world's largest Muslim population, the chairman of the Film Censorship Board told The New York Times on Wednesday that the kissing scene could potentially violate a law that prohibits movies that show "deviant sexual behavior."
Earlier this year, Disney cut and then restored the scene following pushback from LGBTQ+ employees and allies at Pixar.
"The decision marks a possible major turning point for LGBTQ representation not just in Pixar films, but in feature animation in general, which has remained steadfastly circumspect about depicting same-sex affection in any meaningful light," Variety's Adam B. Vary wrote at the time.
Why it matters: Disney faces an important decision, one that audiences will likely take as choosing profit or values. It's a good reminder to PR pros that drawing on your past decisions — and mistakes — will help your organization make better moves in the future.
COMMENT