Facebook responds to 'Facebook Papers' coverage, LinkedIn shares ads tips, and Microsoft identifies Russian hackers
Also: Kit-Kat launches Halloween costume contest, Hertz buys 100,000 Tesla cars, Home Depot stops selling security cameras linked to Chinese surveillance, and more.
Hello, communicators:
Kit Kat candy is launching a contest on that will gift a giant, four-person Kit Kat costume to one winning group. Hopeful winners can tag three people who they would like to share the costume with on Kit Kat's Instagram or Facebook channel, and the brand will select one winning group.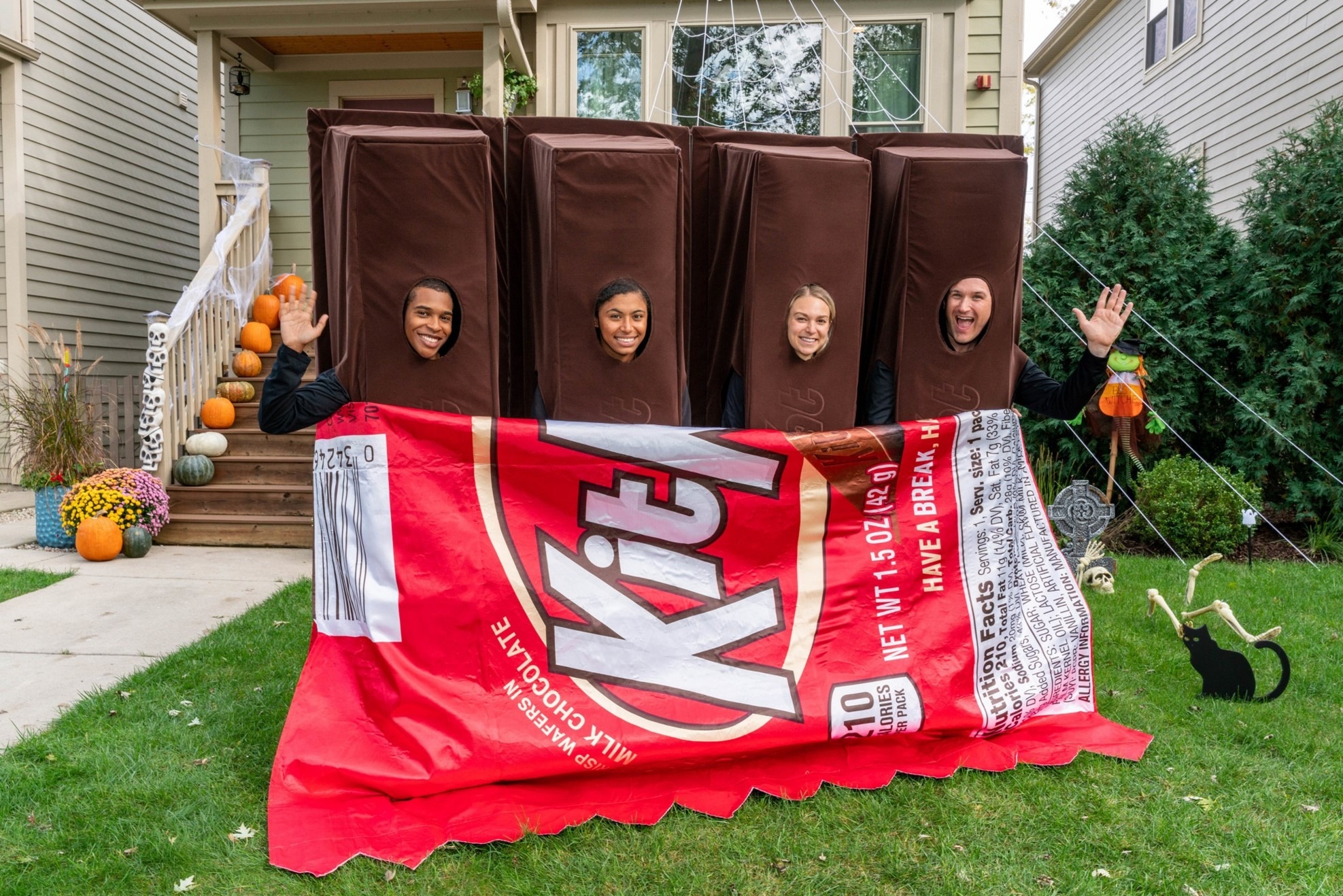 "Group costumes can be really hard to choose when you have so many people that need to agree, but luckily everyone loves and can agree on Kit Kat," senior brand manager Benita Chang-Godoy said in a press release. "It's time to bring the perfect four-person Halloween costume that is a show-stopper to wear together but also really fun to break apart."
Kit-Kat's campaign finds a clever way to solidify its status as a classic, fun-sized Halloween candy by identifying and capitalizing on the group costume trend for this year's spooky celebrations. The requirement to enter this contest by tagging friends, meanwhile, highlights the potential for exponential engagement by gamifying your message on social media contests.
Here are today's top stories:
Facebook preempts release of 'Facebook Papers' stories
A consortium of 17 news organizations published deep dives into what are being called "The Facebook Papers," a trove of documents that contain redacted disclosures made by Facebook whistleblower Frances Haugen to the SEC. Consistent among each publication's takeaways were the conclusions that Facebook didn't do enough to prevent the Jan. 6 insurrection, that Facebook prioritizes profit and user engagement over user safety, that Zuckerberg's statements about the platform's mission conflict with the findings of its internal research, and that Facebook fails to adequately monitor content on its platform around the world.
Though most stories on The Facebook Papers were published on Monday, Facebook VP of communications John Pinette released an anticipatory response nearly a week before the latest revelations broke:
A curated selection out of millions of documents at Facebook can in no way be used to draw fair conclusions about us. Internally, we share work in progress and debate options. Not every suggestion stands up to the scrutiny we must apply to decisions affecting so many people.

— Facebook Newsroom (@fbnewsroom) October 18, 2021
Facebook also shared two blog posts pushing back on specific claims. The first denied the accusation that Facebook bears any blame for enabling the events of Jan. 6.
To blame what happened on January 6 on how we implemented just one item of the above list is absurd. We are a significant social media platform so it's only natural for content about major events like that to show up on Facebook. But responsibility for the insurrection itself falls squarely on the insurrectionists who broke the law and those who incited them. We worked with law enforcement in the days and weeks after January 6 with the goal of ensuring that information linking the people responsible for it to their crimes is available. Of course there are always lessons to be learned from the work we do to protect elections and respond to immediate threats and longer-term challenges. We will apply these lessons as we continue doing all of this work.
Facebook also published a blogpost refuting claims that it has failed to police content across the globe, explaining how it approaches foreign crises from a content moderation perspective:
In a crisis, we will determine what kind of support and teams we need to dedicate to a particular country or language, and for how long we need to keep them in place. This might include deploying our Integrity Product Operations Centers model to monitor and respond to threats in real time. It can also include seeking to ensure our integrity systems and resources are robust and ready where there may be ongoing risk of political unrest, or building temporary product levers ahead of a protest or a culturally sensitive event — all while ensuring that we have teams ready to support unplanned events, such responding to the coup in Myanmar.

We know that we face a number of challenges with this work and it is a complex and often adversarial space — there is no one-size-fits-all solution. Many of these offline issues have existed for decades or longer, and media services have a long history of being abused by those seeking to assert or maintain power or incite violence. But, we know our work to keep our global community safe will never be finished and it requires ongoing vigilance and investments. That's what we've done for many years and we will continue doing it going forward.
What it means:
Facebook's blog post about the Jan. 6 insurrection makes good use of the blog post format by going into specific actions it has taken that might disprove critics claims. Yet, outright defiance might not be the best approach for the company facing so many questions at once. Only at the end does the first post acknowledge that there were lessons to be learned from its experience with the Capitol riots, nor does it offer a tangible example of one previous policy, procedure or partnership that could be reformed.
Facebook's post about failing to police content across the globe, meanwhile, goes deeper into its strategic crisis protocols for supporting countries in crisis that read as a rare, revelatory look into company operations.
While Facebook took its time responding to the Wall Street Journal's investigative "Facebook Files" series last month, Pinette's proactive pre-publication response offers stakeholder assurance that the social network's communications cadence has picked up the pace to meet its latest crisis.
That statement itself, however, where it accuses participating outlets of conspiring against the company, comes across as fanciful. It's a reminder about the importance of holding statements in crisis communications, as if we needed another reminder.
---
MEASURED THOUGHTS
LinkedIn released a new infographic that breaks down how you can best use its ad tools for different campaign objectives and the specific aspects of LinkedIn you should use for each stage in the conversion funnel.  The infographic also offers specific tips for each stage in the funnel such as showing those who watched under half of a video ad a shorter ad next time and using a "conversation ad" or message ad to retarget those who filled out a lead-gen form for content downloads.

Though geared toward marketers, LinkedIn's infographic highlights specific points in the audience conversion funnel where your core competencies as a communicator, such as conversation ads during the awareness phase, are most needed.
Check out the full infographic here.
---
TACTICALLY SPEAKING
Hertz has announced that it will purchase 100,000 Tesla cars, converting more than 20% of its rental fleet to the electric vehicles over the next year. As the news pushed Tesla's market cap over $1 trillion, Elon Musk celebrated on Twitter:
Wild $T1mes!

— Elon Musk (@elonmusk) October 25, 2021
Hertz touted the announcement as a future-forward investment in customer experience and announced a partnership with NFL quarterback Tom Brady as part of the campaign.
According to its press release:
"Electric vehicles are now mainstream, and we've only just begun to see rising global demand and interest," said Hertz interim CEO Mark Fields. "The new Hertz is going to lead the way as a mobility company, starting with the largest EV rental fleet in North America and a commitment to grow our EV fleet and provide the best rental and recharging experience for leisure and business customers around the world."

…"Hertz is changing the game when it comes to the future of mobility and has come through for me time and time again," said Tom Brady. "Although the company has been around for over 100 years, their constant evolution, especially now, is something that is amazing to be a part of. I've been driving an EV for years and knowing Hertz is leading the way with their electric fleet speaks to how the world is changing and the way companies are approaching being environmentally and socially conscious."
By positioning its electric vehicle commitments around customer experience, Hertz's messaging moves away from heavy-handed messaging around sustainability to frame the investment as a wise, future-proof decision made with its customers in mind. By partnering with Tom Brady to hammer home the sustainability messaging, Hertz hopes to tap into audiences that are not already convinced about the need for sustainability and green technology.
---
CRISIS COMMUNICATION
Best Buy, Home Depot and Lowes have stopped selling security cameras by Lorex and Ezviz after Tech Crunch reported that the brands' parent companies supply the Chinese government with surveillance technology.
In a statement to TechCrunch, Home Depot said it's "committed to upholding the highest standards of ethical sourcing and we immediately stopped selling products from Lorex when this was brought to our attention." Home Depot also stopped selling Ezviz products, a spokesperson confirmed. Best Buy said it was "discontinuing its relationship" with both Lorex and Ezviz.

When reached for comment, a Lorex spokesperson said: "Lorex is fully transparent with our retail partners about our ownership and have been since the acquisition in 2018. We are also regularly in touch with representatives of those companies in regard to various regulatory and compliance issues, including addressing any questions they have about the FCC's proposed rulemaking."
By calling out its standards for ethical sourcing, Home Depot's messaging acknowledges the wide reach of its values that speaks to the reality of a global supply chain. Lorex's statement, meanwhile, highlights the importance of being transparent with your partners about the other companies with which you do business—but fails to address whether the brand disclosed its parent company's relationship with the Chinese government.
---
TAKE OUR SURVEY
If you're looking for benchmark data to show your bosses the next time you ask for a raise, lend us a hand—and help yourself and your peers while you're at it. Participate in Ragan's Salary & Workplace Culture Survey, a comprehensive look at salaries, benefits, culture, bonuses and other aspects of the job in a fast-moving industry.
Both internal and external communicators are encouraged to participate.
By taking part, you will receive a $150 discount to a Ragan virtual conference of your choice and be entered to win one of five $50 gift cards. All who complete the survey will receive a full report on the findings. Responses are anonymous.
Microsoft names hackers behind planned global IT supply chain attacks
Microsoft has revealed that Russian hacking group Nobelium is targeting tech companies that provide cloud computing services. Nobelium was also behind last year's massive cyberattack on the SolarWinds company, of which Microsoft was a victim.
"Nobelium has been attempting to replicate the approach it has used in past attacks by targeting organizations integral to the global IT supply chain," Tom Burt, Microsoft's Corporate Vice President of Customer Security & Trust, said in a blog post on the company's website. "We believe Nobelium ultimately hopes to piggyback on any direct access that resellers may have to their customers' IT systems and more easily impersonate an organization's trusted technology partner to gain access to their downstream customers," he added.

A senior Biden administration official declined to comment on who it believed was responsible for the latest attacks. But in responding to the latest news from Microsoft, they pointed out that the hacking attempts were both unsophisticated and largely unsuccessful, unlike the SolarWinds campaign, which involved a complex intrusion using a software update which impacted an indiscriminate number of victims.

"Broadly speaking, the federal government is aggressively using our authorities to protect the Nation from cyber threats, including helping the private sector defend itself through increased intelligence sharing, innovative partnerships to deploy cybersecurity technologies, bilateral and multilateral diplomacy, and measures we do not speak about publicly for national security reasons," said the senior administration official.
Why it matters:
Microsoft's thorough statement stands in contrast to the federal government's "broadly speaking" response as an example of proactive cybersecurity communications. It also demonstrates how sharing proprietary industry knowledge with the wider community can highlight your brand's purpose commitments and values.
In any case, this news makes the argument for your brand or organizations composing a strategic framework for cybersecurity risk communications and doesn't rely on recent government cybersecurity regulations to be effective.
COMMENT
One Response to "Facebook responds to 'Facebook Papers' coverage, LinkedIn shares ads tips, and Microsoft identifies Russian hackers"
Ronald N Levy

says:

To consider the pro-Facebook side of this story, look one at a time at the five accusations:

.1. "Facebook didn't do enough to prevent the Jan. 6 insurrection."

TRUTH: It's like blaming Americans for not doing enough to prevent crime in America. It's our country but it's not our job, and realistically not something we can do, to prevent all crime in America. Facebook did things and Americans do things, and we certainly have too many shootings and too much crime, but honestly who can say that Facebook and Americans are guilty for not doing more and more?

.2. "Facebook prioritizes profit and user engagement over user safety."

TRUTH: Every dollar of profit of every company could have been spent, instead of being profit, on user safety. Every car company, every airplane maker, and every manufacturer of other things could spend more on user safety but honestly, when companies large and small don't spend every possible dollar on user safety, does that make them all guilty or is that normal and how it should be? Most of us as individuals give to good causes but
who can say whether we give enough or not enough?

.3. "Zuckerberg's statements about the platform's mission conflict with the findings of its internal research."

TRUTH: Thousands of times a year, maybe millions, the opinions and decisions of chairmen differ from the opinions of their boards, advisory committees, and internal research which is one reason chairmen are paid big bucks instead of decisions being made by boards and committees. If you have a top job like that, it's your duty and not a crazy idea to do what you think best.

.4. "Facebook fails to adequately monitor content on its platform around the world."

TRUTH: Some people may think they monitor too much, like feeling "who's Facebook to control what people can say," some people may think they monitor too little, and no one may be able to say for sure how much monitoring is exactly right.

.5. The Facebook statement "where it accuses participating outlets of conspiring against the company, comes across as fanciful."

TRUTH: This PR Daily report has no statement that I can see accusing outlets of conspiring against the company.

Bright as Facebook PR people are, they may be failing to recognize a hugely important PR reality and to do a hugely important thing to protect Facebook from losing billions of dollars because of unduly restrictive regulations and excessive taxes.

The REALITY is that the public will judge Facebook not on debating points—what accusers say and how well or badly Facebook PR answers—but partly on how much the public LIKES Facebook.

The PROTECTIVE OPPORTUNITY Facebook isn't using is to do such a huge good deed for the public so that over 150 million Americans would become big fans of Facebook. Imagine if TV and newspapers worldwide show Zuckerberg, pandemic expert Dr. Anthony Fauci and cancer expert Dr. Andrew Zelenetz. They announce to find a CANCER VACCINE that may save the one in every five people who now die of cancer, Facebook is donating a BILLION dollars over the next five years to America's Memorial Sloan Kettering Cancer Center.

A billion to try saving our lives from cancer!

Would 150 million or more Americans become fans of Facebook? Would most Washington political leaders stay a mile away from attacking Facebook or reducing the company's ability to afford the health-protection research?

Even without donations a good case can be made for Facebook. A billion spent to protect the public with a cancer vaccine could lead to MANY billions saved because a grateful public is protective. So is the common sense of political leaders.