ESPN cuts 500 jobs, TikTok users create fan videos for election analysts, and Starbucks' holiday cups are here
Also: The Washington Post responds to election anxiety with snarky TikToks, an e-commerce trends chart through COVID-19, Tesla sells out of its branded tequila, and more.
Hello, communicators:
Starbucks' holiday cups have arrived, and the coffee chain is giving away limited-edition cups today with holiday purchases:
From us, to you – holiday through and through. 🎁 We're gifting limited-edition Starbucks Red Cups tomorrow, November 6 with purchase of any holiday handcrafted beverage. While supplies last at participating U.S. and Canada stores. Quantities are limited. pic.twitter.com/6Kvapi1uY2

— Starbucks Coffee (@Starbucks) November 5, 2020
Though the cups have caused backlash in the past, this year's announcement has been met with positivity and lots of social media engagement.
Here are today's top stories: 
ESPN cuts 500 jobs
The sports media company's president, Jimmy Pitaro, announced in a memo that it was laying off 300 employees—6% of its workforce. An additional 200 open positions are being eliminated.
"Prior to the pandemic, we had been deeply engaged in strategizing how best to position ESPN for future success amidst tremendous disruption in how fans consume sports," Pitaro said in the memo. "The pandemic's significant impact on our business clearly accelerated those forward-looking discussions."
Pitaro also wrote in his memo that ESPN have already cut costs through furloughs, budget cuts and executive salary reductions. However, with COVID-19 delaying sports seasons and limiting fans at games, ESPN is continuing to struggle. Focusing on its streaming platform will probably become its laser focus.
The Los Angeles Times reported:
ESPN has successfully launched a streaming product—its service ESPN+ has 8.5 million subscribers—but still gets the bulk of its revenue from fees paid by cable and satellite operations that carry its channels. Cord-cutting and a shift by younger consumers away from TV subscriptions continue to erode that revenue source. Households with pay TV, most of which carry ESPN, have been on a steady decline from their peak in 2010.
Why it's important: As consumer behaviors continue to shift during COVID-19, organizations should strengthen their offerings and prepare for the future by focusing on digital-first content, messages and engagement. These changes are here to stay, and consumers across demographics will continue to look up information, ask questions, seek recommendations, purchase and even complain across digital media channels.
---
TACTICALLY SPEAKING
Tesla recently released branded tequila, which comes in a bottle shaped like a lightning bolt and engraved with its name. The offering, priced at $250, has already sold out.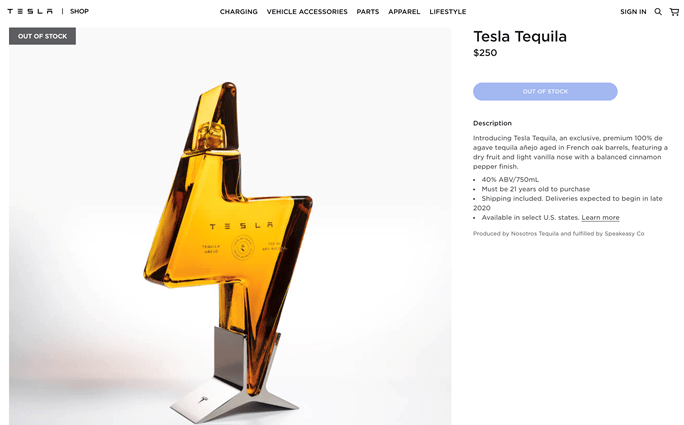 This is not the first time Tesla's raised eyebrows with its choice of merchandise. Earlier this year, the company took to selling mini red gym shorts on its website, in a playful hit back at investors who had "shorted" Tesla, or bet that its stock would drop. Each pair was priced at $69.420.
What do you think of the wacky product offering? Share your thoughts with us under the #DailyScoop hashtag.
---
SOCIAL BUZZ
Twitter banned Steve Bannon's account after the former advisor to President Donald Trump said Christopher Wray, FBI's director, and Dr. Anthony Fauci should be beheaded.
A Twitter spokesperson confirmed to CBS News that, "The @WarRoomPandemic account has been permanently suspended for violating the Twitter Rules, specifically our policy on the glorification of violence." A Twitter source added, "We have policies in place that address clear threats of violence, abuse and harassment, and hateful conduct. If we identify any accounts or content that violate these rules, we'll take enforcement action."
The social media platform is also continuing to crack down on tweets spreading misinformation, including some from President Donald Trump, labeling and even hiding some with warnings about misleading statements surrounding the presidential election.
---
MEASURED THOUGHTS
GroupM released a second report in its series: "E-Commerce Post COVID-19 Lockdown: Where Should Brands Go From Here?" In it, the agency revealed e-commerce trends throughout the Southeast Asia market, which can provide a jumping-off point for consideration of e-commerce trends worldwide: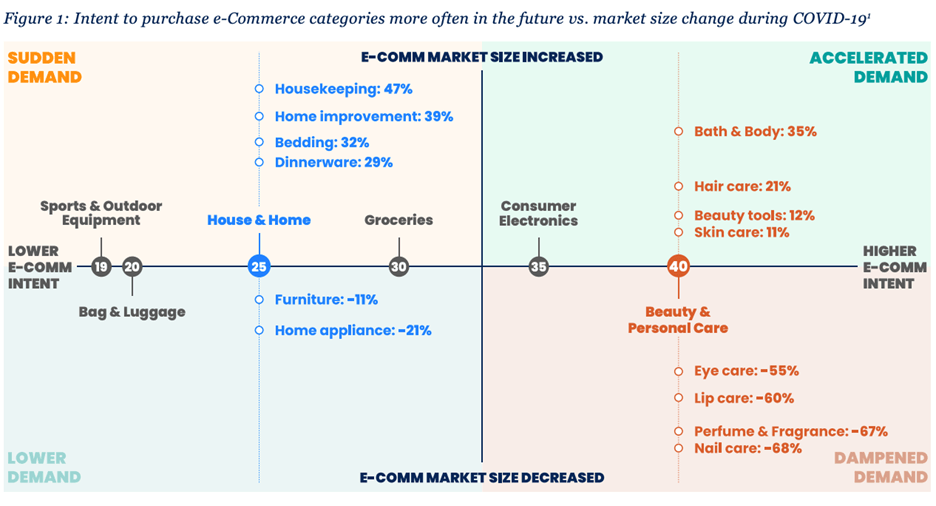 The report also showcased several organizations that are bridging the gap between e-commerce and in-person shopping, which can give PR and marketing pros additional inspiration during COVID-19:

You can view the entire report here.
---
CRISIS LEADERSHIP NETWORK
Looking for more insight on how to address the current global crisis and lead your organization into a strong recovery?
Join Ragan's Crisis Leadership Network to network and brainstorm with peers, get the latest intelligence and research and start to strategize for the future of your organization.
Learn more about this exclusive membership here.
TikTok users lavish CNN and MSNBC analysts with admiration
TikTok users are responding to the United States' 2020 presidential election by creating "fancam" videos—compilations of admired celebrities and public figures set to music. This time, the videos aren't reality-show stars or singers. Instead, TikTok users are focusing on political analysts—namely, CNN's John King and MSNBC's Steve Kornacki.
TikTok users usually create fancam videos to celebrate pop stars. But some are now focusing their adulation on US election analysts. https://t.co/3sFgusPCY6

— CNN (@CNN) November 6, 2020
A simple search on TikTok highlights just how popular these famcams have become.

The hashtag #johnking has 2.5 million views; #stevekornacki has 81,600 views; and #election2020 — which of course encompasses more than just election analyst-related videos — has 1.1 billion views. (TikTok did not immediately respond to a CNN Business request for comment.)
MSNBC tweeted a response, which featured a video of Kornacki thanking viewers for their efforts and kudos:
A message from @SteveKornacki. #TrackingKornacki pic.twitter.com/pY7hl6KAVc

— MSNBC (@MSNBC) November 4, 2020
Why it matters: This year's presidential election was the first time that Gen Z voters were able to cast their ballots, with Pew Research Center reporting that 10% of eligible voters are Gen Z—compared with 4% in 2016. Whether they're part of what analysts say are record-breaking vorting numbers this year, Gen Z consumers are actively listening and responding to current events as they unfold. If you're not considering ways of reaching this demographic with your content and campaigns, you might want to reconsider.
---
SOCIAL BUZZ
Dave Jorgenson, producer and writer of creative video for The Washington Post, has created nearly 20 election-themed TikTok videos this week:
Today's second @washingtonpost quarantine TikTok features important election week information https://t.co/kFMxgM7wmD pic.twitter.com/wUORvUWh6H

— Washington Post TikTok Guy 🦃 (@davejorgenson) November 3, 2020
Several of them focus on the delayed results and nation's collective anxiety, but approach the news with a snarky and humorous twist:
(342/?) pic.twitter.com/B4Tiwi6D6o

— Washington Post TikTok Guy 🦃 (@davejorgenson) November 6, 2020
I will not be making breakfast tomorrow, Nevada. pic.twitter.com/n1uhwAgRTS

— Washington Post TikTok Guy 🦃 (@davejorgenson) November 6, 2020
Today's first @washingtonpost quarantine TikTok features my laptop https://t.co/NZ5tnU5Ctr pic.twitter.com/h4eAiDZ8ga

— Washington Post TikTok Guy 🦃 (@davejorgenson) November 6, 2020
The videos, which especially appeal to younger voters, are racking up the views on TikTok and Twitter. Though the effort is a success, Jorgenson's peek behind the scenes of content creation is something that resonates with many social media pros:
The inside of my brain after making 17 election week TikToks (so far) pic.twitter.com/U7XlSzQcNM

— Washington Post TikTok Guy 🦃 (@davejorgenson) November 6, 2020
---
CATCH UP WITH OUR REPORT
More than half (57%) of social media managers say they plan to leave their current position within two years, according to a new survey from the Institute for Public Relations, Ragan Communications and the University of Florida. Though these managers are ambitious, the career path to social media leadership roles remains unclear.
The report sheds light on social media pros' career trajectory as well as the challenging lack of resources and employee burnout that's on the rise. Check out the findings here.
To learn more about how to prepare for the future of social media and more, join us at Ragan's Future of Communications Conference, Nov. 10-11.  You'll learn from PR, social media, marketing and internal communications experts about the top trends and what's on the horizon for the industry.
---
EDITOR'S PICKS
Many retail and e-commerce companies have already launched Black Friday deals to boost holiday shopping revenue, including Walmart, Target, Amazon and Lowe's. You can follow their proactive lead by securing gifts for those on your list early, whether you're looking to show customers and clients gratitude or you're selecting items for employees, friends or family.
Consider these gifts:
---
WHAT YOU SAID
We asked which networking activity you're embracing the most during COVID-19, and more than half of you (51%) are turning to virtual events, while roughly 27% are leaning on Twitter and nearly 20% focus on LinkedIn and Facebook groups:
What networking activity have you leaned into the most during COVID-19, PR and comms pros?

Weigh in below and we'll share in tomorrow's #DailyScoop.

— PR Daily (@PRDaily) November 5, 2020
ARPR said it even held a virtual wine and cheese tasting, so don't be afraid to get creative when digitally connecting with industry peers. You can also check out these ideas for networking during COVID-19.
We have been leaning into webinars and virtual events. Earlier this year, we held a virtual wine and cheese tasting for our team and clients!

— ARPR (@AR__PR) November 5, 2020
Is there a question you'd like us to ask in an upcoming poll? Let us know!
---
SOUNDING BOARD
Do you have video-conferencing equipment (such as a microphone or light) as you WFH?
Do you have video-conferencing equipment (such as a microphone or light) as you WFH?

Share your thoughts (and Zoom tips) below, and we'll share in Monday's #DailyScoop.

— PR Daily (@PRDaily) November 6, 2020
Share your thoughts with us below and under the hashtag #DailyScoop, and we'll share the results in Monday's roundup.
Editor's note: Ragan Communications may earn a commission through our affiliate partnerships when purchasing items in our content.
COMMENT
One Response to "ESPN cuts 500 jobs, TikTok users create fan videos for election analysts, and Starbucks' holiday cups are here"
Katelyn Lambert, Writer/Editor for Platform Magazine

says:

I cannot agree with you more about gearing content and campaigns to Gen Z. They are the ones most active on the internet and social media right now. For most, it is where they go to get all of their news. I myself saw the "fancam" TikToks and thought they were great. Thanks for sharing!