Facebook responds to WSJ investigative series, consumers prefer user-generated content, and Amazon cracks down on fake reviews
Also: Communications lessons from the 2021 Emmys, Clubhouse hires head of news, and Sears announces restructuring plans.
Hello, communicators:
The 73rd Primetime Emmy Awards offered no shortage of communications takeaways.
Seth Rogen made headlines for emphasizing the importance of communicating COVID-19 safety measures with transparency when hosting a live event:
That moment when Seth Rogen is more concerned about Covid safety, his fellow actors' lives and sending the right message to CBS's aging viewers than @CBS itself. #Emmys pic.twitter.com/EB7MHEDEPq

— Richard Hine (@richardhine) September 20, 2021
Seth Rogen on the packed, mask-less #Emmys: "I would not have come to this. Why is there a roof? It's more important that we have three chandeliers than that we make sure we don't kill Eugene Levy tonight. That is what has been decided." https://t.co/97xW7wkINK

— The Daily Beast (@thedailybeast) September 20, 2021
People celebrated actor Sarah Paulson for going on Instagram Live to broadcast her "American Horror Story" costar Evan Peters as he won his first Emmy for Outstanding Supporting Actor in a Limited Series for his role in "Mare of Easttown."
Sarah Paulson reacts to Evan Peters winning his first Emmy via Instagram Live. pic.twitter.com/lN6FGncrrM

— Film Updates (@FilmUpdates) September 20, 2021
Sarah Paulson posts a sweet message to Evan Peters after his "Mare of Easttown" Emmy win: "My brother. You have always deserved this. I love you." #Emmys pic.twitter.com/8pyk8qoIRT

— The AHS Zone (@ahszone) September 20, 2021
Sarah Paulson going live on Instagram to gush about Evan Peters and give us the deets about is all I needed to start my day.

— Sarah Joy ✨ (@SuupremeElise) September 20, 2021
#EmmysSoWhite began to trend when the night wore on and no actor of color took home an award:
#EmmysSoWhite: The Emmy Awards were unable to capitalize on its historic and diverse nomination fields, with all major acting trophies going to white actors. https://t.co/vHxKrc4bnp pic.twitter.com/GpaikiyhPv

— Variety (@Variety) September 20, 2021
Not a single Black actor won tonight.
Not a single Asian actor won tonight.
Not a single Latino actor won tonight.
Not a single LGBTQ+ actor won tonight.

A sweep of white, cis, straight actors actors the board. #Emmys

— Myles Worthington (@MylesTW) September 20, 2021
Meanwhile, Michaela Coel made history as the first Black woman to win the Emmy for limited series writing for "I May Destroy You." Her speech, dedicated to all survivors of sexual assault, was also the most celebrated of the night as Coel emphasized the importance of writing what scares you and the way that society equates visibility with success:
Michaela Coel: "I dedicate this to every single survivor of sexual assault." https://t.co/uFzpvgBhQQ pic.twitter.com/vOr6ltA2Mi

— British Vogue (@BritishVogue) September 20, 2021
"visibility these days seems to somehow equate to success. do not be afraid to disappear. from it. from us. for awhile. and see what comes to you in the silence." crying. thank you @MichaelaCoel #Emmys

— Kathleen Newman-Bremang (@KathleenNB) September 20, 2021
"Writers, write what scares you." – Michaela Coel #Emmys

— Gennefer Gross IS VACCINATED!!! (@Gennefer) September 20, 2021
Here are today's top stories:
Facebook responds to Wall Street Journal investigative expose
Facebook broke its silence regarding The Wall Street Journal's "Facebook Files," a five-part series published last week detailing with evidence, "in acute detail," that the social media company new its platform and its Instagram app were addictive and harmful to users.
Execs from Instagram have responded to the stories, including Instagram's top exec Adam Mosseri who equated the risk consumers face on social media to the tolerated risks consumers accept from using cars.
Now Facebook is speaking up with vice president of global affairs Nick Clegg addressing the series. According to its blog post:
At the heart of this series is an allegation that is just plain false: that Facebook conducts research and then systematically and willfully ignores it if the findings are inconvenient for the company. This impugns the motives and hard work of thousands of researchers, policy experts and engineers at Facebook who strive to improve the quality of our products, and to understand their wider (positive and negative) impact. It's a claim which could only be made by cherry-picking selective quotes from individual pieces of leaked material in a way that presents complex and nuanced issues as if there is only ever one right answer.

With any research, there will be ideas for improvement that are effective to pursue and ideas where the tradeoffs against other important considerations are worse than the proposed fix. The fact that not every idea that a researcher raises is acted upon doesn't mean Facebook teams are not continually considering a range of different improvements. At the same time, none of these issues can be solved by technology companies alone, which is why we work in close partnership with researchers, regulators, policymakers and others.

The truth is that research into the impact social media has on people is still relatively nascent and evolving, and social media itself is changing rapidly. Some researchers argue that we need more evidence to understand social media's impact on people. Each study has limitations and caveats, so no single study is going to be conclusive. We need to rely on an ever-growing body of multi-method research and expert input.
What you should know: Facebook' is using a tried-and-true tactic for organizations facing research about harm caused by their products: Create doubt. Clegg tries to argue that the evidence is inconclusive and limited in its ability to offer definitive answers about why users have a negative experience on social media platforms. By highlighting the ways organizations are using the platform for society's benefit (health organizations posting pro-vaccine messages for example) Facebook hopes to counter the narrative that they company's products are doing more harm than good.
However, Clegg's anger about the doubt and mistrust the organization faces from observers ("This impugns the motives and hard work of thousands…") fails to acknowledge that Facebook no longer has the benefit of the doubt after the many scandals the company has faced since the Cambridge Analytica incident and the 2016 U.S. presidential election. If anything, the WSJ report is a powerful reminder of the value of corporate reputation and what can happen when trust is lost.
---
MEASURED THOUGHTS
A new study by Stackla found 79% of American and U.K. consumers believe user-generated content (UGC) highly affects their purchasing decisions online , and 56% are more influenced by social media images and videos while online shopping than they were before the pandemic.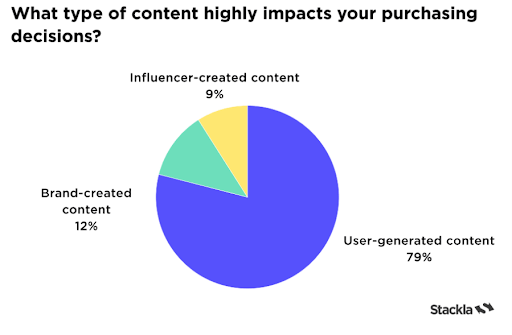 These numbers serve as a reminder that amid a pandemic-boosted e-commerce boom you should fold UGC into your brand or organization's larger evergreen content strategy.
---
SOCIAL BUZZ
Live audio app Clubhouse has hired former NPR journalist Nina Gregory as its head of news and media publishers. In the new role, Gregory will work with media brands to engage Clubhouse communities and help news organizations use the platform, deepen the platform's relationships with journalists, and develop audio training programs at journalism schools across the country.
"This is the first job I applied for in 15 years outside of public radio. I never thought I would leave," Gregory told CNN Business. "But [Clubhouse] aligns so much with not just our mission, but the audio nerd in me and in us."

"As an audio journalist, [Clubhouse] aligned with what I've always believed is the best medium for news. You don't need to know how to read to be able to hear radio news. You don't need to have an expensive subscription. You don't need cable," Gregory said. "The accessibility across not just geography, but socioeconomics and cultures has always driven me to the power of the medium."
Gregory's words suggest that Clubhouse and other live audio apps like it have the potential for generating news value, specifically because of the apps' reliance on proximity and timeliness, that other mediums do not. Because of this, live audio merits consideration as part of your media relations strategy right alongside podcasts with the understanding that a live conversation can easily be repurposed into a podcast after the fact.
---
TACTICALLY SPEAKING
Transformco, the parent company of Sears and Kmart department stores, has announced that it will close the last remaining Sears store in its home state of Illinois this November.
"Transformco plans to close the Sears store located in Schaumburg, Ill. in order to redevelop and reinvigorate the property. This is part of the company's strategy to unlock the value of the real estate and pursue the highest and best use for the benefit of the local community," a Sears spokesperson told Yahoo Finance via email.

Added the spokesperson, "Transformco's go-forward store strategy for Sears and Kmart is to operate a diversified portfolio consisting of a small number of larger, premier stores with a larger number of small format stores — combined with its Shop Your Way rewards program, online marketplace and buy online, pick up in store capabilities."
By leading with a focus on the local community, Transformco tacitly addresses the impact that Sears once had on its home state without getting too sentimental or nostalgic about the end of an era. By mentioning the store strategy moving forward, the company also acknowledges the ways that it is leaning into e-commerce by owning the decision without positioning the shift as part of a fad or temporary, short-term decision.
Amazon defends ban of 600 Chinese brands publishing fraudulent reviews 
Amazon says it has banned 600 Chinese brands for repeatedly and knowingly violating the e-commerce websites policies around offering incentives to people who publish positive product reviews.
In a statement to The Verge, Amazon said:
"Amazon works hard to build a great experience in our store so that customers can shop with confidence and sellers have the opportunity to grow their business amid healthy competition. Customers rely on the accuracy and authenticity of product reviews to make informed purchasing decisions and we have clear policies for both reviewers and selling partners that prohibit abuse of our community features. We suspend, ban, and take legal action against those who violate these policies, wherever they are in the world."

"We will continue to improve abuse detection and take enforcement action against bad actors, including those that knowingly engage in multiple and repeated policy violations, including review abuse. We are confident that the steps we take are in the best interests of our customers as well as the honest businesses that make up the vast majority of our global selling community."
Why it matters:       
As the company leading the aforementioned e-commerce boom, Amazon's statement acknowledges the responsibility that the company, and its product reviews, have to protect the online shopping experience for everyone. Because this statement was given exclusively to The Verge, an outlet that has done substantial reporting on Amazon product review fraud, the company does not bog down its messaging by repeating what its specific policies are.
Instead, this statement is a textbook example of how you can communicate a disciplined, firm stance against malignant forces on your platform with enough tact to not throw your other stakeholders under the bus. Pay attention to order of Amazon's language, which begins with a positive reinforcement of its values before explaining its policies and disciplinary procedures, only to end on another positive message of optimism.
COMMENT
2 Responses to "Facebook responds to WSJ investigative series, consumers prefer user-generated content, and Amazon cracks down on fake reviews"
Ronald N Levy

says:

Facebook is endangered because new government regs could cost Facebook over $10 billion a year, year after year, plus a chunk of Facebook's $997 billion market value (share price times shares outstanding). But Facebook's superb PR team can protect Facebook and Facebook users. Instead of just repeating the accusation and then denying it, Facebook can point out the positive opposite: Facebook spends a fortune on research, then based on the research
Facebook protects the public in three ways.

The public loves home run hitters. So if Facebook announces budgeting a billion over the next ten years to find vaccines for heart diseases and cancer, look what PR foresight tells us will happen:

.1. Over 200 million Americans will STRONGLY want our government to avoid doing anything that could reduce Facebook's resources to protect us with heart and cancer vaccines.

.2. Activists and political leaders will more likely attack other companies not protecting the public in this way. Heroes are less likely to be attacked.

.3. The public will have more reason to favor Facebook over Facebook's competitors.

.4. Investors will have more reason to see safety rather than peril in Facebook's future, which could save Facebook billions a year in bond interest.

.5. Genius tech and managerial execs—superstars that all companies would love to employ—will have more reason to want to be part of what Facebook is doing for the public.

But is finding vaccine for cancer and heart disease hopeless? No, it's here! Google shows under "cancer vaccine" that several anti-cancer vaccines have already been discovered and FDA approval has actually been given for a limited-use cancer vaccine to doctors at Memorial Sloan Kettering Cancer Center. A Moderna booster for Covid isn't licensed yet but a Memorial Sloan Kettering vaccine is! And more seem to be coming.

A hero admired nationally can be not just a person but a company so look at
opportunities to win the public's love for a company—admiration and real love—by associating the company with heroes of medical research:

DR. ANTHONY FAUCI has been quoted as urging that although the present pandemic has already killed over 670,000 Americans, research now could help avert the next pandemic.

DR. RICHARD STEINGART, world-famous cardiologist, has written for American College of Cardiology a startling article headed "Trastuzumab Cures Cancer and Disrupts the Practice of Cardiology."

DR. ANDREW ZELENETZ and a team of superstar medical researchers may announce progress against cancer in several press briefings a year and every year!

News about Facebook may arouse moderate public interest but news of protecting us with heart and cancer vaccines would arouse enthusiastic public interest that's intense!

Ronald N Levy

says:

Worth noting is that WSJ's attack on Facebook is an attack on a competitor. The attacker's readers are richer but Facebook's readers are more numerous and have vastly more votes. WSJ circulation has declined but Facebook readership has soared. WSJ is profitable but Facebook is many times more profitable.

If WSJ knows how to do what Facebook does even better, no patent or copyright prevents WSJ from trying. But IS WSJ trying to do better than Facebook or only talking, saying that competitor Facebook is not doing a good job?

Is WSJ telling both sides—what WSJ and Facebook think of each other—or is WSJ telling only one side, the pro-WSJ side?