Film and television staff weigh industry strike, Twitter users rely on platform for news, and Activision Blizzard CEO shares update on culture changes
Also: Travelocity launches curated trips Hispanic Heritage Month, Microsoft users celebrate accessibility and sustainability innovations, and more.
Editor's note: This article is a re-run as part of our countdown of top stories from the past year.
Hello, communicators:
To celebrate Hispanic Heritage Month, which takes place from Sept. 15 to Oct.15, travel booking website Travelocity curated eight trip itineraries intended to highlight Latin culture in Los Angeles, Houston, Miami, New York, Chicago, Puerto Rico, Dominican Republic and Mexico.
"Through our conversations with our U.S. Latino customers, we knew that connecting to one's culture is immensely important for these parents, and travel is a major way of achieving that with family," Travelocity brand manager Jorge Avalos said in a press release. "In fact, over 80% of Latino parents have already brought their children on culture-focused travels. Latino parents are seeking ways to share family stories, traditions, language and more with their children, and we are honored to help cultivate rich experiences that may then be passed down to future generations."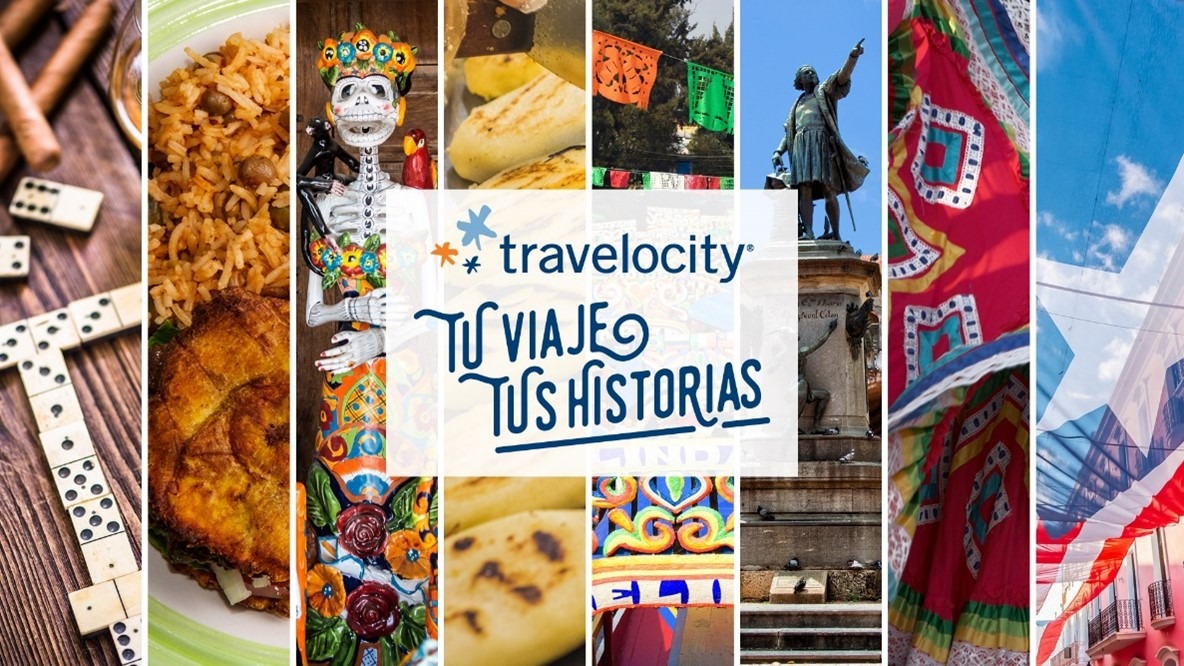 Travelocity explained that that the initiative is rooted in data uncovered from one of its recent studies, including the insights that 84% of Latino parents in the U.S. have taken their kids on cultural trips within the U.S and 49% Latino parents teach future generations about their heritage through cultural trips
Travelocity's use of proprietary data demonstrates that its campaign is not simply pandering to diverse audiences and instead providing its Latino customers with what they want, while having the announcement come from Jorge Avalos spotlights the importance of ensuring that your employees who work on multicultural campaigns mirror the cultural background and lived experiences of the audiences you want to engage.
Here are today's top stories:
Actors and crew members use social media to show support for film industry strike
As contract negotiations stall between the International Association of Theatrical Stage Employees (IATSE) union and the Alliance of Motion Picture and Television Producers (AMPTP), several actors, writers and industry influencers who work in the industry are using their large platforms to show solidarity with the crew members who make their productions happen and explain why those crew members are on the verge of striking. The issues underlying the stalled negotiations include poor health plan funding, a lack of rest breaks, short turnaround time between production hours and long workweeks that include weekends.
Several industry workers including Alena Smith, creator and showrunner of "Dickinson" on Apple TV+, took issue with Deadline's framing of a possible strike being "against the film and television industry":
It's not a strike AGAINST the industry- these workers ARE the industry. It's a strike against the monopolistic corporations that increasingly control all of our lives and continually take advantage of artists and labor. #IASolidarity https://t.co/HxRmcp8MDH

— Alena Smith (@internetalena) September 15, 2021
Friendly reminder that IATSE isn't voting to authorize a strike "against the film industry." We literally ARE the film industry. #IASolidarity

— Stacy Milbourn (@sbrelowzero) September 21, 2021
Famous actors including Jane Fonda, Lily Tomlin, Seth Rogen, Ben Stiller and more brought awareness around the issues at hand:
Icons, forever and always. @JaneFonda and @LilyTomlin stand alongside @IATSE in #IASolidarity. #IAVoteYes pic.twitter.com/fjlG1g8lXg

— IATSE Local 600 (@ICGLocal600) September 21, 2021
The people who make up film and TV crews are some of the hardest working and most talented in show business. Without them, there would be no movies or TV. They deserve better wages, real weekends, and fair overtime. I stand in solidarity in their fight for reform. #IASolidarity pic.twitter.com/0MGE7D2V7N

— Cynthia Nixon (@CynthiaNixon) September 22, 2021
I just spent 9 months working with an incredibly hard working crew of film makers through very challenging conditions. Totally support them in fighting for better conditions.#IATSE

— Ben Stiller (@RedHourBen) September 22, 2021
Twitter users also directed readers to several writers and crew members who shared their stories:
I once worked so many 20+ hr days in a row that I didn't make it home for a week. Production put us in a hotel near the office to take AM naps, and they had to buy us clothes and underwear lol. This was a network sitcom.

Why should anyone have to work like that?! #IASolidarity

— Brandon K. Hines (@thumpio) September 21, 2021
I have fallen asleep at the wheel twice after working 17 hour days on Fear the Walking Dead. Sometimes we got hotel accommodations sometimes we did not. https://t.co/CJR6RgnWFG

— Pumpkenz 🎃🦇 (@kenzielawrence1) September 22, 2021
it is NUTS streamers like Netflix, Disney+ etc are "New Media" in IATSE contracts & therefore don't have to pay minimums OR health/pension. Also nuts our WAs, SCs & PAs make $16-18/hr w no required lunch breaks & often asked not to report overtime! Change is overdue #IASolidarity

— Claire Kiechel (@clairekiechel) September 16, 2021
What it means:
The support that film and television stars are showing for their crew members, most of whom have drastically smaller platforms, highlights how influencer partnerships can serve a function beyond marketing initiatives and be used to bring awareness to the issues that affect your brand, organization or industry. The consistent use of hashtags also highlights how leadership, executives and those with larger followings can effectively boost the visibility of the stories being shared by your workforce.
---
MEASURED THOUGHTS
A recent study by Pew Research found that more than half of American adults (55%) consult Twitter as a regular source of news, despite the fact that only 23% of adults regularly use the platform. YouTube, meanwhile is often used by 72% of adults but sees a smaller portion of its users turning to the site for news regularly (30%).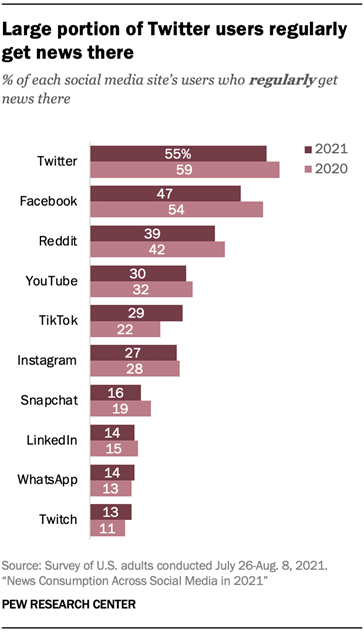 By drawing a distinction between the percentage of people actively engaged on these social platforms and how many of those users actually use the news, these numbers make a case for reevaluating the KPIs and metrics that inform your media relations strategies by going beyond follower counts to decide what type of content is best for each platform where your brand or organization maintains a presence.
---
SOCIAL BUZZ
Microsoft announced its latest slate of new Surface products yesterday, putting a focus on accessibility by announcing an adaptive kit designed to make its laptops and tablets more successful. It also played up its sustainability commitments by announcing a new mouse made with 20% recycled ocean plastic.
On Twitter, several Microsoft fans applauded chairman and CEO Satya Nadella's words tying accessibility and sustainability to innovation:
"If you are serious about innovation, you must also be serious about accessibility and sustainability." @satyanadella #MicrosoftEvent pic.twitter.com/DNsQiCRXX9

— Richard Hay (@WinObs) September 22, 2021
"We are committed to becoming carbon negative, zero waste and water positive by 2030," says @Microsoft CEO @satyanadella. "You see this commitment reflected across the value chain, from sourcing of raw materials to the packaging." #MicrosoftEvent #sustainability #NetZero pic.twitter.com/RpH6lJyKkx

— MikeFeibus (@MikeFeibus) September 22, 2021
Surface has always been a catalyst for innovation across our entire ecosystem, and today we're building on that legacy, with the biggest update to our portfolio ever, as well as new innovations to build a more sustainable and accessible future for everyone. https://t.co/eOc5TahsKD

— Satya Nadella (@satyanadella) September 22, 2021
Microsoft's director of accessibility devises Dave Dame was also celebrated for his work and wisdom:
"We're all going to be disabled someday, just some of us beat you to it."

—@DDame, Director of Accessibility, Devices at MSFT. #MicrosoftEvent pic.twitter.com/wBmHwQFWsl

— Dave Rupert (@davatron5000) September 22, 2021
Don't miss Dave unboxing the Surface Adaptive Kit! Gives me goosebumps just thinking about my own hands opening this gem. https://t.co/c07JPBOiZn #accessibility #disability #inclusion #WindowsEvent @microsoft https://t.co/KLh4fFR5cy

— Jessica Rafuse (@JessicAccess) September 22, 2021
I'll always give Microsoft a ton of credit for how much work they do to increase accessibility. 👏👏

— Andrew Manganelli (@AndyManganelli) September 22, 2021
Accessibility matters. @DDame #MicrosoftEvent pic.twitter.com/XtiYvxxcdA

— Microsoft Surface (@surface) September 22, 2021
Between livestreaming its product announcements and preparing pull quotes around some of the most powerful words from the broadcast, Microsoft demonstrates how you can follow up a real-time announcements and pull out the key messages you want your audiences to come away with.
---
Activision Blizzard CEO shares employee email outlining post-scandal commitments
Bobby Kotick, CEO of video game developer Activision Blizzard, published an email sent to employees on the progress that the company has made in efforts to improve its workplace culture following a lawsuit by the state of California alleging the company's widespread sexual harassment.  The scandal has escalated in recent weeks with the resignation of several executives, the filing of several new lawsuits, and an investigation by the SEC among other regulators.
There is always more to do, but we have made good progress. You have seen us exit a number of employees, we have expanded compliance resources, and this week, Julie Hodges becomes our new Chief People Officer. Julie is joining us from The Walt Disney Company. She will work alongside Brian Bulatao and me to ensure that our work environments are inclusive, safe, inspiring, equitable, and respectful to all. Julie will oversee a Human Resources operation that has been reshaped with wider capabilities, a commitment to expanded Employee Relations resources, and a more experienced staff. We will continue to invest significantly in our People function so that we become recognized worldwide as a center of excellence. You also will find us increasing our investment in the franchise-level component of the people function so that over time, every franchise will have dedicated resources for talent acquisition as well as personnel operations. Our growth and our requirement to have diverse talent committed to excellence and respect will now start in the franchises themselves.
Why it matters:       
While Kotick's last letter to employees apologized for the misguided language that the company used in addressing the multiple instances of sexual harassment and toxic workplace behavior at the company, this message hits all the right notes and stays in rhythm. It offers tangible next steps in the form of investments that show the company is actually allocating resources to enact change.
It names the specific regulators that it will partner with to hold itself accountable. It influences how employee feedback is enacting change. Finally, it acknowledges that the large amount of media coverage around the scandal was valid, merited, and another opportunity for the company to earn its accountability.
COMMENT
2 Responses to "Film and television staff weigh industry strike, Twitter users rely on platform for news, and Activision Blizzard CEO shares update on culture changes"
Ronald N Levy

says:

MANAGEMENT'S PR TEMPTATION in a strike situation is to announce why we are right and they are wrong.

BUT PR WISDOM is this situation is to announce that we can certainly understand and agree with people wanting humane hours because we also are pushed to work those hours, some of us aren't young nor in the best health, and we will certainly try hard to make more humane hours a reality.

One, this is true. Two, more humane hours could not only be better for people but help create better shows.

It is pointed out in strike situations that "what profiteth one who gaineth
the whole world but loseth one's own soul." The profit is no greater even if one doesn't gain the whole world nor at all so it makes sense to be nice and try instead of just arguing.

A classic and often successful tactic in accusation situations is to point out "it's
them, not us." Like if a company is accused of something awful, the company can sometimes point out truthfully that the accusation seems to be against a small number of people no longer with the company, not the other 99.9% of the company people who are clearly not to blame, and who work hard every day, and is clearly contrary to company policy.
This can apply in truth to a strike situation if the problem is not wanted by management nor caused by management and if in truth management would like to make the situation better.

When activists march, yell, accuse and even curse, it is sometimes possible for management to answer: "I understand how you feel and why you are upset and we are also upset and going to try fixing this." This may somewhat mollify the complainers, perhaps hold down damage to the show, and it's true.

ABK has a lot of headwind to make up for, and I am not at all sure they can do so in a meaningful way. There are two new investigations NLB and SEC. There is not a lot of internal/employee positive engagement (and that NLB suit suggests why) and they still employ a torture apologist (Fran Townsend) and hired a union busting law firm. I sold my stock after two months of losses. Until they have real concrete evidence of progress, why would anyone believe them?