How 'granfluencers' are shaking up social media representation and influencer marketing
Don't count grandma out when it comes to growing your followers. Here's what the trend means for the PR industry and social media managers.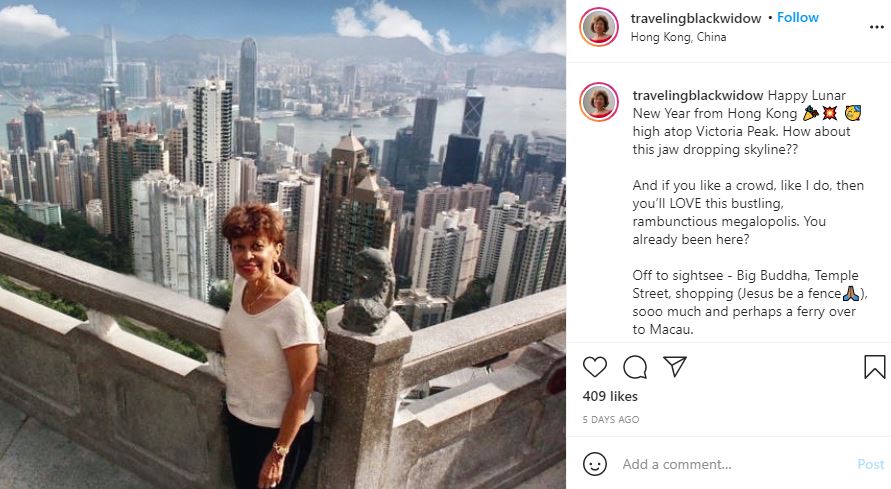 Editor's note: This article is a re-run as part of our countdown of top stories from the past year.
It wasn't the usual aspirational 20-something with perfect home decor and a massive following that was Aura Frames' most successful influencer partnership last year. It was a collaboration with Charlotte Simpson, a 65-year-old retired guidance counselor, (@travelingblackwidow). Her work accounted for our best-performing ad in 2020, bringing in nearly five times more conversions than any influencer ad, with six times more engagement than any ad creative.
As a tech-focused company, a partnership with elderly influencers wasn't the intuitive choice, but 2020 has decidedly changed consumer perception and behavior. We saw an opportunity to increase diversity and representation in our content and the consumer tech industry as a whole, particularly with people 50 and older who have great spending power and remain underrepresented in the social media and influencer space.
According to studies, baby boomers control 70% of all disposable income in the U.S., spend 15 hours online every week and largely believe that social media improves their lives. Not only is this demographic spending time scrolling through their social feeds, but they spend more money online than younger generations—about $7 billion each year.
And yet, most marketers set aside just 10% of their budgets for boomers while allocating 50% to millennials.
There's a misconception that older people aren't interested in learning new tech and trends, which often means brands fail to properly market to them. But not only are seniors becoming more tech-savvy, they're using online platforms to build their personal brands and share their favorite products, making them perfect untapped partners.
This all comes at a time when people are craving authenticity after years of perfectly curated content. The challenges posed by 2020—an ongoing pandemic, economic instability, a tumultuous election, protests against police brutality, and a non-stop news cycle—have made traditional, flashy influencer content incongruous with the harsh realities many Americans are facing.
Audiences are seeking out content that lifts up diverse voices and makes them feel good. And what's more heartwarming than a grandmother enjoying a product she loves, or having fun with the newest TikTok challenge?
As influencer marketing continues to grow, baby boomers and older members of Generation X are hopping on the bandwagon. They don't see themselves as elderly, and just like any other demographic, they want to live an active life and have a wide range of interests from tech and travel to working out and dining, all while sharing their lifestyle on social media.
"From Facebook to YouTube and TikTok, we've seen an increase in boomers and Gen X influencers on social media platforms lately," said Nicla Bartoli, co-founder of the Influencer Marketing Factory, who worked closely with Aura to source "granfluencers" this holiday season. "Whether they're self-made influencers or creating content with the help of their grandkids, they've become an interesting alternative to the typical ads for elderly audiences."
After the initial success with Char, we have expanded collaborations with elderly influencers, partnering with Old Man Steve and Granny Coy Bundy, who went viral in early 2020 for her "Savage" mashup dance video on TikTok, garnering 6 million views and landing her an appearance on the platform's debut commercial. But we're not the only brand catching onto the trend.
There's a growing list of brands across industries that are including "granfluencers" in ads, social content, and more. Over the holidays we saw Amazon team up with Pete Davidson and his "Poppy" for a nostalgic, socially-distanced themed ad, while Nike and Lululemon have been tapping elderly influencers for increased representation on Instagram. Designer brands aren't far behind, either. Altuzarra, Jacquemus, Rachel Comey and, of course, Fenty have all been leaders in engaging the non-traditional demographic in fashion & beauty.
Accurate and diverse representation is not only the right thing to do, it's just good business. We hope that by brands elevating the voices and experiences of this underrepresented demographic, it helps open new doors and break old stigmas around their lives and personas online.
Rahel Marsie-Hazen is the head of PR & content for Aura Frames.
COMMENT
4 Responses to "How 'granfluencers' are shaking up social media representation and influencer marketing"
Jane Linke

says:

This is a great – and necessary – article but please remove the word "elderly" from your discussion of people in their 60's and 70's. Elderly is very derogatory – it equates to old and frail. Just say "60+" or "baby boomers." Another thing – don't say "seniors" either – less bad but still bad.

Thank you for that comment Jane Linke! I agree, and also suggest using "older people" or "older adults" in lieu of "senior" or "elderly."

Geevee

says:

AARP Generation is 50+. We have buying power and vote in large numbers. We have historical recall which can help in progressive changes now. Bring it on.

Carol

says:

You are correct that boomers and in fact women over 50 control most of the purchasing decisions and have tremendous buying power, but you are wrong to call boomers, elderly. They don't think of themselves that way at all.