How GreenRoom's Emily Bertioli has adapted during COVID-19
After a jump across the Atlantic Ocean, this PR had to quickly adjust to the realities of the global pandemic while finding her feet.
Starting a job in a new country is always an adjustment, but that move came with an added wrinkle for Emily Bertioli.
Originally from the U.K., she moved from London to Miami last year. And then the pandemic hit, disrupting what was already a season of change for this PR pro. However, she's found her footing with the help of a media list, a hybrid workplace schedule and plenty of coffee.
We caught up with her for the latest in our "Day in the Life" series. Here's what she had to say about adapting during the many crises of 2020: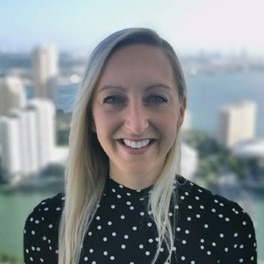 1. How much coffee do you drink during a day?
Bertioli: Two cups. I like my caffeine intake to bridge the time zones with an early cup for the East Coast and a later cup for the West Coast.
2. Who is the most important person you talk to every day?
Bertioli: The barista (see above). In all seriousness, it's my other half. Close call though!
3. How much of your day is spent on Zoom calls?
Bertioli: Usually 1-2 hours and an occasional 4-hour transatlantic marathon on the weekend to catch up with my family in the UK.
4. What's a tool you couldn't live without right now?
Bertioli: Whilst I have 10 years of PR experience, I am a relative rookie to the U.S. media landscape so Muckrack is a lifesaver and has really accelerated my media relations capability since I started.
5. What's been the biggest change you've faced since the pandemic started?
Bertioli: Following a move from London to Miami last year, the start of the pandemic also marked my first foray into PR this side of the pond. It's been a huge change to pivot from in-person networking to virtual meetings with journalists, influencers and industry leaders. Needless to say I've perfected my Zoom background, styling and banter!
6. Are you still working from home? If so, what's been your favorite part of WFH
Bertioli: GreenRoom operates a hybrid schedule to ensure social distancing that balances in-office with remote working. As a new employee, it's been extremely useful to meet my colleagues for in-person training to become immersed in my clients and integrate into the team. When I'm "WFH" I enjoy having more time to start the day with a sunrise run first thing and (less virtuously!) the constant access to snacks.
7. What's your No.1 message to clients, co-workers or employees for the rest of 2020?
Bertioli: Here at GreenRoom we see ourselves as an extension of our clients' in-house team and trust is at the heart of those partnerships. This means we are ready to have honest conversations to solve whatever challenges may present as we approach the end of the year, and that honesty is key.
We need to continue having realistic discussions about the future with our clients and to provide counsel on how we can creatively tackle issues together as a holistic, full-service team.
8. What makes you hopeful about the future of PR? Any big predictions for 2021?
Bertioli: One of my favorite things about the PR industry is the way that it evolves with the times. The only certainty is change, so we've been well-equipped for 2020.
Looking ahead to 2021, the constantly changing times offer unique opportunities, and it's never been more important for PR pros to be adaptable. We are working hard to build ambitious PR programs and strategic marketing initiatives that go beyond traditional PR strategies and will ensure our brands remain front of mind for all the right reasons.
COMMENT