Kellogg responds to cereal worker strike, data protection drives trust on social media, and ESPN benches anchor over podcast comments
Also: Frito-Lay funds Hamilton-themed curriculum in Texas, TikTok launches cybersecurity education initiative, Google introduces sustainability tools for Nest thermostat, and more.
Hello, communicators:
Frito-Lay has given $200,000 to the Dallas Independent School District for its Science, Technology, Engineering, Arts and Mathematics (STEAM) program. The grant kicks off a partnership with the T.D. Jakes Foundation, Dallas Summer Musicals, Dallas Independent School District (DISD), iD Tech and the upcoming Dallas production of "Hamilton" that will introduce an eight-week curriculum that will use the hit Broadway musical to engage students on social justice issues—focusing on training students for the future STEAM jobs.
"The jobs of tomorrow are dependent on the supply of highly trained and capable STEAM talent," Steven Williams, CEO of PepsiCo Foods North America, said in a press release. "At Frito-Lay, we fully support STEAM careers, education and training, and food access, continuing our focus on supporting the communities in which we live and work, especially in North Texas."
Williams' words on Frito-Lay's investment in STEAM successfully tether several of the company's social purpose missions together, including a focus on social justice and career training. It's his emphasis on enacting positive change in Frito-Lay's local community, however, that has the most power and highlights how launching similar initiatives in your organization's local community builds relationships and credibility.
Kellogg responds to strikes at cereal factories
Workers at Kellogg cereal production facilities in Michigan, Nebraska, Pennsylvania and Tennessee went on strike Tuesday, protesting long hours, a lack of robust vacation time, holiday pay and health care options. Kellogg makes Corn Flakes, Frosted Flakes, Froot Loops and more.
"We are disappointed by the union's decision to strike," said Kris Bahner, a press officer for the company. The workers' pay and benefits "are among the industry's best," Ms. Bahner said in a statement, adding that "our offer includes increases to pay and benefits for our employees, while helping us meet the challenges of the changing cereal business."

Her statement added: "We remain committed to achieving a fair and competitive contract that recognizes the important work of our employees and helps ensure the long-term success of our plants and the company. We remain ready, willing and able to continue negotiations and hope we can reach an agreement soon."
"OUR FUTURE IS NOT FOR SALE!"

Kellogg Company employees are on strike this morning in Battle Creek. The Union's five-year contract with the company expired last night. Workers say they want livable wages and better benefits. @WOODTV pic.twitter.com/cKC6eZIdFB

— Dana Whyte (@dwhytereports) October 5, 2021
As contract negotiations between Kellogg and the Bakery, Confectionery, Tobacco Workers and Grain Millers International Union (BCTGM), which represents the striking workers, continued to stall on Thursday, the cereal company provided an update on its website:
Negotiations have not yet resumed, but we are ready, willing and able to meet and have repeatedly communicated that to the union. In the meantime, we are implementing contingency plans to mitigate supply disruptions, including using salaried employees and third-party resources to produce food.
Consumers showed solidarity for the striking workers on Twitter, bringing awareness to larger issues as #KELLOGGSTRIKE began to trend:
Don't cross the line! Boycott Kellogg brands pic.twitter.com/AsBds9oHxB

— 🌞🦇☕️ glo 🦂🕸🎃 (@glovrba) October 5, 2021
More people should learn how monopolized food industry is, and how badly food production workers are exploited

— AvianTóngzhì (@Leifengsstudent) October 5, 2021
What it means:
Despite successfully addressing customer concerns over a potential disruption to cereal supply chains, Kellogg's holding statement on its website fails to reinforce a commitment to workers.
The trending power of #KelloggStrike and subsequent conversations starting around Kellogg's other brands highlight the importance of getting out in front of the conversation by sharing social media-ready resources and crafting proactive messaging addressing the issues at hand with illustrations, statistics and more.
Not doing so can leave your organization playing defense as your detractors publish their own social media assets.
---
MEASURED THOUGHTS
In a new study by Morning Consult, a majority of U.S. adults (87%) cited the protection of customer data, privacy and security as the biggest factor determining their trust of a social media company. Meanwhile, 86% cited social media companies not sharing their personal data without permission as a driver of trust and 83% said transparency about how the company uses customer data.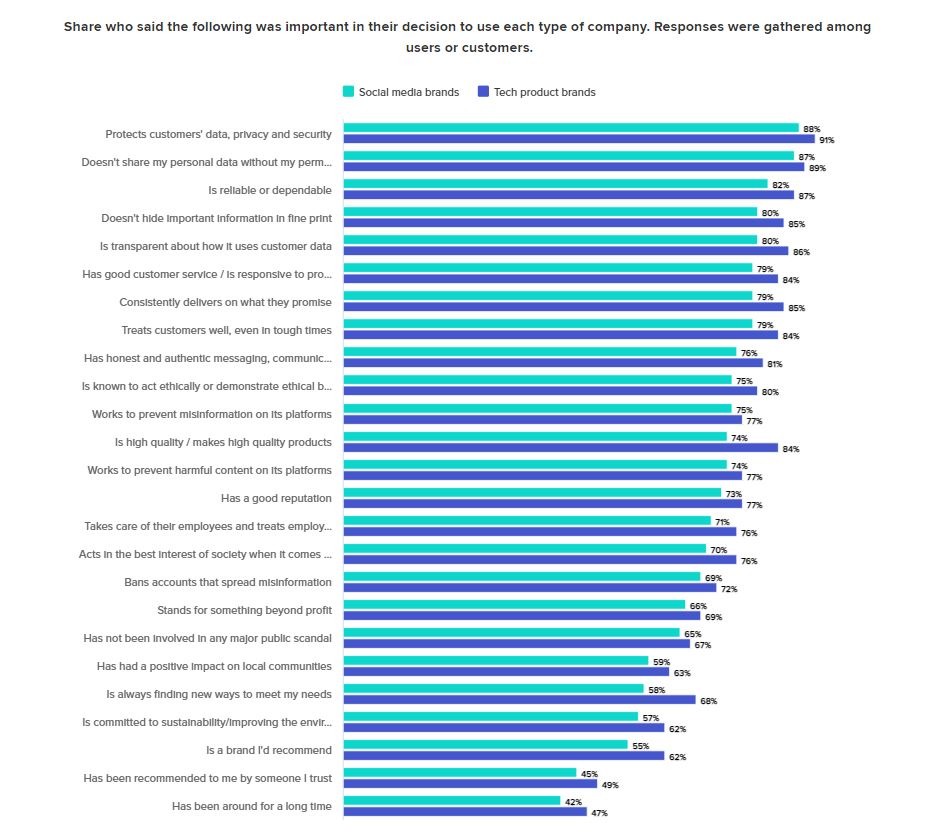 These numbers illustrate the extent to which data privacy has become an issue of concern for mainstream audiences. Data security plays a bigger hand in building trust than customer service, authentic messaging, ethical behavior, misinformation and more. It also serves as a reminder that crafting messaging about cybersecurity best practices to both employees and external audiences should be high on your list of prioirties.
Check out the full study here.
---
TACTICALLY SPEAKING
Google has announced new features designed to curb emissions connected to use of its programmable Nest thermostat. They include an update to the thermostat's software that will allow homes to adjust their energy consumption and use more renewable power sources like wind and solar by offering a grid that displays the home's energy use on a scale from "at its least clean" to "very clean" and automatically adjust the home's cooling and heating to use cleaner energy.
The Wall Street Journal reports:
"These tools and behavioral shifts are important now, but they'll become increasingly crucial as more intermittent clean energy resources come online over the coming years," said Ben Brown, director of product management for Google Nest. "Small actions and behavioral changes really do add up."

Google's new Nest updates, along with its other sustainability commitments and publicly disclosed renewable energy plans, emphasize how your organization can go further beyond sharing internal sustainability efforts to communicate with stakeholders directly and provide them with resources to play an active, engaged role in fighting climate change.
SOCIAL BUZZ
TikTok has launched a "Be Cybersmart" campaign as part of Cybersecurity Awareness Month that is intended to help its users learn more about online security and avoid being hacked or phished. The social media platform also launched its own account, "TikTok Tips," dedicated to cybersecurity education:
We're always inspired by creators fueling #LearnOnTikTok, and we're excited to launch a new @TikTokTips video series on ways to spot and defend against common cyberthreats. The series will feature TikTok creators and employees, including TikTok Chief Security Officer Roland Cloutier and moderately successful touring comedian @alex_falcone telling tales of cyber crimes and how to #BeCyberSmart.

In the physical world, we follow expert guidance: "If you see something, say something." The same principle applies to the digital world, and people with cybersecurity skills have the power to protect those around them by sharing their expertise. We look forward to celebrating fellow cybersecurity awareness champions who are making a positive impact on our community like @GhufranSalih, @DanTechTalk, and @EngineerAmber.
 TikTok's effort hopes to show that the company is taking user privacy seriously despite ongoing questions about how the company shares user data with its parent company in China.
---
TAKE OUR SURVEY
If you're looking for benchmark data to show your bosses the next time you ask for a raise, lend us a hand—and help yourself and your peers while you're at it. Participate in Ragan's Salary & Workplace Culture Survey, a comprehensive look at salaries, benefits, culture, bonuses and other aspects of the job in a fast-moving industry.
Both internal and external communicators are encouraged to participate.
By taking part, you will receive a $150 discount to a Ragan virtual conference of your choice and be entered to win one of five $50 gift cards. All who complete the survey will receive a full report on the findings. Responses are anonymous.
ESPN emphasizes its values around decision to take anchor off air
ESPN has benched sports anchor Sage Steele following comments she made on a podcast that included calling vaccine mandates "sick" and "scary," along with questioning former President Barack Obama's racial identity.
In a statement, the network said: "At ESPN, we embrace different points of view—dialogue and discussion makes this place great. That said, we expect that those points of view be expressed respectfully, in a manner consistent with our values, and in line with our internal policies. We are having direct conversations with Sage and those conversations will remain private."

ESPN also shared a statement from Steele. "I know my recent comments created controversy for the company, and I apologize," she said. "We are in the midst of an extremely challenging time that impacts all of us, and it's more critical than ever that we communicate constructively and thoughtfully."
Why it matters:
ESPN's swift decision to take Steele off air amounts to a lesson learned following its staffing scandal earlier this year when it was slow to remove anchor Rachel Nichols who was captured on a hot mic claiming her black colleague Maria Taylor was selected to host NBA Finals coverage over pressure to fulfill DE&I commitments. Nichols was eventually removed from reporting, and Maria Taylor resigned soon after the comments went public.
While ESPN might hope that swift action shows how it has learned from its mistakes, it should expect some onlookers to question why it was so easy to take Steele, a Black woman, off the air but action on Nichols—a white woman—took much longer to address.
COMMENT
2 Responses to "Kellogg responds to cereal worker strike, data protection drives trust on social media, and ESPN benches anchor over podcast comments"
Ronald N Levy

says:

Even a strike situation creates a use-it-or-lose-it opportunity for each side to say things that win goodwill now and may increase product sales later, a benefit for both sides.

Any of the great PR firms might counsel the management side to say not just we're ready, able and willing and able to talk which is obvious but "we're EAGER to improve pay and benefits for our hard-working employees who make nutritious low-cholesterol breakfast foods enjoyed by over 100 million Americans."

Look what that communicates: the company is pro-worker not anti—and eager to give workers a better deal within what consumers can afford. Also saying "nutritious" and "low cholesterol" now–true and important–can help boost sales later. So could getting in that Mr. Kellogg as a kid sold brooms to make a little money and that the company does a LOT for education and other good causes. (I'd be reluctant to talk about using office workers to make cereal people will eat.)

In a strike situation or other crisis, a great PR firm can early give management ten or more communication commandments—thou shalt and thou shalt nots—that protect public esteem and may actually enhance sales in addition to helping to ending the crisis soon and with minimum hurt feelings.

Skilled PR counsel can save and make a client many times more money than
it costs, and enhance public esteem for the client.

Ronald N Levy

says:

Re-reading the Kellogg threat to use "salaried employees and third party resources to produce food," which could mean using office workers, truck drivers and strikebreakers, I think how grandpa had to work in a sweatshop six days a week to help me get educated (and fed).

So if today I were at the union, I'd answer the threat by having a press briefing with a volunteer doctor, home economics professor and a lawyer announcing:

.1. What to check for to see if cereal produced by inexperienced people may be
dangerously spoiled.

.2. If you feel sick after eating cereal, what symptoms should get you to visit a hospital emergency room immediately.

.3. If you think you got sick from eating spoiled cereal, how to find a lawyer who will sue the cereal company for you at no fee to you unless you win.

Grandpa, family members of paycheck-to-paycheck workers today deserve family leaders like you and unions like yours.