Met museum removes Sackler name, communications areas CEOs value most, and Netflix launches brand journalism site
Also: Omaha Steaks launches meaty holiday campaign, Retail CEOs urge congress to curb illegal third-party sales, and more.
Hello, communicators:
Omaha Steaks launched a holiday campaign to emphasize e-commerce  offerings and guaranteed on-time delivery:
Citing several studies that audio is more memorable to audiences than video, Omaha Steaks also released a parody of the Christmas classic, dubbed "Deck the Steaks," across streaming audio platforms along with content on TikTok and Instagram Reels:
"Our customers have trusted us for more than a century to deliver the perfect holiday meal experience with delicious steaks, premium proteins, easy sides and sweet desserts," Omaha Steaks CEO Todd Simon said in a press release shared with PR Daily.
Omaha Steak's effort to beef up its holiday campaign demonstrates how following the data around what resonates with users on various platforms can open your brand up to new and unexpected types of content.
Here are today's top stories:
Metropolitan Museum of Art removes Sackler name from exhibit halls
The Metropolitan Museum of Art and the Sackler family jointly announced yesterday that the family's name would be removed from seven galleries and wings in the museum. The announcement builds on the museum's 2019 announcement it would no longer accept gifts from the Sackler family and follows a similar decision by The Louvre in Paris to remove the Sackler name.
The Met, along with other cultural institutions that bear the Sackler name, face continued public outcry over accepting philanthropic gifts from the family whose now-defunct company, Purdue Pharma, manufactured the opiate Oxycontin which many credi with fueling America's opioid epidemic. In 2018, photographer Nan Goldin notably staged a demonstration at The Met's Temple of Dendur wing, one of the areas that will no longer have the Sackler name on it, when she poured empty pill bottles into the wing's reflecting pool.
"The Met has been built by the philanthropy of generations of donors—and the Sacklers have been among our most generous supporters," said Dan Weiss, the Met's president and chief executive officer. "This gracious gesture by the Sacklers aids the museum in continuing to serve this and future generations. We greatly appreciate it."

"Our families have always strongly supported the Met, and we believe this to be in the best interest of the museum and the important mission that it serves," the descendants of Dr. Mortimer Sackler and Dr. Raymond Sackler said in a statement. "The earliest of these gifts were made almost 50 years ago, and now we are passing the torch to others who might wish to step forward to support the museum."
Why it matters:
By removing the Sackler name from its hallowed halls, the Met tacitly acknowledges its cultural role as one of the world's leading cultural institutions. "We are seeing museums transition from gatekeepers of the elite to arbiters of social change," editor of "The State of Museums: Voices from the Field" Dr. Rebekah Beaulieu told The New York Times. "There is an increasing expectation that museums are institutions held in the public trust, and therefore accountable to the general public."
The Sackler's statement tries to position the change as a positive for the museum and future donors, while sidestepping its reputational issues around the opioid epidemic. The Met's statement acknowledges the Sacklers' contributions to the institution while emphasizing how the value donors bring to the museum. This statement provides a textbook example of how to sever a partnership with grace, minimizing the noise for your organization.
---
 MEASURED THOUGHTS
A newly released study by HarrisX and Ragan Communications found that the areas of communications CEOs consider most valuable are executive comms, employee comms, reputation management and social media. CEOs at large companies consider Environment, Sustainability and Governance (ESG) and investor relations to be the most valuable communications areas.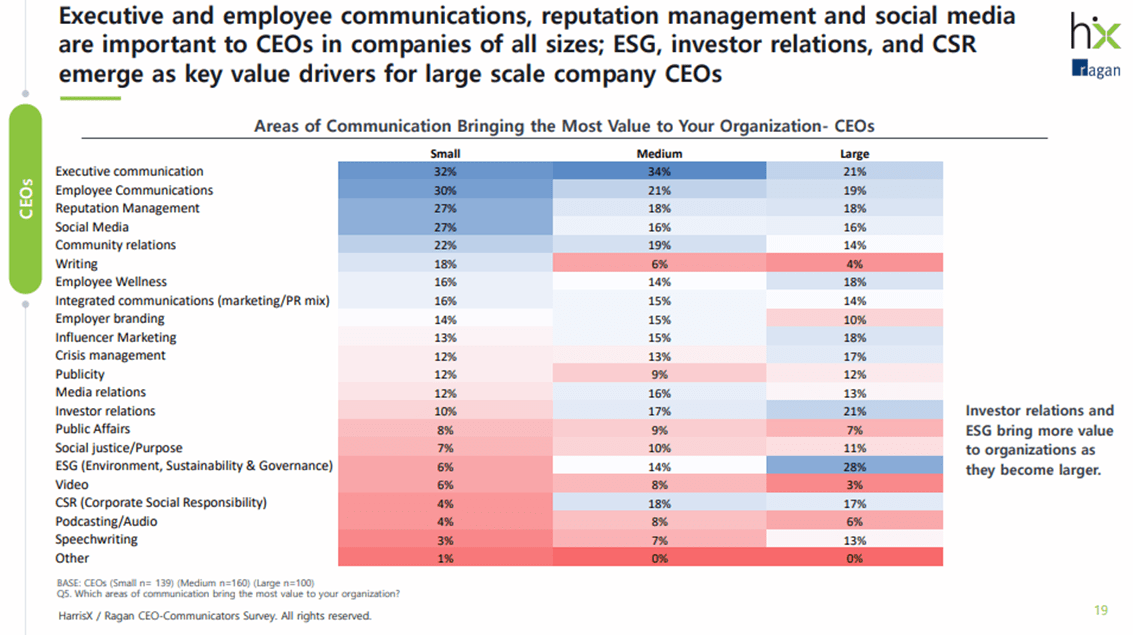 Beyond emphasizing how CEOs' expectations vary substantially based on the size of their organization, these numbers show that larger companies are increasingly expected to have an ESG communications program.
Check out the full study here.
---
TAKE OUR SURVEY
If you're looking to further your understanding of your industry to navigate what's ahead in 2022, lend us a hand—and help yourself and your peers identify shared benchmarks in areas such as budgets, team structure, ESG and DE&I efforts, and more. Participate in Ragan Communications Leadership Council's 2022 Benchmark Survey, a comprehensive look at how to negotiate budgets with your executives, how to best reach deskless workers and foster culture among a hybrid workforce, and more.
Both internal and external communicators are encouraged to participate.
By taking part, you'll be entered to win one of three $100 gift cards. All who complete the survey will receive a full report on the findings. Responses are anonymous.
Survey takers will receive an executive summary of the findings.
---
CRISIS COMMUNICATIONS
CEOs at Target, Best Buy, Nordstrom, Home Depot and more sent a joint letter urging Congress to pass legislation focused on combatting the sale of stolen, unsafe or counterfeit products online. The letter focuses on third-party marketplace platforms, but does not name any e-commerce sites in particular. Nonetheless, Amazon and other e-commerce sites took the opportunity to respond:
"In the current environment, criminal networks and unscrupulous businesses have exploited a system that protects their anonymity to sell unsafe, stolen, or counterfeit products with little legal recourse," the letter reads. "This lack of transparency on particular third-party marketplaces has allowed criminal activity to fester."

Amazon introduced a live video and physical address verification method last year, allowing the company to verify sellers' identities with their government-issued IDs, the company told Insider. The company also said it came out in support for the INFORM for Consumers Act in October.

"Amazon does not allow third-party sellers to list stolen goods in our store, and we work closely with law enforcement, retailers, and brands to stop bad actors and hold them accountable, including withholding funds, terminating accounts, and making law enforcement referrals," an Amazon spokesperson said in a statement to Insider. "We regularly request invoices, purchase orders, or other proofs of sourcing when we have concerns about how a seller may have obtained particular products that they want to sell."
Despite not being mentioned explicitly in the letter, Amazon's proactive response effectively acknowledges the industry-wide crisis and seizes the opportunity to reinforce its reputation and share how it polices third-party vendors on its platform.
---
Announcing the PR Daily Leadership Network
PR Daily is launching the PR Daily Leadership Network, a unique membership group from Ragan Communications offering peer-to-peer advisory and team training along with a unique slate of resources and events to help public relations professionals break through the noise, increase their visibility and forge meaningful connections.
The Network provides daily insights and coverage on a range of topics including media relations, social media, measurement, Diversity, Equity & Inclusion, branding, thought leadership and crisis communications.
"The fast pace of change coupled with the demand on public relations professionals to protect and sometimes defend their company's reputation make it imperative for leaders to tap into the wisdom of other communicators and continue to learn and grow," says Diane Schwartz, CEO of Ragan Communications. "The PR Daily Leadership Network provides the answers but also encourages members to question the status quo and push for positive change."
Visit leadership.prdaily.com to learn more.
Netflix launches brand journalism site "Tudum"
Netflix says it will expand its editorial output with the launch of "Tudum," a brand journalism website named after the sound that plays over the company's logo when a user logs onto the streaming service. The website will consolidate Netflix's previous editorial channels, including "Strong Black Lead" and "Geeked," into one central location alongside press releases about new shows, cancelations and more. Tudum's content will be curated specifically to match a subscriber's viewing habits if they are logged into a Netflix account on the same device.
Netflix CMO Bozoma Saint John explained her personal connection to the brand and Tudum, which will be run by her marketing division.
I've been obsessed with pop culture ever since my family moved from Ghana to Colorado Springs when I was 12 years old. While I didn't feel that different, other kids my age thought that I was. And guess what I found was the best way to connect with them? Pop culture. In the '90s, pop culture meant watching John Elway and the Denver Broncos, wearing acid wash jeans and listening to Paula Abdul and Tupac. Now, Netflix is a part of the cultural zeitgeist, and what makes my job so exciting is that through the work we do, I get to constantly connect with fans all over the world through their favorite shows and movies.
What it means:
While many consumer-facing brands still treat their newsrooms and brand journalism sites as separate monoliths, Tudum demonstrates how brands can take a cue from social media platforms and implement user data to better distribute communications and content through a streamlined, curated hub.
Saint John's statement adds a human element to the announcement  by sharing her relationship to the pop culture and painting a picture of how Netflix sees its broader mission.
COMMENT
2 Responses to "Met museum removes Sackler name, communications areas CEOs value most, and Netflix launches brand journalism site"
Ronald N Levy

says:

"The evil men do lives after them, the good is often interred with their bones" says Marc Antony's eulogy of Caesar. Even if memory of Sackler good deeds is taken off the walls and interred while their bones are still up and running, notice the PR reality of how much good a company today can do for itself by doing for society.

Today Amazon, Apple, Exxon, Facebook, Google, Walmart and others could lose BILLIONS A YEAR if publicity-seeking congressmen pass laws to "tax the rich" or "split 'em up." But look what happens if a company announces budgeting a billion for Dr. Anthony Fauci over the next ten years to develop a vaccine to reduce childhood rages and school shootings. Or a billion to Dr. Andrew Zelenetz over ten years to develop the CAR-T anti-cancer therapy that could prevent perhaps half the millions of cancer deaths we have now.

Would politicians propose legislation that could reduce the financial ability of a company to keep supporting Fauci and Zelenetz research to protect our children and our lives? No because outraged voters and media alike would yell in the streets and on TV not to impair research America needs.

Would $100 million a year for ten years be less than a company could lose from unwise Washington action? Yes as we can judge from the fact that Quarterly earnings and revenue for Facebook alone are over $9 BILLION and over $29 BILLION—and many companies are far bigger. Could a company safeguard BILLIONS a year by donating $100 million and perhaps less?

It could happen and soon. The Sacklers made billions by selling medicine to reduce agony. What could help avert corporate agony could be PR preventive medicine costing less.

Ronald N Levy

says:

It's not just philosophical that a company should earn the public's love or risk
billion dollar hits. Today's New York Times reports that Italy, claiming some antitrust violation, has fined Amazon $1.3 billion! And that's just Italy which is way less than 10% of the world's economy.

Today's large companies are like rich guys walking alone through poor neighborhoods at night. If a rich guy is well known to the locals for protecting the health or money of the community, he's safer. If he isn't known for good deeds but only for what work he does how much money he makes, make your own guess of (a) whether he's in danger of losing money and his life, and (b) whether he should damn soon start to do something so the community will love him.

PR isn't one of the liberal arts, good exercise for the mind. Nor is PR just for selling stuff. Preventive PR is for corporate survival in a world of expensive perils. Not many in PR earn $1,000 an hour but those who do may be worth ten times that much. A $1.3 billion hit is equal to 1,300,000 hours at $1,000 per hour.

"What shall we do to be saved" ask the deeply religious. Companies that deeply desire survival should ask "what should we do to be loved?"