New York Times buys Wordle, the societal issues people want brands to speak out on and Joe Rogan responds to Spotify scandal
Also: Domino's offers discount for customers who carry out orders, Bloomberg takes heat for Vaseline story and more.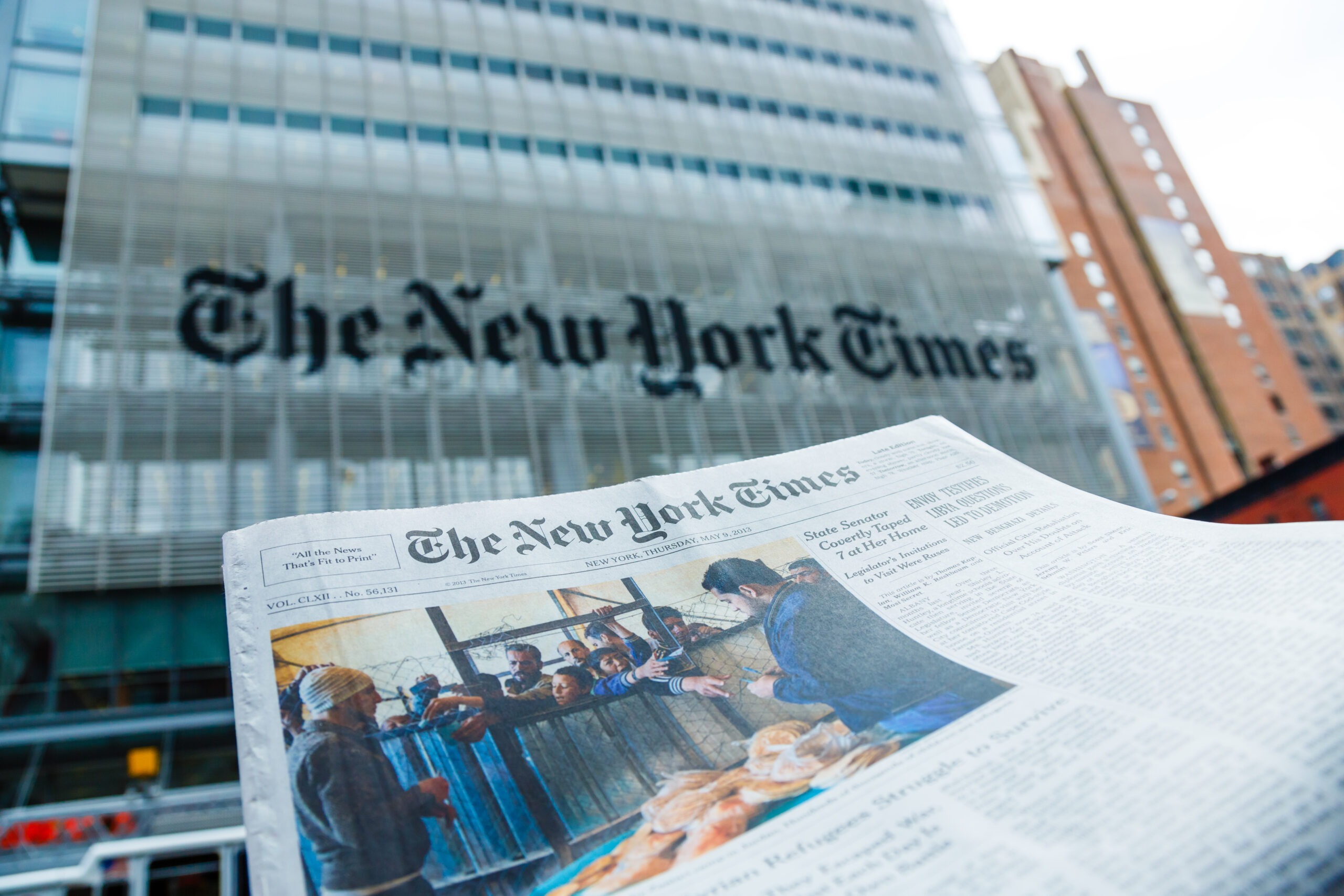 Hello, communicators:
Domino's Pizza will offer a $3 "carryout tip" to customers who opt out of delivery when placing online orders. The promotion can be used on a future order the next week and can be combined with the company's other carryout meal deals.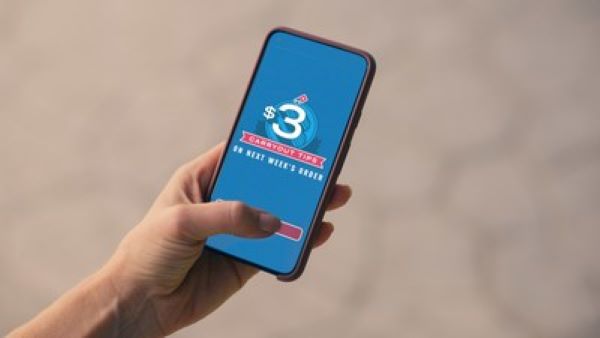 "It takes skill to get pizza from a Domino's store to your door," Domino's executive president and CMO Art D'Elia said in a press release. "As a reward, Domino's is giving a $3 tip to online carryout customers who take the time and energy out of their day to act as their own delivery drivers. After all, we think they deserve it."
This campaign demonstrates a creative way to transform a labor shortage into a promotional opportunity and build some goodwill with customers in a time of inconvenience. It also shows how avoiding mention of a widespread trend affecting your industry can risk making your other stated reasonings around a decision seem insincere.
Here are today's top stories:
New York Times explains decision to buy Wordle
The New York Times (NYT) announced its purchase of Wordle, a popular daily word game wherein players have six guesses to try and figure out a new five-letter word every day. The free game, named after its creator, Josh Wardle, has exploded in popularity since it was first released in October and now has millions of daily users. In its announcement, NYT stressed that the game would remain free and that no new changes would affect the gameplay. The publisher shared its hope that Wordle would join the brand's other popular word games, crosswords and Spelling Bee in aiding its quest to increase digital subscriptions to 10 million by 2025.
"If you're like me, you probably wake up every morning thinking about Wordle and savoring those precious moments of discovery, surprise and accomplishment," said Jonathan Knight, general manager for The New York Times Games. "The game has done what so few games have done — it has captured our collective imagination and brought us all a little closer together. We could not be more thrilled to become the new home and proud stewards of this magical game and are honored to help bring Mr. Wardle's cherished creation to more solvers in the months ahead."

"I've long admired The Times's approach to the quality of their games and the respect with which they treat their players," Mr. Wardle said. "Their values are aligned with mine on these matters and I'm thrilled that they will be stewards of the game moving forward."
What it means: NYT's explanation for buying Wordle illustrates how publishers and brands alike continue to embrace subscriptions as a means of building a direct relationship with audiences. Subscriptions also allow you to acquire a user's first-party data without the privacy hurdles that can come from working with advertisers. While newsletters have long been at the center of those subscription strategies, churning out consistent editions that break through the noise becomes increasingly difficult in a time when displaced workforces experience email fatigue on daily basis. This presents an opportunity for all brands to consider games and contests as an opt-in approach to engage audiences.
Knight's statement about the impact of Wordle demonstrates that NYT understands the impact and reach of the game, addressing concerns that the publisher's plans for the game will alter the experience of its daily players while taking the opportunity to share the company's growth strategy at the same time. Wardle's statement emphasizes the importance of a product's founder or creator highlighting shared values after an acquisition, putting in context why the purchase is more than strictly a business decision but consideration for the user experience above all else.
---
MEASURED THOUGHTS       
Edelman's 2022 Trust Barometer found that the public expects businesses to speak out on societal issues—52% of respondents believe businesses are not doing enough to address climate change, while 49% said they want businesses to address economic inequality and 46% want businesses to speak out on workforce reskilling.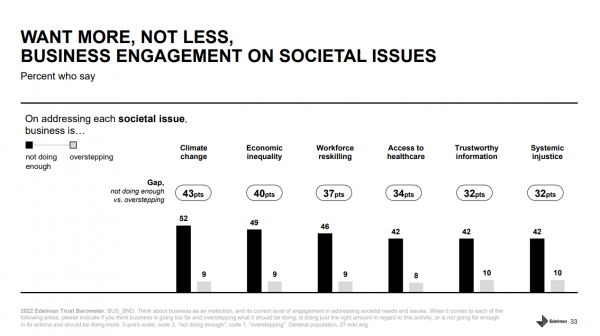 Edelman global executive director Tonia Ries told PR Daily's Emma Atkinson that engaging with these issues cannot be treated as a one and done messaging effort. Instead, addressing societal issues in an authentic way requires you to first look at your company's values and then assess how those values are reflected in your communications plan.
"If you only show up one day a year, to make a statement and pat yourself on the back, you clearly are not authentic, sincere and committed," Ries says. "And, in fact, you risk having the opposite effect; people will just further write off whatever else you might say next month, because you're seen as 'trust-washing,' or rather, I should say, insincere and inauthentic in your communications."
Check out the full report here.
---
TAKE OUR SURVEY
We want to know about your career as a social media professional.
How big is your team? Are you valued at your organization?
If you're interested in helping benchmark the career path potential of social media professionals and shedding light on how social media is internally managed, viewed and evaluated, take our survey. The Social Media Career Survey is a follow-up to a 2020 report by the Institute for Public Relations, Ragan Communications and the University of Florida.
Whether you're in charge of company social media or involved in social media for a client, we welcome your participation.
Respondents will receive a full report on the findings, which will also be shared on PR Daily. Responses will remain confidential.
---
SOCIAL BUZZ
Twitter users dragged Bloomberg for publishing an op-ed about the popular salve Vaseline that claims the gooey substance has re-emerged in popularity because of a TikTok trend called "slugging." The Twitter users objected to the piece's central conceit that Vaseline is trending as a beauty aid because of TikTok and noted that it has been a staple of Black beauty regimens for decades:
Oh these are my favoriteeee articles.

When they center the rise and fall of something based solely on the use of white people failing to realize that BLACK PEOPLE have been adding vaseline to just about everything especially in the winter forever & a day. https://t.co/KOchC61gb8

— BlackGirlsWhoBrunch (@blckgirlbrunch) January 31, 2022
Tell me you're not attuned to Black beauty without telling me you're not attuned to Black beauty. Vaseline is a Black beauty staple. Please. https://t.co/PwX11sRObE

— Evette Dionne (@freeblackgirl) January 31, 2022
i have never not had vaseline in my household.
let me stock up before y'all have the prices going up. https://t.co/cvFmnxPwNr

— Nichole 🍞🍯 (@tnwhiskeywoman) January 31, 2022
The backlash led "Vaseline" to trend on the social media platform one day before the start of Black History Month, pointing curious Twitter users who follow the brand account to notice its profile blurb—"See how Vaseline is working towards equity in care for Black and Brown skin"—and recognize that its purpose communications address the audiences of color that use its products:
We're proud to launch our partnership with @WeAreHUED, a platform diversifying the patient-doctor experience by connecting people of color with #healthcare providers that understand their physical, mental & cultural needs. Visit https://t.co/uPf7dsyIm6 to find a #dermatologist! pic.twitter.com/S2KjtOCR8q

— Vaseline (@VaselineBrand) November 12, 2020
Vaseline's unexpected PR win from Bloomberg's blowback serves as a reminder that your purpose work will be more widely embraced if its build on the foundations, narratives and stories that lift up and celebrate your diverse audiences and customers.
---
Announcing the PR Daily Leadership Network
PR Daily has launched the PR Daily Leadership Network, a unique membership group from Ragan Communications offering peer-to-peer advisory and team training along with a unique slate of resources and events to help public relations professionals break through the noise, increase their visibility and forge meaningful connections.
The Network provides daily insights and coverage on a range of topics including media relations, social media, measurement, Diversity, Equity & Inclusion, branding, thought leadership and crisis communications.
"The fast pace of change coupled with the demand on public relations professionals to protect and sometimes defend their company's reputation make it imperative for leaders to tap into the wisdom of other communicators and continue to learn and grow," says Diane Schwartz, CEO of Ragan Communications. "The PR Daily Leadership Network provides the answers but also encourages members to question the status quo and push for positive change."
Visit leadership.prdaily.com to learn more.
Joe Rogan responds to new Spotify platform policies
Soon after Spotify unveiled new and previously internal policies on how it addresses misinformation about COVID-19, shock jock and popular Spotify podcaster Joe Rogan published an Instagram video sharing his support for Spotify's new policies. In the video, Rogan pledged to have mainstream experts on his show to offer their viewpoints after his guests proposed more controversial or unsubstantiated ideas. He also pledged to better research the controversial topics like COVID-19 vaccines and understand all facts before discussing them on this show.
Rogan also apologized to Neil Young and Joni Mitchell, claiming to be a big fan of both. Young and Mitchell are the most high-profile artists to remove their music from Spotify in protest of the company platforming "The Joe Rogan Experience" after Rogan has invited several guests promoting misinformation about COVID-19 vaccines.
"These podcasts are very strange because they're just conversations," Rogan says. "And oftentimes I have no idea what I'm going to talk about until I sit down and talk to people. And that's why some of my ideas are not that prepared or fleshed out because I'm literally having them in real time, but I do my best and they're just conversations, and I think that's also the appeal of the show. It's one of the things that makes it interesting. So I want to thank Spotify for being so supportive during this time, and I'm very sorry that this is happening to them and that they're taking so much from it."
"[I'll] do my best to make sure that I've researched these topics — the controversial ones in particular — and have all the pertinent facts at hand before I discuss them."

"I don't always get it right," he said.
Why it matters: Rogan's commitment to do his research and present a spectrum of perspectives that includes established, "mainstream" experts amount to a concession that he will follow some more journalistic standards and principles for sourcing the guests he has on the show. Even though thousands of news and information podcasts exist that follow those principles, Rogan's mea culpa demonstrates how the rapid growth of the medium has made room for producers and showrunners to create content that presents itself as reported news and not opinion.
In any case, Rogan's apology to Spotify demonstrates how to take responsibility for your role in creating a crisis for a partner and emphasizing their support.
COMMENT