PR pros react to Will Smith's Oscars slap, South Dakota hotel owner's racist Facebook post prompts lawsuit and the case for podcast ads
Also: Chipotle partners with CashApp to relaunch its customer rewards program.
Hello, communicators:
When offering customer rewards, partnering up can help make the giveaway more enticing, or even newsworthy.
Chipotle is relaunching its customer rewards program in partnership with Cash App, which means participating customers can receive surprise coupons for free guacamole throughout the year, as well as a chance to win cold, hard cash.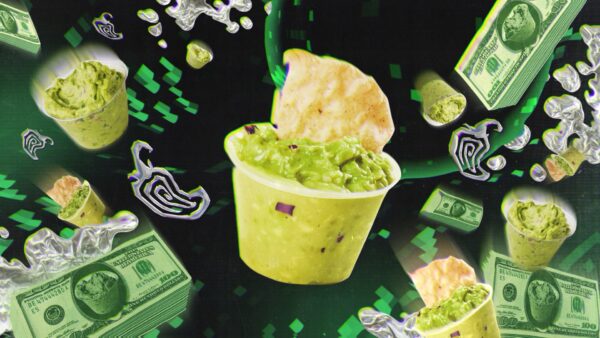 Through the end of the month, Chipotle's Twitter account will be encouraging fans to sign up for the GuacMode program. Those who follow @ChipotleTweets and @CashApp can respond to the tweets and drop their CashApp username, plus the #ChipotleGuacMode hashtag, to enter for a chance to win cash.
Not a bad way to boost Twitter followers, right?
Here are today's other top stories:
PR pros offer crisis comms takeaways after Oscars fracas
Will Smith's Best Actor Oscars win was overshadowed by his actions Sunday night when the "King Richard" actor slapped presenter Chris Rock over a joke about his wife, actress Jada Pinkett Smith. (Rock made a quip about Pinkett Smith's haircut, something the actress has revealed as a painful decision due to her struggle with hair loss from a medical condition.)
And as soon as viewers processed what, exactly, they had witnessed during last night's globally televised Academy Awards, the crisis comms takeaways began rolling in.
PR pros voiced their thoughts on the incident on Twitter:
Please don't say that #WillSmith apologized during his #Oscar 's #BestActor speech for #KingRichard. He didn't apologize. He was hypocritical.

As a #PR person, I know the difference & read through the BS. I also write the apologies. That was NO #apology. It only looked like 1.

— JBLHComms (@JBLHComms) March 28, 2022
Will there be calls to rescind #WillSmith's Oscar? Likely.

Will his brand deals and corporate partners put him on pause? Highly likely.

Will him or his team release a formal statement to media? Absolutely.

This is #reputationmanagement and #crisiscomms in real time. #Oscars

— Sabrina N. Browne (@sabrinabrowne_) March 28, 2022
Sigh. Well the Crisis Comms around the Chris Rock/Will Smith incident is going to be interesting.

— Ana Visneski (she/her) (@acvisneski) March 28, 2022
After the show, The Academy tweeted that it "does not condone violence of any form" after people voiced criticism that Smith was allowed to stay at the venue — and accept his award.
What you should know: While The Academy clearly stated that it does not condone violence, its actions (or lack thereof) last night don't seem to send the same message. There is a clear mismatch here between The Academy's messaging following the event and what actually went down during the show. When trying to prove commitment to values and ideals, make sure your organization's actions match your messaging.
---
MEASURED THOUGHTS
A new report from The Guardian shows that advertising on podcasts is by far the most effective way to reach audiences.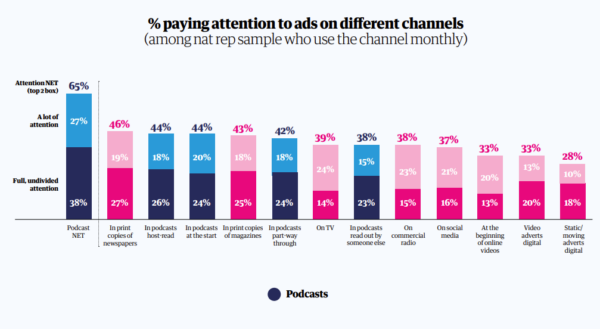 Among people who use various media channels monthly, 65% of respondents said they give "a lot" or "full, undivided" attention to ads airing during podcasts — more than ads in newspapers, magazines or on TV or commercial radio.
In the same study, 51% of respondents said podcasts ads make them want to find out more about the brand or make them want to buy something from the brand.
As podcasts and other social audio channels continue to grow in popularity, it's a reminder to PR pros that podcasts are a powerful channel for connecting with audiences.
Read more from The Guardian study here.
---
TAKE OUR SURVEY
We want to hear from our community about how their thinking has changed on media relations and its value inside their organization. If you work in communications, please take our short survey to help us chart the value of media relations for 2022.
The survey will take less than 10 minutes to complete and participants will be entered in a drawing for a $100 credit toward a Ragan event. All individual responses will be kept confidential.
Results from the survey will be shared at PR Daily's Media Relations and Measurement Conference in New York City on May 11.
Rapid City hotel owner faces backlash, lawsuit following racist Facebook post
A family-run hotel in South Dakota found itself in hot water last week when the hotel's owner posted on Facebook that Native Americans would no longer be allowed to patronize the establishment.
The New York Times reports that owner Connie Uhre "was upset about an attack at the 132-room Grand Gateway Hotel early on March 19 in which the gunman and victim were both Native American."
"We will no longer allow any Native American on property," Ms. Uhre, 76, wrote on Facebook on March 20. "Or in Cheers Sports Bar," she said, referring to the on-site lounge where karaoke takes place six days a week. "Natives killing Natives."
The post has since been deleted.
Rapid City-based activist group NDN Collective announced the filing of a federal civil rights lawsuit in response to Uhre's post.
The proposed class-action suit contends that Native Americans, including members of the NDN Collective, tried on two days after the social-media post to rent rooms at the hotel but were denied. The hotel's actions are "part of a policy, pattern, or practice of intentional racial discrimination against Native Americans," the suit contends.
Uhre's son, Nicholas Uhre, told the New York Times that his mother's comments on social media were "stupid" and "emotional."
"Somebody took a stupid post by a 76-year-old lady and they're using it for political purposes," he said. "We rent to Native Americans all day long. We do not discriminate. We never have, we never will."
Why it matters: Nicholas Uhre's attempts to walk back his mother's comments came too late to prevent serious backlash, and the hotel now finds itself having to contend with negative press coverage and a looming federal lawsuit. PR pros, this is a reminder that small business owners are in need of social media training, too — consider reaching out to some in your area, using this situation as a case study.
COMMENT