Robinhood faces lawsuit over customer comms, how Americans are using social media, and South Africa reacts to bad vaccine news
Also: Offering incentives to employees for vaccinations, Cyberpunk 2077 maker announces cyberattack, what PR pros thought about this year's Super Bowl ads, and other crucial stories.
Good morning, communicators:
The second impeachment trial for Donald Trump is set to start in Washington, D.C.
The charges revolve around the events of Jan. 6, and whether President Trump incited a mob to violence to overturn the results of a free and fair election.
The media circus around the proceedings once again threaten to devour consumer attention and the resources of media outlets, so PR pros planning to pitch news and product releases should beware. If your news can wait, or your product rollout can be delayed a week or two, it might be wise to hit the pause button.
Here are today's top stories:
Robinhood sued for wrongful death after 20-year-old takes his own life
The stock trading app made headlines for days, as scrappy retail traders took hedge funds to the cleaners by driving up the price of $GME artificially in a "short squeeze."
However, a new storyline is emerging as the family of Alex Kearns, who died by suicide last summer, is suing the company. The family says that the company sent erroneous messages to their son, a sophomore at the University of Nebraska, claiming he owed $730,000 to cover trading losses and demanding an immediate payment of $178,000.
"We were devastated by Alex Kearns' death," a Robinhood spokesperson said in a statement shared with The Washington Post, noting that the company has made numerous changes to its protocols since June. "We remain committed to making Robinhood a place to learn and invest responsibly."
What to know: The tragic story is a reminder about the life-and-death stakes of communication with customers and the dangers posed to your brand reputation for less-than-scrupulous practices. It's also a reminder that breaking through in the national conversation, as Robinhood did with GameStop traders, will surface other stories, and PR pros must be prepared.
---
MEASURED THOUGHTS
Pew Research has broken down the demographics for regular social media users in the U.S.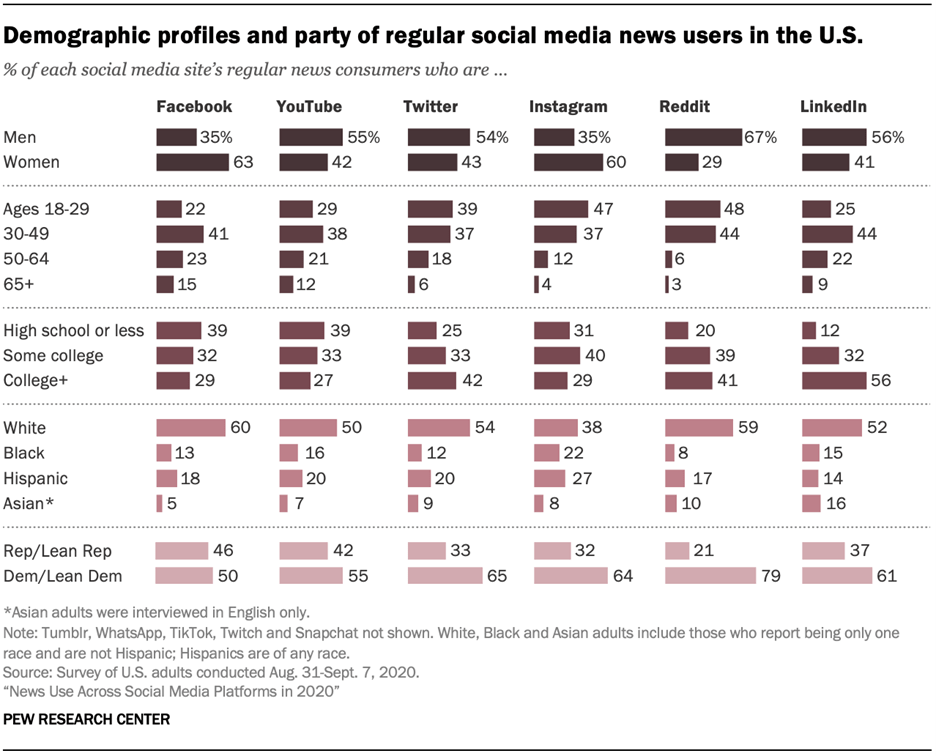 However, only a minority of users say that social media has improved their understanding of current events, despite the platforms being major sources for information and news for many Americans.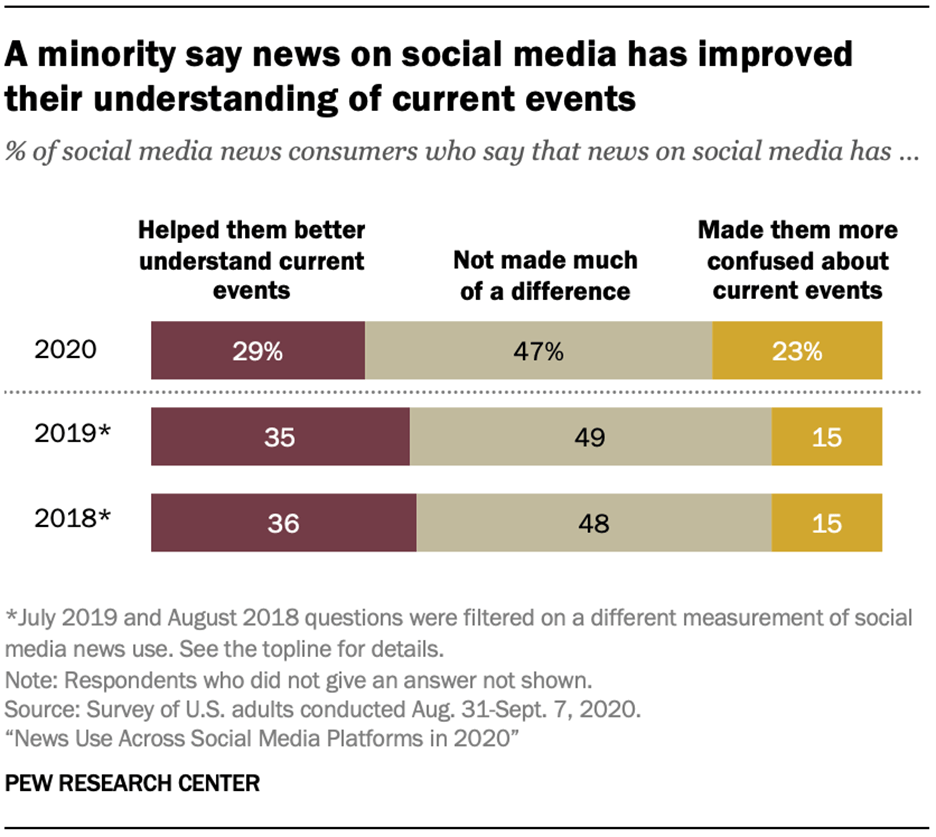 See the full data set here.
South Africa pauses AstraZeneca vaccine—creating problems for vaccine comms
The country says it has found problems with the vaccine developed by AstraZeneca to combat new variants of the COVID-19 virus. The news is worrisome for vaccine experts, who are monitoring whether the vaccines now available will remain effective as the virus mutates.
However, the study that prompted the action is small and very limited experts warn, and it's that message that will be essential for communicators to explain to the public as efforts continue to vaccinate the global population. South Africa's authorities tried to explain their decision this way, as Ars Technica reported:
"Put very simply, we don't want to end up with a situation where we vaccinated a million people or two million people with a vaccine that may not be effective in preventing hospitalization and severe disease," Salim Abdool Karim, the co-chair of South Africa's Ministerial Advisory Committee on COVID-19, said in a press conference Monday.
What to know: Explaining the scientific process, with its rigors and dissenting opinions, will be a delicate task for communicators in the coming months of the fight against COVID-19. Make sure you offer certainty where appropriate and explain how the process works to deliver trustworthy data. Simply reporting out scientific papers for clicks can result in confusion or misinformation, and without careful efforts to educate the public, communicators will be committing malpractice.
---
CRISIS LEADERSHIP NETWORK
Looking for more insight on how to address the current global crisis and lead your organization into a strong recovery?
Join Ragan's Crisis Leadership Network to connect and brainstorm with peers, get the latest intelligence and research, and start to strategize for the future of your organization.
Learn more about this exclusive membership here.
---
THE WORKPLACE
Are you providing incentives such as bonuses or time off to get a COVID-19 vaccine for employees? Experts say that being generous is an important step to get full vaccine adoption for your workforce—but the legality of incentives is under review.
It doesn't make sense for businesses to refuse to give workers a few hours of paid time off to get vaccinated, said Denise Rousseau, professor of organizational behavior and public policy at Carnegie Mellon University's Heinz College.

"Why the heck would you not?" she said. "You want to encourage people to take the vaccine.

Bunny Ellerin, director of the Healthcare and Pharmaceutical Management Program at Columbia Business School, said it's the moral thing to provide incentives to workers to get their shots.

"It's just the right thing to do," she said. "It's a public health issue and it's a human issue."
Make sure you are communicating any incentive program for your internal audience to external stakeholders as well. How you treat employees during this time will be a crucial part of your brand reputation in the year ahead and could shape consumer sentiment for years to come.
Videogame studio CD Projekt discloses hack in a tweet
The creator of such titles as "Cyberpunk 2077" and "Witcher 3" says attackers were able to access its network and encrypt some devices in a ransomware attack.
Important Update pic.twitter.com/PCEuhAJosR

— CD PROJEKT RED (@CDPROJEKTRED) February 9, 2021
In its statement, CD Projekt says that it has secured its IT infrastructure, and has begun restoring its data from intact backups. It says it has informed the "relevant authorities" as well as IT forensic specialists.
The incident was another blow for the company that has had a troubled rollout of its latest game, which critics are calling "unfinished."
The Verge continued:
The attack follows the developer's troubled launch of Cyberpunk 2077. The game released with numerous bugs and performance issues on PC, and was almost unplayable on older consoles. Sony subsequently pulled the game from the PlayStation Store and offered refunds to players, while Microsoft is also offering refunds.
What to know: Your company must be prepared for cyberattacks as they are likely to increase in the year ahead with more and more business moving online. Experts warn that it's not a question of whether or not you will be hacked, but when. Make sure to update your crisis comms plans and educate employees about proper digital security hygiene.
---
TAKE OUR SURVEY
The start of a new year brings more opportunities for communicators across roles, organizations and industries to develop effective strategies and efforts that can strengthen their brands amid continuing crises, including the COVID-19 pandemic.
Ragan's Communications Leadership Council has created The 2021 Communications Benchmark Survey, and wants to know your challenges, successes and needs as you navigate the rapidly shifting communications landscape and respond to unprecedented crises as well as new opportunities.
Please share your insights with us. As a thank you for your time and insights, you'll receive an Executive Summary of the report, packed with proprietary research that can help you better shape communications strategies in 2021. You'll also be entered to win one of five $100 Visa gift cards.
---
WHAT YOU SAID
We asked what you thought of the ads on offer from brands during Super Bowl LV, and the majority (54%) said the spots weren't so great this year. A little over 30% said that they didn't watch the ads at all, and 15% thought the ads were good.
How did you feel about this year's Super Bowl ads? Did they shine or fall a little flat?

Share your thoughts with our hashtag #DailyScoop.

— PR Daily (@PRDaily) February 8, 2021
PR pro Mike Ingberg said that the T-Mobile commercial was a standout:
Frankly, the majority of Super Bowl ads have left a lot to be desired for several years now. With that being said, give @TMobile credit for having the best ads that actually related to the product/service it was selling.

— Mike Ingberg (@mingberg) February 8, 2021
Did you have a favorite ad from the evening? Share your thoughts with our hashtag #DailyScoop.
---
SOUNDING BOARD
Do you anticipate taking any business trips this year? Share your thoughts for our poll, or tweet us with our hashtag #DailyScoop.
Do you anticipate taking business travel this year? Share your thoughts for our #DailyScoop poll!

— PR Daily (@PRDaily) February 9, 2021
COMMENT