Starbucks CEO looks to reconnect with employees, bad timing the No. 1 reason email pitches are rejected and PR pros can consult as bias checkers on Hollywood films
Also: Elon Musk buys 9.2% stake in Twitter after ranting against the platform.
Hello, communicators:
Yes, we know: Elon Musk recently bought a nearly 10% stake in Twitter Inc.
Musk's purchase came on March 14, more than 10 days before he asked his Twitter followers to vote in a poll about the app's adherance to "free speech" principles:
Free speech is essential to a functioning democracy.

Do you believe Twitter rigorously adheres to this principle?

— Elon Musk (@elonmusk) March 25, 2022
Musk's tweets have gotten him in some trouble before, so much so that a settlement with the Securities and Exchange Commission now requires him to clear tweets about Tesla finances with his lawyers before hitting send.
It's a reminder to PR pros that social media is a crucial part of investor relations.
Here are today's other top stories:
Starbucks' new CEO attempts to win over unionizing employees
In a letter to employees published Monday, Starbucks CEO Howard Schultz wrote that the company will immediately suspend its share repurchasing program to "allow us to invest more profit into our people and our stores — the only way to create long-term value for all stakeholders."
Schultz's letter reads, in part:
My first work is to spend lots of time with partners. To lift up voices. To see everything that is already in play to help us become this kind of company. To invent. To face challenges — and for us each to be transparent with one another and become accountable for building the future of our company.

Our vision is to once again reimagine a first-of-a-kind for-purpose company in which the value we create — for each of us as partners, for each of us as customers, for our communities, for the planet, for shareholders — comes because our company is designed to share success with each of us and for the collective success of all our stakeholders.
Starbucks is facing a union push from its employees, with nine of its U.S. locations having voted to unionize. CNBC reports more than 180 locations have filed petitions for union elections to date.
Why it matters: Starbucks' public struggle with its employees over unionization places it in an tough position, as recent studies have shown Americans are largely in favor of unions. Schultz's nod to the importance of listening to employees and store owners (partners), as well as the stock buyback pause, realigns Starbucks around committing to employees over profits.
---
MEASURED THOUGHTS
A new report from Muck Rack reveals the No. 1 reason your pitches to journalists get ignored is because of bad timing.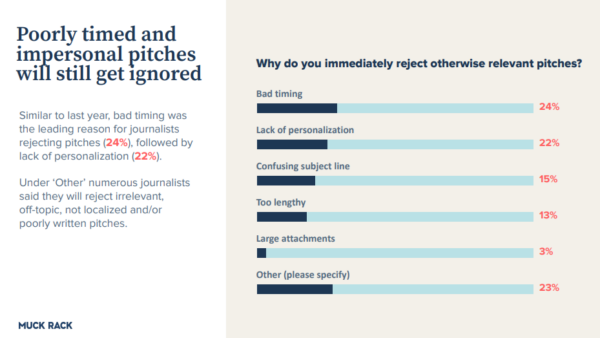 If you're trying to sneak in some earned media coverage of a fluffy story during a heavy news week, reconsider your strategy.
Journalists also named lack of personalization and a confusing subject line among the top reasons they'd immediately reject an otherwise relevant pitch.
Muck Rack notes that 23% of respondents chose "Other" reasons for rejecting PR emails — and chief among them were off-topic and poorly written pitches, as well as pitches that weren't localized to the journalists' audience.
Read more from the Muck Rack report here.
---
TAKE OUR SURVEY
We want to hear from our community about how their thinking has changed on media relations and its value inside their organization. If you work in communications, please take our short survey to help us chart the value of media relations for 2022.
The survey will take less than 10 minutes to complete and participants will be entered in a drawing for a $100 credit toward a Ragan event. All individual responses will be kept confidential.
Results from the survey will be shared at PR Daily's Media Relations and Measurement Conference in New York City on May 11.
Hollywood's bias consultancies offer model for PR
Hollywood studios are increasingly turning to consultants to make sure new products don't contain racial and gender bias.
One such consultant, Culture House founding partner Carri Twigg, explained her role to The New York Times, where she is often asked to proof scripts for any race and diversity related content that might raise red flags.
"It's not only about what characters say, it's also about when they don't speak," Twigg said. "It's like, 'Hey, there's not enough agency for this character, you're using this character as an ornament, you're going to get dinged for that.'"
The Times reports:
…the burgeoning field of cultural consultancy work may be here to stay. Ms. Twigg, who helped found Culture House with Raeshem Nijhon and Nicole Galovski, said that the volume of requests she was getting was "illustrative of how seriously it's being taken, and how comprehensively it's being brought into the fabric of doing business."

"From a business standpoint, it's a way for us to capitalize on the expertise that we have gathered as people of color who have been alive in America for 30 or 40 years," she said.
What it means: It's a reminder that having a third-party consultant on deck to check campaigns and content for potential racial or gender bias is a valuable part of the PR process. The emerging trend of cultural consultancies speaks to a potential new avenue for agencies looking to expand their offerings. But PR pros should proceed with caution when attempting to advise on race and gender issues — make sure your team reflects the diversity that your clients are seeking.
COMMENT