Report: The majority of Americans say declining union membership is bad
The data highlights the potential danger an anti-union message could have for companies looking to solidify their reputation as an employer of choice.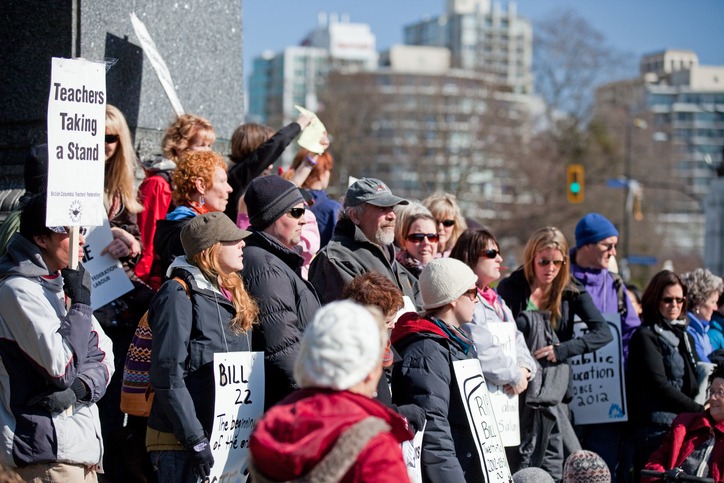 In 2021, a heavy-handed anti-union message could backfire.
With a red-hot labor market, ongoing fallout from the "Great Resignation" and a reckoning over workplace conditions for so-called "essential" workers who endured severe COVID-19 risks while taking home industry minimums in wages, the American worker has the upper hand. And that means there is an increasing interest in union membership and labor organizing.
From the failed union drive at an Amazon facility in Bessemer, Alabama (which could see a second round of voting due to a legal challenge), to reports of workers at a Starbucks in Buffalo, New York, seeking a union vote, workers are sending the message that they don't feel taken care of by their organizations.
And organizations that take a heavy-handed approach to fighting union efforts could suffer as a result.
Podcast outfit Gimlet Media, which went on to be acquired by Spotify, saw its own internal debate over unionization lead to a public scandal and the departure of senior leaders of its most popular show "Reply All." In Gimlet's case, efforts to create a union were intrinsically linked to diversity, equity and inclusion—and for many organizations, promises of increased equity for workers is incompatible with a strong anti-union stance.
And when looking at general population data, unions are popular.
According to Pew Research, the majority of Americans believe declining union membership is "bad." There is a partisan split among Democrats and Republicans on the issue, with 76% of Democrats saying declining union membership is either "very bad" or "somewhat bad," compared with 42% for Republicans.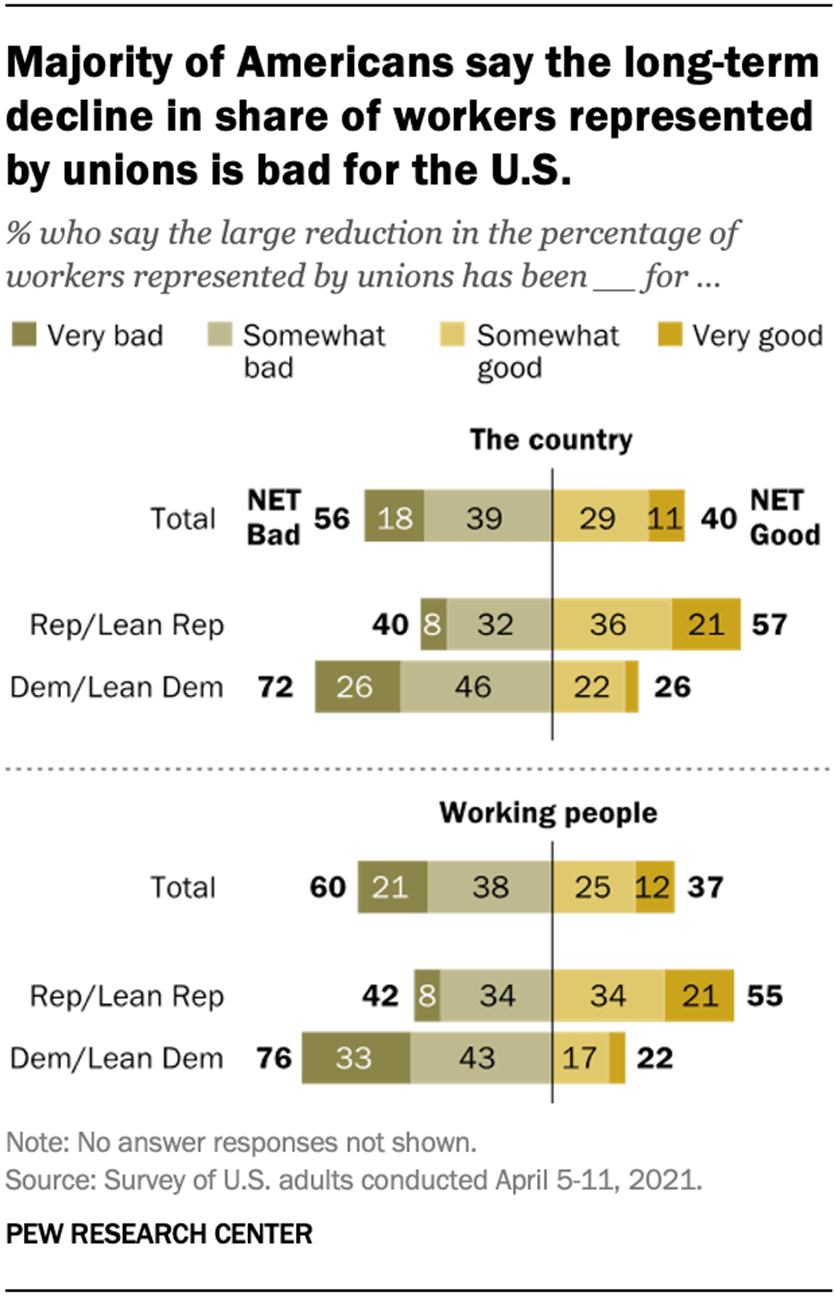 The data also reflects differences in ethnic backgrounds and age groups. Black Americans are more likely to see unions as a positive force in the country, as are young people (ages 18-29).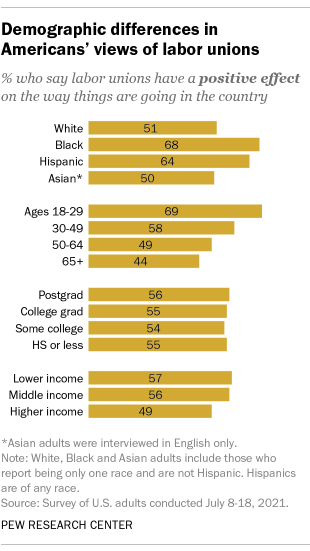 Harvard Business Review identifies a few tactics that are common for companies looking to push back against union membership campaigns:
With this approach, a company attacks all unions, trying to link unions with perceived social ills, such as communism.
Anti this Rather than tarring all unions as an "evil," companies can try to make a case that the particular union under consideration is bad for workers. This can include attacking the union leadership, history of corruption, strike record, etc.
Pro company. Rather than campaign against a union, a business tries to position themselves as a better friend to workers and educate them on the costs of their current benefits and perks.
You have rights, but… This tactic is when managers discourage employees from adopting a union but remind them that the decision is essentially theirs to make.
However, if your company is facing a potential union drive, it's worth considering how you got there. Harvard Business Review also identifies four reasons why many employees seek a union:
Compensation
Job security
Poor management
Worker control
Putting employees first
Fighting against union efforts requires careful consideration in an era when many organizations are trying to show genuine care and concern for employees.
Workers have felt abandoned by their organizations as they struggled to navigate the COVID-19 pandemic, and perhaps it is this broken trust that has led to record numbers of employees walking off the job.
In the case of the Starbucks unionization effort, inconsistent support around COVID-19 protocols and enforcement was cited as a reason for employees to a have a bigger say in company decisions through a union.
And [employees] expressed frustration that Starbucks did not appear to make worker safety a priority — first leaving it to baristas and shift supervisors to enforce masking policies, and then, as infection rates soared late last year, telling them that they shouldn't bother requiring masks at all.
Reggie Borges, a company spokesman, said this change had come about as a result of listening to employees, who complained that Starbucks was putting them in a difficult position.
As companies continue to struggle to reflect the feedback of frontline workers, the discussion of alternative options, including unions, is likely to be on the table.
COMMENT
One Response to "Report: The majority of Americans say declining union membership is bad"
Ronald N Levy

says:

This excellent report helps PR executives to alert management—and in time to DO something effective—about (a) the public's information deficit on unions, and (b) the important TRUTH that can be at the core of remedial PR since as top Omnicom executives have written for PR Daily, truth is the very core of a
PR program that succeeds.

THE INFORMATION DEFICIT is shown by the fact that working people 60 to 37, even more than the country's 56 to 40, think the decline is unions is bad. This is even though many union-negotiated "benefits" may raise consumer prices for working people without economically helping the union's members
aside from those who take credit for "achieving agreement" to the non-economic benefits like work rules.

THE OPPORTUNITY FOR CORRECTION of the information deficit can be
used by presenting to the public the TRUTH about effect on economic benefit and likely effects on consumer prices, which affect customer demand and therefore number of jobs.

The data, this PR Daily report points out, reflects that "Black Americans are more likely to see unions as a positive force in the country as are young people (ages 18-29)." Importantly, Black Americans and young people may be especially sensitive to both a rise in consumer prices and a fall in jobs,
increasing the public benefit of correcting the information deficit.

PR Daily says that Harvard Business Review, widely admired as a reliable
information source, "identifies a few tactics that are common for companies looking to push back against union membership campaigns." Reader managements may welcome both information on the tactics and the validity of information from such an impeccable source as Harvard Business Review.