Uniqlo won't leave Russia, top research for PR pros and tech companies address anxiety over return to the office
Also: CVS touts accessibility in metaverse play, investors push for change on taxes and transparency, and Stoli looks to rebrand amid Ukraine crisis.
Good morning, communicators:
CVS hopes to corner the digital market as it trademarks its brand to open a digital pharmacy in the metaverse. The drugstore chain joins retailers like Nike and Walmart to offer a virtual shopping experience.
Its trademark filing also suggests the company hopes to offer telehealth and virtual visits in the metaverse store.
"We're… regularly looking at new and innovative ways to engage consumers through a digital-first, technology-forward approach," said a CVS spokesman in a statement to CNBC, adding "we will continue to explore these and other options to improve the consumer experience and launch new consumer-centric services."
It's an example of how many companies are testing capabilities and opportunities in new digital platforms, despite plenty of uncertainty about how popular the metaverse will actually be. To tie into its offering, CVS has also released research on how many Americans are underserved by their current health care options.
If you are getting into the metaverse, think about how you can make a compelling case that your offering improves the lives of consumers. By increasing accessibility for routine wellness appointments, CVS might have a better reason to enter the metaverse than most.
Here are today's top stories:
Uniqlo defends keeping Russian stores open
The clothing chain has 50 stores in Russia, which it says will remain open despite its parent company's stance against the Ukraine invasion. Competitors like H&M and Zara have temporarily closed their stores in Russia—though those decisions might have been forced due to supply chain issues.
The CEO of Uniqlo parent company Fast Retailing, who is against the war in Ukraine, confirmed the brand's decision to stay open in Russia in a statement to Asian business news site Nikkei, Bloomberg reported. Earlier this week, Fast Retailing donated $10 million to UN Refugee Agency UNHCR.

"Clothing is a necessity of life," CEO Tadashi Yanai said, according to Bloomberg. "The people of Russia have the same right to live as we do." A spokesperson for Fast Retailing was not immediately available for comment when contacted by Insider.
What you should know: While plenty of noise is being made by corporations about closing their operations in Russia in response to the tragedy in Ukraine, the actions are often business decisions forced by the raft of sanctions imposed by NATO countries and their allies around the world.
Uniqlo hopes to be able to separate its efforts to serve the Russian people—many of whom are bravely protesting the war—from its leaders which have sent troops into a sovereign nation unprovoked. By donating to refugee organizations, the brand hopes to demonstrate its values and offset criticism of its ongoing Russian connection.
---
MEASURED THOUGHTS
The Institute for Public Relations has released a new report on the top 17 research discoveries for PR pros in 2021. The list includes analyses of a range of topics from behavioral science to diversity and inclusion.
One common thread is the importance of employees and their value to your organization. Employees became the No. 1 stakeholder for businesses in 2021 and the data represents just how important employee relations is for your efforts in the year ahead.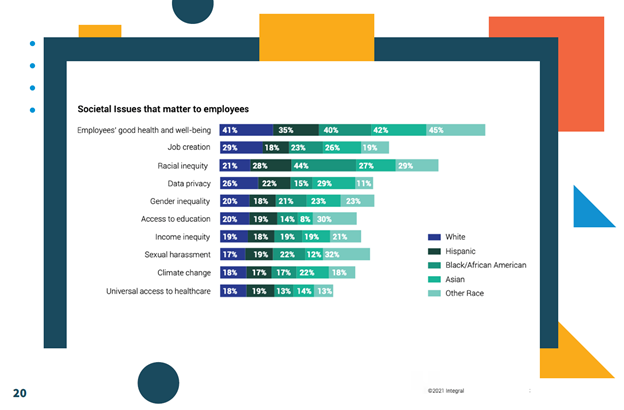 You can see all 17 of the insights identified by IPR as the top pieces of research for last year by downloading the full report.
Stoli vodka rebrands to distance itself from Russia
The Stolichnaya vodka brand is hoping that a name change will be enough to keep its products on shelves in Europe and the U.S. Shortening the name to just "Stoli" is an effort to show solidarity with the Ukrainian people and educate consumers about the company's own strained relations with Russia. Founder Yuri Shefler was born in Russia but was exiled in 2000 for anti-Putin views.
The company's alcoholic beverage is now produced in Latvia.
The New York Daily News reports:
"Today, we have made the decision to rebrand entirely as the name no longer represents our organization," Shefler said in a press release. "More than anything, I wish for 'Stoli' to represent peace in Europe and solidarity with Ukraine."
Why it matters: The name change is a bit of PR stunt—but it's crucial for Stoli to find a way to explain its frayed Russia connection to consumers who are weighing their purchasing options. Stores have been removing Russian brands from shelves—and Stoli risks guilt by association, even if its founder has no love for Putin and his regime.
---
INVESTOR RELATIONS
More and more companies are facing pressure from their investors to make changes to product portfolios. Unilever is just the latest as an investor group has demanded more transparency around nutrition in its products, including Ben & Jerry's ice cream. The company already published nutrition standards in 2020, including targets around plant-based food products and lowering salt and fat content in Unilever's food portfolio. Investors, however, want more.
Unilever, which is the world's largest producer of ice cream, will set out new nutrition goals by October, according to the company.
Catherine Howarth, chief executive of ShareAction, a shareholder group that pushed Unilever to make the changes, said: "The transparency promised sets a new standard for the industry. We hope and expect that others will follow."
In the U.S., investors are pushing e-commerce giant Amazon to adopt new practices and transparency around its corporate taxes. The company has rebuffed similar requests from shareholders in the past—but the investors claim the aggressive tax practices of the retailer create risk.
[The investors] want to bring a shareholders' resolution demanding the new standard at the company's annual meeting this year, it said, citing a letter to be sent this week to the U.S. regulator, the Securities and Exchange Commission.

"Aggressive tax practices can expose a company and its investors to increased scrutiny from tax authorities, adjustment risks, and increase their vulnerability to changes in tax rules," the investors said.
For communicators, these stories are a reminder of the growing importance of environmental, social and governance issues. Investors are looking for companies that demonstrate ongoing stakeholder engagement—and that's where communicators can both facilitate the conversation and make sure a company's efforts are visible to right audiences.
Tech companies address anxiety amid return to office push
Big tech companies like Google, Apple, Twitter and more are making the push to bring employees back to their offices. For Apple, employees will have to work in the office one day a week starting April 11 and ramp up to three days per week by April 23. Google will require at least three days in the office, effective April 4.
Twitter will be more flexible, allowing workers to set their own schedule and priorities when its offices reopen Mach 15.
"For many of you, I know that returning to the office represents a long-awaited milestone and a positive sign that we can engage more fully with the colleagues who play such an important role in our lives," [Apple CEO Tim Cook] said in a memo. "For others, it may also be an unsettling change."

… "Wherever you feel most productive and creative is where you will work, and that includes working from home full-time forever," Twitter CEO Parag Agrawal said in a letter to employees. "Office every day? That works too. Some days in office, some days from home? Of course."
What you should know: Workers want to hear about the strategy for a return to the office directly from the CEO, and those internal messages are likely to find their way into the hands of external audiences. Even as the pandemic abates, demonstrating empathy for employees and their needs will be paramount for communicators.
Acknowledging the wide range of experiences and priorities for workers coming out of the pandemic is starting point. And if you do have hard and fast rules about when workers must be in an office, make sure to have a solid reason behind your decision.
COMMENT