Using Google Analytics' Site Search feature to improve your content
Dig into Google Analytics to find a wealth of information about your website.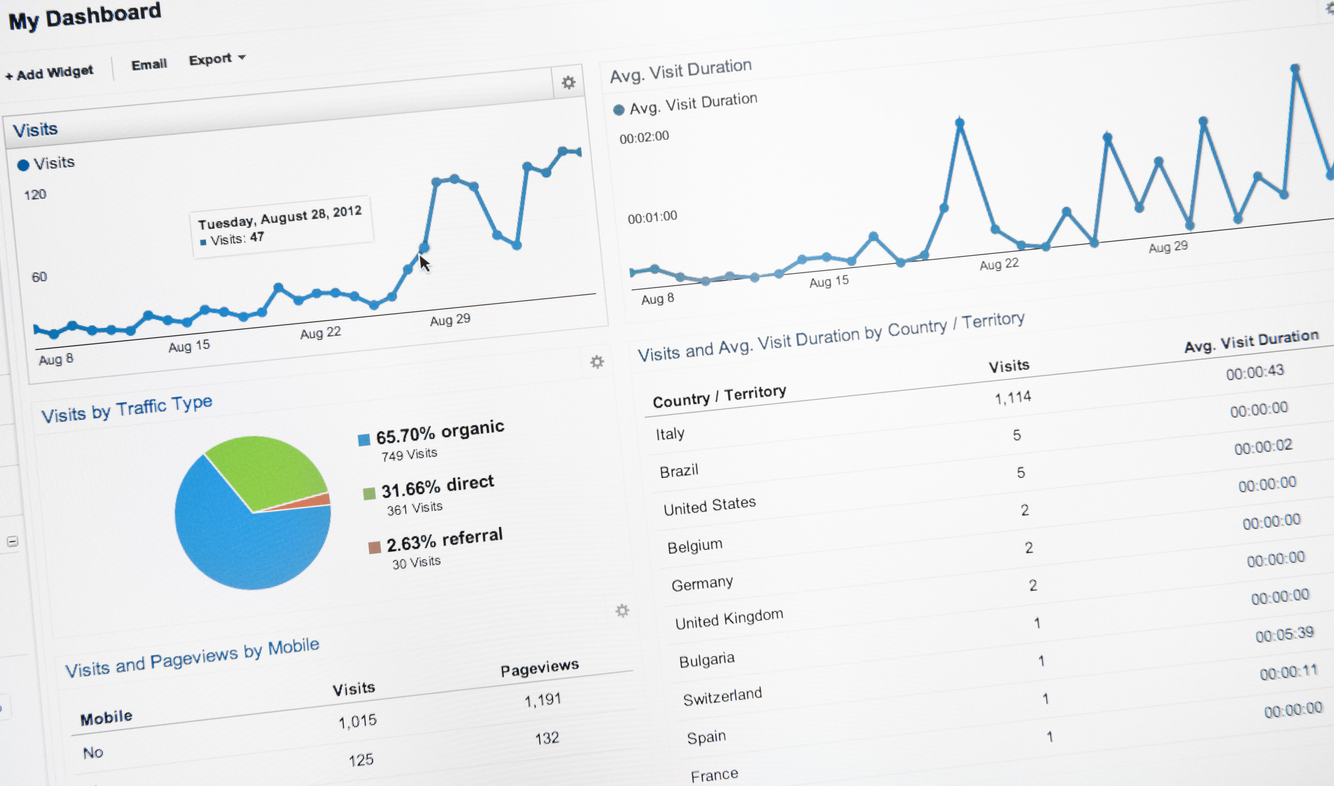 When it comes to keyword research, we almost always rely on tools that show us the habits of our potential audience. By using the Site Search feature in Google Analytics, we can find keyword data about our actual visitors.
Delving into what people are searching for once they've already landed on your site can help you make improvements to the content and structure of your site.
What is the Site Search feature in Google Analytics and how can I use it?
Amongst the vast amount of data available in Google Analytics are the terms that people enter into your site's search bar, and this is stored within the "Site Search" section, under "Behaviour" in the left hand menu.
Click on "Search Terms" and set your dates to look at your preferred time period. Depending on the level of traffic your site experiences, it's a good idea to select a fairly large timeframe, to give you enough data to make your findings meaningful.
If you've not got any data, you might not have Site Search set up. This only takes a few moments to enable, and Google has a short guide on how to do that here.
What can GA Site Search be used for?
The search terms you'll find here not only help you learn more about your site's visitors, but can assist with fine tuning your site structure, as well as provide content inspiration.
Changes to your navigation
If some of your top searches are for pages that already exist, this could be a sign that your visitors are struggling to find them. It may be worth considering your navigation, adding these pages into your main menus if they aren't already there, or signposting them more clearly on other relevant pages.
The caveat to this is that even if your pages are easy to find, people will sometimes search for what is right in front of them anyway, so take the results with a pinch of salt.
New potential pages
The flip side to this is that if there isn't an obvious section of your site that caters to these popular search terms, this is a good opportunity to consider creating either a new page or subheadings within an existing relevant page.
Even if elsewhere you touch upon the topics these keywords focus on, sometimes making it crystal clear and impossible to miss, with its own page ensures you won't miss visitors who may not immediately realise you're relevant to what they're looking for.
New content ideas
The most commonly searched phrases in your Search Term data may well warrant their own pages, but as you look further down the list at some of the more niche phrases, you might also find some topics that make interesting blog topics instead, or which you could factor into other marketing channels or PR campaigns.
Understanding your customers' language
As with any keyword research tool, Site Search data confronts you with the actual language your customers are using — not just what you think they are.
Whatever sector you work in, industry and internal terminology has a tendency to creep in and it's easy to forget that customers are often unfamiliar with this, which can be alienating. Therefore, reminding yourself what your customers are looking for and crucially, how they label this, helps you make sure your copy reflects this.
You've worked hard to drive traffic to your site, and by reviewing your Site Search data you can ensure that you're retaining these visitors and delivering the content they're expecting to find.
Kerry Sheahan is senior account manager at Browser Media, a PR-driven SEO and digital marketing agency.
COMMENT
One Response to "Using Google Analytics' Site Search feature to improve your content"
Ronald N Levy

says:

Yes! A blessing to clients and media alike are PR execs who rely more on
facts plus more facts, less on adjectives and opinions. A blessing of PR Daily and other courses is the teaching by their educators on using FACTS to increase success—what facts to look for, where to look, how to use them and more.

Also, sometimes, how to cast well-deserved doubt on alleged facts claimed by the other side. Managements love this just as managements love lawyers citing top sources that the other side can't knock down.