3 tips to turn employees into (video) ambassadors
A powerful employer brand starts on the inside. A global employer branding manager at Continental shows how to use video to celebrate your workforce.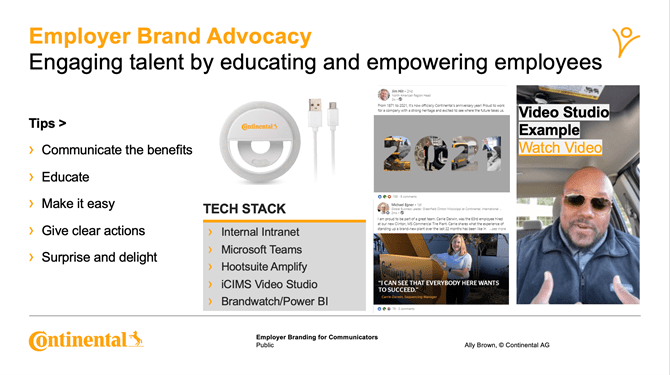 [Editor's note: This content comes from Ragan Training, the go-to video library resource for communications professionals. Learn more at www.ragantraining.com]
The talent landscape has been upended. Prospects hold all the cards now—and they want an authentic look at life inside your company.
Here's how to inspire and empower your employees to provide that peek behind the curtain, along with an example of an authentic employee video that hits the sweet spot:
1. Communicate the benefits. "Employer branding is all about shaping and sharing your organization's culture," says Ally Brown, global employer branding manager at Continental in a Ragan Training session titled "Employer Branding for Communicators."
One way Continental does this is by empowering employees to be ambassadors or advocates, sharing their experiences and stories of working at the company.
But why should employees share in the first place?
"You have to communicate the benefits and what's in it for them," Brown says. "It depends on the employee, but the benefits of sharing can include networking, increased visibility for them—or even recruiting top talent to join their team."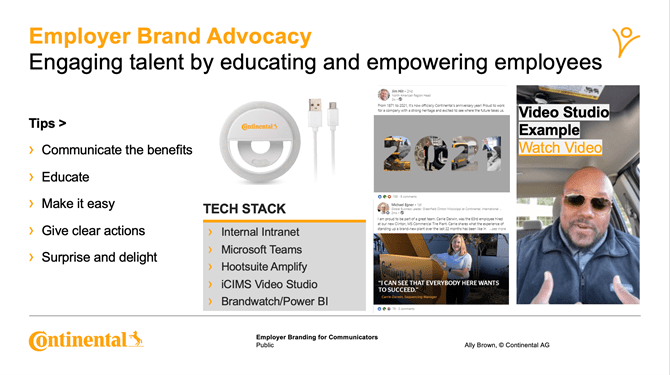 2.  Educate. "Once people are on board and ready to share the brand, you need to teach them how to communicate your message and employer value proposition," Brown says.
But they must be able to do it in their words, she warns. "Of course, you want to do usual media training, but be careful not to discourage them with too many rules. Otherwise, you risk losing their authenticity."
3. Make it easy. "Employees are busy," says Brown. "They just don't have a lot of additional time on top of their jobs and people don't just do something extra unless they're asked—so you have to make it easy for them."
 Do that by providing clear, actionable steps so they can support you.  It can be as simple as tip sheet or checklist for shooting selfie videos on their cell phones.
Or you can go the extra mile and "surprise and delight them," Brown says. For example, her team sends employee ambassadors ring lights in the mail. "It helps them feel confident and shows appreciation for what they're doing," she says.
If done correctly, the result can be highly shareable, intensely authentic and even moving, offering content that you could never have scripted.
This video is a prime example:
Brian Pittman  is the Dean of Ragan Training a Ragan Communications event producer. For more information about Ragan Training, contact him at brianp@ragan.com.
COMMENT