5 Instagram lessons from the Office of the Director of National Intelligence
Managing social media for a government agency offers unique challenges, boosting engagement without 'sexy' content. Here's how the ODNI is standing out online.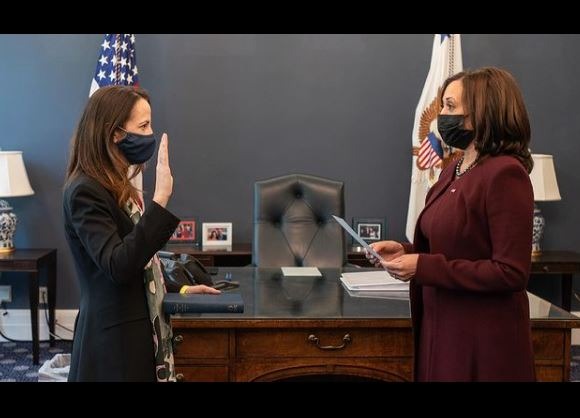 The Office of the Director of National Intelligence launched an Instagram account featuring its newly appointed director Avril Haines and her important work.
The social media account isn't filled with fast food puns or snarky quips. It didn't even host an "I spy" challenge—how the CIA announced its Instagram presence in April 2019. However, the ODNI's account can provide communicators with several social media takeaways for Instagram and other social media platforms.
"Instagram is an important way for ODNI to strengthen our connection with the American public," says Amanda Schoch, assistant director of national intelligence for strategic communications. "Through our Instagram account, we will look to creatively highlight our people, values, and the important work happening at ODNI and across the Intelligence Community to meet our mission."
Consider the following lessons:
1. Discover and maintain your brand's voice.
 The agency announced its Instagram account simply and featured its logo:
View this post on Instagram
You might think your Instagram posts have to be visually astounding and full of excitement to be worth publishing, but consider your brand's voice and tone before outlining a content strategy for Instagram. You do want to be visually appealing, but you don't want to diminish your organization's image—especially if you're working for a government agency, health care system or highly-regulated industry.
Though the CIA was lauded for its clever Instagram announcement, it was also recently ridiculed for its website redesign, to which one journalist responded: "No, the CIA cannot be cool." Don't try too hard to appeal to a particular demographic, especially younger audiences. Instead, focus on your organization's values and mission, align your social media posts with your brand voice and tone, and get creative in ways that make sense for your brand's image. Not every organization needs to be a Burger King or Wendy's online.
2. Celebrate your organization's DE&I commitments and initiatives.
ODNI's second Instagram post featured Haines being sworn in by Vice President Kamala Harris. The post highlighted Haine's historical appointment as the first woman to serve as the director of national intelligence, and shared this quote from her:
Serving in this role is the honor of a lifetime. From my time in government, I know that those who serve in the Intelligence Community are the very best this country has to offer.
View this post on Instagram
As consumers look to organizations to take a stand for social justice issues and show both commitment and accountability for DE&I initiatives, it's more important than ever to be transparent and consistent with your efforts. This includes celebrating milestones that chip away at the proverbial glass ceiling for women in the workforce and efforts that successfully amplify diverse voices.
You don't have to get political, either. If you've recently promoted a BIPOC employee to your executive ranks, highlight their work and offer congratulations on your social media profiles. Include images and stories from employees across backgrounds and experiences, and tout your initiatives that are helping your community and the world.
3. Give your followers a peek behind the scenes.
This photo of Haines detailed her first full day in the role, as she holds a virtual town hall. The post served as an announcement of goals and priorities and a look into Haines' day as she works remotely:
View this post on Instagram
Share your organization's values and priorities often enough that your audience doesn't have to wonder about your focus and mission. Put your executives front and center—and forgo the airbrushed headshots. Instead, show an authentic look into your leader's day. For many, that includes working remotely and embracing virtual meetings.
Showing behind-the-scenes peeks can help connect your executives and organization with your target audience. It can also showcase how you treat employees. In a time where company culture is under the magnifying glass, the more you can showcase how you're keeping employees in the loop and supporting their efforts, the better.
4. Reflect current reality and timely news or trends—and be authentic.
 Another Instagram post features Haines in a meeting with "chemists, scientists and weapons of mass destruction experts assigned to the National Counterproliferation Center." Each person photographed is wearing masks, and the post's second photo shows Haines smiling behind her mask:
View this post on Instagram
If your images—on Instagram or any other digital channel—don't reflect current reality, your organization can quickly face criticism that can sideline your efforts. As the COVID-19 crisis continues, that includes visuals of people wearing masks and social distancing. You also should carefully consider how diverse and inclusive your visuals are, and how well they represent both your brand and your stakeholders.
5. Partner with industry colleagues and other organizations.
ODNI's most recent Instagram post featured Haine's visit with leaders at the National Reconnaissance Office, which "designs, builds, launches and maintains America's intelligence satellites." Along with explaining NRO's mission and history, the organization's Instagram profile is tagged in the description.
View this post on Instagram
NRO posted one of the photos from Haine's visit as well, tagging ODNI's Instagram account:
View this post on Instagram
As communicators continue to grapple with crisis responses, fighting misinformation and disinformation, cutting through the noise to reach audiences across social media platforms and more, consider partnering with industry colleagues or other organizations to increase your reach and provide validity for your content. On Instagram, this can be as simple as swapping Instagram posts, taking turns giving a partner organization a shout-out on your Instagram profile.
You can also partner to share newly emerging strategies and best practices as we overcome unprecedented challenges while also building an engaged and active social media following.
What lessons would you add to the list, PR Daily readers?
Looking for more tips and trends for social media content in 2021? We've got you covered with Ragan's Social Media and Digital Communications Virtual Conference March 16.
COMMENT