Apple launches long-anticipated user privacy tool, the financial cost of racial inequality for film and TV, and HBO knocked for inaccurate subscriber numbers
Also: Intimate Oscars ceremony showcases people over spectacle, Reddit responds to child pornography lawsuit, Twitter creates tools to let top users charge for content access, and more.
Hello, communicators:
The 93d Academy Awards broadcast live from Los Angeles' Union Station last night, forgoing its typical home at the Dolby Theater in favor of a more intimate set. The awards show featured a smaller, socially-distanced crowd and a stripped-down ceremony that did away with the pomp and highly-produced set pieces typical of an Oscars broadcast.
With fewer award presenters, the show spent more time providing context on the nominees, their background and their work. There was no music playing off winners during long acceptance speeches, and presenters often spoke to the nominees in the room directly while presenting the awards. Winners were able to share personal stories about their work, their families and their struggles.
"Hollywood's biggest night wasn't exactly the movie unto itself that producers Jesse Collins, Stacey Sher and Steven Soderbergh promised," reports Deadline. "However, no one took that very seriously, and the resulting relatively fast-paced and deeply personal ceremony actually might have been something more vital—a true Hollywood reinvigoration."
Communicators, take note that decreased campaign budgets and resources can offer more space to highlight your employee's stories and experiences.  Work with your HR and talent teams to craft stories that celebrate your internal culture and develop thought leadership content that does not require a big spend.
Apple releases new transparency tool promoting user privacy and control over data
On Monday, Apple will release iOS 14.5, a software update that includes a new privacy tool called "App Tracking Transparency" that promises to give users more control over how their data is shared. The tool will alert users when an app wants to share their data with third parties like advertisers and ask for the user's permission before sharing their data.
The privacy change is still significant because it explicitly asks us for consent. If we tell apps that we don't want to be tracked and they keep doing so, Apple can ban the offenders from its App Store.

The pop-up window also makes the privacy control far easier for people to discover, said Stephanie Nguyen, a research scientist who has studied user experience design and data privacy. In the past, iPhone owners could restrict advertisers from tracking them, but the tools to do so were buried in settings where most people wouldn't look.

"The option was available before, but really, was it?" Ms. Nguyen said. "That's a big shift—making it visible."
Why it matters:
Work with your advertising and marketing teams now to craft language that allows your customers to opt out of any data collection, be it through email lists, websites or software. Make sure that the language is clearly stated and easily accessible. Reach out to software partners to ensure that their privacy policies are up to industry standards, and that your company's data collection methods are up to their standards.
---
MEASURED THOUGHTS
A new study by McKinsey found that found that "persistent racial inequities" in the film and television industry add up to approximately $10 billion in annual revenue that is not being collected. "Today, Black Americans make up 13.4 percent of the US population, and that percentage will increase over the next few decades," the report reads. "Just as the racial wealth gap is constraining the US economy, the film and TV industry will continue to leave money on the table if it fails to advance racial equity."
The report also found that the film and television industry remain disproportionately white compared to other industries.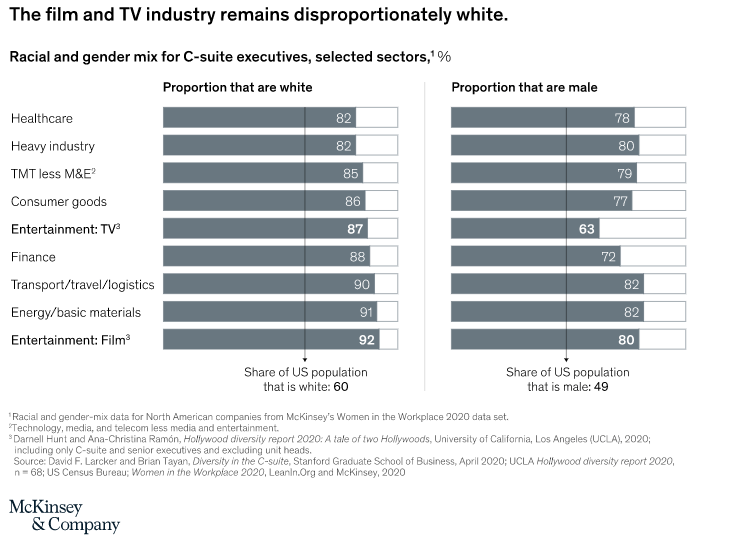 Courtesy of McKinsey & Company
Communicators, take note to determine whether your company's DE&I work has an impact on its bottom line by identifying any discrepancies between the backgrounds and identities of your external stakeholders and how those stakeholders are reflected among your internal talent. Set benchmark goals that focus on closing those gaps, and measure your progress accordingly.
---
SOCIAL BUZZ
Twitter is testing options for a new "super follow" feature that includes tipping options designed to help users monetize their presence on the platform by offering paywalled, exclusive content to their followers.
Jane Manchun Wong, a developer known for reverse engineering code on social media platforms to reveal hidden features before they launch, shared what the features might look like:
Twitter is working on the "Super Follow" button,

as a small circular button , or a big "Super Follow" one

p.s. that cash button is for tipping: https://t.co/A6Q6TiA1ku

Twitter is also making their color scheme more monochrome, and is also using their new "Chirp" font https://t.co/qSEjh0ohm8 pic.twitter.com/jb3Y9o4Yct

— Jane Manchun Wong (@wongmjane) April 23, 2021
Most notable is a "tipping" button that will allow users to accept fan/follower donations directly on their profile, a new "super follow" button featured prominently that would replace the "follow" button for those already following the user.
Communicators, remember that the monetization of each social media platform opens new opportunities and challenges for crafting influencer relationships. Work with your marketing team to craft language for influencer agreements that reflects your platform-specific needs and expectations for each influencer.
---
CRISIS COMMUNICATIONS
Reddit is being sued by a woman alleging that the platform allowed her ex-boyfriend to repeatedly post pornographic images of her as a 16-year-old.
The lawsuit argues that Reddit knew its site was a hub for illegal photos and videos, based on news coverage and tips from users themselves, and it should have done more to protect victims. "Reddit has itself admitted that it is aware of the presence of child pornography on its website," the complaint reads. Among other questionable content, it lists several now-removed subreddits with titles referencing "jailbait," including an infamous forum that was removed in 2011 after media controversy. (That subreddit did not allow nude images, but it encouraged sexually suggestive ones.)
The social platform defended its actions with step-by-step accounts of how it tries to identify and remove inappropriate and abusive content from its site.
 "Child sexual abuse material (CSAM) has no place on the Reddit platform. We actively maintain policies and procedures that don't just follow the law, but go above and beyond it," a Reddit spokesperson said in a statement to The Verge. "We deploy both automated tools and human intelligence to proactively detect and prevent the dissemination of CSAM material. When we find such material, we purge it and permanently ban the user from accessing Reddit. We also take the steps required under law to report the relevant user(s) and preserve any necessary user data."
Communicators, be sure to include in any statement the specific steps your company has taken to address any alleged illegal impropriety. Partner with your legal team to construct language about any ongoing litigation, and make sure that the messaging comes from your company instead of an attorney. If your crisis response involves any automation, machine learning or artificial intelligence, spell out in your messaging how that technology is deployed.
---
CRISIS LEADERSHIP NETWORK
Looking for more insight on how to address the current global crisis and lead your organization into a strong recovery?
Join Ragan's Crisis Leadership Network to connect and brainstorm with peers, get the latest intelligence and research and start to strategize for the future of your organization.
Learn more about this exclusive membership here.
HBO takes heat for 'creative math' in reported subscriber numbers  
HBO's subscriber count, released last week by parent company AT&T as part of the company's Q1 results, are being criticized by industry experts who say the figures paint an inaccurate picture of the company's success.
This is not the first time we've seen the company use some creative math for its reported "subscribers." When the company reported reaching 37.7 million subscribers in January, it also said that 17.17 million of those were "activated users." When asked for clarification about this in February, a spokesperson clarified that the nearly 38 million subscribers it reported referred to users with access to HBO Max, while the 17.17 million referred "to customers who are actively using the platform."

What's interesting is that AT&T chief John Stankey seemed unwilling to elaborate on these figures during earnings. Asked during an investors Q&A about how customers are using HBO Max, Stankey declined to elaborate.

… "I think we gave you a good sense of what's happening, and our satisfaction that we're well up over two hours per day per account. And I think that's a really good place to be. And it certainly is probably higher than our engineered expectations when we launched the product, and we'll take that goodness."
Why it matters:
Communicators, take note to vet the language in your financial reports with your analytics team before publishing to ensure that any reported results accurately reflect your company's performance and are free of misleading or vanity metrics. Ensure that the language your reports use to differentiate customer and audience segments is clearly defined and easily explained. When your methodology is challenged, respond to any criticism with specific answers and avoid deflection.
---
CONFERENCE ALERT
Communicators are in a unique position to collaborate with other DEI leaders to foster unity, build a stronger internal and external brand reputation, maximize innovation and improve the bottom line. The days of brands comfortably remaining silent are gone as employees and customers are demanding impactful change.
Join us at Ragan's Diversity, Equity and Inclusion conference on May 19, 2021 and glean timely strategies to educate, engage and uplift your employees and customers in the wake of unparalleled uncertainty, political upheaval and a new mandate for social justice change.
Learn powerful insights and approaches from speakers at organizations including Ben & Jerry's, Reebok, Warner Music Group, E.W. Scripps, NielsenIQ, Facebook and more.
---
WHAT YOU SAID
On Friday, we asked if your company made any values-based spending commitments around social justice or environmental sustainability last week. Sixty-three percent of you said "No," suggesting that neither Earth Day nor the conviction of Derek Chauvin prompted any investment. Meanwhile, 12.5% of you each said that your company committed to sustainability or social justice work last week, while 12.5% also said that your company had allocated spending for both.
Has your company made any values-based spending commitments this week around social justice or environmental sustainability, PR pros and communicators? #DailyScoop

— PR Daily (@PRDaily) April 23, 2021
Is there a question you'd like to see asked? Let us know with the hashtag #DailyScoop!
---
SOUNDING BOARD
Time for your Monday morning wellness check, PR pros and communicators. Are you feeling rejuvenated and ready to take on the week? Share your current state of mind, in GIF form, below.
Time for your Monday morning wellness check, PR pros and communicators. Are you feeling rejuvenated and ready to take on the week? Share your current state of mind, in GIF form, below. #DailyScoop pic.twitter.com/2v69mq6SBY

— PR Daily (@PRDaily) April 26, 2021
Let us know below how you're feeling at the top of this week and be sure to hashtag #DailyScoop. We will share the results in tomorrow's roundup.
COMMENT
One Response to "Apple launches long-anticipated user privacy tool, the financial cost of racial inequality for film and TV, and HBO knocked for inaccurate subscriber numbers"
Ronald Levy

says:

The New York Times of April 27th reports that Facebook is getting $70 billion a year from online advertising, and that Apple plus others want laws to reduce Facebook's use of the information that brings in this money.

PR wisdom may be that Facebook should make the case, and SOON, that:

.1. The public wants and deserves to receive information about who offers what individuals want in food, travel, entertainment, products, health care,
and opportunities for improved laws.

.2. The public is free to RECEIVE this information only if companies are free to SEND us this information.

.3. For companies to send us such information we care about, they need to KNOW what we care about, and there is no benefit to us or anyone in keeping companies in the dark about what we care about.

.4. Some say "ignorance is bliss" but it really isn't because bliss comes from getting what we want. After getting a medical test for cancer or some other disease, some people may feel "I'd rather not know if I have it," but most people would rather know. So there's not much benefit to anyone in Facebook knowing from our clicks what we care about but not being able to tell anyone what we care about and want.

.5. If Facebook can get $70 billion a year from telling companies what we care about, that benefits not only Facebook but also the companies and most importantly US, the people.

These five things are PR wisdom which Facebook may realize as easily as anyone else but whether Facebook will USE this PR wisdom is something we know not. Respect for the power of public opinion should, if Facebook is managed wisely enough, get Facebook to decide not only that Facebook has a right to do what it is doing but a right to communicate persuasively how doing this benefits the public.