Biden's Inauguration Day social media engagement, ViacomCBS rebrands streaming service as Paramount+, and AP style tips for 'Inauguration Day'
Also: Verizon creates interactive mobile experience for Metropolitan Museum of Art, 2021's top video content trends, TV host Al Roker receives COVID-19 vaccine on air, and more.
Hello, communicators:
 AP Stylebook has been tweeting tips for covering Inauguration Day from its 2021 topical guide, instructing that "Inauguration Day" should be capitalized "only when referring to the collection of events" that include President-elect Joe Biden's swearing in:
Capitalize Inauguration Day only when referring to the collection of events that include the inauguration of a U.S. president; lowercase in other uses: Inauguration Day is Jan. 20. This is the 59th inauguration. More Inauguration Day terms and guidance: https://t.co/dsk1L0KW8o

— APStylebook (@APStylebook) January 18, 2021
Lowercase the general term national anthem, which can refer to any country's patriotic song.
Capitalize "The Star-Spangled Banner," the U.S. national anthem written by Francis Scott Key. pic.twitter.com/MkMkSELW0x

— APStylebook (@APStylebook) January 20, 2021
The guide includes terms such as "National Guard," "Lady Gaga," "presidential oath of office" and "doctor." You can brush up on the entries for this week's stories as well as your future press releases and storytelling efforts.
Here are today's top stories: 
Biden touts social media for virtual inauguration
As Washington, D.C. is locked down and the crowds are missing from Biden's Inauguration Day, his team is turning to social media platforms to increase engagement and interaction while people stay safe at home. 
On Wednesday, Biden's team will launch a Snapchat lens that transports users to the Capitol to participate from home. Once the inaugural lens is selected in the Snapchat reel, users can take a selfie in front of the Capitol as confetti falls from above. If users flip the camera around, they'll be greeted by a Biden Jumbotron in front of a crowd of inauguration attendees whose faces are selfies sent in by supporters online.

… "This year's inauguration has allowed us to create new, innovative, and creative tools for Americans across the country to participate in inaugural traditions and ceremonies while staying home to keep everyone safe," said Christian Tom, digital director for the presidential inaugural committee. "We are excited for President-elect Biden to share his message around unifying the country with folks on Snapchat and invite them to be a part of this historic inaugural."
Outside of Biden's team, platforms including YouTube and Twitter offer live updates as well as livestreaming options:
Tune in to watch the 2021 U.S. Presidential Inauguration: https://t.co/SoX6dWeBKZ pic.twitter.com/cmnuHyVlYu

— YouTube (@YouTube) January 20, 2021
Joe Biden and Kamala Harris will be taking their oaths of office today.

⬇️ Hit "set reminder" to get a notification 🔔 and follow all of the latest about the #Inauguration. https://t.co/xtsTWsx8Gl

— Twitter Moments (@TwitterMoments) January 20, 2021
Why it's important: As COVID-19 continues and in-person events are still delayed, it's more important than ever to embrace digital outreach and virtual experiences. You don't need to bust your budget to do so, either. Many livestreaming offerings are free, and if a custom Snapchat filter is too pricey, consider creating a GIF on Giphy or using a hashtag to call for crowd-sourced content. Just make sure to vet your hashtag beforehand and stick around to interact with consumers as they respond to the call.
---
TACTICALLY SPEAKING
The Metropolitan Museum of Art partnered with Verizon to bring the museum's art pieces into people's homes, using augmented reality to create a unique and interactive experience on smartphones:
Double take! 👀 🌸

How about a trip to The Met—anytime, anywhere? Visit the Museum virtually through #TheMetUnframed, created using @Verizon technology. Roam digital galleries, complete challenges, and even "borrow" artworks in AR.

Explore now → https://t.co/aLdOL5zm0t pic.twitter.com/8x1CTtthhM

— The Metropolitan Museum of Art (@metmuseum) January 20, 2021
If you've been missing the @metmuseum, this experience lets you explore exclusively rendered galleries, unseen details, and even take the art home on loan with the power of Verizon. Don't forget to share your masterpiece using #TheMetUnframed https://t.co/Tl0dXIPxQd pic.twitter.com/CJXXwJHlBD

— Verizon (@Verizon) January 13, 2021
You can even "unlock" works of art and virtually display them in your home using the app's technology, as YouTuber Sam Sheffer shared:
The effort is an outstanding way to increase interest and engagement when people are still staying at home—and it can give you inspiration for creating digital-first experiences that highlight your organization's offerings.
---
MEASURED THOUGHTS
Oberlo recently released an infographic of top video marketing trends to know in 2021. Along with highlighting the growing interest with short-form video content on social media platforms including TikTok and Instagram, user-generated content on e-commerce websites can greatly increase sales and conversions: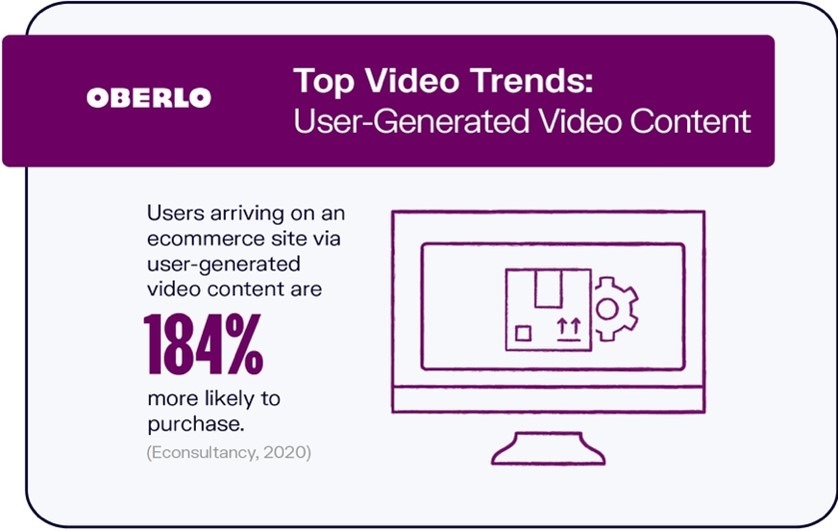 Nearly 90% of video marketers say they get great ROI from video content, too: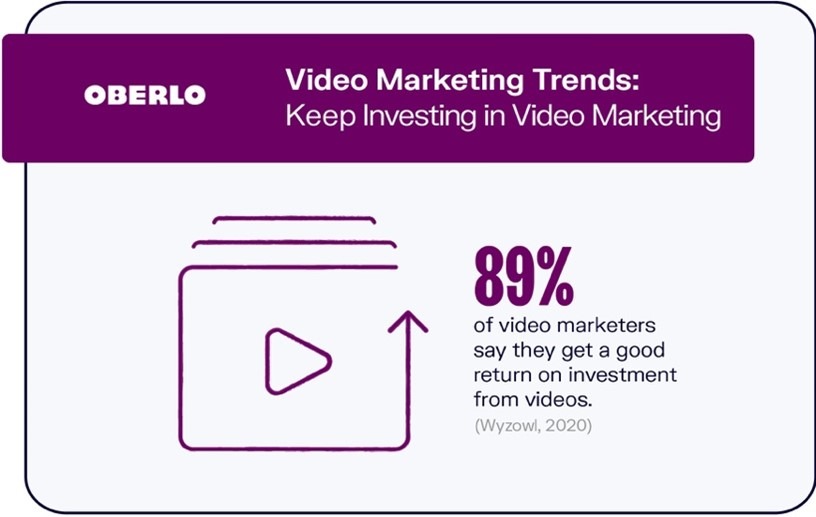 It's not just on-demand video that's making waves, either. As several organizations canceled or postponed events in 2020, 70% of event organizers moved their in-person events online, but 50% expect these digital conferences and meetings to remain a trend after COVID-19.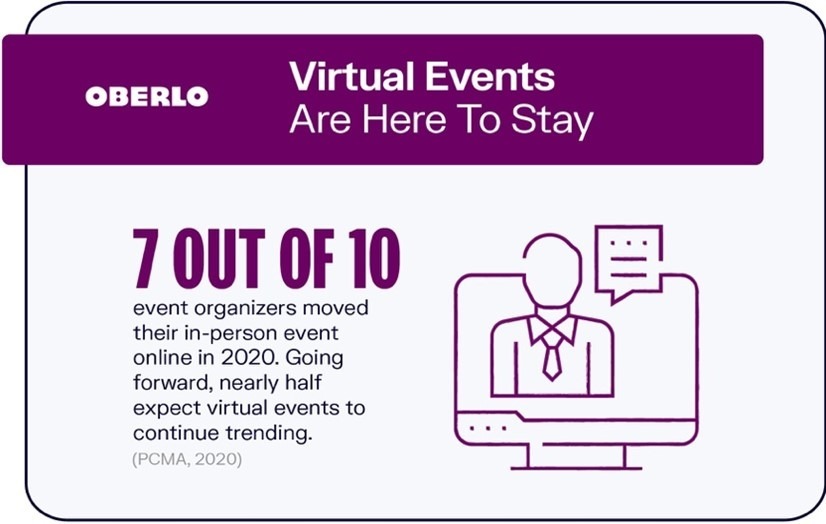 You can view the entire infographic here.
---
TACTICALLY SPEAKING
"The Today Show" co-host Al Roker recently received his COVID-19 vaccine on air:
As our Vaccinating America series continues, he shares tips on how to schedule an appointment as he did and talks with Dr. Daniel Baker, and receives the vaccine live at New York's Lenox Hill hospital. "Will I get a Hello Kitty Band-Aid?" Al jokes with nurse Jessica Callard.
Consider ways you can distribute vaccine information in new ways and using different channels to expand your reach. That includes partnering with influencers, showing people getting the vaccine or sharing people's stories, spreading information via visuals such as infographics, and more.
---
CRISIS LEADERSHIP NETWORK
Looking for more insight on how to address the current global crisis and lead your organization into a strong recovery?
Join Ragan's Crisis Leadership Network to connect and brainstorm with peers, get the latest intelligence and research and start to strategize for the future of your organization.
Learn more about this exclusive membership here.
ViacomCBS rebrands streaming service as 'Paramount+'
The media and entertainment company announced on Tuesday that its CBS All-Access digital content offering will become Paramount+, a bulked-up streaming service aimed to compete with NBC's Peacock, Netflix, Disney+, Hulu, HBO Max and more.
Our streaming universe is expanding. On March 4, #CBSAllAccess will transform into Paramount+. The service will feature content from the leading #ViacomCBS portfolio of brands, including @CBS, @Nickelodeon, @MTV, @ComedyCentral, @ParamountPics, and more. pic.twitter.com/zGzP6w79vU

— ViacomCBS (@ViacomCBS) January 19, 2021
In a press release, ViacomCBS wrote:
According to Domenic DiMeglio, EVP, head of operations and chief marketing officer for ViacomCBS Digital, the Paramount name will lift expectations of entertainment, content range, and quality—and build interest in the service's originals.

"We recognize that we're asking people to pull out their credit card and subscribe to our service. The Paramount brand, which audiences strongly associate with creativity and great storytelling, helps signal it's worth the price," says DiMeglio. "Being able to say something is a Paramount+ Original will give it instant credibility in the eyes of consumer: 'Oh, that's associated with the Paramount brand, that's going to be quality content.'"
Why it matters: As the streaming wars heat up, organizations are fighting for for both relevance and consumers' wallets. The Los Angeles Times reported an October 2020 Deloitte survey that revealed 46% of respondents canceled at least one streaming service in the past six months—an increase of 26% from the amount canceling at the beginning of 2020. Entering the streaming arena or creating digital content is just a first step. As with other social and digital media campaigns, brand managers must tailor and personalize already valuable content to stand out from the crowd.
---
TAKE OUR SURVEY
The start of a new year brings more opportunities for communicators across roles, organizations and industries to develop effective strategies and efforts that can strengthen their brands amid continuing crises, including the COVID-19 pandemic.
Ragan's Communications Leadership Council has created The 2021 Communications Benchmark Survey, and wants to know your challenges, successes and needs as you navigate the rapidly shifting communications landscape and respond to unprecedented crises as well as new opportunities.
Please share your insights with us. As a thank you for your time and insights, you'll receive an Executive Summary of the report, packed with proprietary research that can help you better shape communications strategies in 2021. You'll also be entered to win one of five $100 Visa gift cards.
---
WHAT YOU SAID
We asked how you're altering pitching strategies, and nearly 37% of you are strengthening relationships with reporters, while almost 32% are turning to storytelling and brand journalism efforts and 21% are offering up data and other numbers to increase media coverage. Roughly 10% are pitching as usual:
How are you altering your pitching strategies to land coverage, PR pros?

Share with us below and we'll dish the results in tomorrow's #DailyScoop.

— PR Daily (@PRDaily) January 19, 2021
Is there question you'd like to see asked? Please let us know under the #DailyScoop hashtag!
---
SOUNDING BOARD
What social media platform are you focusing on this year for engagement?
What social media platform are you focusing on this year for engagement?

Weigh in below and share your thoughts, and we'll share in tommorrow's #DailyScoop.

— PR Daily (@PRDaily) January 20, 2021
Please weigh in below and on Twitter, and we'll share in tomorrow's #DailyScoop.
COMMENT