Biden's new vaccine rules, Harvard announces divestment from fossil fuels, and Amazon takes heat over promoting debunked COVID-19 cures
Also: How companies have mandated vaccines so far, agencies offer to cover relocation for Texas-based employees after anti-abortion law, and Twitter tries to label 'good bots.'
Hello communicators,
President Joe Biden announced new rules for employers on Thursday, which will require companies with 100 or more employees to require vaccination or weekly testing to combat COVID-19.
"We've been patient, but our patience is wearing thin, and your refusal has cost all of us," Biden said, his tone hardening toward Americans who still refuse to receive a vaccine despite ample evidence of their safety and full approval of one — the Pfizer-BioNTech Covid-19 vaccine — from the US Food and Drug Administration.
The announcement comes as the Biden administration rolled out vaccine and testing rules for federal workers as the Delta variant continues to ravage American cities.
CNN continued:
"While America is in much better shape than it was seven months ago when I took office, I need to tell you a second fact: We're in a tough stretch and it could last for awhile," Biden said in an early evening speech from the White House.
While some see the president's new push as executive overreach and an onerous vaccine mandate, others have applauded the president's push to fight the COVID-19 pandemic, which shows no signs of going away after almost two years of worldwide disruption.
Here are today's top stories for comms pros:
Lawmakers slam Amazon for promoting dubious COVID-19 cures
The online retailer is taking heat from democratic lawmakers who say they company's algorithms are promoting debunked COVID-19 products and medicines like ivermectin.
Rep. Adam Schiff of California and Sen. Elizabeth Warren of Massachusetts sent letters this week to CEO Andy Jassy pressing for information on Amazon's misinformation policies and what the company is doing to stop its systems from recommending books and other products linked to falsehoods about the pandemic and vaccines.

"Amazon is directly profiting from the sensationalism of anti-vaccine misinformation, while these conspiracy theories continue to directly contribute to COVID-19 deaths," Schiff wrote.
The story comes as Amazon is trying to tout its plans to offer college tuition and support for 750,000 hourly workers.
"Amazon is now the largest job creator in the US," said Dave Clark, the chief executive of worldwide consumer at Amazon, in a blogpost. "We know that investing in free skills training for our teams can have a huge impact for hundreds of thousands of families across the country."
What to know: The news cycle for Amazon is another reminder that COVID-19 issues continue to lead news coverage. It's also emblematic of the true cost of reputation and trust with reporters digging into tech companies that have struggled to address COVID-19 misinformation on their platforms.
For communicators looking to weather the next phase of the COVID-19 crisis, it's time to revisit messaging about vaccines and science-based solutions.
---
MEASURED THOUGHTS
According to Bloomberg, 53% of companies have not made any requirements for employees to get vaccinated against COVID-19. The other 47% have made vaccination a requirement for at least some staff.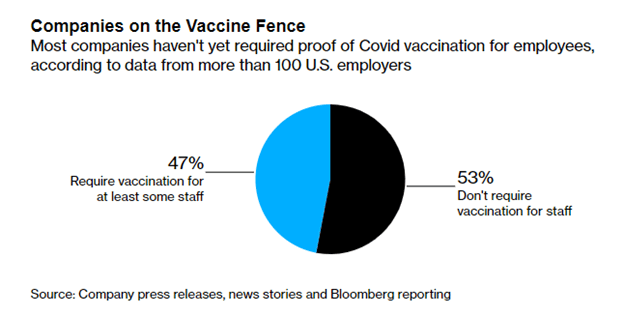 The data comes as President Biden's new vaccine push will force the issue for hundreds of thousands of employees.
As for what kinds of companies are requiring vaccines, geographic location isn't as important as you might think.
Don't look for similarities within industries or geographies, either. The state of Texas doesn't cotton to mandates of any kind, but don't tell that to Dallas-based AT&T Inc., which will require management to be vaccinated starting Oct. 11. United Airlines Holdings Inc. also made inoculations mandatory, and is one of a handful of firms that will fire those who don't comply, while rival Delta Air Lines Inc. is instead levying a $200 monthly surcharge on the unvaccinated. Even Wall Street banks, generally the most keen to get workers back in seats, aren't in line on the subject: As of Sept. 9, JPMorgan Chase & Co. hasn't mandated the vaccine, while many of its peers have.
While the choice on vaccine mandates has remained a personal decision for many employees so far, experts say they expect a "surge" of vaccine mandates to hit the market in the coming months.
Harvard University announces it will end investment in fossil fuels
The university, which manages a hefty endowment, is divesting from organizations that it says continue to exacerbate the problems of climate change and global warming. While the funds will not be pulled from fossil fuel investments overnight, the money currently invested is in "run off mode," according to President Lawrence Bacow.
In a letter posted on Harvard's website, President Lawrence Bacow said the school's endowment had no direct investments in fossil fuel exploration or development companies as of June and will not make such investments in the future, "given the need to decarbonize the economy."

The university's indirect investments in the fossil fuel industry "are in runoff mode," he added. The indirect investments, made through private equity funds, make up less than 2% of the endowment, Bacow wrote.
What you should know: You don't have to be a fossil fuel company to be part of the problem when it comes to the intransigent reliance of fossil fuels in America and around the world. As audiences grow increasingly worried about the effects of climate change, organizers are looking to place more pressure on organizations who in their view are not doing enough to reduce pollution and fossil fuel use.
For PR firms and agencies, some are trying to add pressure to stop firms form working with fossil fuel organizations to greenwash their work or mislead consumers about the impact of fossil fuel use. Lawmakers like Rep. Ro Khanna, (D-Calif.), are looking to put pressure on organizations that work on fossil fuel messaging-not just companies that process the raw materials.
.@RoKhanna is the chair of a House subcommittee that is launching a comprehensive investigation into fossil fuel front groups and PR.

He recorded this message about their plans so you know what to expect with regards to the subcommittee's upcoming work: pic.twitter.com/gAhyPrUSHd

— Clean Creatives (@cleancreatives) September 9, 2021
---
AGENCY NEWS
How are PR firms and agency leaders responding to the abortion law now on the books in Texas? With some business leaders speaking out against the law and offering resources to workers who might be affected by it, some agency leaders are also taking action.
Bospar, a remote agency with employees across the country, announced a relocation policy where it offered to cover moving expenses for workers who needed to leave the state to be able to "ensure they have control over their reproductive health."
in a press release shared with PR Daily, Bospar wrote:
"Companies and businesses with employees in Texas have a choice right now: offer employees control of their own reproductive health or risk them leaving," said Sarah Freeman, a Bospar senior account executive based in Austin.  "Right now, my friends in their 20s and 30s are asking themselves, 'Should I leave Texas?' Since Bospar pioneered the virtual work-from-home model at a national level in 2015, relocating and staying with my company is no problem. Now that the agency is offering to pay for relocation, that makes the decision process that much easier."

"To incentivize neighbors and friends to create Gilead-on-the-Brazos is political overreach that will result in Texas losing its most talented workforce to California, New York and everywhere in between," said Curtis Sparrer, a Bospar principal, referring to the aspect of the law that encourages citizens to sue clinics and others who violate the law with a $10,000 award if they are successful. "As a company that wants to maintain and attract the best talent, Bospar believes this relocation program – or evacuation program – makes good business sense. We predict other companies will take similar action to retain the best talent until Texas reverses this self-inflicted brain drain."
---
SOCIAL BUZZ
Twitter is adding a feature that will allow accounts to self-identify as bots, offering new transparency on an issue that has plagued the social media platform in recent years.
Twitter said the update was based on research that found that people wanted more context about non-human accounts.

The company gives several examples of "good bots" including accounts that share vaccination updates, information about seismic activity or material from public museums.

The move will not be mandatory.
Bots have been at the root of misinformation problems on social media platforms, as a study from Carnegie Mellon proved last year. The researcher found that nearly half of the Twitter accounts sharing COVID-19 misinformation were run by non-human scripts.
By labeling "good bots" Twitter hopes to change the awareness of bots and their uses on its platform, but without a mandate, it's hard to believe that the action will stop the ne'er-do-wells who have used digital tools to sow discord and acrimony in virtual spaces over the past two years.
---
TAKE OUR SURVEY
If you're looking for benchmark data to show your bosses the next time you ask for a raise or search for a new job, lend us a hand—and help yourself and your peers while you're at it. Participate in Ragan's Salary & Workplace Culture Survey, a comprehensive look at salaries, benefits, culture, bonuses and other aspects of the job in a fast-moving industry.
Both internal and external communicators are encouraged to participate.
By taking part, you will receive a $150 discount to a Ragan virtual conference of your choice and be entered to win one of five $50 gift cards. All who complete the survey will receive a full report on the findings. Responses are anonymous. Enter by Sept. 17.
Take the Ragan Salary & Workplace Culture Survey now.
---
CRISIS COMMUNICATIONS
The CEO and board of the nonprofit TIMES UP, which sought to address rampant workplace sexual harassment in the wake of the #MeToO movement, have all left their posts. The exodus is sparked by outcry over their connections to now former Gov. Andrew Cuomo who resigned following multiple allegations of sexual harassment from staffers.
The turmoil is just the latest piece of the fallout from the allegations against Cuomo as Human Rights Campaign also broke ties with its president over counsel provided to the former governor.
The departure of Ms. Tchen — who served as Michelle Obama's chief of staff in the White House — raises as many questions for Time's Up as it resolves. She was a proponent of the organization's initial, bold mission: for female power players to use their connections for good. In her departing statement, Ms. Tchen endorsed that approach again. "We cannot just shout on the outside for change without helping companies, government leaders and policymakers find the solutions to do better," she said.

But when dealing with Mr. Cuomo's office — and in other instances — that strategy proved compromising. Ms. Kaplan and Ms. Tchen provided feedback on an unpublished opinion column that smeared Mr. Cuomo's first accuser, Lindsay Boylan. Ms. Kaplan, a lawyer, also consulted with a top Cuomo aide about how strong a stand Time's Up should take on the allegations, The Times recently reported. And Ms. Tchen told colleagues to "stand down" from releasing a statement in support of Ms. Boylan, according to text messages obtained by The Washington Post.
It's yet another reminder that communicators must consider the work they are being asked to perform and how audiences perceive efforts to protect the reputation of powerful figures credibly accused of misconduct.
Wells Fargo responds to new fines of $250 million
Regulators say the bank has taken too long to repay customers who had been harmed by earlier misconduct where they were charged excessive or improper fees. The earlier judgement handed down in 2018 had assessed a $1 billion settlement after regulators found the company had wrongly layered insurance on hundreds of thousands of drivers and routinely miscalculated fees for homebuyers, in some cases leading to the loss of the home.
In a statement, Wells Fargo Chief Executive Charles Scharf said the new penalty shows more work is needed to address "significant, longstanding deficiencies."

"Our work to build the right foundation for a company of our size and complexity will not follow a straight line. We are managing multiple issues concurrently, and progress will come alongside setbacks. That said, we believe we're making significant progress," he added.
What you should know: In a crisis, words can end up meaning very little if they are not followed through with action and Wells Fargo is running out of chances to prove to consumers that it can change. It's important to show stakeholders what progress is being made to address pressing issues and offer transparency on what might be delaying necessary action. Without specifics, claims that "significant progress" is being made will be unlikely to sway most audiences.
COMMENT
2 Responses to "Biden's new vaccine rules, Harvard announces divestment from fossil fuels, and Amazon takes heat over promoting debunked COVID-19 cures"
Ronald N Levy

says:

This Amazon situation illustrates that regardless of which side you favor in a controversy, it can pay to promote media and public adoption of your vision on what the controversy is ABOUT and who stands to BENEFIT.

If you favor government allowing more imports, you may call the issue "consumer freedom of choice." Those opposing imports may call it "an issue of American jobs." Anti-abortion advocates call their position "pro-life" but might do even better calling their position "anti-homicide" if an aim is to prevent
ending late-term abortions. (When you can get some of what you want, you may get even more.)

In a communications fight involving a public platform like Facebook, one side can be said to favor "freedom from censorship" and the other side can say it favors "freedom of speech." "What this case is about," lawyers often tell a jury in the opening statement. Opposing lawyers say "what this case is REALLY about. . ." then frame the issue differently in a way they hope will win jury support. It's lawyers practicing PR.

When Amazon or any company is charged as in this case with "profiting from the sensationalism of anti-vaccine misinformation," less skilled PR people (Amazon has among the world's best) might be tempted to argue in effect "no we're not." But no matter what the issue, if accusers say you're guilty and you answer that you are not, millions may think you are probably at least partly guilty "or else why would that accusation be made."

So a better accusation response when possible is to say that just the opposite is true, you are HELPING the public, and then you tell how and accuse the accusers of "telling only one side." This is true in almost any accusation situation because accusers do tend to tell only their side!

You face a different interesting PR problem in counseling management about donations. If the company gives NOTHING to worthy causes like the Girl Scouts and local charity drives, it may startle management to be called "heartless bastards" by a political or civic leader speaking to the media not for attribution but having strong feelings. But if management figures the safe thing is to give SOMETHING to almost any cause that asks, it may shock management to be accused of moral failure for helping a group whose senior officer has been accused of something awful.

Notice the criticism of Amazon although it offers "college tuition and support for 750,000 hourly workers." The worthiness of cause and the large number of people are certainly plusses but look at the problem: unless YOU are one of the 750,000 or a college employee, the Amazon beneficence helps "them" but not "me." If Amazon had given the money to a cause I love, helping Dr. Anthony Fauci and Dr. Andrew Zelenetz find an anti-cancer vaccine which may be closer than many people realize, that donation would potentially help everyone and could bring Amazon gratitude from more people and gratitude that's more intense.

How much help a giver gets back may depend partly on PR wisdom in WHO the gift will benefit and on PR skill in getting millions to feel happy because this donation program could be seen as "a blessing for us," the public. Not just—however worthy—"for them." This can help management to spend less and GET MORE which is one reason that recruiters for top PR jobs often seek crisis winners–and even better, crisis avoiders–by selecting a member of the Crisis Leadership Network.

Ronald N Levy

says:

In fairness to Harvard, they have graduated some of the world's top doctors including researchers who've already gotten an FDA license for a limited-use cancer vaccine at America's Memorial Sloan Kettering Cancer Center. Medical researchers keep getting closer to developing a cancer vaccine that will protect most people.

PR reality is that activists often threaten a major company with a boycott or even physical violence. The temptation of a target company's angry CEO may be to call activists white collar terrorists or some other pejorative often filthy. But if a company is known to be sponsoring research to protect millions, boycotters and other threateners tend to go attack a company not seen as heroic.

Just as the rich may unfairly be safer than the poor, company protectors of the public are protected very fairly by the public. It's not just reciprocity but almost reflexive: even activists don't throw rocks at an ice cream truck or fail to appreciate medical researchers trying to protect our lives. Just as even Harvard goes along with anti-fuel activists, most companies prudently go along with PR guidance to be self-protective by being public-protective.