Black Friday makes way for online sales, cognitive overload during COVID-19, and the CDC's messaging woes
Also: AstraZeneca reports good results on third vaccine candidate, Guitar Center files for bankruptcy, Cineworld announces funding to survive COVID-19 losses, what communicators are thankful for, and more.
Good morning, communicators:
AstraZeneca has announced promising results for its COVID-19 vaccine candidate, becoming the third company to report a successful vaccine in the fight against the global pandemic.
Pfizer and Moderna have both reported effective protection rates above 90% with their vaccines, much higher than the FDA's 50% threshold. AstraZeneca says its vaccine is 70% effective with a potential rate at 90%, a variance caused by competing dosing strategies in its trials.
The New York Times reported:
On average, the vaccine was 70 percent effective across the two dosing plans. The company said its vaccine could be stored for at least six months in a standard refrigerator, rather than under the intense chill required by other leading coronavirus vaccines, easing the distribution of a vaccine that is also cheaper and easier to produce than some of its competitors.
Here are today's top stories:
Black Friday moves online—and spreads out
Retailers like Walmart and Home Depot, once hot destinations during the American post-Thanksgiving shopping holiday bonanza, are moving their annual sales and promotions ahead of the holiday season online and are stretching the sales to last over several days.
"With Covid, this really changed everything," said Marshal Cohen, chief retail analyst at The NPD Group. "Now, nobody even wants to be standing next to somebody, let alone fighting a crowd to get something." Retailers didn't wait until Thanksgiving dinner to start their big sales. The first wave of deals began in mid-October and coincided with Amazon's Prime Day.
What's lost by this shift? Experts say that some consumers might no longer feel the impulse to buy that is made manifest by a "doorbuster" discount. However, shoppers could find some relief in a less hectic holiday season in this extraordinary year of disruption and sacrifice.
CNBC continued:
NPD's Cohen said retailers have to work harder to entice shoppers. …

"You don't have the impulse. You don't have the frenzy. You don't have the panic-buying. You don't have the excitement," Cohen said. "The doorbuster deals are there. However, they're just not doorbusters. They're just incentives to buy."
Why it matters: Many events and marketing efforts are moving online—but the pandemic also offers an opportunity to reevaluate customary traditions and efforts, and ask if what has always been done is really working for your organization. For retailers, there might be bigger successes for those that completely reimagine the holiday shopping experience and their customer relationships, instead of simply putting Black Friday online.
---
REMOTE WORK
Are you feeling overwhelmed during COVID-19? There's a scientific reason for that.
In a feature for the BBC, Christian Jarrett explains that a phenomenon called "Cognitive Load Theory" (CLT) could offer insights into why so many are having a hard time focusing and staying productive during the ongoing COVID-19 pandemic. The framework offers this analysis for why it is so hard to onboard a bunch of new processes at once:
When we're working on a problem, especially an unfamiliar one, we depend on our "working memory", which is very limited both in its capacity and the length of time it holds information. The less familiar you are with a task, the more you depend on your working memory to help juggle the relevant information; in contrast, when you're an expert, most of what you need to know is stored in long-term memory and you can complete the task on auto-pilot.
How can employees and their managers help combat the overload that threatens to undermine important end-of-year work? Jarret offers these tips:
Build in new routines and rely on them.
Prioritize stress management.
Give yourself a break form media consumption and "doom-scrolling."
Have discipline to tune out extraneous cognitive load. (Limit unnecessary distractions.)
---
MEASURED THOUGHTS

Nearly half of shoppers plan on doing their holiday purchasing online this year, according to data from The Morning Consult.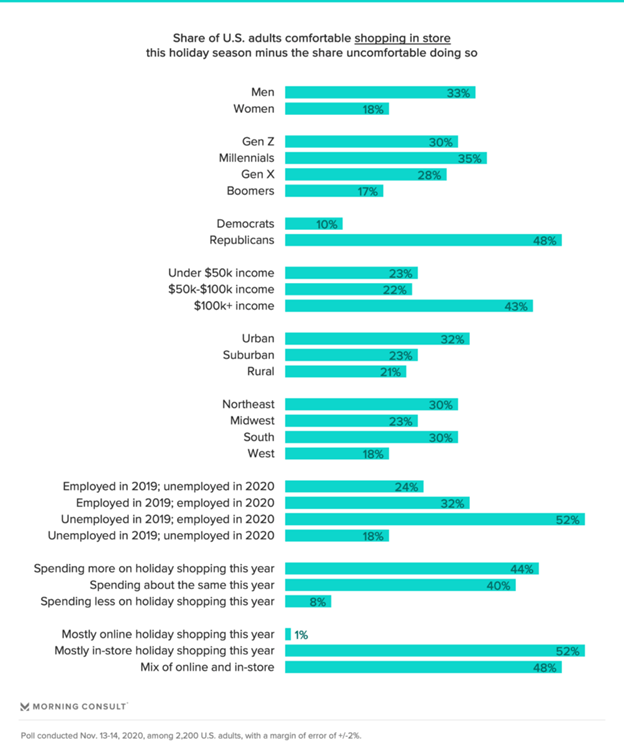 You can see the full report here.
Guitar Center files for bankruptcy
The musical instrument retailer says the move is an important step to align the company with future goals and is not an indication that the chain will be going out of business.
"This is an important and positive step in our process to significantly reduce our debt and enhance our ability to reinvest in our business to support long-term growth," Chief Executive Ron Japinga said in a statement. "Throughout this process, we will continue to serve our customers and deliver on our mission of putting more music in the world. Given the strong level of support from our lenders and creditors, we expect to complete the process before the end of this year."
Why it matters: Bankruptcy communications have become an important part of the crisis comms playbook during the ongoing pandemic, as retailers struggle to meet the needs of the modern marketplace. Make sure your messages about restructuring and realignment help to create a vision of the future for your various stakeholders and don't ignore the very real concerns your many employees and other audiences will have about such news.
---
TACTICALLY SPEAKING
Does the CDC have a credibility problem? Despite a very pointed warning about travel plans and risks ahead of the Thanksgiving holiday amid a worsening public health crisis, millions are still getting on planes for their annual holiday gatherings.
I'm an ER doctor in Arizona and our hospitals are being overwhelmed with COVID19. 7.4 million people & only 174 ICU beds left with healthcare workers calling out sick. Our pleas for help have fallen on selfish deaf ears – this is Phoenix airport @dougduceypic.twitter.com/7iLbngxHNp

— Cleavon MD (@Cleavon_MD) November 21, 2020
The Centers for Disease Control and Prevention called on Americans to avoid traveling for Thanksgiving as the nation experiences as a surge in COVID-19 cases. Yet as the nation got close to reaching 200,000 new cases per day, it was clear that millions of Americans were ignoring that advice. On Friday and Saturday, the Transportation Security Administration screened more than 2 million flyers. TSA data shows 1,019,836 passengers were screened by TSA on Friday and an additional 984,369 were screened on Saturday.
The images from airports around the country show the very real challenges health care communicators face around encouraging safety and compliance on the COVID-19 crisis.
What are the messages you are sharing with audiences around COVID-19 and the holiday travel season? Are you encouraging employees to forgo their annual trips and festivities? Are you offering virtual options for workers stuck at home?
Share your thoughts with us on Twitter with our hashtag #DailyScoop.
Cineworld secures extra funding as COVID-19 hammers cineplexes
The company, which owns Regal Theaters and is the world's second largest cinema operator, has announced it has secured the funding necessary to wait out the end of the COVID-19 pandemic with a vaccine in the near horizon.
"The measures we are announcing today deliver over $750 million of extra liquidity to support our business," said [CEO Mooky Greidinger]. "Over the long term, the operational improvements we have put in place since the start of the pandemic will further enhance Cineworld's profitability and resilience. The group continues to monitor developments in the relevant markets in which we operate and our entire team is focused on managing our cost base. We look forward to resuming our operations and welcoming movie fans around the world back to the big screen for an exciting and full slate of films in 2021."
Why it matters: Audiences need a reason to hold onto hope as the COVID-19 crisis deepens in the U.S. and abroad, but vaccines look to be available in a few months. As timelines become more concrete, offer as much detail and transparency as you can to as many people as you can about your plans for a future return to normal operations. Now is the time for positivity and pragmatic optimism.
---
TAKE OUR SURVEY
We want to know about how PR agencies are building lasting, sustainable relationships with clients, what is working and what is rubbing both parties the wrong way. That's why we are partnering with The Institute for Public Relations on a new survey to learn more about the state of the agency/client relationship.
Take this 10-minute survey here: https://www.surveymonkey.com/r/PRagencyclient
---
SOUNDING BOARD
What are you thankful for this year, PR pros? Share your thoughts in the comments or tweet us @PRDaily with our hashtag #DailyScoop and we will share your answers in tomorrow's Scoop.
What are you thankful for this holiday season? Share a GIF or message about what you've got gratitude for and we'll share your answers on @PRDaily for our #DailyScoop.

— PR Daily (@PRDaily) November 23, 2020
COMMENT
No Responses to "Black Friday makes way for online sales, cognitive overload during COVID-19, and the CDC's messaging woes"
Ronald N. Levy

says:

Even the good could sometimes be better as we see from CDC.

Saying "don't travel" can be like saying "don't eat that ice cream: or "don't take that drink." It's tempting to confront the public with the choice of "to have or not to have" but you are more likely to be successful if your choice is "to have "a" or to have "b" which you want even more.

General Michael T. Flynn was recently pardoned for allegedly lying twice to the FBI. Does his admission prove that he was guilty? No. Most of us might admit that guilt, even if we had never even met anyone from the FBI, if a prosecutor frighteningly threatened us: "Sign this which may get you a six months to two years sentence or we'll try you for a crime that could land you in prison for 30 years!"

This kind of threat by police actually happens thousands of times a year especially to poor people and veterans who know that even if falsely accused of a 30-year crime, they won't have enough money for a good defense lawyer.

When you want to be persuasive in a way that brings action you want, it can pay to present a choice like "Look at this picture and judge whether you want–or don't want–to visit this lovely country." Or show a product-in-use photo and ask in effect would you enjoy having this product?

Fear can sometimes be even more motivating than happiness so showing a lung cancer patient who can barely talk adds persuasive impact to a headline urging people not to smoke.

Lymphoma kills millions so you may increase your chances of getting what you want if you tell via the media how to feel the neck for a lump that may be an
"adenopathy," a life-saving early warning of lymphoma. If your media work gets 50 million people to carefully feel their necks, you can imagine how much more action you'll generate than would the simpler appeal like "don't smoke" or "let's thank God for such-and-such company or country that is sponsoring a lymphoma vaccine research program at Memorial Sloan Kettering Cancer Center."

CDC could say to try breathing through a blanket folded double, then point out that having Covid-19 can make it four times harder than that to breathe. This kind of wisdom is taught formally in lectures at PR crisis management courses, and is learned by association at the PR crisis communications network. It can be like doing the neck examination thing and asking the public: "Do you want to be your neck's best friend?"

CDC could ask: "Would you rather live safely at home this month or take a chance on airport travel which my unfortunately mean not living at all?

Shakespeare's work spotlights a convincing PR question: "To be or not to be?"