Boeing, Airbus call for pause of 5G rollout, Least resonant stories of 2021, and Bill Gates tweets about canceling holiday plans
Also: Tech firms start pulling out of CES, China's top livestreamer gets taken down for tax evasion, and more.
Hello, communicators:
Big tech firms including  Amazon, Meta, Twitter and Pinterest are not sending teams to the Consumer Electronics Show (CES) over fears about the omicron COVID variant.
The annual trade show, a mainstay in the tech industry and a big indicator for trends around in-person programming and business conferences, still plans to hold its event in Las Vegas, Nevada, Jan. 5-8.
T-Mobile also pulled out of the event, but did express confidence in the trade show's safety measures and event organizers' due diligence.
"We are prioritizing the safety of our team and other attendees with this decision," T-Mobile said, while expressing confidence that CES organizers were taking exhaustive protective measures.
The news is a setback for comms and PR pros looking to hold in-person events early in 2022, even though early news about the omicron variant suggest those with a booster shot are protected from the variant and those infected with omicron face less severe health risks.
Plenty of companies still plan to attend—GM CEO Mary Barra will still deliver her keynote, per CNBC—but the varying levels of comfort around COVID-19 will make in-person conferences a beguiling puzzle for months to come.
Here are today's other top stories:
Aircraft manufacturers call for pause of 5G rollout
In the latest effort from the airline industry to warn against the dangers of 5G for air travel, Boeing and Airbus have issued a joint statement calling for the halt of plans to deploy new 5G networks next month.
In a statement emailed to NPR, Boeing said the aerospace industry was "focused on fully evaluating and addressing the potential for 5G interference with radio altimeters."

"We are collaborating with aviation authorities, government leaders, airlines, and industry groups to ensure the continued operational safety of aircraft throughout the aviation system worldwide," it said.
What it means: The message is an example of how an industry can come together around a policy issue and send a clear message focused on safety. The two largest commercial jet makers in the world leave no doubt about their concern with the threat 5G could pose to vital safety systems.
The letter also builds on advocacy from other industry groups, including the Radio Technical Commission for Aeronautics and the Federal Aviation Authority. It's a reminder that in driving policy or public affairs, partnerships and consensus are everything.
---
MEASURED THOUGHTS

Every year, we take a look back at the top stories to resonate with audiences in the past 12 months. But what about the stories that got less attention than expected?
Morning Consult has some analysis on the "least resonant" stories from a year that continued to offer pandemic heartbreak, political and social upheaval and a dynamically changing workplace.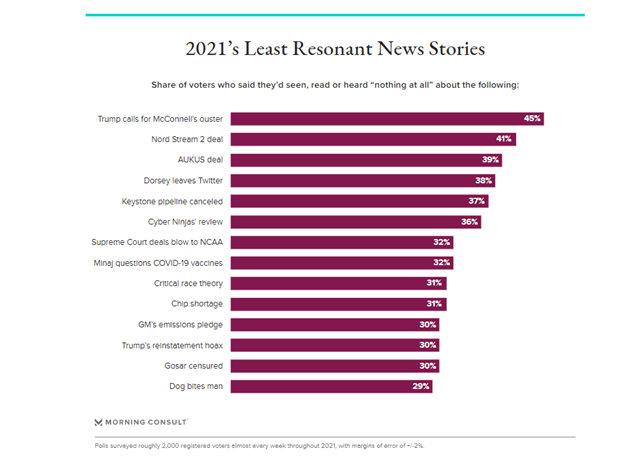 The news shows the disconnect between viral online moments and whether or not they really reach wide audiences. For example, one could hardly avoid the story of rapper Nicki Minaj taking to Twitter to cast doubt on COVID-19 vaccines (with her trademark colorful verbiage). Yet, 32% of respondents said they had heard "nothing at all" about the story.
The data is also sobering for business communicators who saw some of their biggest news stories (CEO Jack Dorsey's departure from Twitter, GM's electric vehicle push) fail to break through.
---
TAKE OUR SURVEY
If you're looking to navigate what's ahead in 2022, lend us a hand—and help yourself and your peers identify shared benchmarks in areas such as budgets, team structure, ESG and DE&I efforts, and more. Participate in Ragan Communications Leadership Council's 2022 Benchmark Survey, a comprehensive look at how to negotiate budgets with your executives, how to best reach deskless workers and foster culture among a hybrid workforce, and more.
Both internal and external communicators are encouraged to participate.
By taking part, you'll be entered to win one of three $100 gift cards. All who complete the survey will receive a full report on the findings. Responses are anonymous.
Survey takers will receive an executive summary of the findings.
---
SOCIAL BUZZ
The "queen of livestreaming" in China, known by username Viya, has had her accounts disabled by the Chinese government over alleged tax evasion. The influencer, Huang Wei, is one of the country's best-known influencers in a booming e-commerce sector.
With over 110 million followers on social media, Viya reportedly sold products worth a total of 8.5bn yuan (£1bn) in just one evening during China's recent Singles' Day shopping festival on 11 November.

But on Monday, tax authorities in the eastern province of Zhejiang said that Viya "evaded 643m yuan of taxes" between 2019 and 2020 by "concealing personal income and [making] false declarations of income."

They announced the 1.3bn yuan penalty – the biggest of its kind in Beijing's sweeping crackdown on celebrities.
The crackdown on influencers in China should give pause to marketers and brands working with influencers in markets with increasingly active central governments. Chinese authorities have unmatched control over their domestic media markets, so perhaps the case of Huang Wei is an anomaly for global corporations.
Yet, the development for Chinese media should be a warning for companies looking to do business inside the important Asian market.
---
Announcing the PR Daily Leadership Network
PR Daily is launching the PR Daily Leadership Network, a unique membership group from Ragan Communications offering peer-to-peer advisory and team training along with a unique slate of resources and events to help public relations professionals break through the noise, increase their visibility and forge meaningful connections.
The Network provides daily insights and coverage on a range of topics including media relations, social media, measurement, Diversity, Equity & Inclusion, branding, thought leadership and crisis communications.
"The fast pace of change coupled with the demand on public relations professionals to protect and sometimes defend their company's reputation make it imperative for leaders to tap into the wisdom of other communicators and continue to learn and grow," says Diane Schwartz, CEO of Ragan Communications. "The PR Daily Leadership Network provides the answers but also encourages members to question the status quo and push for positive change."
Visit leadership.prdaily.com to learn more.
Bill Gates tweets about canceling holiday plans
Microsoft founder and renowned philanthropist Bill Gates shared on Twitter that he would cancel his plans for gatherings at the holidays over fears about the Omicron variant.
Just when it seemed like life would return to normal, we could be entering the worst part of the pandemic. Omicron will hit home for all of us. Close friends of mine now have it, and I've canceled most of my holiday plans.

— Bill Gates (@BillGates) December 21, 2021
The twitter thread is a great example of how simple, active language can have an impact on social media:
In the meantime, we all have to look out for each other, especially the most vulnerable, whether they live down the street or in another country. That means wearing masks, avoiding big indoor gatherings, and getting vaccinated. Getting a booster gives the best protection.

— Bill Gates (@BillGates) December 21, 2021
If there's good news here, it's that omicron moves so quickly that once it becomes dominant in a country, the wave there should last less than 3 months. Those few months could be bad, but I still believe if we take the right steps, the pandemic can be over in 2022.

— Bill Gates (@BillGates) December 21, 2021
Gates also locked the thread so that only people he follows could reply to the Tweet. The move perhaps hopes to head off the outcry from anti-vaccine activists and COVID-19 deniers who continue to share misinformation and sow doubt online.
What you should know: Many organizations likely face having to announce new measures to address the rapidly spreading Omicron variant. The speed of the new variant may have caught some off guard, but Gates shows how relying on simple and effective messaging can help to ease the delivery of what is most unwelcome news.
It's also a reminder that public messengers must prepare for the inevitable blowback from using online platforms. In today's current climate, turning off responses or comments could save you from receiving the vitriolic attacks of online detractors—but make no mistake, those voices are still out there and will share their views, whether they can tag you or not.
COMMENT