Business groups respond to Biden's vaccine rules, majority of employees OK returning to office with unvaccinated coworkers, and Salesforce offers to relocate Texas workers
Also: Schools plan ahead as Pfizer prepares vaccine for ages 5-11, delivery app riders speak out about working conditions, how to counteract interrupters and poor office behavior, and more.
Hello, communicators:
The debate over vaccines continues in the U.S., as 63% of Americans have received at least one dose of the COVID-19 vaccine and 54% are fully vaccinated.
However, the vaccine may soon be available to a new demographic: children aged 5-11. Former FDA commissioner Dr. Scott Gottlieb explained how Pfizer is preparing to offer the shot to younger patients with emergency approval from federal regulators.
"In a best-case scenario, given that timeline they've just laid out, you could potentially have a vaccine available to children aged 5 to 11 by Halloween," Gottlieb said. "If everything goes well, the Pfizer data package is in order, and FDA ultimately makes a positive determination, I have confidence in Pfizer in terms of the data that they've collected. But this is really up to the Food and Drug Administration to make an objective determination."
Even if a shot is available by Halloween, that will ensure that most of the 2021-2022 school year will see children attend class without a shot available for younger learners. And even for the kids and school employees who are eligible to get a shot now, vaccination rates are lagging.
Out of 100 large districts, including the biggest urban districts in every state, nine in 10 are requiring students to wear masks, according to the Center on Reinventing Public Education at the University of Washington, which has been tracking districts' responses to the pandemic since its start. Just one quarter are requiring teachers to be vaccinated. Fifteen are regularly testing students. And student quarantine policies are generally much less strict than they were last spring.
The reports underscore the challenges large organizations and community leaders face in meeting the new rules laid out by the Biden administration last week on vaccine and mask rules for large employers and federal workers.
Here are today's top stories for comms pros:
Business leaders, employees respond to Biden's new vaccine rules
While the new regulations from the Biden administration about required vaccinations or weekly testing are being welcomed by some business groups, others are asking for more clarity regarding the new measures.
Business Roundtable supported the new rules, as Yahoo reported:
"Business Roundtable welcomes the Biden Administration's continued vigilance in the fight against COVID," the group, which represents the nation's leading companies, said in a statement. "Over the past several weeks many companies have decided to implement a vaccine mandate for some or all of their employees, a decision we applaud."
A trade group that represents companies including Coca-Cola and Kellogg is asking for more information about the White House's new mandate.
The trade group that represents consumer goods giants like Coca-Cola, Kellogg and General Mills sent a letter to the White House on Monday demanding "immediate clarity" on the details of the order, which requires companies with 100 or more employees to mandate the vaccine or get tested weekly. In the letter, Consumer Brands Association CEO Geoff Freeman called on the administration and relevant federal agencies to "move quickly, anticipate challenges, promptly answer questions and partner with the private sector … [to] achieve our shared goal of increased vaccination rates."
Meanwhile, some worry that the new vaccine rules will harden opposition to the vaccine or exacerbate staffing issues at essential organizations such as hospitals. One New York hospital has announced that it will stop delivering babies as staffing shortages caused by opposition to vaccine mandates has undercut its ability to serve patients.
The hospital will be "unable to safely staff" its maternity department and newborn nursery as of Sept. 25, according to Lewis County Health System CEO Gerald Cayer. He added that other departments in the hospital are at risk as well if workers don't get vaccinated.
What you should know: How you handle unvaccinated workers and new rules about COVID-19 will be the top challenge for comms pros in the upcoming months.
Note that even as vaccine rules from the White House might give your organization cover to draw the line over vaccination in the workplace, you shouldn't expect the message from Capitol Hill to silence all the doubters. Continue to make the case carefully about protecting employees and customers and preserving business operations with explanations and specifics underpinning any changes you make.
---
MEASURED THOUGHTS
The majority of workers said they would be comfortable returning to the office even if their co-workers were unvaccinated, according to a new survey from the Harris Poll.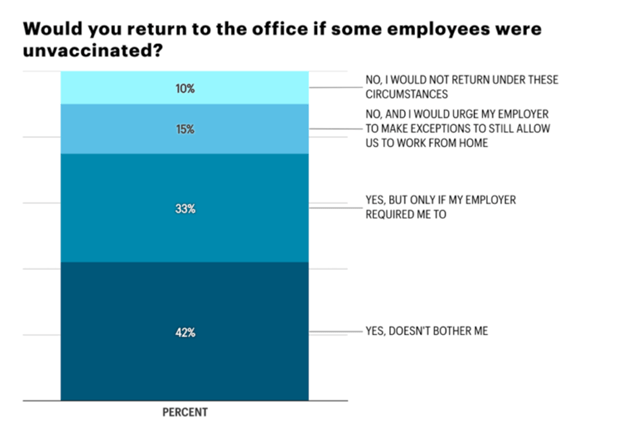 However, a third said they would come back to the office with unvaccinated co-workers only if the employer required them to do so. About a quarter (25%) said they would not return to the office with unvaccinated co-workers, and 15% said they would urge their employer to make exceptions to allow working from home.
Salesforce offers to relocate employees affected by Texas abortion law
The marketing software company is the latest to offer resources to employees looking to navigate the new law in Texas, which outlaws abortions after six weeks and created a bounty system that allows citizens to sue each other over seeking an abortion procedure.
Any Texas employees of Salesforce affected by the state's new anti-abortion law can relocate on the company's dime along with their families, the tech firm said in a statement this week after legislation went into effect that only allows abortions before most women know they are pregnant.

The software giant joins Uber, Lyft and dating site Bumble in offering to help people who need abortions in Texas contend with the punishing new law that all but bans the medical procedure.
What you should know: While some companies have openly criticized the Texas law (which has now being challenged by the Department of Justice), the focus on affected employees has been the clearest message. Salesforce was careful not to directly attack the law in its message to employees, acknowledging that the issue is deeply personal for everyone.
It did, however, clearly state that the company "stood with women," an acknowledgement that abortion laws do not have an equal impact on men and women. If your company is considering making a statement on the law and its effect on employees, make sure that the women in your company are part of the discussion and response.
---
SOCIAL BUZZ
A touch of nostalgia has brought Vick's VapoRub into the social media limelight. A user shared that her mother loaned her family a pot of the tingly rub that dated back to the '80s, sparking a debate over the expiration date of the product and memories of childhood.
My son has been sick (not Covid) and shout out to my mom, who loaned us the SAME pot of Vicks she used to use on me growing up.

Expiration date 1-87 pic.twitter.com/LqWx3LYI2c

— Heather Chacon (@wickettred) September 12, 2021
Are you kidding? That stuff NEVER expires. Vicks Vapo Rub and Canada Dry Ginger Ale have the blood of Jesus in them. Ask any Southern Mama!

— Louisa Cornell (@LouisaCornell) September 13, 2021
There is no such thing as "expired" VapoRub. It just ages like a good wine. Same thing goes for Halls. https://t.co/KmgHqDmrD0

— Roy Wood Jr- Ex Jedi (@roywoodjr) September 13, 2021
However, once the product started trending, users were quick to develop their own theories about why Vick's VapoRub was on everyone's mind.
Vicks Vaporub is trending. Please tell me it's not the latest MAGA quack cure for Covid.

— Duty To Warn 🔉 (@duty2warn) September 13, 2021
The conversation is a reminder of how your brand can quickly get swept up in a viral moment online that is very much beyond your control. Be prepared to address misinformation and speculation should things get out of hand, but remember that you don't have to comment on every brand mention.
Delivery app riders share nightmarish working conditions 
A deep dive from The Verge and New York Magazine looks at how the work of delivery service pros in New York City has forced riders to form vigilante groups to protect themselves. On top of the danger riders face delivering food across the city, the app Relay (which provides delivery riders to restaurants and apps) has also created an incentive system that undermines the autonomy of a purportedly independent laborer.
The company has been sued multiple times for worker misclassification, tip theft, and other infractions. It settled three times, avoiding a ruling that could torpedo its business model, and another case is currently in arbitration.

A spokesperson said the company has implemented a fix to prevent restaurants from unilaterally expanding their delivery zones, but it currently only works for new entrants to the platform. The tip theft that workers often complain of occurs when restaurants receive an order, then enter the wrong tip information into the Relay app, the spokesperson said, and the company has added a way for workers to dispute this. As for the intense pressure, the company said that it matches the number of riders each day with anticipated demand but that there is a large backlog of people who want to work.
What you should know: While companies have been asked to show their care and concern for employees in new and meaningful ways since the start of the pandemic, companies should also consider how they care for freelancers, contractors and other stakeholders who perform work for their operations.
In the case of the delivery apps, which have come under scrutiny for their classification of workers as independent contractors, creating a negative work environment for these laborers has led to years of bad headlines and investigative reports.
---
THE WORKPLACE
A new book from NPR's "Planet Money" host Stacey Vanek Smith is getting women to share how their experience in the workplace could be improved. Two of the top concerns for many: getting interrupted and having ideas stolen.
Smith notes in a post on LinkedIn that she was surprised that dealing with interrupters and idea thieves should be at the top of women's lists with other problems like sexual harassment, "mommy-tracking" and the pay gap are hampering women's careers. Yet, the interviews showed Smith otherwise.
To combat interrupters—a pernicious problem in the Zoom era—Smith offers some tactics:
Call it out. "This has major advantages," Smith writes. "First, you're immediately shutting down the toxic behavior. Also, you're drawing a firm line in the sand."
Call it out… "Softeners get a lot of flak, but there is a serious upside," Smith writes. "Namely, they work. Studies have shown that when women use softeners, it actually increases their influence with men."
Play the long game. A great option for those who abhor confrontation, this tactic has its downside. "The long game is really difficult in the moment," Smith writes. "It takes a lot of discipline and you might pay a price emotionally."
Teaming up to get a chorus of support behind a woman's idea is a tactic that was used successfully in the Obama White House, Smith reports.
Call it out when others are interrupted. The data backs up this tactic where you can point out offending behavior when directed at someone else. "…research shows us that women and other marginalized workers will often experience backlash if they speak up for themselves or their ideas," Smith writes. "But they will not typically experience that backlash when they speak up for someone else."
COMMENT
One Response to "Business groups respond to Biden's vaccine rules, majority of employees OK returning to office with unvaccinated coworkers, and Salesforce offers to relocate Texas workers"
Ronald N Levy

says:

A problem bigger for business and PR than Biden's vaccine rules and the abortion decision in Texas: Biden has four teams of fierce, brilliant antitrust lawyers and MBAs that think they can "help" the public by dismembering huge companies like Apple, Facebook, Google, Amazon, Walmart and others.

The would-be trustbusters are from Harvard, Yale, other top law schools and America's leading MBA schools. Their budgets are vast because it's public money. Political leaders sense more popularity opportunity by looking like would-be giant killers rather than would-be economizers.

For many companies, laws passed late at night in Washington and state capitols can mean billions more in taxes to pay and billions less in revenues truncated by unduly restrictive regulations. "They can afford it," some politicians say of large companies and "they should pay their fair share. " The rhyme of "fair" and "share" can seem pleasing but when companies pay more or make less, so do customers, employees and stockholders because the money has to come from somewhere. Companies can't print it or just write checks as government does.

No company is eager to fight because a company that gets out front onto a media battlefield may be among the first to get wounded or even killed out there. Billions per company are at stake because for every $10 billion a company sells, tough new government rules could easily cut it by $2 billion or $3 billion quarter after quarter.

Does the appeal of taking from the rich and giving to the poor stop with big companies or does our common sense tell us that individuals with above-average homes and savings may also be targets of "fair share" advocates?

Stay tuned. A coming economic pandemic may be laws that like Covid can
make it economically harder and harder to breathe. Laws that seem to promise almost free money may be coming, and more corporate demand to employ the great PR firms and members of the Crisis Leadership Network are almost surely coming.

The seductive appeal of seemingly free money "from the rich" may be a challenge to companies that need defense and to crisis leaders trained to provide defense. There will be more proposals to give companies tax deductions to stimulate the economy, and then BLAME those companies for being huge but paying no income taxes!

An economic hurricane may be coming with fierce winds, foul odors and threatening damage.