Campaign brings national leaders together to find advancements in cancer care
AstraZeneca and agency Zeno Group highlighted the voices of not only AZ's leadership but leaders from the whole oncology world. This won the Thought Leadership Campaign (Health Care PR and Marketing) category in Ragan's PR Daily Awards.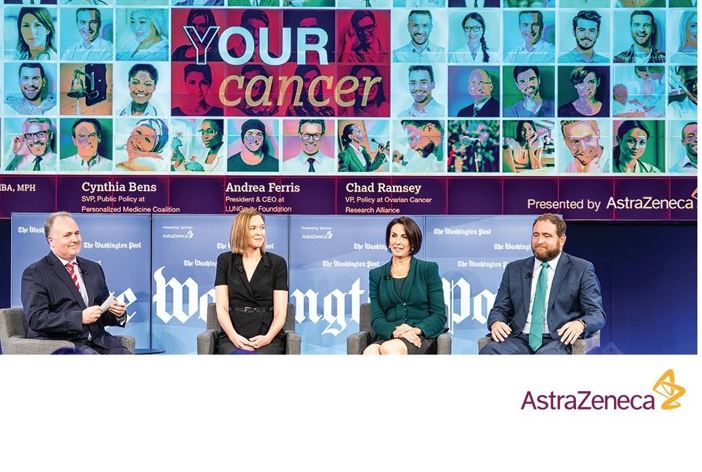 AstraZeneca believes that curing cancer takes more than one company—it takes a community.
Working with agency Zeno Group, the YOUR Cancer campaign wanted to highlight the voices of not only AstraZeneca leaders but oncology leaders throughout the country. To achieve its goal of fostering impactful changes in cancer care across the U.S., four main pillars were decided upon and executed.
YourCancer.org was created to be a central hub with educational resources, the Cancer Community (C2) Awards were created to celebrate unsung heroes at grassroots levels, roundtables were held at the state level and numerous speaking engagements helped elevate the voices of community leaders.
The website now features more than 50 advocacy partners and has had nearly 300,000 page views. The C2 Awards have received more than 220 entries over its two years and 30 million engagements through a variety of media. More than 50 thought leaders and policy makers attended the four roundtables and placements in California Biotechnology Association's newsletter were sent to every member of California's State Legislature. An article in Scientific American led to 12 million total impressions, and more than 100 people attended the 2019 Washington Post Chasing Cancer Summit.
Learn more about Ragan's and PR Daily's current and upcoming awards programs here.
COMMENT
One Response to "Campaign brings national leaders together to find advancements in cancer care"
Ronald N Levy

says:

Yes AstraZeneca is a great company and employs Dr. Anas Younes, one of the world's best known cancer doctors along with Dr. Andrew Zelenetz of Memorial Sloan Kettering Cancer Center. But look at a fascinating difference between the two great doctors.

DR. ANAS YOUNES believes that curing cancer takes more than one company and takes a community.

DR. ANDREW ZELENETZ helps lead MSKCC which actually has FDA APPROVAL of a cancer vaccine with limited use (Google "cancer vaccines"). He works with a team of medical superstars hoping to find cancer cures plus wider use cancer vaccine that may become as widely successful as the FDA-approved Covid vaccines. Trials are underway.

Look at three PR rewards if a major company decides to try saving millions of lives by financially sponsoring the MSKCC team of vaccine-hunting doctors and nurses.

.1. IMMEDIATE REWARD may be massive worldwide media coverage on what the doctors and the company are hoping to do for the public, major problems, major progress so far, and how many lives may be saved every year in each country.

2. POST-ANNOUNCEMENT REWARDS may come from quarterly press briefings by doctors on successes, disappointments, hopes and coming trials. The sponsoring company's CEO thanks the doctors for their dedication and long hours. The doctors thank the sponsor for generous funding that may help save millions of lives. Religious leaders thank God and pray for for God's continuing blessing.

.3. FINAL REWARDS come when a cancer virus or cancer cure gets FDA approval and we can imagine the entire world cheering for the doctors and sponsor. Success seems likely. When research teams try hard enough and long enough, there is almost always success. Both Dr. Younes and Dr. Zelenetz have already scored successes, as have doctors at Johns Hopkins, Georgetown and Stanford, and medical teams are already in the midst of exciting trials.

Actually, a Zelenetz team has already succeeded with what may be called a cancer "cure" that can be Googled under "CAR-T therapy." Also under "pub med," then "CAR-T."