Facebook launches 'Business Suite,' PepsiCo enters wellness market with drink to help sleep, and Barbados entices remote workers with 12-month visa
Also: A peek behind the scenes of a Zoom interview with CNN, Southwest Airlines keeps middle seat open through Nov. 30, 50% of pros feel productive while wearing pajamas, and more.
Hello, communicators:
Gretchen Goldman, research director in the Center for Science and Democracy at the Union of Concerned Scientists, tweeted a behind-the-scenes look at a recent interview with CNN:
Just so I'm being honest. #SciMomJourneys pic.twitter.com/4yZMKtVxwP

— Gretchen Goldman, PhD (@GretchenTG) September 15, 2020
Several Twitter users chimed in to share similar work-from-home (or hotel room) setups:
I wish I had taken a photo of my last setup – lamps from all over the house, laptop propped on books and a shaky plastic folding table. Suit and shorts (of course). Managed to keep the piles of laundry on the bed out of frame, though! pic.twitter.com/i3LafBgw13

— Dylan McLemore (@voiceofD) September 16, 2020
Same here pic.twitter.com/KEe6KCx9eK

— Gema Zamarro (@gema_zamarro) September 16, 2020
I did this for my hotel room job interview ! pic.twitter.com/tTq0JALgBi

— StarkRavingMed (@starkravingmed) September 15, 2020
Others applauded Goldman for her transparency.
The tweet showcases the power of authenticity and allowing people to get a peek behind the curtain, especially during times of crisis. Doing so can help you establish trust as well as strengthen relationships with people looking to connect while we stay physically apart.
Consider ways you can implement more transparency within your employee communications as well as with your online communities.
Here are today's top stories: 
Facebook launches 'Business Suite' to help social media pros
The social media platform's chief operating officer, Sheryl Sandberg, announced that the app is meant to "save time and stay up to date" by combining Facebook and Instagram profiles, as well as Messenger and WhatsApp.
In a blog post, Sandberg wrote:
It allows [users] to post to Facebook and Instagram at the same time, and manage and receive messages, notifications and alerts in one place. They can also easily see what's working and learn what's resonating with customers with Facebook and Instagram insights.

… We're building Facebook Business Suite for small businesses first, but this is a long-term investment to make this the main interface for businesses of all sizes who use Facebook, Messenger, Instagram and WhatsApp. It is available for small businesses globally starting today and will expand to larger businesses next year.
Why it's important: Facebook also announced that a recent survey looking at consumer purchasing behaviors during COVID-19 showed that 40% of consumers are spending more time on social media and online messaging when looking for business and product recommendations. Whether you use Facebook's Business Suite or turn to another tool, consider ways you can beef up your social media strategy to meet increasing online demand.
---
TACTICALLY SPEAKING
Southwest Airlines promised travelers its keeping middle seats open through Nov. 30:
We know how important it is to have the space you need to feel comfortable onboard our planes. That's why we're now keeping middle seats open through November 30. But, as always, if you're traveling together, you're welcome to sit together. #SouthwestHeartStrong

— Southwest Airlines (@SouthwestAir) September 16, 2020
The move underlines the importance of health and safety messaging as COVID-19 continues. Focusing on these messages can help increase stakeholder trust and bolster your reputation as well as brand image.
---
MEASURED THOUGHTS
Coupon Follow published survey findings revealing how work wardrobes are changing as people work from home during COVID-19. This includes several grooming behaviors, such as putting on pants, brushing teeth or applying makeup before work: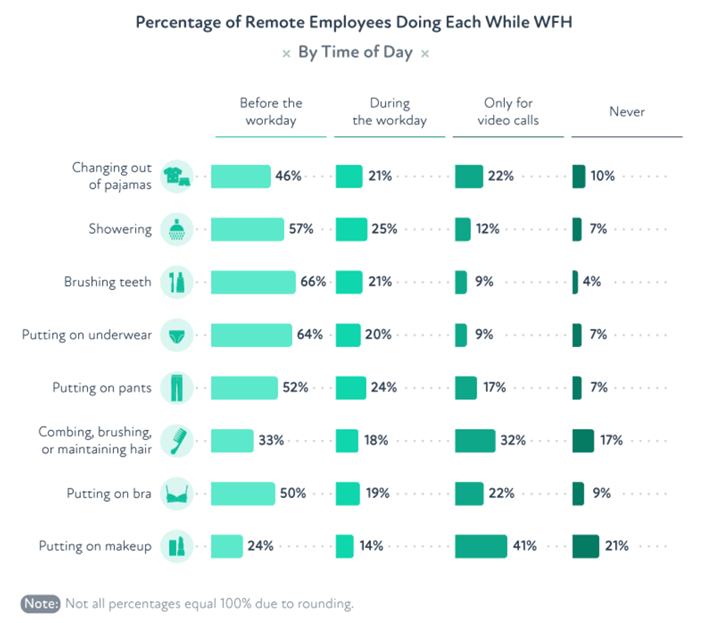 Image courtesy of Coupon Follow.
Along with a decrease of "standard" grooming behaviors is a shift to wearing casual clothing such as loungewear and athletic wear, with 16% saying they've worked in their pajamas and 29% admitting to working from home while being naked.
Despite the wardrobe change (or lack of one entirely), 50% of respondents said they felt productive while wearing pajamas, with 70% reporting productivity while wearing workout clothing and 83% feeling motivated while donning smart causal clothing.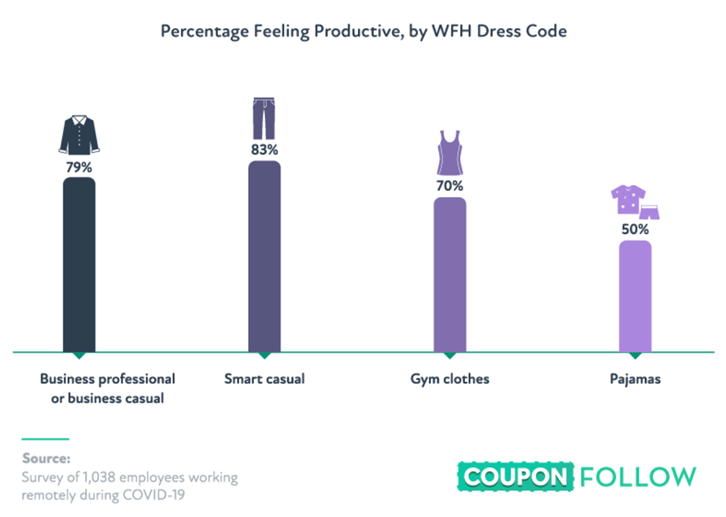 Image courtesy of Coupon Follow.
---
CRISIS LEADERSHIP NETWORK
Looking for more insight on how to address the current global crisis and lead your organization into a strong recovery?
Join Ragan's Crisis Leadership Network to network and brainstorm with peers, get the latest intelligence and research and start to strategize for the future of your organization.
Learn more about this exclusive membership here. 
PepsiCo to launch drink for those struggling with sleep
The beverage company announced a new "functional" drink aimed at the wellness category, called "Driftwell." The blackberry and lavender-flavored drink contains L-theanine, which has been used to relax the drinker and ease anxiety.
Driftwell will roll out online first and then head to select retail shelves in the first quarter of 2021, a strategy chosen to drive interest in the product before it hits stores, the company said.

… "Relaxation and dealing with stress is a lifestyle shift," according to a statement from PepsiCo.
Why it's important: As consumers struggle to deal with the COVID-19 crisis, the presidential election, natural disasters and more, stress is rising—and more organizations are focusing on wellness initiatives and offerings to meet the needs of both consumers and employees. If you aren't already looking at this sector, ask how your brand might fit in.
---
DOWNLOAD OUR REPORT
Though 70% of communicators are not looking beyond 2020 in terms of strategic planning, they also don't expect our current state of crisis to ease up by the end of the year. Operating in a constant state of crisis and rapidly responding to events throughout the world are top challenges for communicators, our recent report, Ragan Survey of Internal Communicators, revealed.
The survey sheds light on top challenges, with insights including top issues, what the "return to the office" looks like, which departments internal communicators will collaborate with the most and more.
To learn more about how to rise to the challenges facing organizations across industries, join us at Ragan's Internal Communications & Employee Experience Virtual Conference on Oct. 14. You'll learn from internal and employee communications experts from National DCP, Deloitte, Charles Schwab, American Psychological Association and more.
---
TACTICALLY SPEAKING
Barbados launched a campaign, "12 Month Barbados Welcome Stamp," inviting people to live and work remotely from the island.
Mia Amor Mottley, Barbados' prime minister, wrote on the campaign's website:
We recognise more people are working remotely, sometimes in very stressful conditions, with little option for vacation. Our new 12 month Barbados Welcome Stamp, a visa that allows you to relocate and work from one of the world's most beloved tourism destinations.
You can apply directly through the website for the visa, which costs roughly $2,000 per person or $3,000 per family. You must earn an annual salary of at least $50,000 and have active health insurance, as well as pass security screening. Perks of the offer are listed in bite-sized chunks on Visit Barbabos' website: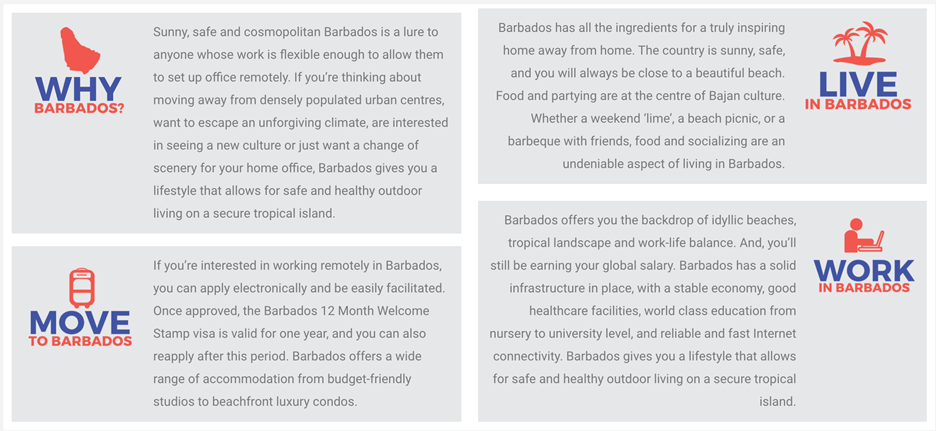 Image courtesy of Visit Barbados.
Barbados' social media team have also been sharing the campaign across its Facebook, Instagram and LinkedIn profiles, including sharing stories from remote workers who have taken the plunge to work beachside for a year:
It's a clever move as the travel industry continues to be hit hard from COVID-19 and organizations scramble to adjust their business models to adjust to the crisis as well as changing consumer behaviors.
---
WHAT YOU SAID
We asked for your drink of choice when drafting crisis responses and attending Zoom meetings, and more than half of you (56%) said coffee or other caffeinated beverages keep you going, while almost 30% opt for water. Roughly 5% of you reach for a glass of wine or alcohol.
What's your drink of choice when powering through crisis response and Zoom meetings?

Share with us what's in your cup or mug, and we'll share in tomorrow's #DailyScoop.

— PR Daily (@PRDaily) September 16, 2020
Tressa Robbins, vice president of client onboarding for Burrelles, switches to Diet Mountain Dew after her coffee:
After morning coffee? #DietDew keeps me going. Note: Can I just add how much I love the idea of the #RedLobsterDewGarita?! It may quite some time before I can try it but I'm in! 🍹😊 #DailyScoop

— Tressa Robbins, MPRCA ✨ (@tressalynne) September 16, 2020
Erica Bush, account director at MCCI, and PR pro Sydney Hofer also take to carbonated drinks, whether caffeinated or not:
Red Bull!

— Erica Bush (@elbush) September 16, 2020
Diet coke or La Croix – gotta have some bubbles!

— Sydney Hofer (@Hoferlicious) September 16, 2020
The team at Business Interface prefers tea to coffee:
Tea! Earl Grey is my high octane

— Business Interface, LLC. (@InterfaceLLC) September 16, 2020
Is there a question you'd like us to ask in an upcoming poll? Let us know!
---
SOUNDING BOARD 
What's your biggest distraction as you work from home?
What's your biggest distraction as you work from home during COVID-19?

Share your challenges with communicating remotely as well as your WFH hacks below, and we'll share in tomorrow's #DailyScoop.

— PR Daily (@PRDaily) September 17, 2020
Share with us your challenges and WFH hacks below and under the hashtag #DailyScoop.
COMMENT
One Response to "Facebook launches 'Business Suite,' PepsiCo enters wellness market with drink to help sleep, and Barbados entices remote workers with 12-month visa"
it's a nice blog thank you for sharing