Facebook upholds Trump ban, Consumers trust doctors and educators over business leaders, and Basecamp employees resign following tense meeting with leadership
Also: Beer companies celebrate Cinco de Mayo, Spotify responds to artist protest, Twitter acquires ad-blocking subscription service, and more.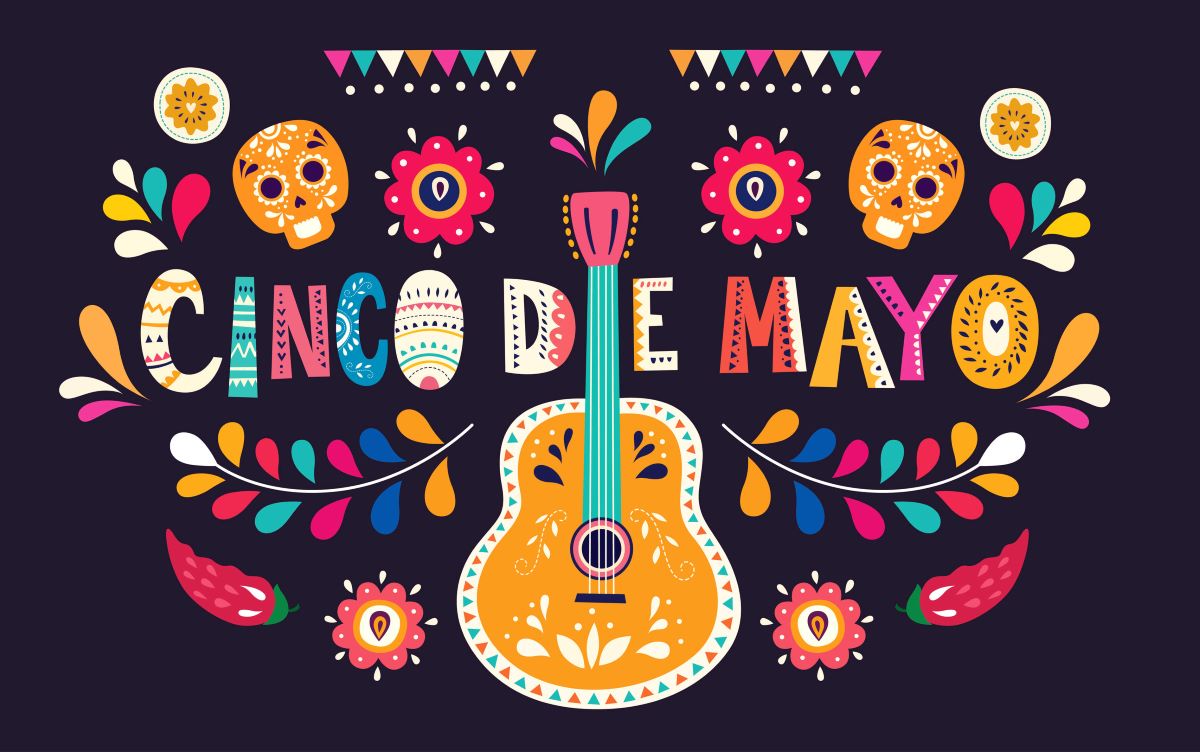 Hello, communicators:
This Cinco de Mayo brings another opportunity to observe how brands are contributing to an authentic cultural conversation. In lieu of parading around drinkers in fake mustaches and sombreros, beer brands Corona and Modelo have created awareness campaigns that provide a platform for Mexican American celebrities to showcase their passions and share their lived experiences.
As part of its #CincoForGood campaign, Corona has enlisted celebrity chef Rick Martinez to create social videos that encourage customers to forgo cooking his mom's chili Colorado recipe and order delivery to support the recovery of the restaurant industry. Corona has also contributed $1 million to the National Restaurant Association Educational Foundation.
This year, your favorite chefs like Rick Martinez are getting out of the kitchen and supporting the restaurant industry by ordering in to celebrate #CincoForGood with @coronaextrausa. #For21+ #ad pic.twitter.com/vOI0VfokRc

— NRAEF (@NRAEF) May 4, 2021
Meanwhile, Modelo has teamed up with Chicano tattoo and graffiti artist Mark Machado, better known as Mister Cartoon, to showcase his artistic process as part of Modelo's #SaludtoCinco campaign that celebrates the work of first responders. Modelo has also contributed $250,000 to First Responders First, an organization that provides mental health and treatment services to frontline health care workers.
I teamed up this Cinco de Mayo with @ModeloUSA to shout out all the First Responders and give thanks for their Fighting Spirit, have a bomb Cinco de Mayo party this year and keep inspiring us all. #SaludToCinco #ModeloPartner pic.twitter.com/OkugYYrWfz

— MISTER CARTOON (@MisterCtoons) May 4, 2021
Facebook and Instagram oversight board uphold ban on Trump
Facebook's Oversight Board has decided to uphold the decision to ban former president Donald Trump from its Facebook and Instagram platforms following the Capitol riot on Jan. 7. The decision also calls on Facebook to review the "indefinite" suspension of Trump by reassessing his penalty.
Within six months of this decision, Facebook must reexamine the arbitrary penalty it imposed on January 7 and decide the appropriate penalty. This penalty must be based on the gravity of the violation and the prospect of future harm. It must also be consistent with Facebook's rules for severe violations, which must, in turn, be clear, necessary and proportionate.

The Board stated that it is not always useful to draw a firm distinction between political leaders and other influential users, recognizing that other users with large audiences can also contribute to serious risks of harm.

While the same rules should apply to all users, context matters when assessing the probability and imminence of harm. When posts by influential users pose a high probability of imminent harm, Facebook should act quickly to enforce its rules. Although Facebook explained that it did not apply its 'newsworthiness' allowance in this case, the Board called on Facebook to address widespread confusion about how decisions relating to influential users are made. The Board stressed that considerations of newsworthiness should not take priority when urgent action is needed to prevent significant harm.
The much-anticipated decision by the Oversight Board is an experiment in the policing of political speech online — and the first major test of a new system Facebook put in place to essentially front-run the possibility of the government stepping in to play that role, experts say.

"This doesn't begin and end with Donald Trump," said Nathaniel Persily, a Stanford Law School professor. "They've got all kinds of elections coming up around the world."
Social media users chimed in with their thoughts on the matter:
Aside from the Trump decision, this part is important: Oversight Board wants Facebook to do better explaining penalty system in plain language to everyone.

And it wants WAY more transparency. Board calls for account restrictions to be included in Facebook's transparency reports. pic.twitter.com/zPEO5VOtDb

— Chris Welch (@chriswelch) May 5, 2021
No Facebook for Trump! pic.twitter.com/zL0Lnr64BO

— Big B Canute🌊🌊🙈🙉🙊🐾🐾 (@Brian_Canute) May 5, 2021
Why it matters:
Don't shy away from informing your leadership of the content moderation policies on the platforms where they are most active and use this landmark decision as an opportunity to create a workflow for vetting their communications on social media as necessary. Consult independent advisors and committees when a change to your corporate policy has the potential to impact your industry and lean on trusted industry partners to organize any review processes to preserve their independence.
MEASURED THOUGHTS
A new study by Morning Consult found that global consumers give doctors, teachers and small businesses the highest marks on trust. They are also the only entities to consistently gain trust in the past year. Trust in all others, including elected officials, news media and leaders of American companies was significantly harmed during the same period.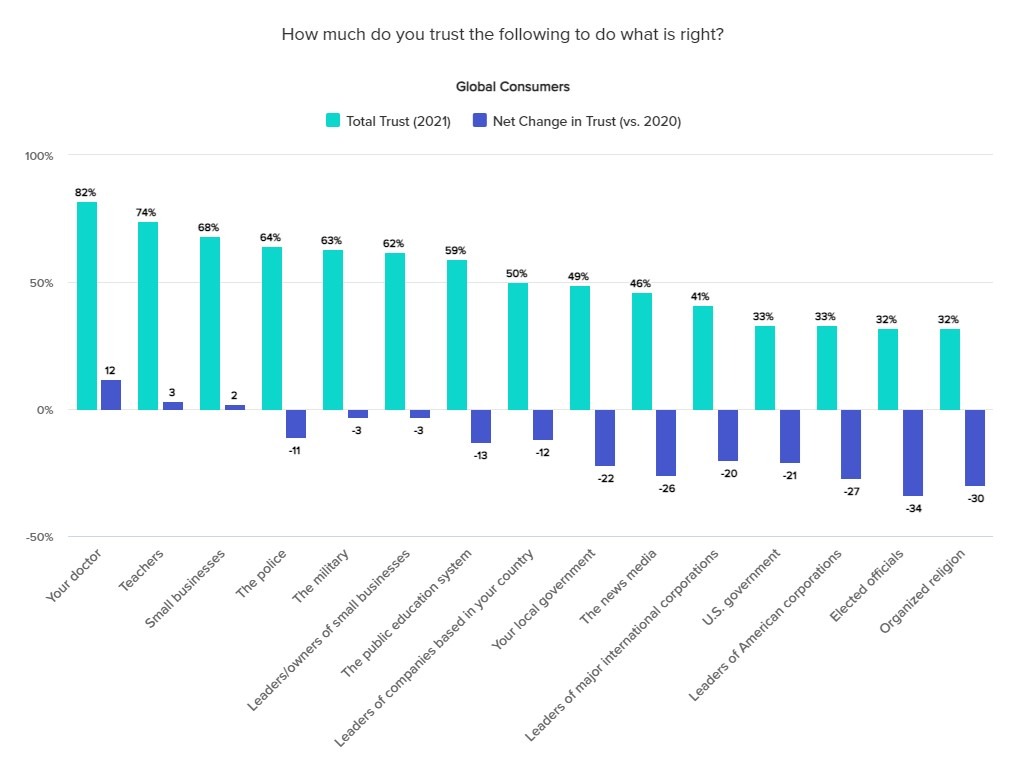 These insights make a strong case for re-evaluating the experts who you spotlight in your research and thought leadership content. Consider including medical experts, educators and small business partners with perspective on your industry as sources for journalists when pitching coverage, instead of only offering interviews with your corporate leadership.
CRISIS COMMUNICATIONS
Over 180 musicians have signed an open letter protesting a new speech monitoring by Spotify. The letter expresses concern that this technology is a violation of privacy and human rights, citing Spotify's claims that the technology can detect a listener's emotional state, gender, age and accent.
Today, we joined @AccessNow, @UMAW_, and 180+ (!!) global musicians and human rights orgs to send a letter to @Spotify, calling on the company to publicly commit to never use, license, sell, or monetize its new #speechrecognition patent tech. [1/9] pic.twitter.com/7PYe4RSX8c

— Fight for the Future (@fightfortheftr) May 4, 2021
UPDATE: Spotify told us it has "no plans" to implement this tech.

We can't just take their word for it.

With @fightfortheftr @UMAW_, we sent a coalition letter to Spotify urging the co to publicly commit to never use or monetize the tech. #SpotifyDontSpyhttps://t.co/aVuidlFTgq https://t.co/OVMg721ZDU

— Access Now (@accessnow) May 4, 2021
The letter outlines the five major concerns that the coalition has regarding the technology: "emotional manipulation," discrimination, privacy violations, data security, and the exacerbation of inequality in the music industry. The letter explicitly requests that Spotify makes a "public commitment to never use, license, sell, or monetize the recommendation technology," and asks the company to issue a response to the letter by Tuesday, May 18.
When composing a crisis response, remember to include details that proactively explain what your intentions are instead of focusing on what they are not. By addressing the specific grievances of your detractors, your statement builds empathy and allows them the chance to feel heard.
RAGAN'S COMMUNICATIONS BENCHMARK REPORT 2021
Ragan has released its annual Communications Benchmark Report, an exclusive study from Ragan's Communications Leadership Council that analyzes the major trends in the profession over the last year.
During that time, comms pros have been called on to develop and distribute the message on new policies that affect internal and external stakeholders alike. Their role has become more vital as they helped keep their organizations focused and moving forward. They've seen their access to the C-suite increase throughout 2020, and they forged important new alliances with peers in other departments, including HR, finance and workplace wellness.
Culled from more than 750 respondents, the 32-page report is available in its entirety exclusively to members of the Communications Leadership Council.
Download your copy of the exclusive Benchmark Survey Executive Summary today and get a crucial competitive advantage that will fuel your success for 2021 and beyond.
SOCIAL BUZZ
Twitter has announced that it acquired Scroll, a subscription service that offers customers an ad-free browsing experience when reading articles online.
The service will become a part of Twitter's larger plans to invest in subscriptions, the company says, and will later be offered as one of the premium features Twitter will provide to subscribers.

Premium subscribers will be able to use Scroll to easily read their articles from news outlets and from Twitter's own newsletters product, Revue, another recent acquisition that's already been integrated into Twitter's service. When subscribers use Scroll through Twitter, a portion of their subscription revenue will go to support the publishers and the writers creating the content, explains Twitter in an announcement.
Remember to partner with your analytics and audience development teams to measure your user's time spent on page in addition to bounce rate, and consider using plugins that overlay on top of your browser to show how far down your readers are going before clicking out. Once you've collected this data over a healthy time period, connect with your marketing team to discuss these metrics and ensure that your ad strategy isn't negatively impacting your user experience. Following those discussions, make changes to the placement and frequency of your ads that everyone agrees with.
COMMUNICATIONS WEEK
Ragan is delighted to add industry event and thought leadership brand Communications Week to our portfolio. You can read the full press release here.
"We are reimagining Communications Week as a year-round endeavor," says Ragan Communications CEO Diane Schwartz. "The rollout will begin next month with thought-provoking content on the future of communications on Commsweek.com, Ragan.com and PRDaily.com, culminating with a weeklong series in November that will feature conferences, networking events, workshops, webinars and more."
The flagship event for 2021 will take place Nov. 15-19. Stay tuned for updates on the many opportunities and offerings that will help communicators connect, learn and celebrate their achievements later this year.
Basecamp employees resign citing 'suppression of voices' by leadership
Over 20 employees of the project managing software company Basecamp have resigned following a meeting with CEO Ryan Fried. Fried called the meetings to apologize for and discuss a series of company policy changes that he published as a blog post days earlier. The post went viral on social media, with many criticizing the post's emphasis on shutting down forums for cultural discussion.
On Friday, employees had their chance to address these issues directly with Fried and his co-founder.

"My honest sense of why everybody is leaving because they're tired of Jason and David's behavior — the suppression of voices, of any dissent," one employee told me. "They really don't care what employees have to say. If they don't think it's an issue, it's not an issue. If they don't experience it, then it's not real. And this was the final straw for a lot of employees."

Thirty minutes after the meeting ended, Fried announced that Basecamp's longtime head of strategy, Ryan Singer, had been suspended and placed under investigation after he questioned the existence of white supremacy at the company.
I am genuinely impressed by this post. They really just took every possible bad leadership idea and ran with every single one of them
https://t.co/Q5rso1sS62

— Ian Coldwater 📦💥 (@IanColdwater) April 26, 2021
Internet: We live in a society

Basecamp: Not here we don'thttps://t.co/u724kuOcxV pic.twitter.com/acQHe09IiX

— Kyle Machulis (@qDot) April 26, 2021
Why it matters:
Your skills as communicators are necessary at every step in internal conversations around employee well-being. Create a feedback loop for employees to feel heard and talk about uncomfortable topics on their terms. Develop two-way communication to ensure everyone feels empowered to speak up and not forced to confront a colleague who they take issue with.
CONFERENCE ALERT
Communicators are in a unique position to collaborate with other DE&I leaders to foster unity, build a stronger internal and external brand reputation, maximize innovation and improve the bottom line. The days of brands comfortably remaining silent are gone as employees and customers are demanding impactful change.
Join us at Ragan's Diversity, Equity and Inclusion conference on May 19 and glean timely strategies to educate, engage and uplift your employees and customers in the wake of unparalleled uncertainty, political upheaval and a new mandate for social justice change.
Learn powerful insights and approaches from speakers at organizations including Ben & Jerry's, Reebok, Warner Music Group, E.W. Scripps, NielsenIQ, Facebook and more.
 SOUNDING BOARD
Time for your mid-week wellness check, PR pros and communicators. How are you feeling this Wednesday knowing you are almost over the hump?
Time for your mid-week wellness check, PR pros and communicators. How are you feeling this Wednesday knowing you are almost over the hump? Share a GIF below that best encapsulates your Wednesday mood and be sure to tag #DailyScoop. We'll share the results in tomorrow's roundup. pic.twitter.com/9Xq9zM5wug

— PR Daily (@PRDaily) May 5, 2021
Share a GIF in the comments that best encapsulates your Wednesday mood and be sure to tag #DailyScoop. We'll share the results in tomorrow's roundup.
COMMENT