Fisher-Price toys inspired by COVID-19's WFH, the world's last Blockbuster is on Airbnb, and Dunkin' debuts fall menu early
Also: A social media platform size guide, Disney cuts 'Fox' from its television studios in rebrand, your most hated jargon, and more.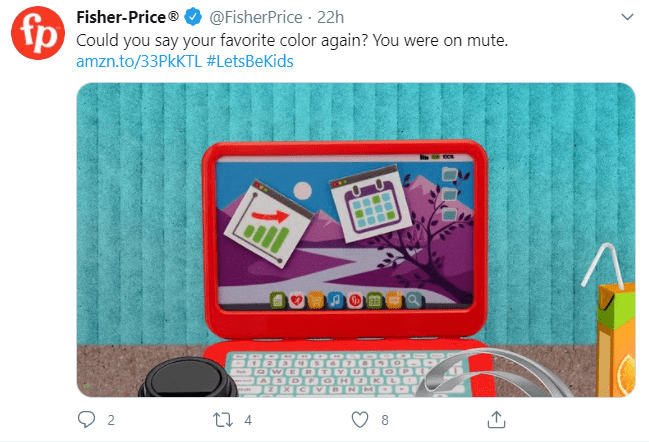 Hello, communicators:
OKCupid's global communications manager, Michael Kaye, recently tweeted a quip to which many PR pros can relate:
Reporters:

PR people: https://t.co/bOnzkflTvT

— Michael Kaye (@MichaelKayePR) August 12, 2020
Here are today's top stories:
Fisher-Price launches WFH toys
Mattel's infant and preschool brand, Fisher-Price, unveiled a new product line of role-play toys inspired by remote working during COVID-19. "My Home Office Set" includes a laptop with fabric "apps," headset, coffee cup and smartphone.
Could you say your favorite color again? You were on mute. https://t.co/vcv5jFaFYc #LetsBeKids pic.twitter.com/KDZha0m9sY

— Fisher-Price® (@FisherPrice) August 12, 2020
"Baby Biceps Gift Set" comes with a mini kettle bell, barbell, shaker bottle and sweatband, while the company's "Cutest Chef Gift Set" comes with mini tongs and a meatball spinner, oven-mitt teether, chef's apron bib and crinkle recipe card.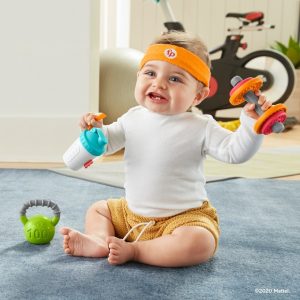 In a press release, Mattel's senior vice president of Fisher-Price and global head of infant and preschool, Chuck Scothon, said:
… Our designers created these toys based on some of the most popular themes in social media, including #food and #fitness. And, speaking of popular hashtags, we also recently introduced a Tiny Tourist™ Gift Set perfect for family #staycations.
Why it's important: Playing off current trends and holidays has long been a PR and marketing practice, but take care when you reference COVID-19. You might end up stoking anger as much as you do interest.
"Though the mini home office, workout, and cooking playsets are undeniably cute, they're also bleak as hell," Mashable reported.
---
TACTICALLY SPEAKING
Dunkin' is debuting its fall menu, including the coffee chain's Pumpkin Spice Latte, on Aug. 19, the earliest tthe chain has offered them. So far, Starbucks hasn't announced its fall menu line. Last year, Dunkin' kicked off its autumn-themed foods and beverages on Aug. 21, with Starbucks' menu launching Aug. 27.
Whether you're sipping, swirling or tasting – the Fall legend is back in class, starting 8/19. 🎃 pic.twitter.com/U0ZkmotzP2

— Dunkin' (@dunkindonuts) August 12, 2020
According to Jill Nelson, Dunkin' vice president of marketing strategy, pumpkin is the most talked about flavor fans discuss on the company's social media pages.

"While there is so much uncertainty heading into the fall, one thing our fans can count on is the return of pumpkin at Dunkin'," Nelson said in a statement to USA TODAY. "We're excited to bring them one of the most anticipated flavors earlier than ever before."
As you look for ways to capture consumer excitement and boost your revenue, throw convention out the window. When applicable, consider debuting product launches early during COVID-19.
---
MEASURED THOUGHTS
Reporting platform AgencyAnalytics recently published a guide for content sizes across social media platforms.
Here are the size requirements for Instagram's main feed, as well as profile photos and Instagram Stories: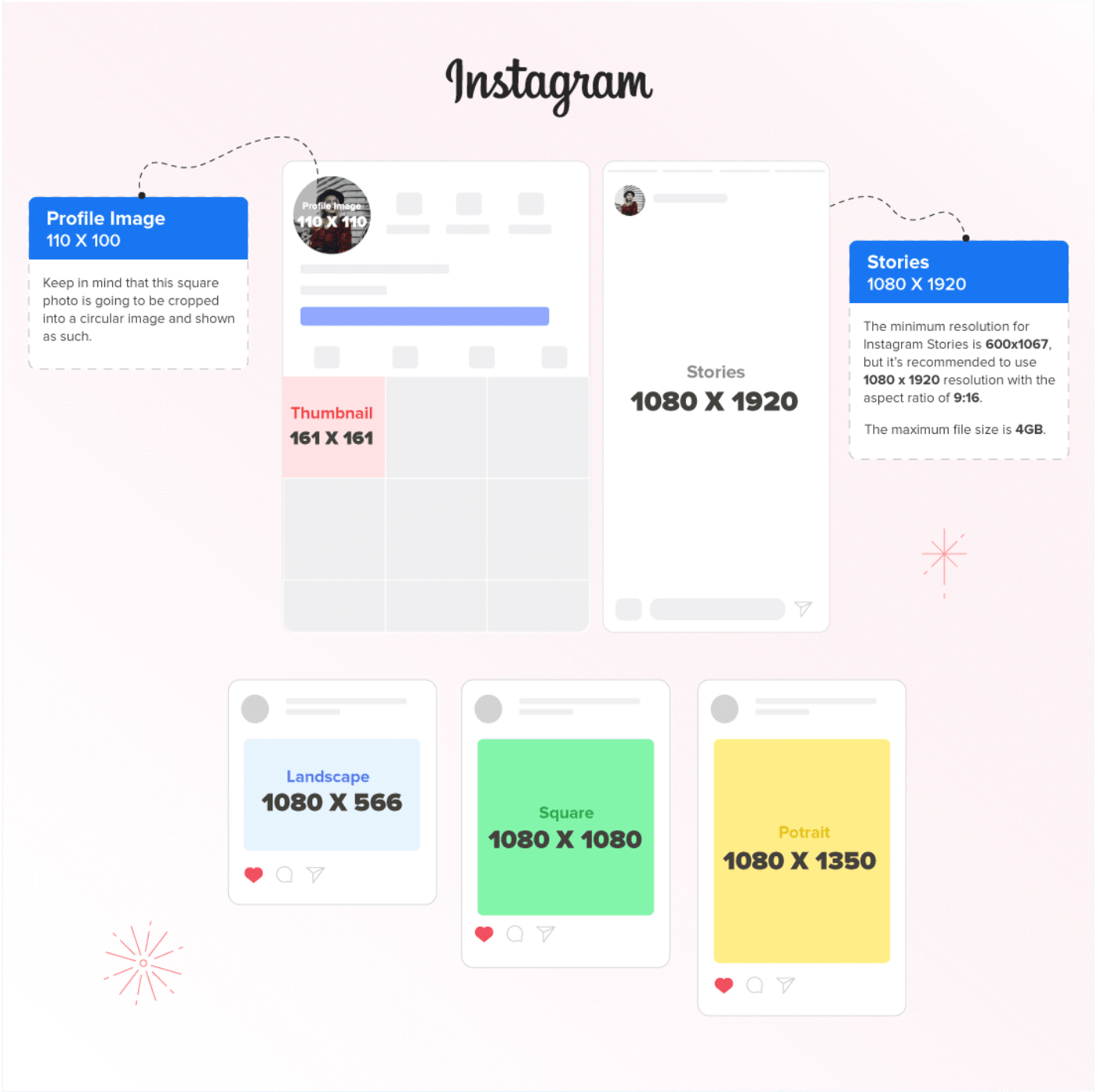 Image courtesy of AgencyAnalytics.
For YouTube, consider the size requirements of your channel's cover and profile photo as well as optimal thumbnails for each video.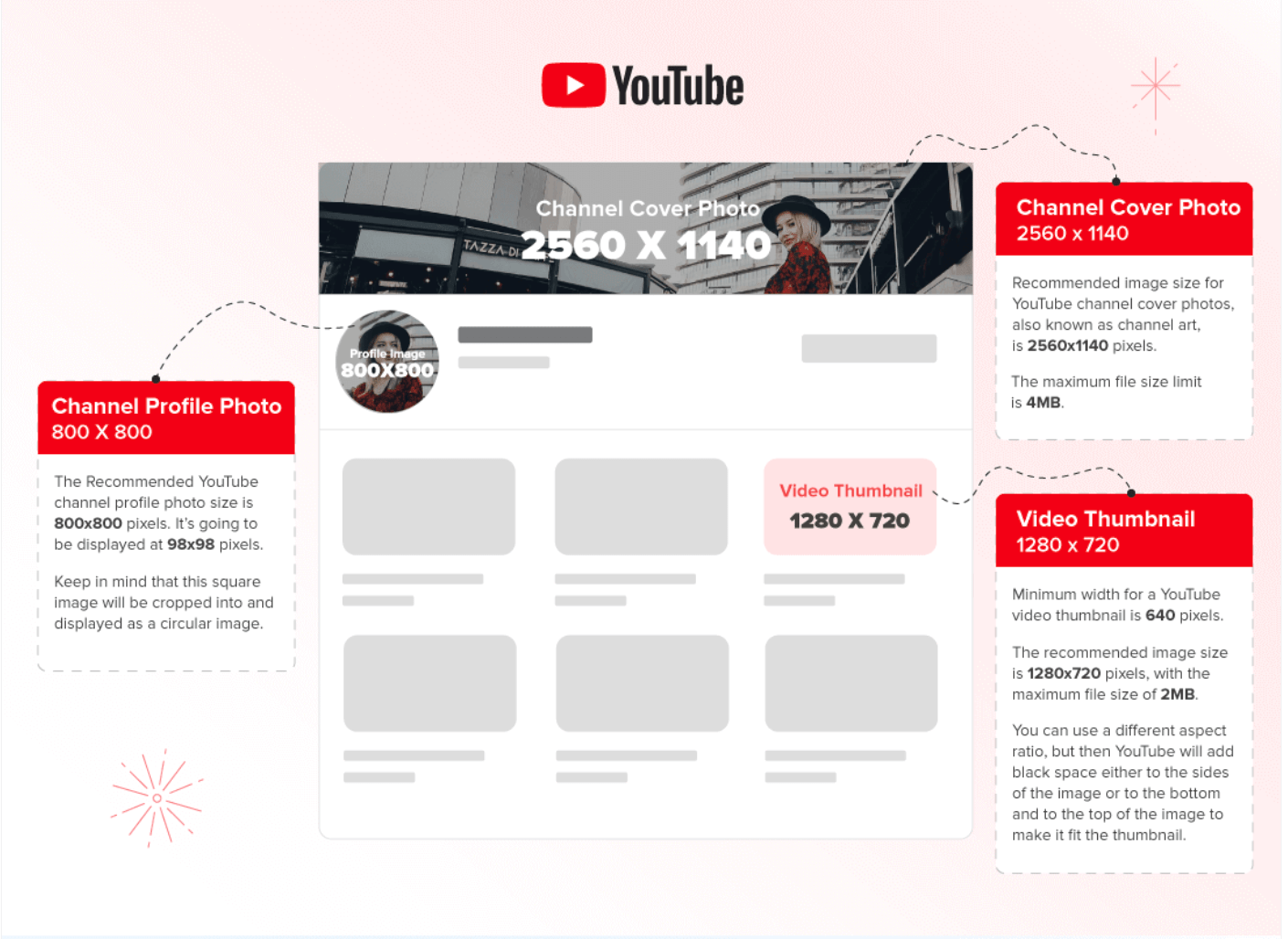 Image courtesy of AgencyAnalytics.
You can view the entire infographic here.
---
CRISIS LEADERSHIP BOARD
Looking for more insight on how to address the current global crisis and lead your organization into a strong recovery?
Join Ragan's Crisis Leadership Board to network and brainstorm with peers, get the latest intelligence and research and start to strategize for the future of your organization.
Learn more about this exclusive membership here.
World's last Blockbuster offers Airbnb stay
The last remaining Blockbuster store is in Bend, Oregon—and a few consumers will have the opportunity to close out the summer with an in-store sleepover. On Aug. 17 at 1 p.m. Pacific time, Sandi Harding, the store's owner, will open up for three one-night stays for Sept. 18, 19 and 20. Each booking can accommodate up to four people for a "socially distanced movie night, just like those of decades past." Each stay costs $4—roughly the price of a rental.
…cause the last BLOCKBUSTER in the world will be offering movie lovers in Bend a 90s themed sleepover for a limited time—only on airbnb. who's down? 👀https://t.co/dd4yz1UtZP pic.twitter.com/NJEZK2wxeW

— Airbnb (@Airbnb) August 11, 2020
In the listing, Harding wrote:
Whether you want to stay up until sunrise or pass out on the couch, we've created the perfect space complete with a pull-out couch, bean bags and pillows for you to cozy up with "new releases" from the '90s. Crack open a two-liter of Pepsi before locking into a video game, charting your future in a game of MASH, or watching movie after movie. But be wary of reciting "Bloody Mary" in the staff bathroom off of the break room, as you just may summon the ghost rumored to haunt the store. And help yourself to some NERDS, Raisinets and popcorn (heavy on the butter), but make sure you save room for a couple slices.
The stunt could help both Airbnb and Harding's Blockbuster store, both struggling during COVID-19. It's not the only thing Harding has done to increase revenue, either.
Even if you don't get a chance to snag a booking (or if you live outside of  Deschutes County) you can still get in on the fun. Harding has set up a "callgorithm" for people to call in and get movie recommendations. Just call the store's number at +1 (541) 385-9111, tell the staff what you like and don't like for movie genres, and get tailored recommendations from an employee, just as you would in the '90s. If you want even more you can always head to the store's website and grab some Blockbuster gear.
Why it's important: As you shift business models and tailor your offerings to changing consumer behaviors during COVID-19, don't be afraid to embrace creativity. Your stunts don't have to be physical like an Airbnb stay, either. Think of new ways you can engage consumers and employees who are staying at home and also have information overload.
---
DOWNLOAD OUR REPORT
Following the deaths of George Floyd, Ahmaud Arbery, Breonna Taylor and others, organizations were pushed more forcefully than ever before to take stands against systemic racism and move to support social justice initiatives. Which responses made an impact—and which responses fell flat?
Learn from 10 of the biggest brand messages in our special report, "Organizational responses to Black Lives Matter." The report offers communicators important takeaways to lead organizations and clients in the second half of 2020 and into the future.
---
TACTICALLY SPEAKING
The Walt Disney Company rebranded the television studios purchased last year from Rupert Murdoch, dropping "Fox" from the names and announcing ABC Signature (formerly ABC Studios and ABC Signature Studios), Touchstone Television (formerly Fox 21 Television Studios), and 20th Television (formerly 20th Century Fox Television).
Introducing the official Twitter of Disney Television Studios! Our three studios @20thTelevision, @ABCSignature & @TouchstoneTV make your favorite TV shows! Be sure to follow all of us for updates! pic.twitter.com/PaCPCSm0Nm

— Disney Television Studios (@DisneyTVStudios) August 10, 2020
Disney retained the fanfare and searchlight logo for 20th Television:
The moves are similar to the rebranding Disney made in January, chaging film studio 20th Century Fox to 20th Century Studios and Fox Searchlight Pictures to Searchlight Pictures.
"Our new studio names and logos mark a new day for ABC Signature, 20th Television and Touchstone Television while honouring their rich histories and the creative power of The Walt Disney Company," Craig Hunegs, president of Disney television studios, said in a statement.
The rebrand highlights the importance of distancing yourself from former owners and brands after acquisitions, but the move shows how you can still retain iconic and familiar branding.
---
WHAT YOU SAID
We asked what jargon PR pros should ban from their vocabulary, and many of you shared your thoughts.
Fill in the blank: The worst jargon that PR pros should ban from their vocabulary is ______________________.

Share with us your thoughts under #DailyScoop, and we'll share in tomorrow's round up!

— PR Daily (@PRDaily) August 12, 2020
Terms that drive you nuts include "disrupt," "low-hanging fruit," "mindset," "deep-dive" and "circle back." Some admitted they're guilty of using terms such as "thought leadership" and "leverage."
Several communications pros, including Steph Smith, Glori Perez, Sarah Mawji and Leanne Hand Cook said "gamechanger," "unique" and similar terms are top offenders:
"Groundbreaking," practically nothing is actually groundbreaking.

— Stephanie (@Steph_MSmith_) August 12, 2020
This is not jargon, but I feel the same way about "unique."

— Glorimar Perez (@GloriPerez) August 12, 2020
Disruptive and Groundbreaking…not everything can be groundbreaking 😁 #DailyScoop

— Sarah Mawji (@SarahMawji) August 12, 2020
the word "unique"

— Leanne Hand Cook (@leannehand) August 12, 2020
We encourage you to check out the entire thread and add your terms under the hashtag #DailyScoop.
Is there a question you'd like us to ask in an upcoming poll? Let us know!
---
SOUNDING BOARD
Are your pets welcome into your WFH space? How about when you return to the office?
Are your pets welcome into your WFH space? How about when you return to the office?

Weigh in below and share photos if your pets with us! We'll share tomorrow. #DailyScoop

— PR Daily (@PRDaily) August 13, 2020
Share your thoughts and pictures of your pets with us below and under the #DailyScoop hashtag.
COMMENT