Foot Locker offers voter registration, Dixie Brewing Company takes suggestions for new name, and PetSmart offers guinea pig costumes
Also: How schools' COVID-19 dashboards rank, Sizzler files for bankruptcy, new emojis coming in 2021, and more.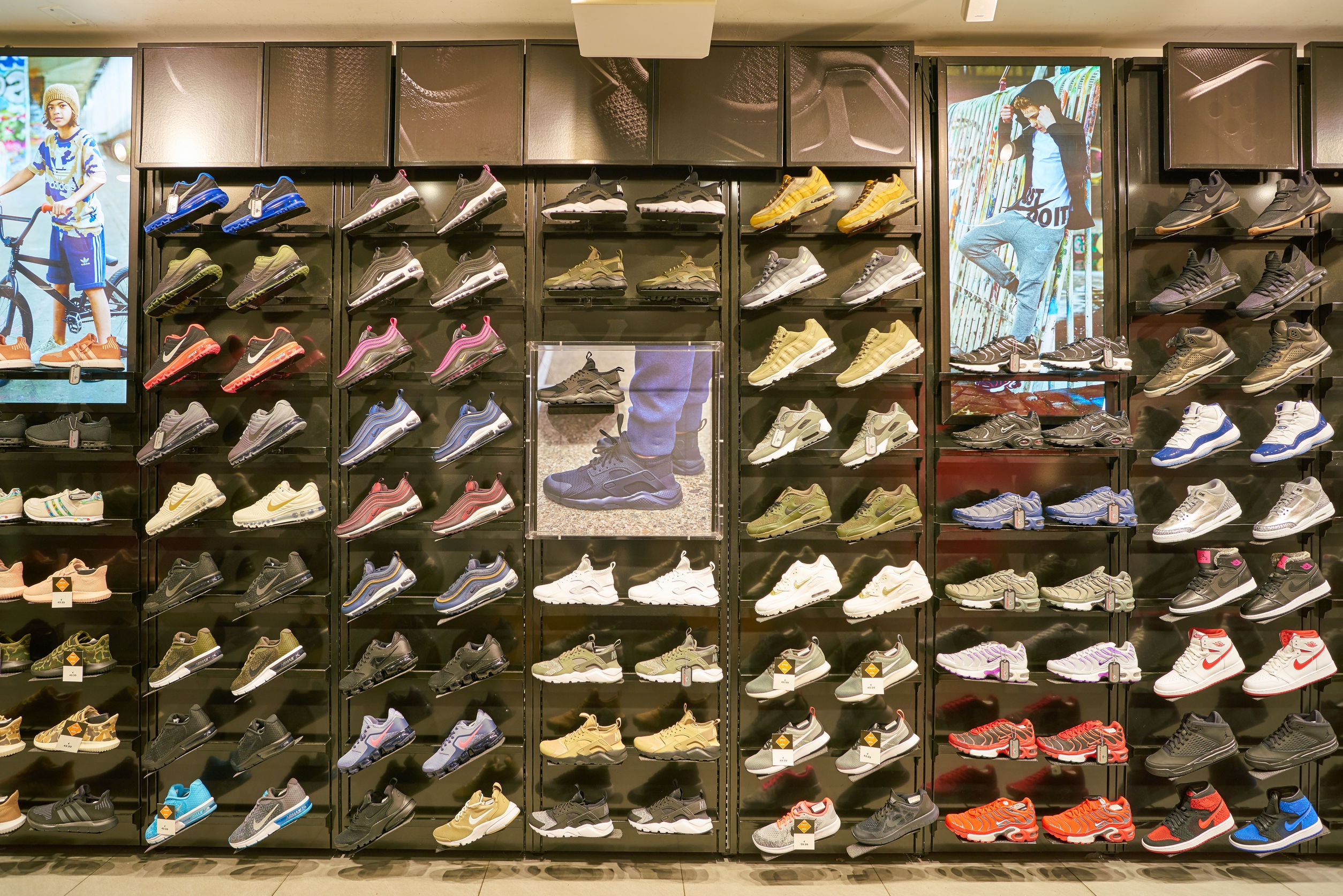 Hello, communicators:
The Unicode Consortium announced a new set of emojis that will be available next year, which include seven new symbols that capture feelings associated with 2020's ongoing crises:
🆕✨ Have no fear, new #emoji will be here (Soon. Well, soonish. Widely available in 2021) ✨🆕 → https://t.co/WcsayalyDB pic.twitter.com/yWGtXgCNBd

— The Unicode Consortium (@unicode) September 18, 2020
The "face with spiral eyes" is particularly popular among the journalists reporting on the upcoming symbols, an emoji meant to express exhaustion or frustration:
Also known as "face-unwell" (mood), the proposal includes suggested keywords like "oh no," "trouble," "whoa," and "yikes" (also mood), which could be used to trigger the symbol. The general shorthand is clear enough, particularly from the anime examples included as part of the document: spiral eyes means dizzy, hypnotized, or generally overwhelmed to the point of no longer being in control of one's actions or capable of perceiving the world.
Here are today's top stories:
Foot Locker opens voter registration hubs in 2,000 stores
 Starting today—National Voter Registration Day—the retail chain is partnering with Rock the Vote and offering voter registration along with shopping opportunities:
Use your Power and Vote 🗳 https://t.co/EI3he8U9Jc

— Foot Locker (@footlocker) September 17, 2020
Each of the company's more than 2,000 stores will house a kiosk with a special website where visitors will can check their voter status, register to vote or sign up for election reminders. Foot Locker said the initiative is geared to the more than 4 million young Americans who become eligible to cast ballots this year.
Frank Bracken, chief executive of Foot Locker North America, said in a press release:
In a year marked with such uncertainty, amid a pandemic and social unrest, our country's future has never felt more fragile. At Foot Locker, our mission is to inspire and empower youth culture, so partnering with Rock the Vote was a natural fit to help educate and amplify the voices of today's youth.
Why it's important: Many organizations across industries are getting involved with the presidential election by encouraging audiences to vote, offering registration and polling offerings at their locations and more. Encouraging and assisting voting activities is a way to get involved in your community without taking a stance for a political party or speaking out on a hot-button issue. Consider the ways your organization can get involved.
---
TACTICALLY SPEAKING
PetSmart is gearing up for Halloween with its pet costumes:
We'll take an order of extra-large fries… with a side of cuteness! 🍟🐶 #fortheloveofpets #halloween https://t.co/UYq9NeIIYp (📷: IG erzathehuskey) pic.twitter.com/3LvKu2H6Cw

— PetSmart (@PetSmart) September 15, 2020
This year, the retail chain is also offering costumes for guinea pigs:
Your guinea pig is sure to be the cutest on the block with one of our adorably spooky costumes. 🎃👻 https://t.co/WmSZNi7LEc https://t.co/KkQvvZN3XG

— PetSmart (@PetSmart) September 16, 2020
Petsmart's collection includes a bumblebee, mermaid, unicorn, hot dog, lobster, dragon and pumpkin—all crafted to fit your rodent: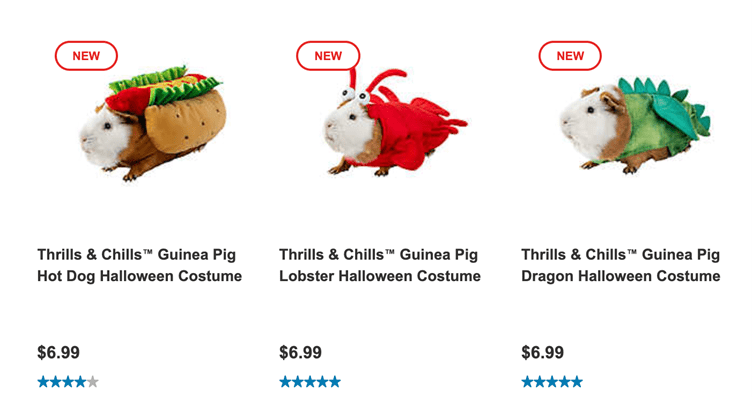 The chain is marketing its costumes and holiday accessories alongside a Halloween social media contest, encouraging consumers to post pictures of their dressed-up pets to Instagram.
In a press release, PetSmart wrote:
Whether you're having a spooky night at home or a photoshoot with the family, PetSmart wants you to show off your costumes. PetSmart is inviting pet parents everywhere to participate in the #HowWeHalloween photo contest. By posting your pet's costume to Instagram between Oct. 2 and Oct. 25, you can enter for a chance to win one of two $100 gift cards or a $500 gift card grand prize. For Official Rules and more information visit: ptsmrt.co/HowWeHalloween.
The effort shows an example of altered messaging and offerings during COVID-19, along with a unique marketing ploy made to stand out from the noise.
---
MEASURED THOUGHTS
A group of medical and health professors and students formed a research team and website called "We Rate Covid Dashboards," which gives universities and colleges grades based on their COVID-19 information centers. The team found that many instiutions can do better at presenting data:
Top US universities (as per @USNewsEducation) may have loads of A students, but many of their #covid19 dashboards aren't meeting the grade. Check out our full ratings: https://t.co/nhO63kApjc pic.twitter.com/4l38UaCps2

— We Rate Covid Dashboards (@CovidDashboards) September 20, 2020
The website can serve as a helpful guide for communicators at higher learning institutions, but top-ranked dashboards can also provide a few best practices on reporting, regardless of your organization or industry.
The group gave Tulane University, Vassar and Colgate University "A" grades, and explained that each dashboard is easy to read and the numbers are broken up into different groups and contexts (such as employee and student cases and city and county trends). The numbers are also consistently updated.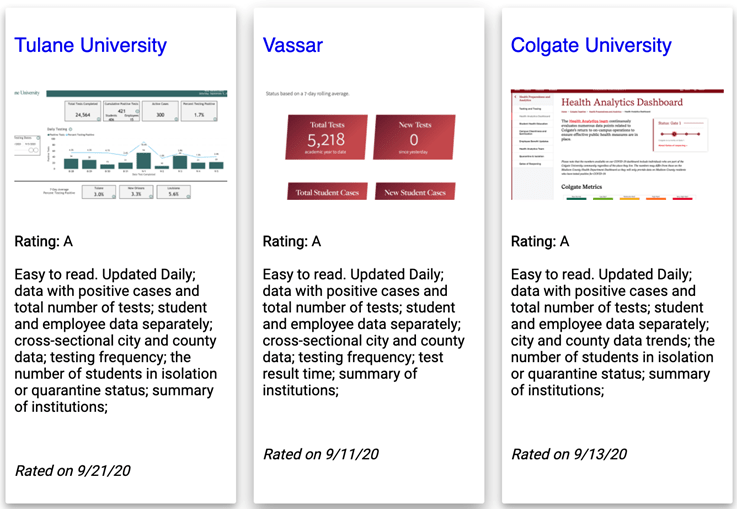 Image courtesy of We Rate Covid Dashboards.
Consider these takeaways as you present your next dashboard or report, so you can make the metrics tell a story as well as reveal important insights.
You can view the entire list of ratings here.
---
CRISIS LEADERSHIP NETWORK
Looking for more insight on how to address the current global crisis and lead your organization into a strong recovery?
Join Ragan's Crisis Leadership Network to network and brainstorm with peers, get the latest intelligence and research, and start to strategize for the future of your organization.
Learn more about this exclusive membership here.
Dixie Beer seeks moniker suggestions
Dixie Brewing Company is changing its name—and the 113-year-old company is enlisting the help of consumers to do so.
The New Orleans-born brewery is accepting suggestions through a form on its website through Friday, September 25, with the goal of announcing a new name next month. Owner Gale Benson (who also owns New Orleans's Saints and Pelicans franchises) announced the renaming in the wake of Black Lives Matter protests, following similar moves by brands like Aunt Jemima and Uncle Ben's Cream of Wheat. The company says its goal is to have the new brand hit markets by Mardi Gras 2021.
Please refer to our website for a full statement from Gayle Benson: https://t.co/6PaxeBgisC pic.twitter.com/qWARewYOMk

— Dixie Beer (@dixiebrewco) June 26, 2020
Why it's important: If the name(s) of your brand, products, services or mascot might cause your reputation harm, it's time to change them. Even long-standing organizations are refreshing their monikers to be more inclusive. However, beware when soliciting suggestions from consumers (especially when asking online), lest you want to launch something called "Product McProductface."
---
DOWNLOAD OUR REPORT
Though 70% of communicators are not looking beyond 2020 in terms of strategic planning, they also don't expect our current state of crisis to ease up by the end of the year. Operating in a constant state of crisis and rapidly responding to events throughout the world are top challenges for communicators, our recent report, Ragan Survey of Internal Communicators, revealed.
The survey sheds light on top challenges, with insights including top issues, what the "return to the office" looks like, which departments internal communicators will collaborate with the most and more.
To learn more about how to rise to the challenges facing organizations across industries, join us at Ragan's Internal Communications & Employee Experience Virtual Conference on Oct. 14. You'll learn from internal and employee communications experts from National DCP, Deloitte, Charles Schwab, American Psychological Association and more.
---
TACTICALLY SPEAKING
On Monday, Sizzler filed for Chapter 11 bankruptcy in California. It's the most recent restaurant chain to do so, following moves by Souplantation, California Pizza Kitchen and more. The filing won't affect Sizzler's more than 90 franchised locations, but instead is meant to renegotiate leases at its 14 company-owned restaurants.
"Many restaurant brands across the country have suffered because of COVID-19 and Sizzler USA is no exception," Sizzler President Chris Perkins said in a statement. "Our current financial state is a direct consequence of the pandemic's economic impact due to long-term indoor dining closures and landlords' refusal to provide necessary rent abatements."
---
EDITOR'S PICKS
Baking has increased as people staying at home during COVID-19 turn to their pantries to test recipes. However, if crisis plans and back-to-back Zoom meetings mean there's no time for quarantine baking and meal prepping, several companies offer convenient menus without resorting to take-out dishes.
Consider these options:
---
WHAT YOU SAID
We asked what takes up most of your budget, besides crisis responses and strategies, and more than 45% of you said marketing and ads dominate the dollars, with 29% of you grabbing your budget for PR and media relations efforts. More than 19% of you focus your budgets on social media and digital content, while nearly 7% earmark it for employee retention and communication efforts:
Outside of crisis communications, what efforts are taking up the largest portion of your budget(s)?

Share your insights with us below and we'll share in tomorrow's #DailyScoop.

— PR Daily (@PRDaily) September 21, 2020
Is there a question you'd like us to ask in an upcoming poll? Let us know!
---
SOUNDING BOARD
Communicators, how do you explain to others what you do all day?
Communicators, how do you explain to others what you do all day?

Describe your career and responsibilities using a GIF, and we'll feature the best in tomorrow's #DailyScoop.

— PR Daily (@PRDaily) September 22, 2020
Share your thoughts and the best GIF that describes your career with us below and under the hashtag #DailyScoop.
Editor's note: Ragan Communications may earn a commission through our affiliate partnerships when purchasing items in our content.
COMMENT