Friendly's files for bankruptcy, 'Sesame Street' celebrates Cookie Monster's birthday, and 72% of U.S. citizens of voting age use social media
Also: CoxHealth shows off costumes for its NICU residents, Wrangler partners with 'Rick and Morty' after in-show mention, Fox TV tweets self-care meme, and more.
Hello, communicators:
Halloween celebrations looked different this Oct. 31, as many cities, counties and countries were on lockdown due to COVID-19 cases.
Though several brand managers turned to social media to share themed content and spooky virtual interactions, CoxHealth turned up the cuteness factor and featured babies staying in its Neonatal Intensive Care Unit: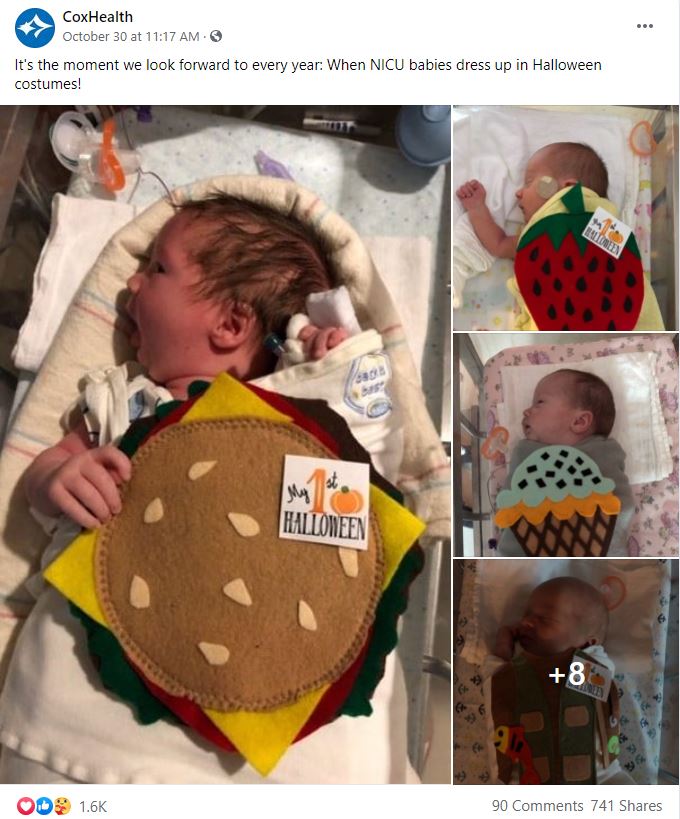 hospital's work, as well as its clever costumes for the infants.
Here are today's top stories: 
Friendly's declares bankruptcy  
The restaurant chain filed for Chapter 11 bankruptcy protection, announcing that all of its 130 locations (both corporate-owned and franchised) will remain open, unless locations must follow specific COVID-19 restrictions.
In a press release, George Michel, chief executive of FIC Restaurants, said:
Over the last two years, Friendly's has made important strides toward reinvigorating our beloved brand in the face of shifting demographics, increased competition, and rising costs. We achieved this by delivering menu innovation, re-energizing marketing, focusing on take-out, catering and third-party delivery, establishing a better overall experience for customers, and working closely with our franchisees and restaurant teams. Unfortunately, like many restaurant businesses, our progress was suddenly interrupted by the catastrophic impact of COVID-19, which caused a decline in revenue as dine-in operations ceased for months and re-opened with limited capacity.

… Importantly, it is also expected to preserve the jobs of Friendly's restaurant team members, who are the heart and soul of our enterprise and have been critical to the progress we have made in transforming this iconic brand.
Why it's important: As the COVID-19 crisis continues, organizations across industries must continue to respond—whether that's through virtualizing their offerings, creating digital-first and mobile-first content, announcing layoffs and restructuring strategies, declaring bankruptcy, closing locations and more. Be prepared as much as you can, but also prepare your employees for potential challenges and bad news before they read about it in headlines.
---
SOCIAL BUZZ
The social media team behind the Sesame Street TV series wished its beloved character Cookie Monster a happy birthday on Monday:
Happy Birthday, @MeCookieMonster! We hope your day is filled with tons of cookies just for YOU! #HBDCookieMonster pic.twitter.com/ANKNeKRXH3

— Sesame Street (@sesamestreet) November 2, 2020
It's a simple tweet and graphic, but has been amassing retweets and replies, some from viewers sharing their character costumes:
Happy Birthday @MeCookieMonster pic.twitter.com/pj0XgRIyb0

— Luke Daubert (@Mets4Life714) November 2, 2020
Storytelling is one of communicators' most powerful tools, but don't just think of your employees, consumers and partners—consider the characters you've created, too. Humanizing the faces of your brand can make you more relateable and trustworthy in consumers' minds.
---
MEASURED THOUGHTS
Socialbakers recently published its report "U.S. 2020 Elections: What Social Media Data Tells Us About the State of the Presidential Race," which revealed 72% of U.S. citizens of voting age are actively using social media platforms.
When comparing President Donald Trump's Twitter profile to presidential candidate Joe Biden, the numbers seem to swing overwhelmingly in Trump's favor—but considering Trump has more than 87 million followers compared with Biden's nearly 12 million followers, it follows that Trump would have the larger numbers.
However, when looking at Twitter interactions ("likes," replies and retweets) as a percentage, Biden's engagement has been quickly growing. In January, Biden amassed 8.2% of the interactions that Trump did. By August, Biden's interactions grew to 50.34% of Trump's interactions: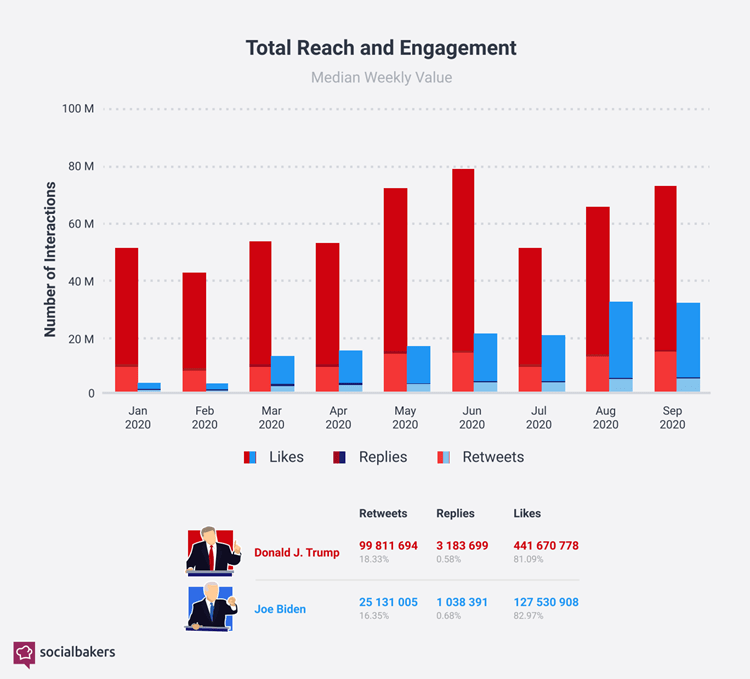 Image courtesy of Socialbakers.
The comparison shows the growth of Biden's social media team, Trump's massive Twitter presence and the importance of measuring growth as well as showing KPIs in context—especially when comparing yourself or your organization to a competitor.
You can read the entire report here.
---
CRISIS LEADERSHIP NETWORK
Looking for more insight on how to address the current global crisis and lead your organization into a strong recovery?
Join Ragan's Crisis Leadership Network to network and brainstorm with peers, get the latest intelligence and research and start to strategize for the future of your organization.
Learn more about this exclusive membership here.
---
SOCIAL BUZZ
Fox TV's social media team opened its week of Twitter engagement with an image from one of its shows, which it turned into a meme about self-care:
*lights sage bundle* 

Mentally preparing for what this month might bring. pic.twitter.com/7531aC4zbQ

— FOX (@FOXTV) November 2, 2020
The effort shows off an example of a brand mention that's subtle enough to not be an ignored marketing message, yet clever enough to reach and interest younger consumers.
What do you think of the effort? Share your thoughts under the #DailyScoop hashtag.
---
TACTICALLY SPEAKING
After being mentioned in "Rick and Morty's" fourth season finale, Wrangler is partnering with the Adult Swim show to launch a jean jacket and two t-shirts that feature "custom hand-painted artwork of the NX5 laser featured in the finale"—the same planet-removing laser that "Rick and Morty" creators Justin Roiland and Dan Harmon joked was sponsored by Wrangler.
Sorry about almost destroying the Earth with the NX-5 – our new marketing strategy is a lot less aggressive. Stay tuned for the Wrangler x @rickandmorty collection launch to suit up with indestructible styles. Get on the list: https://t.co/3Sg06cS6iu pic.twitter.com/jtiDh1qaFv

— Wrangler Jeans (@Wrangler) October 27, 2020
Though Wrangler's mention in the show wasn't sponsored, the clothing company jumped at the chance to partner with the popular series. The collection will launch on Nov. 10 and promote the Adult Swim Festival, held on Nov. 13-14.
It's far from the first collaboration with Roiland and Harmon. McDonald's, Pringles and State Bicycle Co. are a few of the other brands jumping on the intergalactic pop-culture wagon—er, spaceship:
Ride into new dimensions with the @StateBicycleCo x @RickandMorty limited edition collection of bikes, parts & accessories. AVAILABLE NOW. https://t.co/9DbN996WB1 pic.twitter.com/5YWMlmLncf

— State Bicycle Co. (@StateBicycleCo) September 9, 2020
---
CATCH UP WITH OUR REPORT
More than half (57%) of social media managers say they plan to leave their current position within two years, according to a new survey from the Institute for Public Relations, Ragan Communications and the University of Florida. Though these managers are ambitious, the career path to social media leadership roles remains unclear.
The report sheds light on social media pros' career trajectory as well as the challenging lack of resources and employee burnout that's on the rise. Check out the findings here.
To learn more about how to prepare for the future of social media and more, join us at Ragan's Future of Communications Conference, Nov. 10-11.  You'll learn from PR, social media, marketing and internal communications experts about the top trends and what's on the horizon for the industry.
---
 EDITOR'S PICKS
As you prepare yourself and your organization for Election Day on Nov. 3, consider enlarging your mind with a new book—and take a break from scrolling through breaking Twitter trends and news media updates. Don't forget to vote, if you haven't already, then reward yourself with a selection below (or a title you've had your eye on).
Consider these tomes:
---
SOUNDING BOARD
Is your organization sharing content and messages in relation to the U.S. presidential election?
Is your organization sharing content and messages in relation to the U.S. presidential election?

Share your thoughts and efforts with us below, and we'll share in Wednesday's #DailyScoop.

— PR Daily (@PRDaily) November 2, 2020
Share your efforts with us below, through our Twitter poll and under the hashtag #DailyScoop, and we'll share the results in Wednesday's roundup. Is there a question you'd like us to ask in an upcoming poll? Let us know!
Editor's note: Ragan Communications may earn a commission through our affiliate partnerships when purchasing items in our content.
COMMENT