Google employees to WFH until July 2021, Target to close for Thanksgiving, and social media channels remove viral video for misinformation
Also: Many consumers won't feel comfortable traveling for nearly another year, Instagram attempts to lure TikTok creators to its new service, a social media pun, and more.
Hello, communicators:
Nathalie Balda, senior social marketing manager for Prime Video at Amazon, took part in a spreading joke format that applies a pun to your industry. Digital communicators can relate:
I have a social media joke but by the time i got approval to post it wasnt funny anymore https://t.co/oDIKC7IqXo

— nat (@natbalda) July 27, 2020
Here are today's top stories: 
Google extends remote work policy to July 2021
The tech company is allowing employees to work from home through next summer as it braces for longer-term effects of COVID-19 on the workplace and beyond.
In a memo to employees, a copy of which was obtained by CNN Business, Google CEO Sundar Pichai said the company has reopened 42 offices around the world.

"To give employees the ability to plan ahead, we'll be extending our global voluntary work from home option through June 30, 2021 for roles that don't need to be in the office," Pichai wrote. "I hope this will offer the flexibility you need to balance work with taking care of yourselves and your loved ones over the next 12 months."
Why it's important: If you're still treating remote working situations as a temporary disruption to your organization, now is the time to rethink your policies and procedures. As COVID-19 stretches on, prepare longer-term plans for digital teams and collaboration.
---
SOCIAL BUZZ
YouTube, Facebook and Twitter removed a viral video published by Breitbart News that shows a group from America's Frontline Doctors making claims about COVID-19 in front of the U.S. Supreme Court building in Washington, D.C.
… The video quickly went viral on Facebook, becoming one of the top performing posts on the platform with more than 14 million views before it was taken down Monday night for promoting misinformation. It was shared nearly 600,000 times, according to Crowdtangle, a data-analytics firm owned by Facebook.

"We've removed this video for sharing false information about cures and treatments for COVID-19," a Facebook spokesperson told CNN, adding that the platform is "showing messages in News Feed to people who have reacted to, commented on or shared harmful COVID-19-related misinformation that we have removed, connecting them to myths debunked by the WHO."
The video was viewed more than 40,000 times on YouTube before the social media platform removed it, and the video is still being shared in Facebook messages and other social media conversations.
It serves as another reminder how quickly misinformation can spread, so help your employees, partners and social media fans become more savvy information consumers to help combat the spread of fake news.
---
MEASURED THOUGHTS
Ketchum's Brand Reckoning 2020 report revealed that COVID-19 is causing consumers to consider their priorities and values more than ever before, with 86% considering mental health more important and 74% saying the pandemic has shown them "how unnecessary some past purchases were."
Consumers are also growing more mindful of social justice reform, with 74% saying that Black Lives Matter protests have caused them to support certain organizations for their diversity and inclusion efforts, and 88% saying it's crucial for organizations to behave ethically.
Here's how Ketchum split up consumers and their shifting behaviors: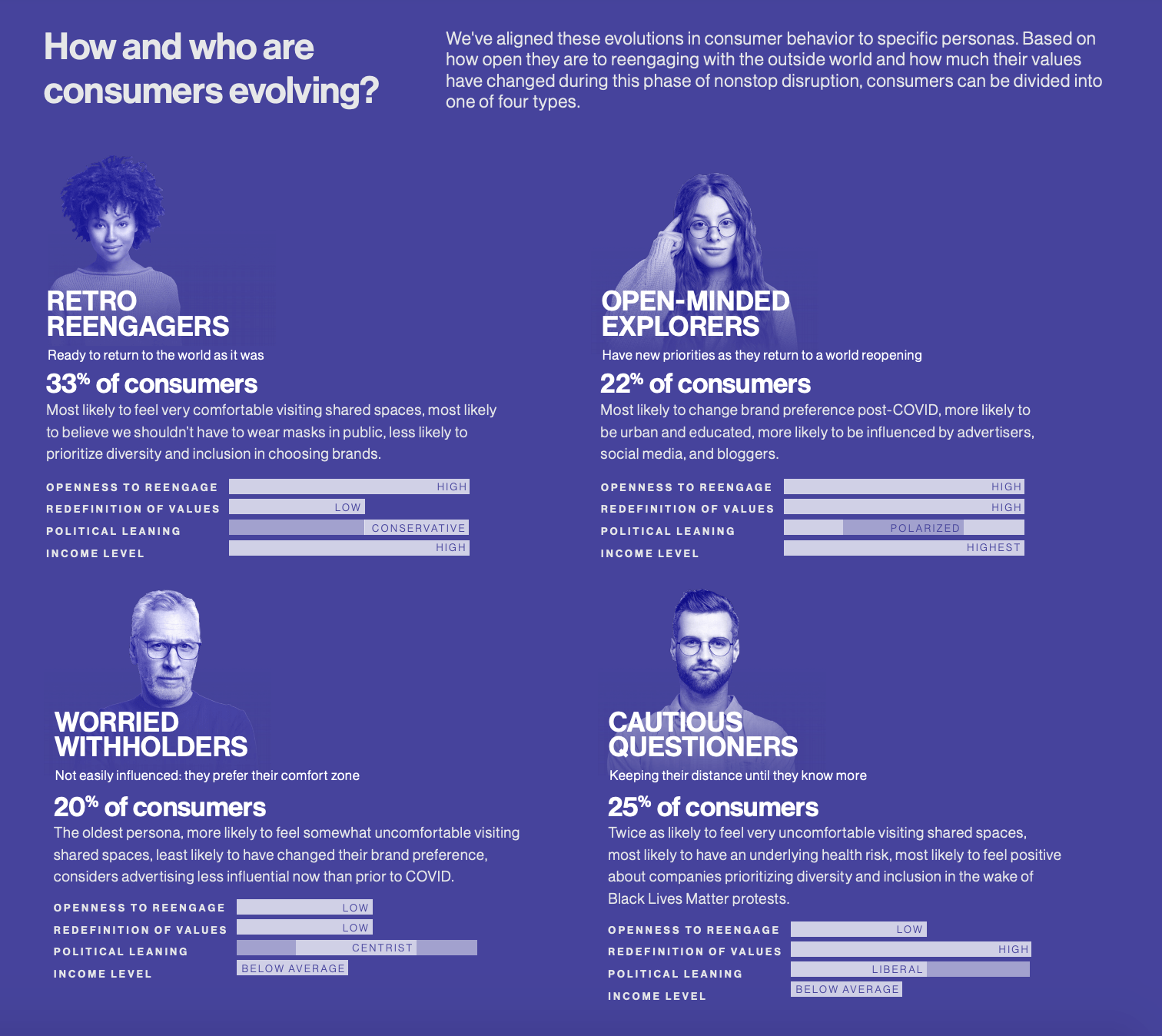 Ketchum also reported that many consumers won't feel comfortable shopping at stores, returning to their workplaces, eating at restaurants or traveling for several more months:

You can view the entire report and infographic here.
---
CRISIS LEADERSHIP BOARD
Looking for more insight on how to address the current global crisis and lead your organization into a strong recovery?
Join Ragan's Crisis Leadership Board to network and brainstorm with peers, get the latest intelligence and research, and start to strategize for the future of your organization.
Learn more about this exclusive membership here.
Target to close on Thanksgiving
The retail chain is closing its doors for the holiday, following in the steps of competitor Walmart. Instead, it will start offering sales in October both in its stores and online. Many of its products will be available for delivery or pick-up, as well.
In a blog post, Target wrote:
Let's face it: Historically, deal hunting and holiday shopping can mean crowded events, and this isn't a year for crowds. That's why our biggest holiday deals will be available earlier than ever, so you can shop safely and conveniently without worrying about missing out on deals that usually come later in the season.
Target's chief executive, Brian Cornell, said:
The investments we've made in our business and our incredible team have enabled us to move with flexibility and speed to meet guests' changing needs during this global pandemic.
Why it's important: Lean on digital tools and platforms as you search for ways to strengthen your bottom line and cater to shifting consumer behaviors during COVID-19. You'll probably see more stores announcing Thanksgiving closings, which can also come across as an act of goodwill.
---
TAKE OUR SURVEY
Have your storytelling efforts shifted during COVID-19 and as your organization responds to the nationwide movement for racial equality and inclusion? We want to hear how you're telling your brand's story, including what messages you're using and the content formats and channels you're focusing on to strengthen your reputation and effectively reach stakeholders.
Please take our survey here. All responses are confidential and anonymous.
Survey findings will be released at Ragan's Brand Storytelling During a Crisis Virtual Conference, Aug. 4-5. You can hear the results—and learn how to tell your brand's story to help you thrive in our "new normal"—with speakers from Con Edison, Google, Experian, Minnesota Timberwolves, Crayola, Marriott International, Girl Scouts of the USA, Cleveland Clinic and more.
---
SOCIAL BUZZ
Instagram is attempting to lure influential TikTok content creators to its upcoming product, "Reels," which the Facebook-owned company is planning to release next month.
The Wall Street Journal reported:
The potential payments for some would be in the hundreds of thousands of dollars, some of the people said.

… The Instagram overtures to creators are the latest in a continuing back-and-forth between the two social-media giants. In recent years, TikTok has flooded Facebook and Instagram with ads, targeting their users on the home turf of the social media company.
Watch for additional developments to see where influencers land, along with viewers and fans.
---
WHAT YOU SAID
We asked how you're building trust and goodwill with consumers and other stakeholders during COVID-19, and half of you have created information or resources hubs to share updates and more.
ARPR showed off their marketing tools resource hub as an example:
We created a COVID marketing tools resource hub to help executives and marketing teams navigate their strategies. https://t.co/mIyU9OeKt6

— ARPR (@AR__PR) July 27, 2020
Nearly 28% have focused on community initiatives and CSR efforts, while 22% have created more content that is tailored to audience questions and concerns:
How are you building trust and goodwill with consumers and other stakeholders during COVID-19?

Share the ways you've adjusted your strategies below, and we'll share in tomorrow's #DailyScoop.

— PR Daily (@PRDaily) July 27, 2020
Is there a question you'd like us to ask in an upcoming poll? Let us know!
---
SOUNDING BOARD
As sports are starting up again, are you tapping into conversations or partnerships?
As sports are starting up again, are you tapping into conversations or partnerships?

Share with us under #DailyScoop.

— PR Daily (@PRDaily) July 28, 2020
Share your thoughts and examples below and under the #DailyScoop hashtag.
COMMENT