How brands attract social media users, Intel CEO addresses chip production woes, and Starbucks dismisses claims of anti-union intimidation
Also: Little Caesars looks to cast its next commercial with TikTok contest, Sinclair acknowledges ransomware attack, TikTok launches audio marketing tools and more.
Hello, communicators:
Little Caesars announced that it will hold a casting call for its next commercial, which teases the next Batman film, entirely on TikTok. The announcement was made at DC FanDome a free virtual event for fans of the DC comics universe that includes Batman, Superman, Wonder Woman, The Flash and more.
To participate in the #BeLikeTheBatman commercial, TikTok users are encouraged to upload videos to TikTok depicting how they would navigate everyday life as the caped crusader. Little Caesars will review all submissions and select cast members for a future commercial to promote the brand's partnership with the forthcoming movie.
"As the pizza brand with the most followers on TikTok, we can't think of a better way to kick off this incredible partnership with 'The Batman,'" Little Caesars chief marketing officer Jeff Klein said in a press release. "We know there is a lot of talent out there among DC fans and Little Caesars enthusiasts and we can't wait to see what the public comes up with."
Little Caesar's Batman casting contest not only highlights TikTok's ability to help a branded challenge "go viral," but also demonstrates how you can gamify your brand engagement to earn new fans (who may like Batman but not Little Caesars, in this case) and hitch your bandwagon to a pop culture event.
Intel CEO blames predecessors for damaged Apple relationship
During yesterday's Apple event, several fans noticed that the promised speeds of the tech company's new M1 Max chip in its new MacBooks would outstrip the processing power of Intel's chips. The announcement left many to speculate that the longstanding Intel/Apple partnership for microprocessors in Apple's many products had disintegrated:
#Intel crying in a corner😅😅 pic.twitter.com/UFLikKVGl0

— Geekman (@GeekmanOfficial) October 19, 2021
Apple is out to obliterate #Intel cpus pic.twitter.com/ly3Qt0Vocd

— Andrew Haha Lee (@andrewhahalee) October 18, 2021
Intel right now pic.twitter.com/LeXrvplbKd

— Lilesh Jadav (@lileshjadav) October 18, 2021
Perhaps anticipating the criticism, Intel CEO Pat Gelsinger spoke up to say he hopes the company can get back in Apple's good graces.
"You know our stumbles, Apple decided they could do a better chip themselves than we could. And, you know, they did a pretty good job," Gelsinger said in an Axios interview on HBO.
Gelsinger pointed the finger at his predecessors for Intel's recent struggles. In particular, he cited leadership moving away from the "maniacal" focus on manufacturing, which was a core part of Intel's business strategy from the get-go. Later in the interview, Gelsinger said that he hoped to "win back this piece of their business" over time.
What it means:
Gelsinger's interview offers a refreshingly down to earth, approachable version of the CEO, but his lack of specifics about how exactly the company will remain competitive will do little to bolster the confidence of investors and consumers. The interview demonstrates the hazards of having leaders share big picture corporate aspirations without a timeline or specifics.
---
MEASURED THOUGHTS
In a recent Spout Social study, most people said that they like or follow brand pages to learn more about new products or services (53%) and stay up to date on company news (52%). Just 38% follow these pages to be entertained, while 35% follow to read other people's reviews and 34% follow to be inspired.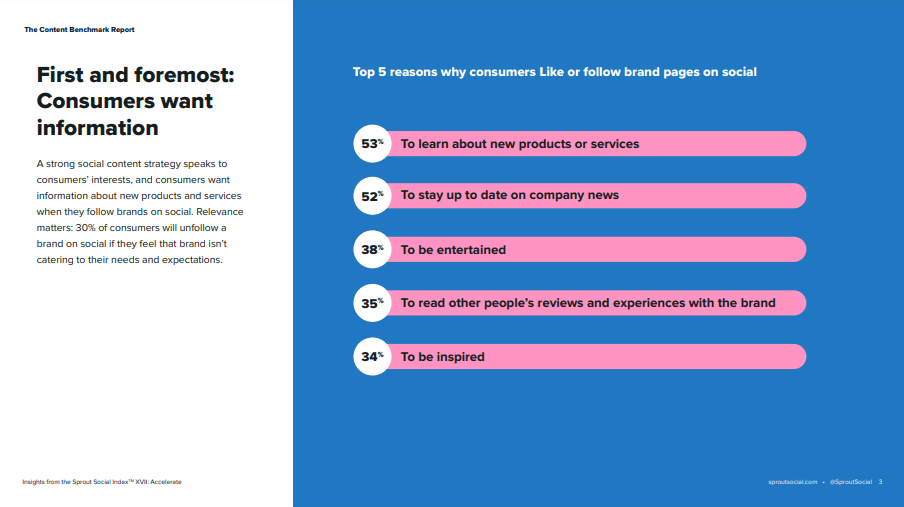 For all the talk about providing fun and entertaining content to your social media audiences, the numbers suggest that the majority of posts on your brand pages should offer meaningful information about company news and products/services. This doesn't mean you can't have a little fun and entertain audiences in the process, but the fun and entertaining content will be more value if it provides information and context about your organization at the same time.
Check out the full report here.
---
SOCIAL BUZZ
TikTok has expanded its marketing partner program to provide brands with assistance in producing audio content on the social network.
Music and sound are exciting parts of the TikTok experience that spark global trends, inspire endless creativity, and unify communities around the world. The "sound-on" nature of our platform has also inspired brands to engage audiences in new and surprising ways, from putting their unique spin on a trending sound to developing a custom jingle for the community to co-create with.

Today, we're announcing new partnerships that will make it even easier for brands of all sizes to tap into music and sound on TikTok. We're expanding the TikTok Marketing Partners program and introducing six certified Sound Partners who can help brands build sound-on strategies for TikTok. In addition to our Commercial Music Library – a pool of over 150,000 pre-cleared, royalty-free tracks sourced from emerging artists and top-tier music houses – we're excited to connect brands with trusted partners who can help them leverage the unique potential of TikTok's sound-on environment at scale.
TikTok's identity as a "sound-on" platform runs contrary to best practices that many social media professionals take with their content, such as captions. This campaign highlights how communicating a contrarian approach to content marketing is easier when you provide audiences with data, and resources, to make a change in approach easier for them.
---
CRISIS COMMUNICATIONS
Sinclair Broadcasting Group, which owns several broadcast affiliate stations across the country, acknowledged that it was hit by a ransomware attack over the weekend after several TV broadcasts went down.
According to its press release:
On October 16, 2021, the Company identified and began to investigate and take steps to contain a potential security incident. On October 17, 2021, the Company identified that certain servers and workstations in its environment were encrypted with ransomware, and that certain office and operational networks were disrupted. Data also was taken from the Company's network. The Company is working to determine what information the data contained and will take other actions as appropriate based on its review.

Promptly upon detection of the security event, senior management was notified, and the Company implemented its incident response plan, took measures to contain the incident, and launched an investigation. Legal counsel, a cybersecurity forensic firm, and other incident response professionals were engaged. The Company also notified law enforcement and other governmental agencies. The forensic investigation remains ongoing.
While the Company is focused on actively managing this security event, the event has caused – and may continue to cause – disruption to parts of the Company's business, including certain aspects of its provision of local advertisements by its local broadcast stations on behalf of its customers. The Company is working diligently to restore operations quickly and securely.
Anchors acknowledged the disruption to their viewers, citing technical difficulties:
https://twitter.com/philwsyx6/status/1449705185639637005
CBS NFL Today is now airing on CBS 6. Thank you for your patience as we worked to correct our technical difficulties.

— Heather Kovar (@CBS6Heather) October 17, 2021
Hello everyone,
We are not on the air this morning due to technical difficulties. We are working to fix them as soon as possible. Thank you for making us part of your regular Sunday morning. #komonews pic.twitter.com/HKJSjp6OVJ

— Theron Zahn (@TheronZahnKOMO) October 17, 2021
While Sinclair's press release revealed the strategic steps of its crisis response plan, its front-facing, on-air talent did much of the heavy lifting in informing audiences. This serves as a reminder that your employees who work directly with the public should be folded into your crisis communications plan and armed with a holding statement to satisfy external audiences while you work through your process. The incident, coupled with countless other hacks over the past year, also highlights a greater need for crisis plans to include a ransomware attacks and other cybersecurity scenarios.
---
TAKE OUR SURVEY
If you're looking for benchmark data to show your bosses the next time you ask for a raise, lend us a hand—and help yourself and your peers while you're at it. Participate in Ragan's Salary & Workplace Culture Survey, a comprehensive look at salaries, benefits, culture, bonuses and other aspects of the job in a fast-moving industry.
Both internal and external communicators are encouraged to participate.
By taking part, you will receive a $150 discount to a Ragan virtual conference of your choice and be entered to win one of five $50 gift cards. All who complete the survey will receive a full report on the findings. Responses are anonymous.
Starbucks responds to accusations of anti-union intimidation
Starbucks is defending its actions after company officials and additional out of-state managers converged on stores in Buffalo amid an attempt by area Starbucks workers to form the company's first union. The National Labor Board makes it explicitly clear that union elections should be conducted under "laboratory conditions" that allow workers to vote in an intimidation-free environment free of employer influence or control.
Workers and organizers involved in the unionization effort say the imported managers are part of a counteroffensive by the company intended to intimidate workers, disrupt normal operations and undermine support for the union.

Starbucks says the additional managers, along with an increase in the number of workers in stores and the arrival of a top corporate executive from out of town, are standard company practices. It says the changes, which also include temporarily shutting down stores in the area, are intended to help improve training and staffing—longstanding issues—and that they are a response not to the union campaign but to input the company solicited from employees.
Starbucks says the actions are in fact in response to requests from employees that were collected in listening sessions with workers.
The New York Times continued:
"The listening sessions led to requests from partners that resulted in those actions," said Reggie Borges, a Starbucks spokesman. "It's not a decision where our leadership came in and said, 'We're going to do this and this.' We listened, heard their concerns."
Why it matters:
With rising cases of worker strikes across the country and a deeper conversation about the future of work in the U.S. post-pandemic is underpinning a new labor movement.
While fact-finding, listening sessions and other work is essential for leaders to understand the current state of affairs in workplaces across the country, it's understandable for workers to be skeptical. If your top leaders didn't visit their workplace during the pandemic, when essential workers were asked to risk their health to keep businesses open, what explains your sudden interest in their lives now?
Messages must continue to put the experience and well-being of workers first, and start to acknowledge that the past two years have been a deeply unequal experience for hourly workers in the U.S. Don't expect sympathy from employees who were called "essential" for months—but often felt the opposite.
COMMENT