Instagram boss defends podcast interview, how testing can reduce COVID-19 risk, and Latinx workers share about the impact of colorism
Also: Zillow decouples worker location and pay scale, MassMutual looks to move on from oversight failure, tracking the most loved influencers, GM extends Chevy Bolt production shutdown, and more.
Zillow has become the latest organization to decouple location and pay scale as it tries to navigate a new remote work future.
The company's chief people officer, Dan Spaulding, shared how the leadership team's thinking has evolved in recent months. He wrote in a piece on LinkedIn:
Location-flexible work and compensation is a competitive advantage for Zillow in the short term, but we believe it will be an industry norm in the long term. Broader adoption of these policies could significantly benefit local communities, as talent—and economic opportunities— disperse to a wider area. At Zillow, we've seen early proof of this: We began 2020 with employees in 31 states, and we now have employees in 49 states. In adapting the way we compensate people, to empower them to decide where they live and work, our goal is to create a better future for our most valuable asset: our team members.
The letter is just the latest example of how companies are trying to bolster employer reputations and woo new workers in a competitive market. While some firms have floated the idea of decreasing compensation for workers who relocate to less expensive areas, the competition for workers is forcing companies to make other plans.
While data has shown that some workers have been willing to except a pay cut to keep remote work perks, top workers are more likely to expect competitive compensation and remote flexibility as businesses switch from tracking hours worked to completed tasks.
Here are today's top stories:
Instagram's leader takes heat for comments on platform's safety
Adam Mosseri, the top executive for Facebook-owned Instagram, made a gaffe when trying to defend his company on the Recode podcast this week. Instagram is facing a crisis over reports from the Wall Street Journal about how research shows the platform has negative mental health outcomes for teen users.
Mosseri tried to liken the risks users face on social media to the risks consumers accept with other products.
"We know that more people die than would otherwise because of car accidents, but by and large, cars create way more value in the world than they destroy," Mosseri said Wednesday on the Recode Media podcast. "And I think social media is similar."
The analogy wasn't flattering for many observers. Mashable's headline read: "Instagram boss says social media is like cars: People are going to die." On Twitter, people were scratching their heads over how these talking points made it past the communications team.
https://twitter.com/RMac18/status/1438636930493599746
Perfect perfect analysis

Again false logic @mosseri https://t.co/OLtmk5LV1V

— Cecilia Kang (@ceciliakang) September 16, 2021
Mosseri defended his interview on Twitter, arguing that journalists online were failing to offer the full context of the interview.
The number of reporters dunking on this, admittedly less than perfect, analogy on Twitter who clearly didn't listen to the pod, where @pkafka makes sure we cover the obvious next question about regulation, is remarkable. https://t.co/enfpGiUrGV

— Adam Mosseri 😷 (@mosseri) September 16, 2021
What you should know: Podcast interviews have become immensely popular for their ability to offer authentic, nuanced, long-form conversations about all kinds of topics. However, they might not be the best venue for your crisis communications response.
Mosseri might be right that his words as quoted by journalists on Twitter aren't getting the full breadth of the podcast discussion. But that doesn't matter—the podcast provides the sound bite, and the internet does the rest.
To have more control over the narrative, communicators might want to rethink appearing on a podcast, though the authentic flow of the conversation can be incredibly persuasive in other contexts.
---
MEASURED THOUGHTS
Just how effective is testing at containing COVID-19 infections?
A new study from the Mayo Clinic, the Georgia Department of Public Health and Delta Airlines tried to answer how rapid testing and protocols could limit COVID-19 infection rates for air passengers. Of 10,000 passengers who tested negative and were allowed to fly as part of the study, only five later tested positive, for a rate of 0.5%.
Why is that a big deal?
"Unfortunately, because of vaccination attitudes, Covid is going be with us for a long time," said [Dr. Aaron J. Tande, the lead author of the article]. "With ongoing masking and testing before flying … we can improve safety so that we can continue to sort of function as a normal society."
Read the full article to see what the researchers learned about testing protocols—and what proved the most effective at limiting COVID-19 spread with testing.
MassMutual quietly settles with regulators over rogue employee
The investment firm was dinged for the conduct of one of its employees, Keith Gill—known as "Roaring Kitty" online—where he was one of the main cheerleaders behind the meme-stock craze earlier this year.
Gill resigned earlier this year, and officials say Mass Mutual failed to appropriately supervise his and other agents' trades and online activity.
The insurer neither admitted nor denied the accusations, but it agreed to the fine as well an independent compliance review and other measures. "MassMutual is pleased to put this matter behind us, avoiding the expense and distraction associated with protracted litigation," a spokeswoman said.
What you should know: When looking to let a story fade from the headlines, sometimes less is more. By offering a terse statement and no official name attached to the piece, MassMutual offered little for news outlets to add color to the story.
The company is clearly at fault, according to regulators and industry experts quoted by the Times. In accepting the verdict and looking to move on, MassMutual hopes to limit the fallout and quickly turn the page.
---
DIVERSITY & INCLUSION
How is your organization celebrating National Hispanic Heritage Month? Ragan Consulting's Kim Clark advises communicators to consider the 3 C's as they look to highlight employees in their organization and in the wider population.
On LinkedIn, concerns about "colorism" are top of mind for those looking to combat discrimination and lack of opportunity for Hispanic workers.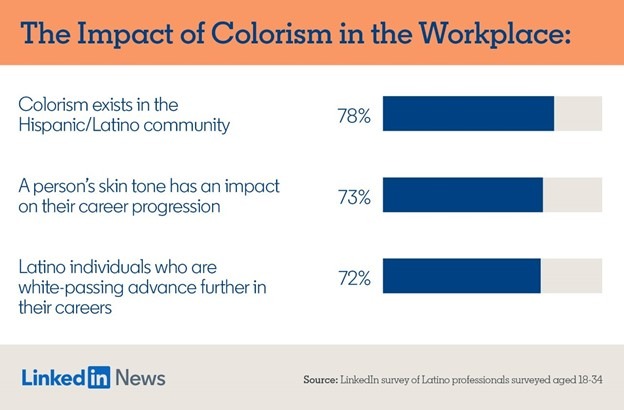 LinkedIn reported:
"Colorism is distinct from racism," said Ellis Monk, an associate professor of sociology at Harvard University who has studied colorism extensively. "Human perception is so fine tuned. We don't just see someone as white or Black, we see these differences in their skin tone, their eye color and there are discriminatory practices associated with these features."
Communicators should tap their employee resource groups for guidance, and think about ways to create candid conversations about the experience of Latinx workers.
---
SOCIAL BUZZ
Which influencers have the most name recognition? And does that name recognition translate into love or hate from a general audience?
Those are the questions that Business Insider looks to answer in a new influencer index. The most recognized name that the survey asked about was podcasting giant Joe Rogan. However, Doctor Mike, a YouTuber and physician with 7.8 million subscribers, was rated the most favorably.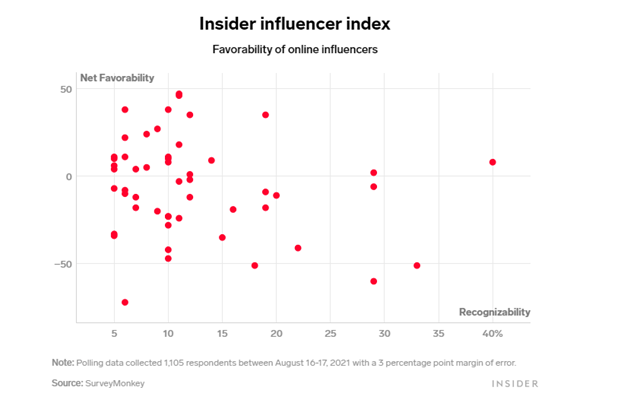 Learn more about how influencers are connecting with audiences—and how things like "getting canceled" have an impact on audience sentiment by reading the full story.
GM extends shutdown for Chevy Bolt as battery crisis lingers
The carmaker has extended the shutdown for its Orion Assembly Plant until at least mid-October as a result of battery shortages caused by a recent recall.
"These most recent scheduling adjustments are being driven by the continued parts shortages caused by semiconductor supply constraints from international markets experiencing COVID-related restrictions," the company said in a statement. "We remain confident in our team's ability to continue finding creative solutions to minimize the impact on our highest-demand and capacity constrained vehicles. Although the situation remains complex and very fluid, GM continues to prioritize full-size truck production which remains in high demand."
What you should know: General Motors isn't the only company to face supply-chain issues, as worker and materials shortages have disrupted many businesses after nearly two years of pandemic upheaval.
While the Chevy Bolt has faced problems with its batteries, GM hopes to place the ongoing shutdown amid the stories of other shortages affecting the auto industry. The company has been working with battery provider LG to improve delivery and quality of the product, showing how important it is to work with partners to address global issues.
COMMENT
One Response to "Instagram boss defends podcast interview, how testing can reduce COVID-19 risk, and Latinx workers share about the impact of colorism"
Ronald N Levy

says:

A government-ordered divorce—the split-up of a company that helps millions of people—is a danger to Instagram and Instagram users. A political leader may hope to look like a hero, and to speak on behalf of the public, by saying a good company should be doing something even better for the public. But if politicians break up Facebook components or any other company's affiliated parts, will the politicians substitute something better?

It's a good idea not to quit a job or give notice to a landlord until one has lined up something better, and not to have a government-ordered divorce when the public gets benefits from a company's marriage of parts, a corporate marriage that should not be put asunder.

Yes, Mosseri's caution can be misinterpreted but so can anything any of us say. The important thing is not Mosseri and his statement but the public benefit people get from Instagram.