KC Star reports on its past racist coverage, Tropicana apologizes for mimosa-themed campaign, and TikTok's top 2020 campaigns
Also: Ford brings back a holiday season staple, Yorkshire Tea's masterclass in Twitter engagement, a guide to digital marketing across channels, and more.
Hello, communicators:
 Chevy Chase and Beverly D'Angelo reprised their roles within the holiday favorite "National Lampoon's Christmas Vacation"—and this time, the star of the commercial included Ford's Mustang Mach-E.
In a press release, Chase said:
It's great to be back for another Christmas with my on-screen family and its rotating assortment of kids—and I have Ford and Mustang Mach-E to thank for paying me to do it. I suppose you're expecting some sort of riff on electric cars, but I can say with 85% certainty that this thing probably won't cause any blackouts in your neighborhood when you plug it in.
Here are today's top stories:
 The Kansas City Star apologizes for past racist coverage
 On Sunday, the newspaper published the first in a series of six investigative articles that detail how The Kansas City Star and its former sister publication, The Kansas City Times, covered events compared with the Black press. In it, The Star issued a mea culpa for articles that it said "not only did a disservice to Black Kansas Citians," but also deprived its white readers "of the opportunity to understand the true richness Black citizens brought to Kansas City."
The Star covered the crime, but didn't cover the culture of Black Kansas City. An incredible, must see video via @KCStarShellyhttps://t.co/LSUI4T8Hsp

— Glenn E. Rice (@GRicekcstar) December 20, 2020
Along with its history, the publication listed several steps it's taking to establish more inclusive reporting practices and support racial equality within the community. The Star also encouraged other organizations "to come forward and own their history as well, tell their stories, get the poison out."
We also know this coverage matters most when it's accessible to everyone. To that end, we're making all of today's project stories free to all readers on our digital platforms. In the weeks ahead, we will be testing ways to make content that's focused on stories, issues and people in our diverse communities free to readers in specific Kansas City ZIP codes we have too often failed to serve.

We are partnering with the Kansas City Public Library on upcoming public events to introduce our team, discuss points of the stories and hammer out additional next steps.
Why it's important: The article and effort lay bare the publication's past actions, taking responsibility for them and listing the ways it plans to set past wrongs right again, through community partnerships, offerings and listening to members of its community. Organizations can take this effort as inspiration to examine their own history and what they must do to forge a path forward that supports diversity, equity and inclusion—both inside their organizations and externally, with their communities and consumer audiences.
---
TACTICALLY SPEAKING
Tim Soulo, chief marketing officer for Ahrefs, tweeted a graphic that splits marketing channels and strategies into quadrants based on your product or service and your target audience:
A pretty helpful graphic when planning a marketing strategy for a new business. pic.twitter.com/3WKNscviHb

— Tim Soulo (@timsoulo) December 21, 2020
The graphic shows how you can leverage social media campaigns with content marketing, SEO and traditional communications efforts.
---
MEASURED THOUGHTS
TikTok revealed the top campaigns and branded content of the year in a recent infographic:

 All of the chosen brands exemplify what TikTok called a "shift in real-time to embrace authenticity and genuine connection." The social media platform also gave away a digital marketing tip by sharing its "creative ethos," which is: "Don't make ads; Make TikToks."
 In its blog post, Katie Puris, TikTok's managing director of global business marketing, said:
 We're thrilled to debut our first-ever Year on TikTok spotlighting brands that showed incredible perseverance and their ability to make an impact on culture and with the TikTok community in 2020. These campaigns brought much—needed joy and levity to TikTok and into our homes during a challenging year and truly exemplified the power of authenticity in marketing.
 You can read the entire report here.
---
CRISIS LEADERSHIP NETWORK
Looking for more insight on how to address the current global crisis and lead your organization into a strong recovery?
Join Ragan's Crisis Leadership Network to connect and brainstorm with peers, get the latest intelligence and research and start to strategize for the future of your organization.
Learn more about this exclusive membership here.
Tropicana apologizes for campaign that 'missed the mark'
 The beverage company issued a mea culpa and pulled its #TakeAMimoment campaign after several consumers on social media lashed out at the brand for encouraging drinking:
— Tropicana (@Tropicana) December 16, 2020
The former campaign urged parents to share selfies on Instagram depicting them taking a moment alone amid the chaos of the holidays within their families, in order to win a mini fridge stocked with Tropicana and champagne.
A [now-deleted] press release for the campaign, which featured Gabrielle Union, Jerry O'Connell and Molly Sims, quoted a survey of 1,000 parents, 87 percent of whom reported parenting as so chaotic "that sometimes they just need a moment for themselves." Nearly half say they hide in the bathroom to get alone time. "And nearly all parents agree that this year more than ever, they look for ways to create small moments of brightness in their days," it reads. "Tropicana is helping parents find those moments–wherever and whenever they can–by creating incognito mini-fridges filled with the makings for mimosas to provide moms and dads with the ultimate "Mimoment" for themselves."
Why it matters: The effort and apology showcase the importance of considering your audience before you launch PR and marketing efforts. Tropicana surveyed a small portion of potential consumers, which it used to fuel creative efforts, but then changed course once it fielded backlash. Yet, several brands have made similar jokes and not been called to the mat (or have ignored critics). You won't make every audience member happy. Instead of attempting the impossible, select the audience you want to target and let that audience guide your PR and marketing decisions, as well as your response to any criticism.
---
SOCIAL BUZZ
The social media team for Yorkshire Tea captured Twitter users' hearts again with a couple of relatable tweets:
*Stares at wall*

— Yorkshire Tea (@YorkshireTea) December 21, 2020
In a year of Mondays, this Monday may just be the Mondayest.

— Yorkshire Tea (@YorkshireTea) December 21, 2020
Yorkshire Tea then followed up with a promotional message—couched in a self-aware joke about social media marketing:
P.S. Buy tea.

(Sorry, briefly forgot we're here to do marketing)

— Yorkshire Tea (@YorkshireTea) December 21, 2020
Though the message didn't rack up as many retweets and "likes" as the non-promotional messages, the marketing ploy worked—and Yorkshire Tea's team further delighted Twitter users with more banter: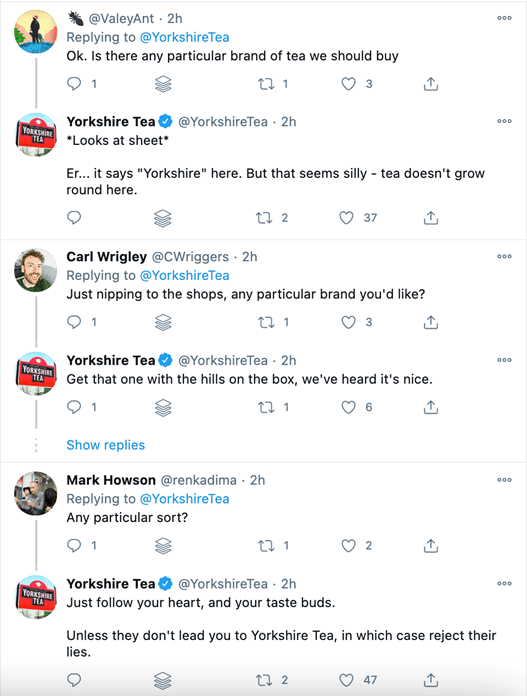 The move showcases a best practice across social media as well as a rule you should apply to all digital content: Engage first, and promote after. This way, you signal to current and prospective consumers that you're listening to conversations and desires—and you'll also have a better chance at your content being well received, as you're focusing first on consumer needs (rather than your marketing messages).  
---
TAKE OUR SURVEY
We want to know about how PR agencies are building lasting, sustainable relationships with clients, what is working and what is rubbing both parties the wrong way. That's why we're partnering with The Institute for Public Relations on a new survey to learn more about the state of the agency/client relationship.
Please take this 10-minute survey here.
---
EDITOR'S PICKS
As you're altering your holiday campaigns and searching for ways to engage consumers and employees during COVID-19, don't forget the power of gifts. These can come in the form of interactive content and holiday sweepstakes for your social media followers or thoughtful gifts given by you or your entire organization to members of your workforce, partners, influencers and more.
Check out these gift ideas:
---
WHAT YOU SAID
We asked for your favorite films or TV shows that feature characters who work in communications, and you had many favorites to share.
Tressa Robbins, vice president of client onboarding for Burrelles, said "Network" was a top choice:
My fave! (not PR but communications/mass media) 😊 pic.twitter.com/K4Py9bQeW9

— Tressa Robbins, MPRCA ✨ (@tressalynne) December 18, 2020
Chris Foshee, PR and social media pro at Worlds of Fun, shared a "Thank You For Smoking" GIF featuring tobacco spokesman Nick Naylor:
— Chris Foshee 🎢 (@chrisfoshee) December 19, 2020
Heather Murtagh Vega, account director for Larson Communications, included "Space Force's" social media director, F. Tony Scarapiducci:
"I Don't Even Know Why I'm Explaining Clap-Back Theory To You." Also… "Siri, send tweet." pic.twitter.com/oChurMajTL

— Heather Murtagh Vega (@MissMurtagh) December 18, 2020
PR pro Michelle Tripp said her vote goes to Seth Wright, the White House's press secretary in "Designated Survivor":
— Michelle Tripp (@mctripp) December 18, 2020
You can check out the other favorites, which include "Scandal," "West Wing," "Mad Men" and more, here.
Is there a question you'd like us to ask in an upcoming poll? Let us know!
---
SOUNDING BOARD
Do you craft special out-of-office responses during the holidays, or keep things simple and businesslike?
What's your take on out-of-office replies during the holidays? Are you crafting a special greeting?

Weigh in below and share your best OOO greetings, and we'll dish in tomorrow's #DailyScoop.

— PR Daily (@PRDaily) December 21, 2020
Share your thoughts below or on Twitter using the #DailyScoop hashtag.
Editor's note: Ragan Communications may earn a commission through our affiliate partnerships when purchasing items in our content.
COMMENT