Kentucky Derby launches equity initiative, consumers buy more from environmentally friendly brands, and Grammys eliminate secret nomination committees
Also: Omnicom celebrates Asian American Pacific Islander Heritage Month, Facebook pursues messaging encryption, University defends firing of whistleblower professor and more.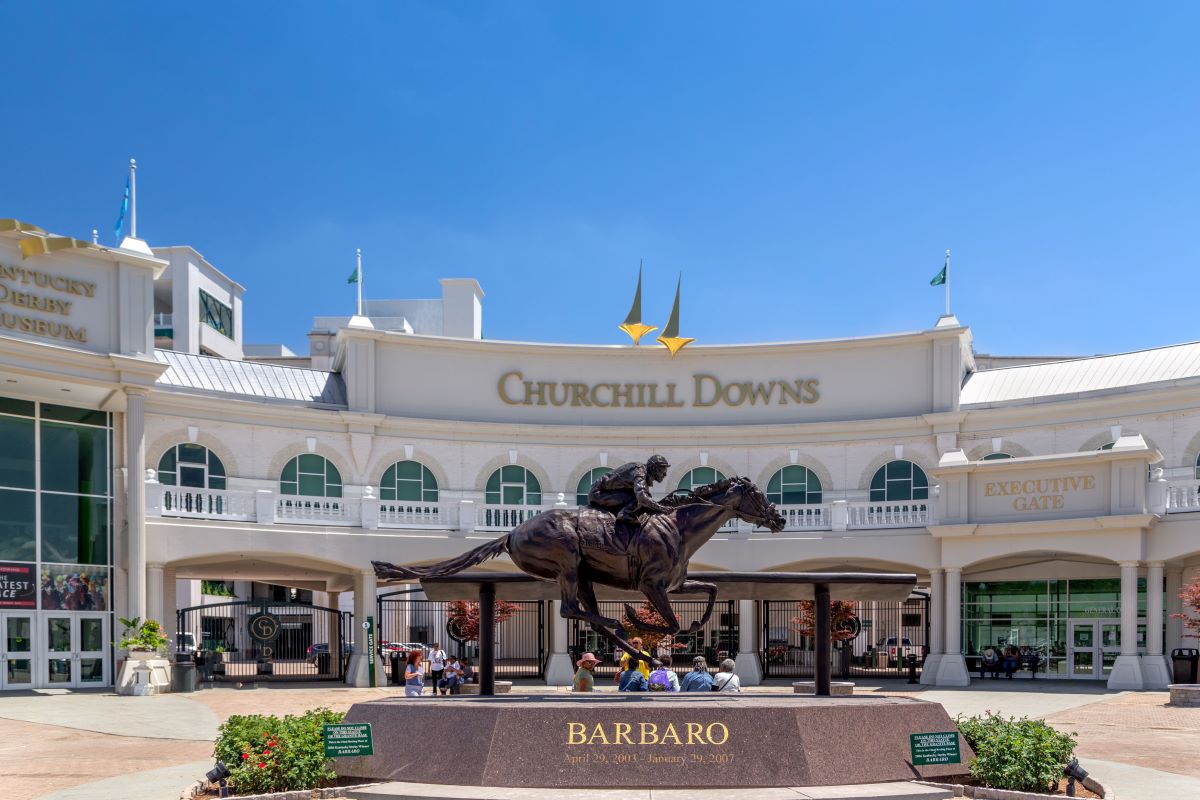 Hello, communicators:
To mark the beginning of Asian American Heritage Month, Omnicom has announced that multicultural and Asian-led advertising agency Admerasia is the winner of Omnicom's 3 in 5 PSA challenge, which encouraged agencies to submit campaigns that are promoting the representation of Asian-Americans in advertising. "'Invisible,' which demonstrates the Asian American experience of not being seen or heard, will be featured in more than $1 million of ad space, donated by media partners including The Washington Post, Verizon Media and Buzzfeed," reported Campaign US. The campaign runs through May for Asian American Heritage Month.
Omnicom's larger "3 in 5" PSA initiative is so named after the statistic that 3 and 5 Asian Americans feel underrepresented in advertising content. "For the past two decades, the collective buying power of Asian Americans has outpaced other groups and is on track to reach $1.3 trillion in 2022," Omnicom said. "Yet, Asians are invisible in media and ignored by brands. As members of the marketing community, it is now incumbent on us to create the change we want to see in the world. Together, we have the influence to make the cultural imperative align with the business."
Communicators, take note that purpose-driven campaigns observing specific calendar holidays and month-long celebrations provides an opportunity to capitalize on the moment — while carrying the message of your work far past the end of a month-long celebration. Begin your campaigns before the event starts to raise awareness and create conversation, execute the core components of your program during the month, and then ensure that the work continues to be measured, iterated and communicated long after the month has passed.
Whatever ideas you pursue, let's all do our part to take a stand against Asian hate.
Verizon sells Yahoo and AOL for $5 billion
Verizon is bailing on its major media properties. CNBC reports:
Verizon will sell its media group to private equity firm Apollo Global Management for $5 billion, the companies announced Monday. The sale allows Verizon to offload properties from the former internet empires of AOL and Yahoo.

The sale will see online media brands under the former Yahoo and AOL umbrellas like TechCrunch, Yahoo Finance and Engadget go to Apollo at much lower valuations than they commanded just a few years ago. Verizon bought AOL for $4.4 billion in 2015 and Yahoo two years later for $4.5 billion.

Verizon will get $4.25 billion in cash from the sale along with its 10% stake in the company. Verizon and Apollo said they expect the transaction to close in the second half of 2021.
The move signals that Verizon's gaze is shifting toward its internet-provider businesses. As for Yahoo and AOL, perhaps they'll finally find a happier home in months ahead.
Yahoo, AOL like that holiday fruitcake no one wants, keeps being re-gifted.

— Dan DeRobertis 💋 (@chagmed) May 3, 2021
Kentucky Derby launches equity initiative in response to protests
The Kentucky Derby Festival has announced the launch of a Derby Equity and Community Initiative, a five-year effort backed in part with funding from the Churchill Downs racetrack. The initiative, which was announced just days before the May 1 annual Derby race, has been called hollow by members of the Louisville community who protested at the racetrack following the March 2020 killing of Breonna Taylor in Louisville.
Work on the initiative started before 2020 but accelerated amid the protests. It looks to add or relocate Kentucky Derby Festival events to areas of the city that have not traditionally held them, establish new traditions to pump money into underserved areas and expand contracts for businesses owned by underrepresented groups.

"To the extent that people feel we haven't gone far enough yet — I agree with them. There's much further to go. There's much more to learn," [Churchill Downs CEO William C. ] Carstanjen said. "Our commitment to our community and our commitment with this initiative is we're going to keep taking those steps forward and we're going to make things happen."

Timothy Findley Jr., a local pastor who was arrested during a demonstration in June and helped lead the protests at Churchill Downs in September, called the initiative "an impotent bland move in the name of equity that really accomplishes nothing." For Findley, who grew up in Louisville, the first Saturday in May was not about celebrating the Derby. Like so many other Black Louisvillians, Findley, his family and his friends had their own traditions, centered on backyard barbecues and cruising West Broadway, a practice that was banned by the city over concerns of gridlock and violence in 2006.

"That was a watershed moment. . . . That really was our Derby," Findley said. "When we saw that taken away, it just furthered the divide as it relates to the actual week or weekend and those that lived in this community."
Why it matters:
Communicators, remember to back up any purpose-driven commitments that your company makes with tangible benchmark goals and specific details about what you intend to change during a set amount of time. Start making good on those commitments with community engagement on the local level that does not just include partnerships with vetted community organizations but also opportunities for open conversation and a feedback loop with your most vocal detractors. Demonstrate that you are listening to detractors by addressing their specific grievances and frustrations in your responses and incorporate solutions to address that feedback into your benchmark goals.
MEASURED THOUGHTS
In a new study by AdWeek and Harris Poll, 55% of respondents said they would have a better opinion of a brand that phased out polystyrene containers, and 62% said they'd have a better opinion of a brand that switched to recyclable packaging and utensils. A narrow majority of respondents (51%) also said that they would be more likely to buy from brands that stopped using polystyrene, and 55% said they'd be more likely to buy from brands that used recyclable packaging and utensils.
Communicators, consider how your company's ESG commitments affect your bottom line by surveying customers and stakeholders. Measure the impact of stakeholder sentiment around sustainability against the costs of instituting more environmentally sustainable operations and present those numbers to leadership with solutions.
SOCIAL BUZZ
Facebook has announced that it will push ahead with its plans to implement full end-to-end encryption of its messaging tools, ignoring concerns from regulatory authorities about the proposal.
Within an overview of a recent virtual workshop Facebook held with experts in privacy, safety, human rights and consumer protection, the company noted that:

"We're working hard to bring default end-to-end encryption to all of our messaging services. This will protect people's private messages and mean only the sender and recipient, not even us, can access their messages. While we expect to make more progress on default end-to-end encryption for Messenger and Instagram Direct this year, it's a long-term project and we won't be fully end-to-end encrypted until sometime in 2022 at the earliest."

The news of Facebook's continued work on this front will please privacy advocates – but as noted, various authorities have raised significant concerns with the plan, with respect to how such a process could be used to hide criminal activity, with no way for authorities to track such exchanges.

Representatives from the US, UK and Australia co-signed an open letter to Facebook which called on the company to abandon its end-to-end encryption plans, arguing that it would:

"…put our citizens and societies at risk by severely eroding capacity to detect and respond to illegal content and activity, such as child sexual exploitation and abuse, terrorism, and foreign adversaries' attempts to undermine democratic values and institutions, preventing the prosecution of offenders and safeguarding of victims."
Communicators, take note to survey industry experts, analysts and regulators to ensure that any new announcements around customer privacy are in line with industry best practices and don't create additional opportunities for controversy or bad press.
CRISIS COMMUNICATIONS
The president of Oregon's Linfield University has defended the firing of a tenured professor who accused the president of inappropriate behavior, including anti-Semitic remarks and sexual harassment.
[Linfield University President Miles K.] Davis argued that a faculty handbook setting out a hearing process for disciplining a tenured professor was outdated and didn't apply to the case of Daniel Pollack-Pelzner. Pollack-Pelzner, a Shakespeare scholar who held an endowed chair and was a faculty trustee, had denounced the university's handling of sexual misconduct allegations against board members, alleged that Davis had made an anti-Semitic remark about the "length of Jewish noses" and accused Davis of retaliating against him for speaking out.

Davis said he and other university officials – including Linfield's legal counsel and human resources department in consultation with the dean and provost – believed Pollack-Pelzner couldn't stay even one more day. "The action that he was taking was so egregious and so detrimental that the actions were deemed necessary to take at that time," Davis told The Oregonian/OregonLive. "The consensus of the people who made the final decision was that enough was enough."

Shortly after the firing Tuesday, the university released a statement saying Pollack-Pelzner "deliberately circulated false statements about the university, its employees and its board," was insubordinate and "interfered with the university's administration of its responsibilities."

Asked to describe the egregious statements, Davis said Pollack-Pelzner had claimed former Linfield trustee David Jubb faces eight felony sexual assault charges. Jubb was indicted last year on allegations that he sexually abused four students in 2017 and 2019. One of the charges is a felony and seven others are misdemeanors.
Communicators, remember to address the specific chain of steps and actions taken to support a controversial decision whenever the credibility of your leadership is called into question. Don't assume that stakeholders have trust in your company's leadership or judgment, and treat every statement or piece of communication as an opportunity to explain your protocols and procedures with transparency.
COMMUNICATIONS WEEK
In case you missed the news, Ragan last week announced the acquisition of Communications Week to our portfolio. You can read the full press release here.
"We are reimagining Communications Week as a year-round endeavor," says Ragan Communications CEO Diane Schwartz. "The rollout will begin next month with thought-provoking content on the future of communications on Commsweek.com, Ragan.com and PRDaily.com, culminating with a weeklong series in November that will feature conferences, networking events, workshops, webinars and more."
The flagship event for 2021 will take place Nov. 15-19. Stay tuned for updates on the many opportunities and offerings that will help communicators connect, learn and celebrate their achievements later this year. Email justinj@ragan.com if you're interested in speaking at Communications Week.
Grammys eliminate secret nominating committees in response to celebrity boycotts
The Recording Academy has announced that it will eliminate the secret nominating committees that it forms each year to decide on the nominees for certain categories, including Best Album, Song and Record of the Year along with Best New Artist.
The committees, comprised of industry executives and experts whose names were not publicly revealed, came under fierce criticism before the 2021 Grammys when the Weeknd, who had one of the most critically and commercially successful recordings in years with his "After Hours" album and "Blinding Lights" single, did not receive a single nomination; the Weeknd later said he would boycott the Grammys due to the committees.

"This is a new Academy, one that is driven to action and that has doubled down on the commitment to meeting the needs of the music community. While change and progress are key drivers of our actions, one thing will always remain — the Grammy Award is the only peer-driven and peer-voted recognition in music," said Harvey Mason jr., Chair & Interim President/CEO of the Recording Academy.

Ousted president/CEO Deborah Dugan alleged in a legal complaint of insider dealing within the committees, which the Academy has denied but remain difficult to police in such a subjective process.
Why it matters:
Communicators, take note to emphasize your learnings and feedback from conversations you have with your most vocal detractors when composing statements that announce structural or operational changes. Whenever possible, seek a public partnership with those detractors to encourage accountability among internal stakeholders to follow through on your commitments. Go beyond simply addressing the changes that your company will make to craft specific messaging around how those changes will be enforced and followed through on.
CONFERENCE ALERT
Communicators are in a unique position to collaborate with other DE&I leaders to foster unity, build a stronger internal and external brand reputation, maximize innovation and improve the bottom line. The days of brands comfortably remaining silent are gone as employees and customers are demanding impactful change.
Join us at Ragan's Diversity, Equity and Inclusion conference on May 19 and glean timely strategies to educate, engage and uplift your employees and customers in the wake of unparalleled uncertainty, political upheaval and a new mandate for social justice change.
Learn powerful insights and approaches from speakers at organizations including Ben & Jerry's, Reebok, Warner Music Group, E.W. Scripps, NielsenIQ, Facebook and more.
WHAT YOU SAID
On Friday, we asked if your company announced any new operational or reopening procedures last week following the release of new CDC guidelines. A solid 70% of you said no, while 30% of you said yes.
Has your company announced any new operational or reopening procedures this week following the release of new CDC guidelines, PR pros and communicators? #DailyScoop

— PR Daily (@PRDaily) April 30, 2021
Is there a question that you'd like to see asked? Tag us using #DailyScoop and let us know.
SOUNDING BOARD
Happy Monday, PR pros and Communicators. Is your company launching any campaigns or initiatives around Asian American and Pacific Islander Heritage Month this May?
Happy Monday, PR pros and Communicators. Is your company launching any campaigns or initiatives around Asian American and Pacific Islander Heritage Month this May? #DailyScoop

— PR Daily (@PRDaily) May 3, 2021
As a reminder, all responses are completely anonymous. We'll share the results in tomorrow's roundup.
COMMENT