KFC suspends 'finger lickin' good' during COVID-19, McDonald's introduces Spicy Chicken McNuggets, and personalized email pitches net 83% positive replies
Also: Starbucks' Pumpkin Spice Latte is back, SeaWorld San Diego opens for a limited experience, YouTube embraces cats,  and more.
Hello, communicators:
You can now purchase Starbucks' Pumpkin Spice Latte, along with the chain's Pumpkin Cream Cold Brew:
Welcome home, Pumpkin.
🍂 #PumpkinSpiceLatte and #PumpkinCreamColdBrew are back. 🍂 pic.twitter.com/nUaPHcwFK3

— Starbucks Coffee (@Starbucks) August 25, 2020
The debut of the fall-themed menu items are slightly earlier than last year's launch of Aug. 27. However, competitor Dunkin' debuted its fall menu on Aug. 19.
The PSL, as it's often referred to, has been a popular item on Starbucks' menu for nearly two decades sparking joy and excitement among its loyal fan base. Starbucks has sold more than 400 million PSLs since the drink's introduction in 2003.

… These seasonal items build hype and awareness for brands in the competitive fast-food space. Starbucks (SBUX) and Dunkin' (DNKN) are betting the items will boost sales and attract customers, many of whom are in new routines during the pandemic. Both chains recently reported weak earnings as people ditched their commute in favor of working from home.
As organizations struggle for revenue during COVID-19, many are turning to digital-first options, including in-app ordering and curbside pickup. This, combined with offering seasonal items early, could boost both sales and brand buzz.
Here are today's top stories: 
KFC suspends catchphrase during COVID-19
The fast food chain announced it's pressing pause on its 64-year-old motto "It's finger lickin' good" while the world continues to struggle with the COVID-19 crisis. In certain countries including Canada, the United Kingdom and the Netherlands, KFC is launching a campaign where it blurs the phrase on its packaging:
Though the PR and marketing move is a nod to a serious issue, KFC announced it with its signature snark.
In a press release titled, "And the winner of the award for the most inappropriate slogan for 2020 goes to…KFC," the chain wrote:
"We find ourselves in a unique situation—having an iconic slogan that doesn't quite fit in the current environment. While we are pausing the use of It's Finger Lickin' Good, rest assured the food craved by so many people around the world isn't changing one bit." said Catherine Tan-Gillespie, global chief marketing officer at KFC.

In all seriousness though, whilst we're taking a moment to have a little fun, rest assured we're still going to be providing Finger Lickin' Good chicken and a responsible experience for our amazing team members and guests around the world.

And for all those fans, don't worry—the slogan will be back. Just when the time is right.
Why it's important: As COVID-19 continues, brand managers will have to get more creative to find ways that help them grab consumer attention as well as headlines—without causing backlash or criticism. You can accomplish this through well-crafted content, but make sure you're balancing your brand's voice with consumer trends.
---
TACTICALLY SPEAKING
SeaWorld San Diego is offering a limited number of tickets to a special experience the park dubbed "Zoo Days: Bayside BBQ & Brews." The event will enable guests to walk through the park's 40 acres, but guests will not be allowed inside nor will SeaWorld's rides be functioning.
Both Annual Passholders and Non-Passholders will have to pay separate admission since BBQ & Brews includes a 6-punch Tasting Lanyard. Annual Passholders receive a significant discount. pic.twitter.com/SjD0UkO4iS

— SeaWorld News (@SeaWorld_News) August 24, 2020
The San Diego Union-Tribune reported:
The limited reopening should allow SeaWorld to bring back a portion of the 2,000 employees furloughed in March when the park closed, at least on a part-time basis.

SeaWorld appears to be taking a page from the Knott's Berry Farm playbook with the limited reopening, said Todd Regan, executive editor of Micechat, a theme park industry online watchdog website.

"Knott's reopened in food festival mode a little over a month ago," said Regan. "It has been so successful for them that they have expanded it to encompass more food. So I think that is the model SeaWorld is following."
---
MEASURED THOUGHTS
Fractl analyzed more than 100 email pitches and found that personalized queries were met with more positive responses. More than 83% of responses were positive, compared to the 60% of positive responses received using at template email pitch: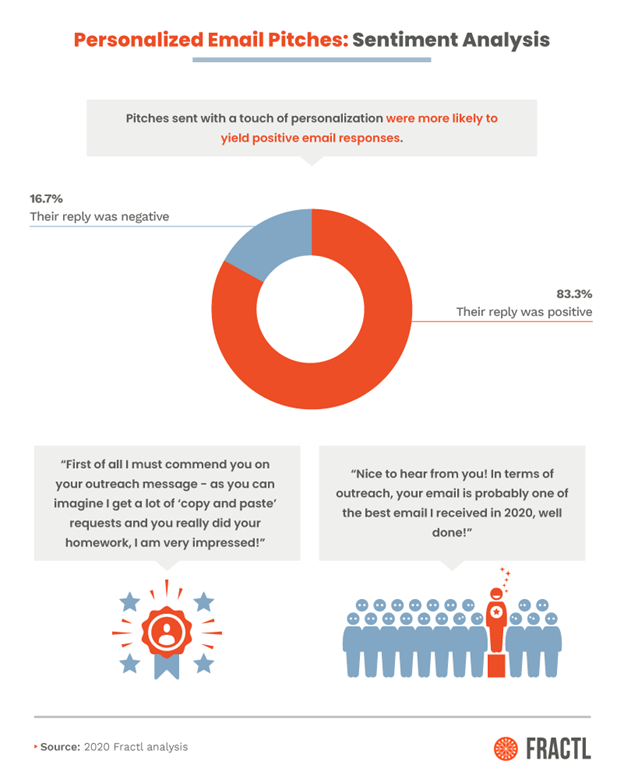 Along with personalizing your pitches, you should also strengthen reporter relationships before you tweet or email them your story. Fractl found that the more followers a person has, the less likely they are to respond to cold outreach.
You can view the entire report here.
---
CRISIS LEADERSHIP BOARD
Looking for more insight on how to address the current global crisis and lead your organization into a strong recovery?
Join Ragan's Crisis Leadership Board to network and brainstorm with peers, get the latest intelligence and research, and start to strategize for the future of your organization.
Learn more about this exclusive membership here.
McDonald's adds spice to its Chicken McNuggets 
The fast food chain is launching a new flavor for its chicken nuggets for the first time in 40 years. The Spicy Chicken McNuggets will debut in United States locations on Sept. 16, alongside a new Mighty Hot Sauce and Chips Ahoy McFlurry. The nuggets will be available for a limited time.
McDonald's tweeted the announcement:
…

🔥🔥🔥🔥🔥🔥🔥
🔥🔥🔥🔥🔥🔥🔥🔥
🔥🔥🔥🔥🔥🔥🔥🔥
🔥🔥🔥🔥🔥🔥🔥
🔥🔥🔥🔥🔥🔥🔥
🔥🔥🔥🔥🔥🔥🔥
🔥🔥🔥🔥🔥🔥🔥🔥🔥
🔥🔥🔥🔥🔥🔥🔥🔥🔥🔥
🔥🔥🔥🔥🔥🔥🔥🔥🔥🔥
🔥🔥🔥🔥🔥🔥🔥🔥🔥

— McDonald's (@McDonalds) August 25, 2020
…

🔥🔥🔥🔥🔥🔥🔥
🔥🔥🔥🔥🔥🔥🔥🔥🔥
🔥🔥🔥🔥🔥🔥🔥🔥🔥
🔥🔥🔥🔥🔥🔥🔥🔥
🔥🔥🔥🔥🔥🔥🔥
🔥🔥🔥🔥🔥🔥
🔥🔥🔥🔥🔥🔥🔥
🔥🔥🔥🔥🔥🔥🔥🔥
🔥🔥🔥🔥🔥🔥🔥🔥🔥
🔥🔥🔥🔥🔥🔥🔥🔥🔥
🔥🔥🔥🔥🔥🔥🔥🔥

— McDonald's (@McDonalds) August 25, 2020
Spicy Chicken McNuggets. get ready.

everywhere 9.16.

— McDonald's (@McDonalds) August 25, 2020
Spicy Chicken McNuggets. get ready.

everywhere 9.16.

— McDonald's (@McDonalds) August 25, 2020
In a blog post, the chain's vice president of menu innovation, Linda VanGosen, said:
As our customers have been asking for Spicy McNuggets for some time now, we couldn't think of a better time to bring them to our menus. We can't wait for McNuggets fans to get a taste of these new spicy options.
Why it's important: As organizations grapple with finding ways to boost buzz and entice weary consumers as COVID-19 continues, brand managers should look to changing consumer preferences and behaviors for inspiration. Don't be afraid to look at what's working for your competitors, either.
---
DOWNLOAD OUR REPORT
Following the deaths of George Floyd, Ahmaud Arbery, Breonna Taylor and others, organizations were pushed more forcefully than ever before to take stands against systemic racism and move to support social justice initiatives. Which responses made an impact—and which responses fell flat?
Learn from 10 of the biggest brand messages in our special report, "Organizational responses to Black Lives Matter." The report offers communicators important takeaways to lead organizations and clients in the second half of 2020 and into the future.
---
SOCIAL BUZZ
When all else fails to grab attention online, turn to cats. It's a rule that has remained over the years, despite the increasingly crowded digital media landscape.
YouTube recently played on that truth by featuring an image from a cat-centric video on its platform:
Caption this https://t.co/iZaH98PQln pic.twitter.com/yXWuldSenp

— YouTube (@YouTube) August 25, 2020
Take a break at your WFH-desk and watch the entire video below:
---
WHAT YOU SAID
We asked who you think should "own" an organization's culture, and nearly 66% of you said it should be shared across departments, with 16% saying internal and employee communicators should be in charge and nearly 11% thinking HR should take responsibility.
Weigh in, communications pros: Who should "own" an organization's culture?

Let us know your thoughts below and under #DailyScoop.

— PR Daily (@PRDaily) August 24, 2020
PR pro Michellle Garrett said it's important to first define what culture means to your organization:
I think the term "culture" itself can be confusing. Defining what it means to your company is step one. Then, it may be up to HR to drive diverse hiring – and teambuilding – that contribute to the culture.

— Michelle Garrett (@PRisUs) August 24, 2020
Communicator Tracy Lynn Freedman reminded us that culture comes from an organization's employees and its practices—an opinion echoed by agency ARPR and software executive Steve Anderson:
Employees. Culture is a biproduct of a company's mission, leadership vision, and practiced values and norms. All can be aided by communication, but not in and of itself owned by any department.

— Tracy Lynn Freedman (@TracyLynnPR) August 25, 2020
Getting everyone involved is the best ay to maintain great company-wide culture!

— ARPR (@AR__PR) August 24, 2020
Company culture is a mirror on the wall, not a poster on the wall.

— Steve Anderson (@HSteveAnderson) August 24, 2020
Is there a question you'd like us to ask in an upcoming poll? Let us know!
---
SOUNDING BOARD
Do you start off your day with a coffee, PR pros?
Do you start off your day with a coffee, PR pros?

Tell us about your AM routine below and under #DailyScoop.

— PR Daily (@PRDaily) August 25, 2020
Share your morning routine below and under the #DailyScoop hashtag.
COMMENT