Lowe's launches e-commerce holiday campaign, Target highlights inclusive Halloween costumes, and takeaways from Merriam-Websters' Twitter savvy
Also: Tarte Cosmetics gets real with GIFs, TV ads have increased in 2020's last quarter (viewer numbers are still down), ideas to inspire you and your colleagues, and more.
Hello, communicators:       
The social media manager for Tarte Cosmetics started Monday with a relateable GIF about attending Zoom meetings:
Me entering a zoom call 10 minutes late pic.twitter.com/1SP5SB6YZy

— tartecosmetics (@tartecosmetics) October 26, 2020
What "real talk" have you seen from branded social media accounts? Share with us under the #DailyScoop hashtag.
Here are today's top stories:
Lowe's ramps up its 'Season of Savings'
 The home improvement chain kicked off its holiday campaign on Oct. 22 and is focusing marketing efforts on ways consumers can "put their homes at the top of their gift lists":
Our homes have really stepped it up this year. That's why we're giving you more time than ever to shop all the perfect gifts for home during our Season of Savings event!https://t.co/BJdJRCyx4B

— Lowe's (@Lowes) October 21, 2020
The move follows similar extended and e-commerce-focused holiday campaigns from Target, Amazon, Walmart and more.
Why it's important: Lowe's said its efforts cater to the fact that 93% of United States consumers' time is spent at home this year. As more consumers stay at home and turn to online shopping, retailers are quickly changing their strategies to capitalize on the trend that's here to stay. You would do well to do the same.
---
SOCIAL BUZZ
Merriam-Webster announced that the #WordOfTheDay is "repine":
Hello! Today's #WordOfTheDay is 'repine' https://t.co/dNiSj8jbCq pic.twitter.com/y0Qgzoi0E6

— Merriam-Webster (@MerriamWebster) October 26, 2020
The resource also recently shared the etymology of words such as "fatigue" to match consumers' current moods:
'Fatigue' came to English from French, ultimately deriving from the Latin 'fatigare,' meaning "to tire out" or "to exhaust." https://t.co/OPiVYjlrjS

— Merriam-Webster (@MerriamWebster) October 23, 2020
It's no stranger to sharing the most popular word or phrase searches during trending events, such as the final presidential election debate:
📈 Top #Debates2020 lookups

xenophobia
wherewithal
fracking
ether
thug
malarkeyhttps://t.co/kKbdOep8V9

— Merriam-Webster (@MerriamWebster) October 23, 2020
Merriam-Webster has also ramped up its fall-related word roundups and topical guides that are both informative and clever, such as "19 words for the cranky and disagreeable":
Carmine
Gamboge
Feuille morte

🍁🍂 Here's some vocab for your leaf-peeping. 🍂🍁 https://t.co/746UsqTbvN

— Merriam-Webster (@MerriamWebster) October 25, 2020
Tag yourself. Or don't. Whatever.https://t.co/f2vjEeIaET

— Merriam-Webster (@MerriamWebster) October 24, 2020
The dictionary's social media efforts showcase examples of creative content and collections that are both timely and interesting to their fans, while highlighting the organization's mission and offerings.
Learn more about how Merriam-Webster remains relevant in the digital age while staying true to its brand voice and values at Ragan's Future of Communications Conference, Nov. 10-11. Lisa Schneider, chief digital officer at Merriam-Webster, will speak—as well as presenters from Google, British Telecom, KPMG, Deloitte, OKCupid, LinkedIn and more. Register here.
---
MEASURED THOUGHTS
Samba TV's The State of Viewership Q3 2020 Report revealed that network reach increased 7% in September, compared with June through August—an increase probably due to the presidential election, National Basketball League playoffs and the start of the National Football League's season.
With the rise of TV viewers comes an increase in ads—up 18.5% in this year's third quarter, compared with the second quarter. Samba TV reported a 348% increase in travel ads, with energy organizations' messaging increasing 106% and automotive ads increasing 72%. Apparel and retail ads also grew, rising 45% and 34% respectively in the last quarter: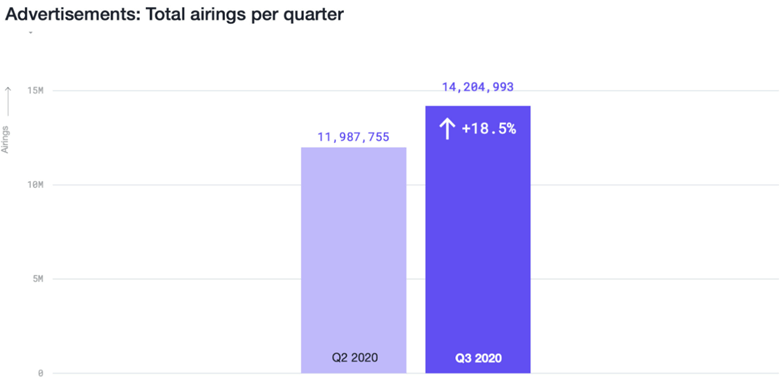 Though viewer and advertising numbers were up in 2020's third quarter, top news networks including CNN, Fox News and MSNBC have decreased viewer numbers in the last quarter, ranging from a 4% drop to a 16% decline: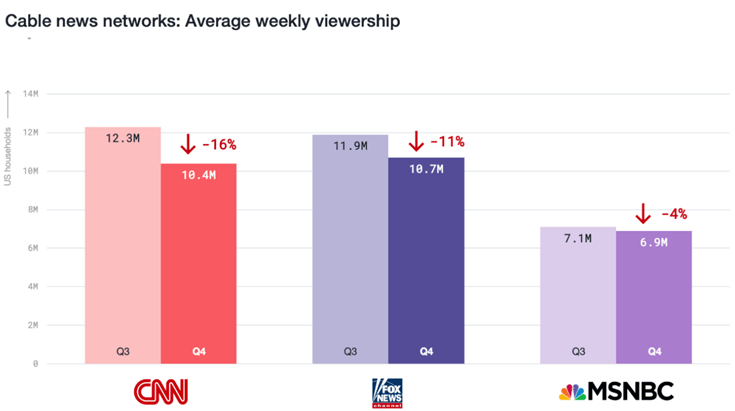 Viewer numbers are down for sporting matches, too, including the 2020 NBA playoffs: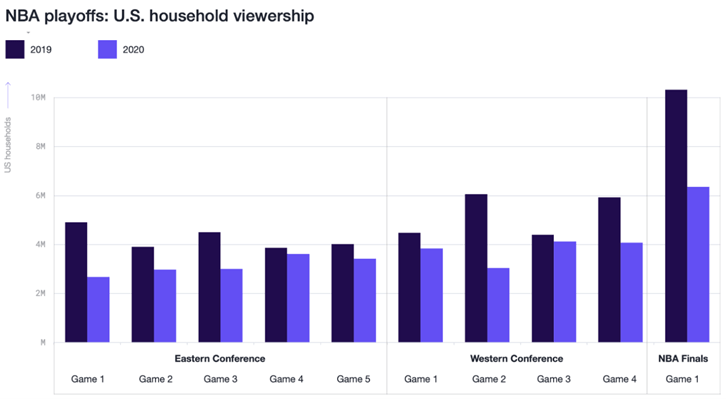 There are a number of possible reasons for the fluctuations, such as more consumers watching streaming services' content instead of sports games or traditional news broadcasts.
More and more consumers are also turning to social media and other formats to get their news and updates. As consumers are becoming more overwhelmed by the COVID-19 crisis as well as tumultuous presidential election and racial justice protests, consumer behaviors are continuing to shift and affect content consumption behaviors.
You can view the entire report here.
---
CRISIS LEADERSHIP NETWORK
Looking for more insight on how to address the current global crisis and lead your organization into a strong recovery?
Join Ragan's Crisis Leadership Network to network and brainstorm with peers, get the latest intelligence and research and start to strategize for the future of your organization.
Learn more about this exclusive membership here.
---
CATCH UP WITH OUR REPORT
More than half (57%) of social media managers say they plan to leave their current position within two years, according to a new survey from the Institute for Public Relations, Ragan Communications and the University of Florida. Though these managers are ambitious, the career path to social media leadership roles remains unclear.
The report sheds light on social media pros' career trajectory as well as the challenging lack of resources and employee burnout that's on the rise. Check out the findings here.
To learn more about how to prepare for the future of social media and more, join us at Ragan's Future of Communications Conference, Nov. 10-11.  You'll learn from PR, social media, marketing and internal communications experts about the top trends and what's on the horizon for the industry.
---
SOCIAL BUZZ
Target recently shared a peek behind the scenes of its photo shoot for the retailers' adaptive Halloween costume line:
"Something that makes you feel less different can make a big difference." That's Erin, one of the designers on our adaptive Halloween costume line. It's all about make-believe, made for everyone—kids AND adults. https://t.co/LvSNkuxHNA pic.twitter.com/kEfLGNQ9LX

— Target (@Target) October 23, 2020
While you strive to reach DE&I goals or launch a purpose-led communications campaign, don't forget the plethora of stories from employees, influencers and consumers involved. Sharing insights from members of your workforce or people in your community can expand your reach and bolster your brand image.
---
EDITOR'S PICKS
Communicators have had to scramble throughout 2020 as they respond to historical crises by recreating business continuity plans, putting leaders front and center to build trust during a global pandemic, adjusting campaigns to meet changing consumer attitudes, pushing for accountability with social justice as well as DE&I commitments, and more. It's been hard work, and many are ramping up their efforts as we near the 2020 U.S. presedential election and the holiday season. Don't forget to encourage your fellow communicators. The next person you inspire could really need the boost.
Consider these items to spread motivation:
---
SOUNDING BOARD
What's your favorite inspirational quote, PR and communications pros?
What's your favorite motivational or inspirational quote, PR and communications pros?

Share with us what gets you pumped to produce your best work yet, and we'll share the top replies in tomorrow's #DailyScoop. pic.twitter.com/FAs3sSSBTm

— PR Daily (@PRDaily) October 26, 2020
Share below and under the hashtag #DailyScoop what gets you motivated, and we'll share the top replies in tomorrow's roundup.
Is there a question you'd like us to ask in an upcoming poll? Let us know!
Editor's note: Ragan Communications may earn a commission through our affiliate partnerships when purchasing items in our content.
COMMENT