Met Opera requires vaccine boosters, how to make your tweets stand out in 2022, and Kraft Heinz to reimburse customers amid cream cheese shortage
Also: Chanel takes heat from influencers over cheap advent calendar, Kroger eliminates paid COVID leave for unvaccinated workers, and more.
Hello, communicators:
Several influencers are criticizing luxury fragrance brand Chanel for releasing a pricey Christmas advent calendar, shaped like the company's iconic Chanel No.5 perfume bottle, which they say contains cheaply made branded items like stickers and a keychain. TikTok influencer Elise Harmon, who unboxed the advent calendar live on the platform, claimed she was blocked by the brand after her review:
"This controversy is a bit of a shame because it was not what Chanel intended," Chanel president of fashion Bruno Pavlovsky told Women's Wear Daily. "Chanel thought it would please some of its customers by offering this type of product. Evidently, we see that you have to be careful and therefore, in future, we will certainly be much more cautious."
Despite Chanel's mea culpa, Harmon's review of the advent calendar spread across YouTube and Instagram among influencers and industry observers. In another TikTok video, Harmon identified the brand's PR failure as a disconnect with younger audiences:
"As Harmon smartly summed up, it's simply not going to go well for brands that 'don't understand that we're experiencing a cultural shift in awareness…which means they will need to acclimate to their consumers' new needs and desires,'" reports Adweek. "She credited the pandemic for this shift—which has certainly accelerated matters—but the reality is, we were always headed here, with Gen Z as our new cultural center of gravity."
Here are today's top stories:
Metropolitan Opera explains vaccine booster requirements for staff, patrons
New York's Metropolitan Opera will require all adult employees and audience members to receive COVID-19 vaccine booster shots to enter the opera house, making it the first major performing arts institution to do so. The new rule, which takes effect Jan. 17, comes on the heels of reports that booster shots are the most effective protection against the Omicron variant. Met officials said that the policy was first reviewed with the leaders of unions that represent its workers prior to the announcement, and that it received very positive feedback.
"We think we should be setting an example," Peter Gelb, the general manager of the Met, said in an interview. "Hopefully we will have an influence on other performing arts companies as well. I think it's just a matter of time—everyone is going to be doing this."

"It's of paramount importance that the audience members and employees feel safe when they enter the building," he said. "To me, there is no question—this is the right move. With that many people coming in and out of the building, we have to ensure that everybody is as safe as possible. Everyone in the company wants to feel safe and healthy."
Why it matters:
Whether or not Gelb's push for industry-wide adoption of booster requirements will be effective, his statement demonstrates how leaders can be confident in adopting industry-first policies when putting the needs of employees and customers first.  By consulting with key partners like union leaders, the Met Opera also demonstrates the proper order of operations. Consulting experts and advocates makes a new decision less of a blind leap and ensures you have buy-in from those who speak on behalf of your stakeholders.
---
SOCIAL BUZZ
Twitter published a 2022 planning guide chock full of templates and tips to help you plan a month-by-month Twitter strategy in the new year. One infographic from the guide points out that strong tweet material should be concise and to the point, human and conversational, include a call to action (CTA), offer discounts by percentage instead of currency amount and avoid distracting hashtags.
It also notes that strong tweet images have minimal text, a central focus and contain a human element, emotion or display of movement.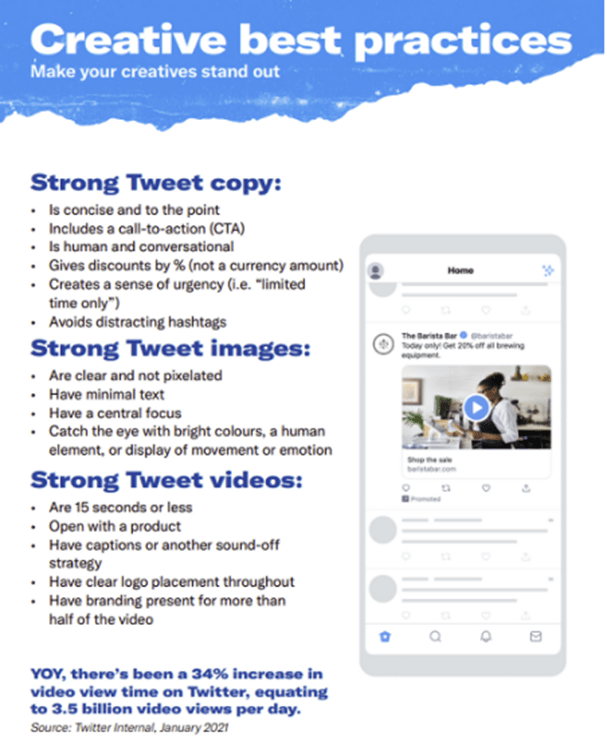 While Twitter has long been more transparent than its competitors about the best practices for platform success, this guide demonstrates how a successful social media strategy should consider larger business objectives and set campaign targets from the outset. Remember to search the blogs and brand journalism sites of major social media platforms, all of which are taking strides to be more transparent with in-platform tips and tricks.
Check out the full guide here.
---
TAKE OUR SURVEY
If you're looking to further your understanding of your industry to navigate what's ahead in 2022, lend us a hand—and help yourself and your peers identify shared benchmarks in areas such as budgets, team structure, ESG and DE&I efforts, and more. Participate in Ragan Communications Leadership Council's 2022 Benchmark Survey, a comprehensive look at how to negotiate budgets with your executives, how to best reach deskless workers and foster culture among a hybrid workforce, and more.
Both internal and external communicators are encouraged to participate.
By taking part, you'll be entered to win one of three $100 gift cards. All who complete the survey will receive a full report on the findings. Responses are anonymous.
Survey takers will receive an executive summary of the findings.
---
TACTICALLY SPEAKING
The country's largest grocery store chain Kroger says it will end paid COVID-19 leave for unvaccinated employees. The company will still provide paid leave for vaccinated workers with breakthrough cases. Salaried workers who are unvaccinated will be charged a $50 monthly health insurance surcharge in the new year.
"We created and amended several workplace policies at the onset of the pandemic to support our associates during immense uncertainty," Kroger said in a statement. "The administration of the vaccine to our associates has been an integral part of our efforts and continues to be a focus."
Kroger's statement shows how your change communications can effectively justify a new policy by anchoring the new decision in the appropriate context.
---
Announcing the PR Daily Leadership Network
PR Daily is launching the PR Daily Leadership Network, a unique membership group from Ragan Communications offering peer-to-peer advisory and team training along with a unique slate of resources and events to help public relations professionals break through the noise, increase their visibility and forge meaningful connections.
The Network provides daily insights and coverage on a range of topics including media relations, social media, measurement, Diversity, Equity & Inclusion, branding, thought leadership and crisis communications.
"The fast pace of change coupled with the demand on public relations professionals to protect and sometimes defend their company's reputation make it imperative for leaders to tap into the wisdom of other communicators and continue to learn and grow," says Diane Schwartz, CEO of Ragan Communications. "The PR Daily Leadership Network provides the answers but also encourages members to question the status quo and push for positive change."
Visit leadership.prdaily.com to learn more.
Kraft Heinz pays customers suffering from cream cheese shortage
On the heels of a widespread shortage of Philadelphia cream cheese, parent company Kraft Heinz announced that it will reimburse 18,000 customers who would normally make a holiday cheesecake $20 if they make or purchase a holiday desert instead. Customers wishing to participate in the "Spread the Feeling" program can claim reservations by submitting a dated store or restaurant receipt with a dessert or dessert ingredient identified.
In a YouTube clip promoting the offer, the brand suggests turning the seasonal cheesecake into brownies, cupcakes, cookies or "anything that will make you feel anything in that cheesecake-shaped hole in your holiday heart:"
"As we continue to see elevated and sustained demand, we want to want to ensure that there's enough cream cheese for bagels, cheesecakes, and everything in-between," [brand marketing director Basak Oguz] said. "We're excited to share that we're investing millions of dollars so Philadelphia cream cheese will be available to anyone that wants it, wherever they like to shop, for the next 150 years and beyond."
What it means:
Much like Peloton's effort to transform its unexpected product placement into a brand promotion, Kraft's "Spread the Feeling" program shows how humor and lightheartedness can be deployed to turn a brand crisis into a win. By framing the program around a seasonal shortage, Kraft positions the supply chain issue as a temporary crisis and offers a solution that matches the seasonal spirit of giving.
COMMENT