Meta's smear campaign against TikTok exposed, employee archetypes who care about ESG and Etsy's sellers protest fee increase
Also: Carhartt partners with Warner Bros. for Batman-inspired workwear line, Activision Blizzard CEO welcomes lawsuit settlement and more.
Hello, communicators:
Outerwear company Carhartt is turning on the bat signal.
Partnering with Warner Bros. and DC Comics, the brand is releasing a limited-edition collection of Batman-inspired workwear. The launch comes as "The Batman" is the No. 1 movie at the box office worldwide.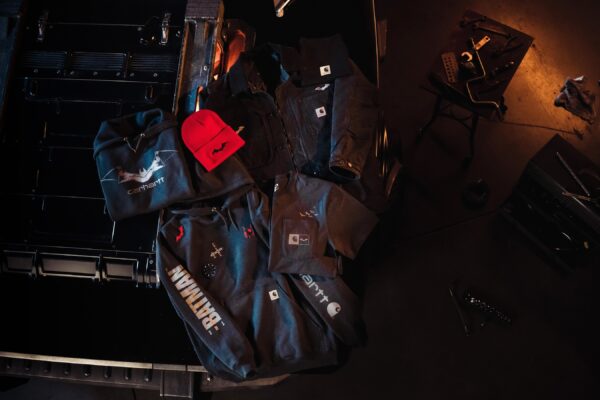 In the news release, the Carhartt comms team emphasized the strength and durability of their clothes as their tie in to Batman:
"While there aren't many things tougher than Carhartt gear, Batman certainly rises to the top of the list," said Alex Guerrero, Senior Vice President and General Manager of Global Product for Carhartt. "Bringing together one of the most recognizable Super Heroes on the planet with the most iconic brand in workwear seemed like a perfect fit for our consumers and Batman fans alike."
Here are today's other top stories:
Meta's smear campaign against TikTok revealed
The social media juggernaut hired political consulting firm Targeted Victory to run a public persuasion campaign to attack rival TikTok, the short video platform which has surged in popularity recent years.
Some of the dark arts tactics revealed in emails obtained by The Washington Post included op-eds in local papers and promoting dubious claims about the app's impact on users.
The campaign includes placing op-eds and letters to the editor in major regional news outlets, promoting dubious stories about alleged TikTok trends that actually originated on Facebook, and pushing to draw political reporters and local politicians into helping take down its biggest competitor. These bare-knuckle tactics, long commonplace in the world of politics, have become increasingly noticeable within a tech industry where companies vie for cultural relevance and come at a time when Facebook is under pressure to win back young users.

The report raises the specter of Facebook's history around misinformation on its platform — including Targeted Victory holding a Christmas party with Cambridge Analytica, the firm that was part of the major brand crisis for Facebook in 2016.
Facebook hired a Republican consulting firm to run a campaign aimed at generating outrage and scrutiny of TikTok. Some of the harmful TikTok "trends" pushed by the firm were in fact false rumors or trends that actually started on… Facebook. *chef's kiss* https://t.co/jdf6TigTV8 pic.twitter.com/tfsgLIiMUR

— Craig Silverman (@CraigSilverman) March 30, 2022
The big Republican PR firm that Meta hired to trash TikTok had a Christmas party with Cambridge Analytica in 2015 https://t.co/EK5P56v3WP https://t.co/XY6hsZePMl

— Taylor Lorenz (@TaylorLorenz) March 30, 2022
Zuckerberg is like some sort of movie supervillain at this point. https://t.co/jQLyVLoZ9x

— 🌻 Kaz Weida 🌻 (@kazweida) March 30, 2022
What you should know: Business leaders have increasingly borrowed from the national politics playbook to sway consumers, but Meta's smear campaign could backfire. Meta is trying to defend its actions as pushing for accountability for all platforms.
The Post continued:
Meta spokesperson Andy Stone defended the campaign by saying, "We believe all platforms, including TikTok, should face a level of scrutiny consistent with their growing success."
However, Meta's track record makes it difficult for the brand to take the high ground on accountability and user safety.
---
MEASURED THOUGHTS
A new report from Morning Consult identifies which jobseekers care most about company ESG goals.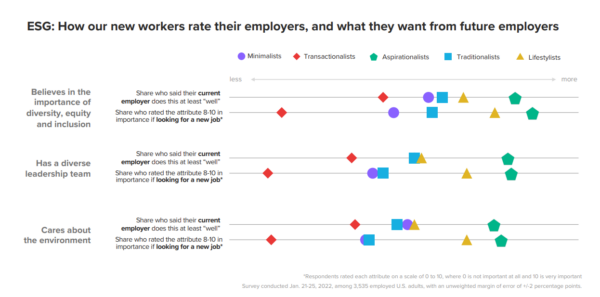 Morning Consult's "New Workers, New Normal" report divides workers into five archetypes: minimalists, transactionalists, aspirationalists, traditionalists and lifestylists.
The report shows that aspirationalists and lifestylists are most likely to care about employer branding around ESG goals like diversity and inclusion and environmental commitments.
Aspirationalists "see their careers as a means of making a real impact on the world and are drawn to companies and organizations with strong cultures and lucrative career paths," while lifestylists "work to support their personal priorities and hobbies. They care about work as both a means of providing and a source of benefits."
It's a reminder to PR pros that employer branding has become increasingly important in the battle to entice workers to apply — and stay once they've been hired.
View more from Morning Consult's "New Workers, New Normal" report here.
---
TAKE OUR SURVEY
We want to hear from our community about how their thinking has changed on media relations and its value inside their organization. If you work in communications, please take our short survey to help us chart the value of media relations for 2022.
The survey will take less than 10 minutes to complete and participants will be entered in a drawing for a $100 credit toward a Ragan event. All individual responses will be kept confidential.
Results from the survey will be shared at PR Daily's Media Relations and Measurement Conference in New York City on May 11.
---
CRISIS COMMS
Bobby Kotik, CEO of video game company Activision Blizzard, gave his stamp of approval to the company's settlement of a federal sexual harassment and discrimination complaint.
"Our goal is to make Activision Blizzard a model for the industry, and we will continue to focus on eliminating harassment and discrimination from our workplace," said Activision Blizzard CEO Bobby Kotick in a statement. "The court's approval of this settlement is an important step in ensuring that our employees have mechanisms for recourse if they experienced any form of harassment or retaliation."
Activision also faces a lawsuit from the state of California, accusing the company of equal pay violations and sexual harassment, as well as an investigation by the Securities and Exchange Commission (SEC) over its handling of similar allegations.
Last year, a Wall Street Journal report alleged that Kotik was aware of various instances of harassment and assault within the company but failed to take action.
Kotik's messaging has changed over the course of Activision's culture crisis, from asking the board of directors to reduce his salary until the situation improved to publishing an internal email outlining the company's renewed commitment to fighting workplace sexual harassment. His statement offers support for employees while emphasizing collaboration with government regulators.
Etsy sellers stage boycott in response to fee increase
Online marketplace Etsy announced a 30% increase to its transaction fees for sellers, prompting shop owners to speak up.
In one week, a Coworker.org petition asking CEO Josh Silverman to cancel the fee increase has garnered more than 16,000 signatures, and The Verge reports that thousands of Etsy sellers will suspend sales April 11-18 in protest of the hike.
Etsy's maintains that the fee increase will actually benefit sellers. From The Verge:
Kelly Clausen, head of corporate communications at Etsy, echoed that sentiment, saying the company is committed to helping sellers grow their businesses. Clausen says sellers want the company to expand marketing services and customer support and to remove listings that violate Etsy policy.

"Our revised fee structure will enable us to increase our investments in each of these key areas so that we can better serve our community and keep Etsy a beloved, trusted, and thriving marketplace," Clausen says.
Posts on social media (plus an entire paragraph in the body of the petition) seem to indicate that sellers don't, in fact, want the platform to expand its customer support services. Many say they'd rather choose how and when to interact with potential customers.
I literally paid Etsy to screw up my stats for me! I had instant communication with same day free priority shipping before you decided to step in and screw my stats up for me! Way to go Etsy! I tell everyone I know don't bother selling anything on there it's not worth the trouble

— Connie S. Fein (@ConnieSFein1) March 30, 2022
In addition to @Etsy miserable download process, I have to spend an additional 10-15 minutes with every client this happens with (on a low margin item)

Then they have the audacity to ding me for a 4-star review. Good thing "star seller" emblem is actually irrelevant 😂🤣😂🤣😂 pic.twitter.com/Yjvbt3dxJh

— Lara 🇺🇸🇬🇧 I support 🇺🇦 (@larasviews) March 30, 2022
Et*y's Star Seller is at it again. 🙃

My December messages fell off my report for the April review period, so that one 28-hour reply last month is once again dragging me below the magic 95% threshold. Anyone want to send me a quick hello over in my shop that I can reply to? 😔 pic.twitter.com/KB45BSex3S

— Games By Bee (@GamesByBee) March 27, 2022
Why it matters: Clausen's statement to The Verge directly contradicts the complaints voiced by Etsy sellers on social media and in the petition, which may send the message that the organization is continuing with their plans despite seller pushback.
Etsy's message isn't working — and the crisis is a reminder that companies must use social media to track stakeholder sentiment and be prepared to adjust the plan when necessary.
COMMENT