Activision employees stage fresh walkout, business travelers accept 'new normal,' and Apple makes DIY repairs easier
Also: McDonald's celebrates 50th anniversary of the Egg McMuffin, Disney's Steamboat Willie has a 92nd birthday, Netflix shares viewership numbers for the first time, and more.
Hello, communicators.
McDonald's is celebrating the 50th anniversary of its Egg McMuffin sandwich by offering the classic breakfast staple at its original price of 63 cents.
The promotion offers a bit of brand history while also driving consumers to its loyalty program through its mobile app. Customers are able to purchase the sandwich for the bargain price during breakfast hours on Thursday only.
"The Egg McMuffin, the first-ever quick service restaurant breakfast sandwich, joined the McDonald's menu in 1971 in Santa Barbara, California, and customers have been getting creative with it ever since," said Molly McKenna, McDonald's senior director of brand communications, in the release.
The campaign is a reminder to consider the business strategy behind your anniversary celebrations and to consider how promotions and storytelling can tie into larger objectives for the organization.
Here are today's other top stories:
Activision Blizzard employees stage walkout over new WSJ report
New revelations about CEO Bobby Kotick's leadership show he was directly informed of instances of sexual misconduct and assault within the company but failed to take action.
Approximately 150 Activision Blizzard employees assembled outside the Blizzard offices in Irvine, California yesterday in protest of the company's CEO, Bobby Kotick, following allegations of misconduct made in a recent Wall Street Journal report.

The employees gathered to protest the executive's continued role at the company following claims that the CEO was directly informed of various misconduct allegations and harassment complaints, including a sexual assault incident in 2016 at Sledgehammer Games that was settled out-of-court, yet Kotick did not inform the Activision Blizzard board of directors at the time.
The action comes after Kotick's earlier effort to reform the culture at Activision Blizzard, including asking the board of directors to reduce his salary until the culture was shown to have improved.
Why it matters: The renewed culture crisis for Activision Blizzard is costing the company. The stock has plummeted, even as the company has tried to defend its reputation and push back on the Wall Street Journal report.
https://twitter.com/jasonschreier/status/1460656496186998786
However, the story's extensive sourcing makes it difficult for Activision to establish its version of the facts—and amounts to a missed opportunity for the company after it tried to turn the page on this ongoing crisis earlier in the year.
---
MEASURED THOUGHTS
According to new data from Morning Consult, business travel will never recover to levels seen before the pandemic.
The numbers are confirmation of the expected trend for how work and its associated activities have been forever changed. Companies and leaders are reassessing how travel and in-person meetings will be a part of their future.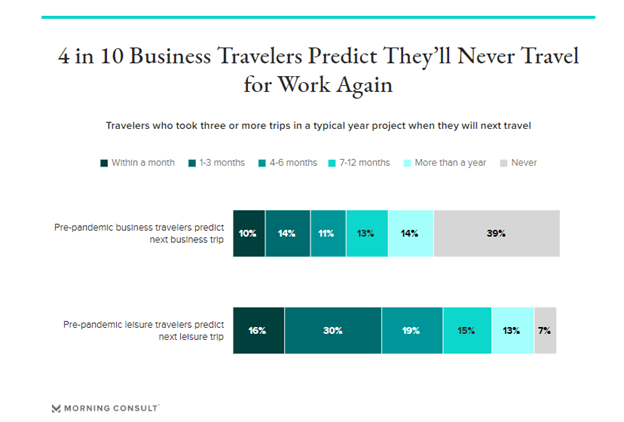 The data is a reminder to communicators and marketers to consider how they will reach audiences virtually—and transform plans to engage in-person audiences into fresh models that don't rely on in-person contact.
Apple announces DIY repair options
The tech company wants to make it easier for its customers to fix their own devices. The company announced on its newsroom that it will offer more genuine parts and tools to allow people to repair their devices—as opposed to having to buy a brand-new phone or computer.
"Creating greater access to Apple genuine parts gives our customers even more choice if a repair is needed," said Jeff Williams, Apple's chief operating officer. "In the past three years, Apple has nearly doubled the number of service locations with access to Apple genuine parts, tools, and training, and now we're providing an option for those who wish to complete their own repairs."
Why it matters: The change is a big departure for Apple, which famously eschewed creating products for tinkerers and hobbyists. Commentators also noted that bringing down the price of repairs could incentivize customers to keep their phones for longer periods rather than simply buying a new device, which has implications for the environment and sustainability.
By making the policy change about offering consumers more choices, Apple successfully sidesteps its previous arguments against making it easier to repair a phone. It had claimed that such efforts would harm privacy and security—though critics said their reluctance had more to do with sales numbers.
---
SOCIAL BUZZ
The cartoon that launched Disney, "Steamboat Willie," is celebrating its 92nd birthday, and users on Twitter were happy to share clips and memes of the prototype for Mickey Mouse.
It's a big day for the big cheese & his beau!

The iconic Disney couple, which made its debut in "Steamboat Willie" on this day back in 1928, is turning 93 years old. pic.twitter.com/QHTKoazYpv

— WNDU (@WNDU) November 18, 2021
Mickey and Minnie Mouse celebrate their 92nd "birthday" today. The two beloved cartoon characters made their debut in a Steamboat Willie cartoon in 1928. #remaxdistinctive #abovethecrowd #lowreyteam #mickey #minnie #disney #birthday pic.twitter.com/K6By2VNnbI

— RE/MAX Distinctive (@DistinctiveHSV) November 18, 2021
HAPPY BIRTHDAY! 🎉 Can you believe Mickie and Minnie Mouse have been around for 93 years?! They both debuted in "Steamboat Willie" on this day in 1928, making today both of their birthdays! 🎂 pic.twitter.com/uoK8X2eMct

— WKYC 3News (@wkyc) November 18, 2021
It's an example of how anniversaries can become news items that play beyond the four walls of your organization—but with a caveat. Not every company has a beloved mouse mascot that is celebrating almost 100 years of joy. So, if you're thinking of pitching your five-year anniversary as a widget maker—don't expect a grand reception.
---
Announcing the PR Daily Leadership Network
PR Daily is launching the PR Daily Leadership Network, a unique membership group from Ragan Communications offering peer-to-peer advisory and team training along with a helpful slate of resources and events to help public relations professionals break through the noise, increase their visibility and forge meaningful connections.
The network provides daily insights and coverage on a range of topics including media relations, social media, measurement, DE&I, branding, thought leadership and crisis communications.
"The fast pace of change coupled with the demand on public relations professionals to protect and sometimes defend their company's reputation make it imperative for leaders to tap into the wisdom of other communicators and continue to learn and grow," says Diane Schwartz, CEO of Ragan Communications. "The PR Daily Leadership Network provides the answers but also encourages members to question the status quo and push for positive change."
Visit leadership.prdaily.com to learn more.
Netflix ends secrecy over its viewership numbers
The streaming giant is offering more transparency about its viewer numbers, a new trend for the company that was previously cryptic about viewer data.
"Top 10 on Netflix" will rank series and films based on hours viewed from Monday to Sunday of the prior week. That's a big departure from how Netflix has traditionally shared viewership data, which was to sporadically announce the numbers simply by adding up how many accounts watched at least two minutes of a film or series. The company announced in its earnings report last month that it would be moving away from that two-minute metric.
The increased transparency is a big deal for creative partners and studios, which can now use the viewer data to make the case for bigger contracts for their work.
Netflix is offering a look at how it tries to use data to quantify what users like on its platform—and the team is admitting that the task is complicated.
Figuring out how best to measure success in streaming is hard, and there's no one perfect metric. Traditional measures like box office or share of audience (which was designed to help advertisers understand success on linear TV) aren't relevant to most streamers, including Netflix. Having looked at the different options, we believe engagement as measured by hours viewed is a strong indicator of a title's popularity, as well as overall member satisfaction, which is important for retention in subscription services.
Why it matters: Communicators are increasingly being asked to tell nuanced stories using data, and that requires educating your audience on how you collect and measure your inputs. The new Top 10 site from Netflix is a great example of how a company can use proprietary data to drive consistent new headlines and build interest, while also offering some transparency to partners and stakeholders.
COMMENT
One Response to "Activision employees stage fresh walkout, business travelers accept 'new normal,' and Apple makes DIY repairs easier"
Ronald N Levy

says:

Now is the time for PR to shine, for PR execs to show from the corporate
"Good Deeds File" that exactly the opposite is true—that led by Bobby
Kotick, the company has done a LOT for women's rights, minority rights,
plus public health and safety.

If PR doesn't HAVE that kind of good deeds file, why the hell not?

Did PR not know that almost all companies and CEOs eventually get
accused? Or that most accusations are that the company should have done more for safety, health, fairness to a group or helping the public make ends meet? Or that the common sense way to prepare for accusations is to have a file of facts and pictures showing that exactly the opposite is true?

Did the company not include women's causes for at least something on
the company's annual donation list? Many women's groups and other
good causes have diploma-like Good Citizenship certificates for companies that make an annual donation, let a group use a company meeting room with
free sandwiches and soft drinks, or speak glowingly at an annual
meeting. Did PR not build a file of such donations, certificates and
letters of thanks?

If no, why not? Great PR firms commonly bill two to four times what
expended time costs. But NOT having a great PR firm and NOT having
a good deeds file can cost 50 or 100 times as much as the value of PR
firm fees "saved." Billions!

Now we find out. Whether Bobby Kotick gets the employment guillotine
–or gets well-earned public and employee gratitude despite accusations—
may depend on whether the company has invested wisely and enough in
PR or has "saved" money at the expense of not having PR actions that
are protective like PR health insurance.

A certificate on the reception room wall may avert activists having a ball.
Let's hope Kotick's PR will shine. Or at least that other companies learn from
his example and prepare to meet accusations by showing that the opposite is
true.

Goodness begetteth harmony and sometime almost public love. Think of any
company under attack by politicians and in danger of losing billions–like Google, Facebook, Amazon, Microsoft, Exxon or Walmart. Imagine the object of accuser attentions getting worldwide media mentions for importantly protecting the public's heart health. One in four of us is likely to die because some part of the heart wears out.

Heart transplants are increasingly common and top cardiologists, like the famed Dr. Richard Steingart and Dr. Angel Chan, have been studying the possibility of producing new heart cells from a patient's blood or skin cells. Will Google, Facebook or another company sharply reduce the peril of losing billions in Washington if the company announces donating $100 million to Dr. Steingart, Dr. Chan or some other medical hero to research forming a "Parts for Hearts" medical supplier?