Netflix, Apple terminate outspoken employees, U.S. workers increasingly make demands of employers, and IATSE union offers labor messaging lessons
Also: Megan Thee Stallion becomes a Popeyes franchisee in promotional partnership, Impossible Foods defends its sustainability record, and more.
Hello, communicators:
Popeyes chicken has announced Megan Thee Stallion is now an owner of a Popeyes franchise as one piece of a partnership that also includes three drops of co-branded, limited-edition merchandise and a new sauce, dubbed "Megan Thee Stallion Hottie Sauce."
"Popeyes one-of-a-kind partnership with Megan Thee Stallion goes well beyond the average marketing collaboration, Sami Siddiqui, Popeyes Americas president, said in a press release.
"We are unifying two pop culture icons, and Megan's innovative, creative, and entrepreneurial vision is at the core of everything we're doing. For the first time ever, we are changing our famous Chicken Sandwich to add a sauce that was custom-made with and for Megan. We are launching three new lines of merchandise designed by Megan to capture her one-of-a-kind style. And, more than that, we are thrilled to welcome Megan to the Popeyes franchisee family and look forward to working closely with her over many years as she begins her journey as a restaurateur."
"I'm appreciative of Popeyes commitment to empowering Black women and look forward to opening Popeyes Restaurants," said Megan Thee Stallion. "Teaming up with Popeyes is such a milestone in my journey and evolution as an entrepreneur. I've always been a fan of the Popeyes brand and I'm thrilled to have the opportunity to join the brand and help create the new Megan Thee Stallion Hottie Sauce for their line-up."
By communicating her franchise ownership in the context of empowerment and entrepreneurship, Megan Thee Stallion's statement demonstrates how an influencer partnership can resonate betyond the limited-time window of a merch release,
Here are today's top stories:
Apple and Netflix address dismissal of activist employees
Over the past week, Apple and Netflix have fired workers who have openly protested each company's practices and leaked internal information.
Apple Maps program manager Janneke Parrish, who co-founded an employee activist group called #AppleToo that began publishing employee stories of harassment and discrimination, told The Verge that she was fired this past Thursday.
"I think when I came under investigation that was a pretext to find something that they could use to fire me," Parrish said. "Prior to turning in my devices, though, I did remove some of my personal data from these devices, because well, my private conversations … those are those are not Apple's business. And similarly, my financial information on apps like Robinhood is not Apple's business. Because I deleted files from my devices before turning them in, that is the reason that was given for why I was terminated."
In a statement to USA Today about Parrish's termination, Apple declined to address specifics:
In response to a query about Parrish's firing, Apple sent a statement to USA TODAY: "We are and have always been deeply committed to creating and maintaining a positive and inclusive workplace. We take all concerns seriously and we thoroughly investigate whenever a concern is raised and, out of respect for the privacy of any individuals involved, we do not discuss specific employee matters."
Netflix also confirmed that it fired an outspoken employee: the leader of a trans employee resource group who organized an upcoming employee walkout to protest Netflix's handling of its new Dave Chappelle special, "The Closer."
A Netflix spokesperson confirmed the employees' dismissal. "We have let go of an employee for sharing confidential, commercially sensitive information outside the company," they said. "We understand this employee may have been motivated by disappointment and hurt with Netflix, but maintaining a culture of trust and transparency is core to our company."
However, some onlookers see bias in the actions taken by Netflix, observing that not everyone who spoke out against the Chapelle program or spoke to the press was disciplined.
The Verge continued:
"All these white people are going around talking to the press and speaking publicly on Twitter and the only person who gets fired is the Black person who was quiet the entire time," says a former employee in an interview with The Verge. "That's absurd, and just further shows that Black trans people are the ones being targeted in this conversation."
Why it matters:
Both of these cases highlight the limits of a holding statement.
Apple's statement shows the flaw in touting subjective concepts like "positivity" in your messaging. The company's explanation of "employee privacy" as a reason for not commenting further, despite the fact that the employee in questions has already identified themselves publicly, also illustrates how every crisis demands a unique response with words that match the issue at hand.
Netflix's statement improves on Apple's by offering a sliver of an acknowledgement to the issue under protest by employees, but fails to account for the company's inconsistency with enforcing its policies or explain why a Black, pregnant employee was singled out. It's a reminder that issues of discrimination, from race to gender identity and sexual orientation, can often be intersectional, requiring thoughtful and generous responses from those who wield power within organizations.
---
MEASURED THOUGHTS
In a recent Edelman study, 76% said that they would take action to produce or motivate urgently needed changes in their organization. Within this group, 58% said they would work with the system including petitioning senior management to make changes, suggest changes to direct manager or HR and sending internal comms to senior management. Meanwhile, 40% were willing to take their issues public including going on strike, whistleblowing, leaking internal documents or emails and more.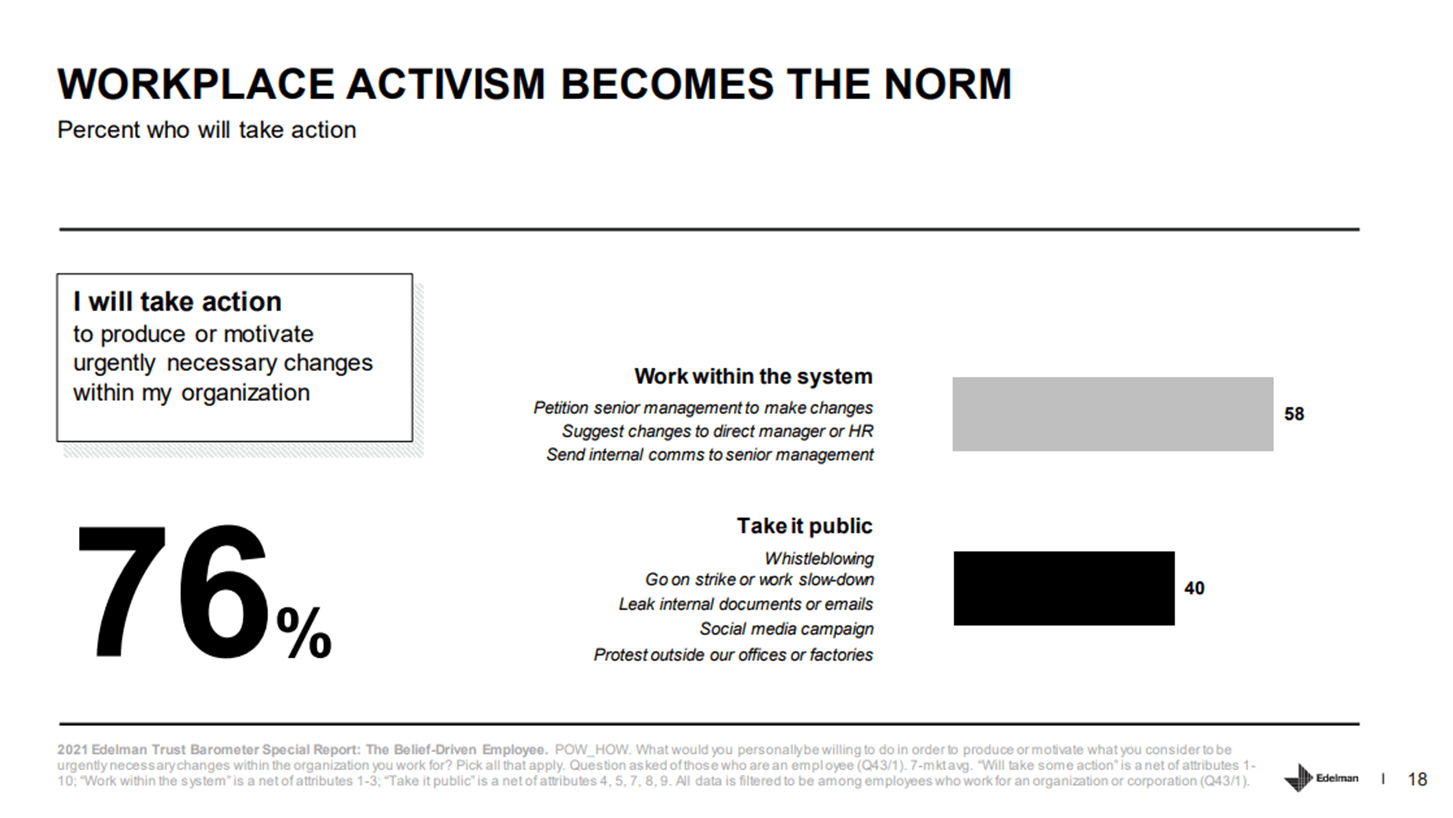 These numbers not only quantify the aforementioned trend of strikes, but also illustrate how much of employee action can be predicted, addressed and mitigated with timely employee engagement including responding to employee petitions and suggestions and listening to your workforce.
Check out the full report here.
IATSE union leaders offer labor messaging lessons
The International Alliance of Theatrical Stage Employees (IATSE) agreed to forgo a planned strike on Monday after reaching a tentative three-year agreement with the Alliance of Motion Picture and Television Producers (AMPTP). The proposed contract agreement addresses issues including minimum rest periods of 10 hours between call times, meal breaks, weekend rest periods of 54 hours, adoption of new DE&I initiatives and increased compensation to be paid by streaming companies like Netflix, Amazon and Hulu (which previously justified paying lower wages because they were classified as "new media" companies).
According to an IATSE blog post:
"This is a Hollywood ending," said IATSE International President Matthew Loeb. "Our members stood firm. We are tough and united. We went toe to toe with some of the richest and most powerful entertainment and tech companies in the world, and we have now reached an agreement with the AMPTP that meets our members' needs."

This agreement, and the contract campaign before it, should serve as a model for other workers in the entertainment and tech industries, for workers employed by gaming companies, and for so-called "gig workers," explained Loeb. "We're the original gig workers. Like non-union, freelance workers, many of our highly-skilled members go to work at different times, for different employers, at different locations. The difference is, our people have healthcare and retirement benefits, can negotiate for better wages and conditions, and have a voice and power because they work together through their union."

"Solidarity is more than a word," Loeb added.  "It's the way to get things done."
 What it means:
Considering the many strikes currently being organized by workers for John Deere, Kellogg's, Kaiser Permanente and more, Loeb's statement effectively taps into a larger labor revolution happening across the country. By positioning IATSE's win as a model that others in the entertainment and tech industries can follow, his words also demonstrate how to make your news fit a broader narrative that will appeal to audiences beyond your narrow niche.
---
TACTICALLY SPEAKING
Plant-based food company Impossible Foods has responded to criticism that the the meat-free industry does not disclose the amount of greenhouse gas emissions generated by their operations, supply chains or consumer waste. Its message serves as an indicator of the future of environmental, social and governance (ESG) communications.
Patrick Brown, the founder and chief executive of Impossible Foods, echoed some of the arguments made by big food companies around the current accounting and reporting standards for emissions and other climate data, saying it doesn't reflect the total impact of a company like his. The environmental, social and governance reporting that currently exists "simply doesn't contemplate something of the magnitude that we're doing," he said. "We are as transparent as it is reasonably possible to be about our environmental impact, but the existing framework doesn't recognize, doesn't appreciate, the overall majority of our impact, which is massive."

Mr. Brown of Impossible Foods acknowledged that soy was a key ingredient in the company's products, but argued that much of the soy grown in the world is used to feed animals and that Impossible Foods uses the soy more efficiently than the animals do. Further arguing his point, Mr. Brown said it would be "ridiculous" for the company, which uses coconut oil in its products, to try to ascertain how many of the coconut shells it used were recycled versus thrown away.

"It's such a tiny fraction of the positive impact that we're having, to be perfectly honest," he said. "We'll report it if it's necessary, but really, you're totally missing the point if you're obsessing about that kind of stuff."
While Impossible Foods touts the innovative sustainability and environmental benefits that their products have on the market on its website, Brown's resistance to current sustainability frameworks communicates a different message. When disputing the current methodology being ascribed to your company's measurement efforts, be prepared to suggest tangible alternatives that align with your stated mission and values.
---
TAKE OUR SURVEY
If you're looking for benchmark data to show your bosses the next time you ask for a raise, lend us a hand—and help yourself and your peers while you're at it. Participate in Ragan's Salary & Workplace Culture Survey, a comprehensive look at salaries, benefits, culture, bonuses and other aspects of the job in a fast-moving industry.
Both internal and external communicators are encouraged to participate.
By taking part, you will receive a $150 discount to a Ragan virtual conference of your choice and be entered to win one of five $50 gift cards. All who complete the survey will receive a full report on the findings. Responses are anonymous.
COMMENT
2 Responses to "Netflix, Apple terminate outspoken employees, U.S. workers increasingly make demands of employers, and IATSE union offers labor messaging lessons"
Ronald N Levy

says:

Apple's statement—like issue-related statements from Facebook. Amazon and others–is superb, not flawed. Yes, Apple gives "employee privacy" as a reason for not commenting further. Although the employee has already self-identified, the employee still has many privacy rights that Apple should and does respect as should we all.

Netflix does not show inconsistency is enforcing its policies. Netflix letting go an employee "for sharing confidential, commercially sensitive information" is not inconsistent even a tiny bit with anything else in this report. We can see this from re-reading this report: zero inconsistency.

There is also zero in this report to show that "a Black, pregnant employee was singled out." It's just the opposite: re-reading this report shows NOTHING about being pregnant–no reference at all to pregnancy. And NO evidence is cited to back up even slightly the accusation of a "former employee" that "Black trans people are the ones being targeted." It's just an accusation like calling you a rapist without evidence.

Unexplained by the accused's quote is whether a trans person was purportedly pregnant, nor WHY the accuser is a "former" employee, nor who are "all these white people" said to be "going around talking to the press and speaking publicly on Twitter" nor whether the accuser disapproves of white people speaking freely.

It's not just on TV that almost "anything you say may be held against you." But you're pobably safe and should be if what you say is not to break the law—not to violate employee confidentiality and not to share "confidential, commercially- sensitive" information. Each of us of any race and sexual profile should have a right to pee in private and have private information.

Ronald N Levy

says:

Where PR Daily educators might make a lot of money, we may judge from this and similar reports, is by offering a course in "PR for Non-PR Executives." Plus articles by leaders of great PR firms on "What I Wish More Non-PR Executives Knew."

If you move a complaining employee to a different department, or you don't promote him or her, don't be surprised if you are accused of "retaliation." If half the residents of your city are minority members but only 10% of your top execs are minority members, you may be accused of discrimination. But if you ask HR to give minority candidates an edge when hiring, you ARE discriminating and your emails plus written memos may show this.

Many of America's biggest firms have the biggest vulnerability to accusations because people and companies with a lot of money may be envied and even hated by people with much less. But there are good ways to minimize damage from accusations and envy, and PR Daily courses could teach this.
Poor Apple and Netflix,, endangered partly because they are not actually poor, have things they can do like making exquisitely careful statements like those quoted above, but it may work better if non-PR execs know more, hence it may be time for "smarten up" courses though not so designated.

PR Daily educators should probably make it a joint effort with a great university to gain prestige for the course, and the university with PR Daily educators who can teach PR street smarts that executives need to know.

Apple and Netflix (disclosure: I LOVE Apple and Netflix) will surely do better in
Washington hearings if the public knows of some huge public service project these companies are doing for America. But they are almost surely not going to spend a billion on a public service project like hunting for a cancer vaccine—although their necks and other anatomical parts are at stake—unless senior non-PR officers are convinced of Biblical-sounding wisdom, "Give and ye shall receive."

Even more startling than the accusations against Apple and Netflix are accusations of Facebook and Google whose services are FREE and used by more than two billion people. Each of these four companies could lose billions, and not eventually but in the next year or two, because of unduly restrictive regulation or a ten-figure taxation boost made because politicians say "they can afford it" and America's poor need more money.

The poor also need more healthcare, one in five of the poor and rich alike are dying from cancer, but research doctors already have FDA approval at Memorial Sloan Kettering Cancer Center for a limited-use cancer vaccine and keep working working on dozens of others. Will an endangered company affiliate with cancer researchers the way a beer or sneaker company affiliates with famous athletes?

Will a great PR firm sell a client on the Protective PR wisdom that the admirably well-heeled should evidence an admirable soul?