Peloton CEO rebuffs leaks in public memo, M&M'S candy mascots get an inclusive makeover and how PR increasingly measures social media impact
Also: Oscar Mayer debuts bologna-themed skincare, how comms pros can take advantage of Twitter's NFT profile pics and more.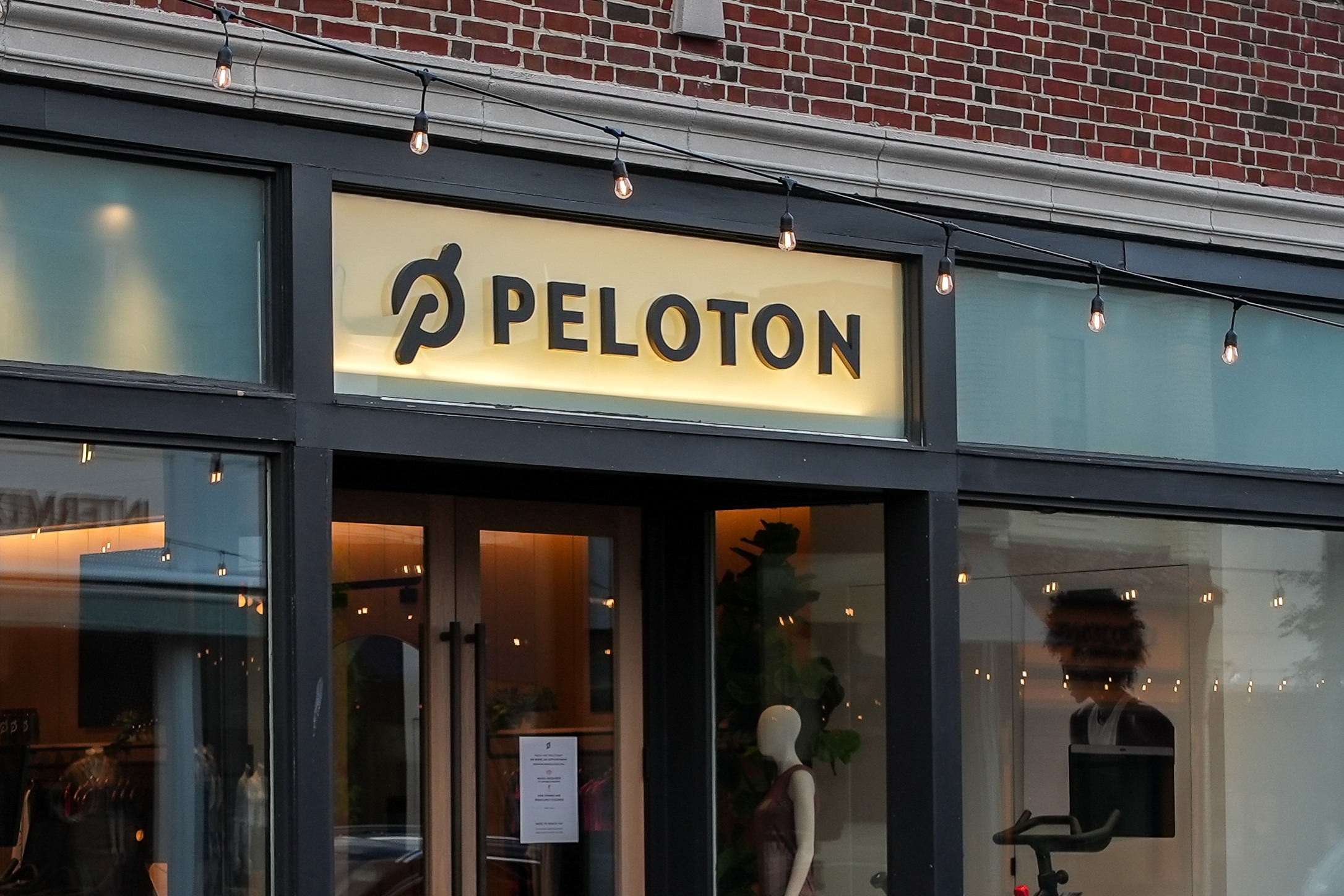 Hello, communicators:
Oscar Mayer is at it again.
The meat company known for its giant, hot dog-shaped vehicle, catchy jingle and out-there ad campaigns announced it would venture into a new product market this week: skincare.
Bologna that rejuvenates? Bologna that hydrates? Indulge in your Meaty side with Oscar Mayer® Bologna Face Masks. Available on Amazon. https://t.co/5tnYONXe4M #KeepItOscar pic.twitter.com/iUCAeV34Kx

— Oscar Mayer (@oscarmayer) January 19, 2022
The press release includes a statement from Lindsey Ressler, a senior marketing analyst with Oscar Mayer:
"Oscar Mayer has a legacy bringing levity to things that have gotten too serious, and beauty is a ripe territory to playfully subvert. Inspired by those who used to playfully make masks out of their bologna as kids, this product was born as a modern-day way to spark smiles for fans of Oscar Mayer and beauty enthusiasts alike."
You can buy it on Amazon—but it sold out within 24 hours. Do with that information what you will.
Here are today's other top stories:
Peloton CEO addresses 'rumors' about halting production, potential layoffs
Peloton has had a rough week.
The exercise equipment company's stock price plummeted after CNBC reported that Peloton planned to halt production of its products, including stationary bikes and treadmills, in response to slowing demand from consumers.
In response, Peloton CEO John Foley issued a memo to employees late Thursday. The message was also posted on Peloton's website.
In the memo, Foley emphasizes that the hubbub about production was created by leaked incomplete information and the leaker responsible would face legal action.
"The information the media has obtained is incomplete, out of context, and not reflective of Peloton's strategy," Foley wrote. "It has saddened me to know you read these things without the clarity and context that you deserve."
Proud of my Peloton teammates for all they do day in, day out to help more and more people lead healthier and happier lives. pic.twitter.com/IMuobPaq4l

— John Foley (@keylargofoley) January 21, 2022
A large portion of the memo addresses what the recent news about the company means for employees specifically—and seems to confirm that Peloton employees will be faced with layoffs. Foley says that while layoffs are "the absolute last lever we would ever hope to pull," change is coming.
"…we now need to evaluate our organization structure and size of our team, with the utmost care and compassion," he writes. "And we are still in the process of considering all options as part of our efforts to make our business more flexible."
What it means: Foley's memo is a direct effort to put out strong executive messaging from a company that's had its fair share of (quite public) bumps over the last few months. By publicizing the internal memo, Peloton kills two birds with one stone: It informs and reassures panicked employees while also sending a direct message to consumers, shareholders and the media.
Making everything more fraught are the limitations the company faces in communicating ahead of its quarterly earnings call as a publicly traded company. It's a reminder that transparency about how communications decisions get made can be incredibly important in sending a meaningful message.
---
MEASURED THOUGHTS
A report from Muck Rack on how PR teams measured success and used technology in 2021 found that comms pros were more than 25% more likely to use website impact metrics to quantify the effectiveness of their work than they were in 2020.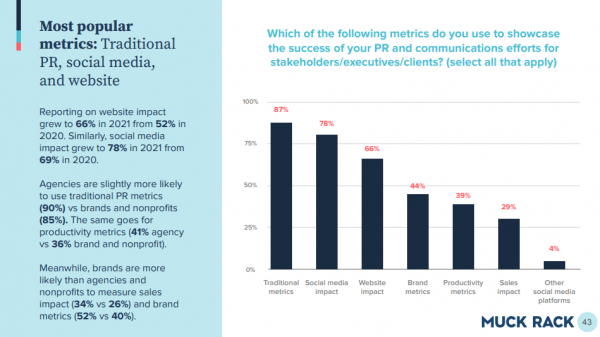 While traditional metrics remained the most popular measurement method, social media impact jumped nine percentage points since 2020—a nod to the lasting value of social media marketing and outreach.
The report also found that the average PR team has three core key performance indicators (KPIs), consistent across brands, agencies and nonprofits.
Check out more from the Muck Rack State of PR 2021 here.
---
TAKE OUR SURVEY
If you're looking to further your understanding of your industry to navigate what's ahead in 2022, lend us a hand—and help yourself and your peers identify shared benchmarks in areas such as budgets, team structure, ESG and DE&I efforts, and more. Participate in Ragan Communications Leadership Council's 2022 Benchmark Survey, a comprehensive look at how to negotiate budgets with your executives, how to best reach deskless workers and foster culture among a hybrid workforce, and more.
Both internal and external communicators are encouraged to participate.
By taking part, you'll be entered to win one of three $100 gift cards. All who complete the survey will receive a full report on the findings. Responses are anonymous.
Survey takers will receive an executive summary of the findings.
---
Twitter launches NFT profile picture feature
This week, social media giant Twitter debuted a feature that allows some users to deploy a non-fungible token (NFT) as their profile picture on the site.
gm!

You asked (a lot), so we made it. Now rolling out in Labs: NFT Profile Pictures on iOS pic.twitter.com/HFyspS4cQW

— Twitter Blue (@TwitterBlue) January 20, 2022
To take advantage of the feature (which requires linking your Twitter account to your digital wallet), users must subscribe to Twitter Blue and be using an iOS device.
What's an NFT? Here's what The Verge has to say:
"NFTs allow you to buy and sell ownership of unique digital items and keep track of who owns them using the blockchain. NFT stands for 'non-fungible token,' and it can technically contain anything digital, including drawings, animated GIFs, songs, or items in video games. An NFT can either be one-of-a-kind, like a real-life painting, or one copy of many, like trading cards, but the blockchain keeps track of who has ownership of the file."
Why it matters: While all of this may seem a little like the usual cryptocurrency hucksterism, there are some potentially valuable uses of NFTs—and this new Twitter feature—for communicators.
As we noted last year, brands can use NFTs as exclusive digital merchandise for superfans and agencies can offer NFT management services. The integration of NFTs into your organization's Twitter account means more eyeballs on your NFT—and more potential NFT buyers. Leaning into new and emerging technologies can help position organizations as front-runners in the world of digital commerce and help prepare them for the next phase of the internet.
---
Announcing the PR Daily Leadership Network
PR Daily is launching the PR Daily Leadership Network, a unique membership group from Ragan Communications offering peer-to-peer advisory and team training along with a unique slate of resources and events to help public relations professionals break through the noise, increase their visibility and forge meaningful connections.
The Network provides daily insights and coverage on a range of topics including media relations, social media, measurement, Diversity, Equity & Inclusion, branding, thought leadership and crisis communications.
"The fast pace of change coupled with the demand on public relations professionals to protect and sometimes defend their company's reputation make it imperative for leaders to tap into the wisdom of other communicators and continue to learn and grow," says Diane Schwartz, CEO of Ragan Communications. "The PR Daily Leadership Network provides the answers but also encourages members to question the status quo and push for positive change."
Visit leadership.prdaily.com to learn more.
Mars Inc. announces new, inclusive look for classic M&M'S characters
Alert the paparazzi: The sexy, green M&M now wears sneakers. No more go-go boots for you!
Mars Inc. announced a redesign of all six M&M'S characters—red, yellow, orange, green, brown and blue—on Thursday, citing the goal of reflecting "the more dynamic, progressive world that we live in." The green M&M will wear sneakers and, for good measure, be better friends with her female-presenting counterpart, the brown M&M.
Additional changes include the removal of gendered prefixes from the characters' names and the lowering of the brown M&M's heel height.
"The orange M&M, who has an anxious personality, will 'embrace his true self, worries and all.' But the orange M&M's shoe laces will now be tied to represent his cautious nature. According to Mars, the orange M&M is 'one of the most relatable characters with Gen-Z,' which is the 'most anxious generation.'"
What you need to know: The move marks the company's effort to portray more diverse, modern characters. Employees and consumers alike are looking for companies to take a stand on social issues like gender discrimination, and Mars' move to remove gender stereotypes from its beloved chocolate candy characters reflects a changing appreciation for how brands use gender in marketing materials.
COMMENT