Snapchat and Twitter prepare for Election Day, Kazakhstan takes after 'Borat', and Macy's Santa goes virtual
Also: McDonald's social media manager gets real, Yandy drops controversial Halloween costumes, 28% of consumers will buy less holiday gifts, and more.
Hello, communicators:       
Kazakhstan is leaning into Sacha Baron Cohen's satire with a series of ads using the comedian's catchphrase from "Borat": "Very Nice!"
So far, embracing the snark has been more successful than the country's previous tack of banning everything from the comedian.
Here are today's top stories:
Snapchat and Twitter prepare for Election Day
 Snapchat is bringing back its iconic dancing hot dog filter in time for the 2020 United States presidential elections—and this time, the augmented reality filter will show users where they can find their nearest polling station.
The effort is part of a campaign to encourage voting, which includes several tools as well as storytelling efforts:
"Too much is at stake this election to not get involved." @mkasante is back with a brand new episode of #WhileBlack. Only on Snapchat. https://t.co/eC7M8R7Pvn pic.twitter.com/6FrjcIHPLF

— Snapchat (@Snapchat) October 25, 2020
In September, Snapchat rolled out a host of voting tools for users, including a feature allowing people to register to vote directly in the popular messaging app. Snapchat says it has helped more than 1.24 million users with voter registration, compared to 2.5 million for Facebook. But because of its popularity with Gen-Z and millennial voters, Snap says it has reaches more 13-24-year-olds than Facebook, Instagram, and Messenger combined. Of the 100 million US Snapchat users, 80 percent are of voting age, the company said.
Twitter has also ramped up the misinformation warnings on its platform regarding voting by mail. This message shows up in users' newsfeeds: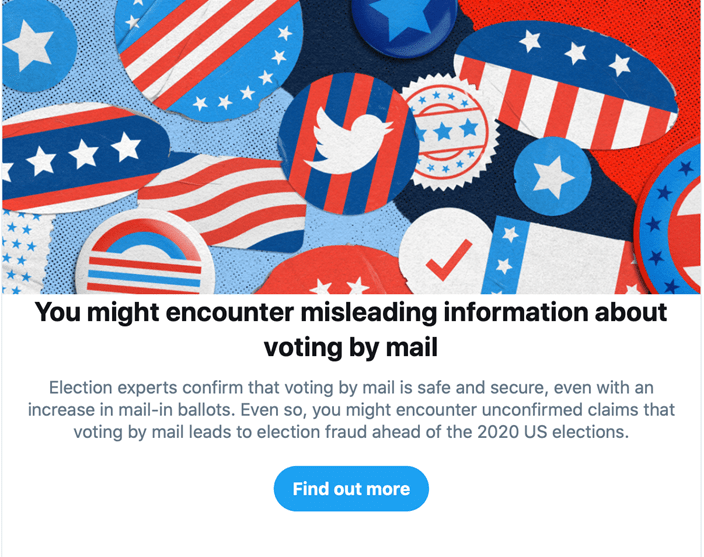 From there, Twitter users can click on the event, which carries an overview, several key facts to know and a plethora of tweets by verified news outlets such as MarketWatch and The New York Times sharing information about voting by mail.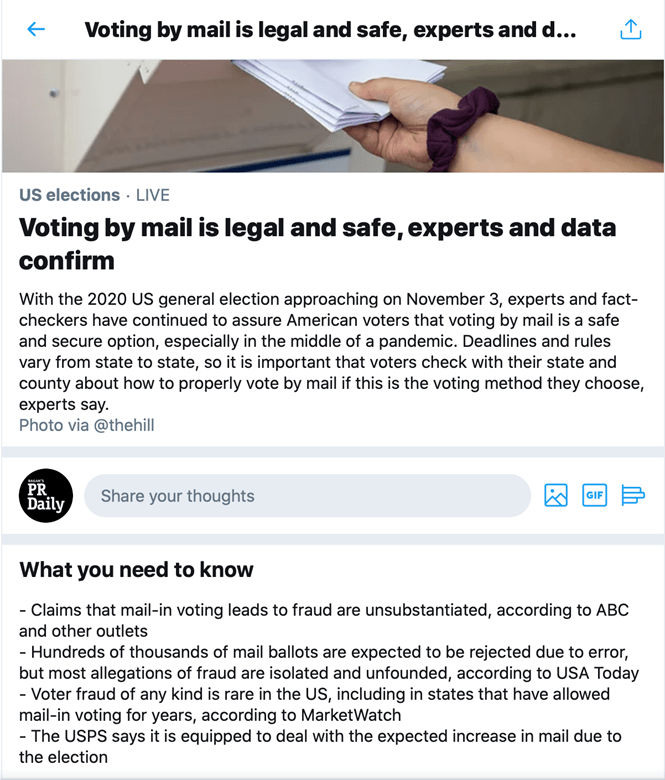 Why it's important: This is a historic election, and even organizations that in the past refrained from talking about political or social issues now find it nearly impossible to stay silent. Consumers are looking to brands to make the change and encourage action. Consider how you can be involved, both now and in the future.
---
TACTICALLY SPEAKING
For the first time in almost 160 years, Macy's announced that its Santa Claus is staying home, instead of holiday visits in its stores. The now virtual experience, called "Macy's Santaland at Home," will kick off on Nov. 27 and remain "an immersive and whimsical digital-only engagement" through Dec. 24. 
Susan Tercero, vice president of branded entertainment for Macy's, said in a press release:
At Macy's, the safety of our customers and colleagues is paramount. To replicate the magical experience of visiting Macy's Santaland for children and their families, we will shift to a virtual engagement this year. For many, visiting Santa at Macy's has become a long-standing highlight of the holiday season. Macy's is delighted to have found a way to ensure even more families can enjoy this treasured experience safely during this festive time of the year.
The experience includes virtual holiday tours, Christmas stories, a "special greeting from Santaland elves," interactive games and a video from Santa Claus. Visitors will be able to "snap a selfie" with Kris Kringle as well. You can check out the effort at macys.com/Santaland.
Though in-store Santa visits are canceled, Macy's is still partnering with the Make-A-Wish Foundation to donate $1 to the nonprofit up to $1 million for every letter sent to Santa. This year, you can send it online or drop it off in a Macy's store.
This holiday season, join @Macys in bringing joy back into a child's life by writing your letter to Santa online at https://t.co/0CZxggU83m or drop it off in stores thru 12/24.✍️🎅For each letter, Macy's will donate $1 to Make-A-Wish, up to $1M! #MacysBelieve pic.twitter.com/1KVWhArNac

— Make-A-Wish America (@MakeAWish) October 26, 2020
---
MEASURED THOUGHTS
A new Gallup poll revealed that 28% of U.S. consumers said they'll spend less on holiday gifts than they did in 2019. Only 12% said they expect to spend more money: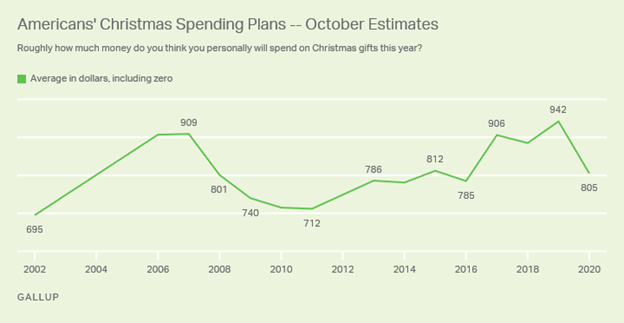 Along with transitioning your campaigns and content to a digital-first audience, double down on your engagement efforts, so you can remain a strong brand presence in consumers' minds—even if they're purchasing from your organization.
---
CRISIS LEADERSHIP NETWORK
Looking for more insight on how to address the current global crisis and lead your organization into a strong recovery?
Join Ragan's Crisis Leadership Network to network and brainstorm with peers, get the latest intelligence and research and start to strategize for the future of your organization.
Learn more about this exclusive membership here.
---
TACTICALLY SPEAKING
After several years of retailer Yandy removing Halloween costumes following backlash (such as its 2018 "Handmaid's Tale" inspired outfit), the company said its retiring offensive and culturally appropriative costumes.
Instead, its 2020 pop-culture offerings include a mail-in ballot, sexy hand sanitizer, "tiger queen," "Miss Equality," a banned app (with TikTok's logo crossed out), and a "postal babe":
So much has happened this year that who even knows what people will be for Halloween. Seriously, there are like 500 different directions you could take and still be relevant. 🎃 #LoveYandy https://t.co/zJ2jQ1JP0d

— Yandy.com (@Yandy) October 25, 2020
"This year, we went through items that we thought could be offensive and removed them, or we didn't go forward with purchasing them," says Pilar Quintana-Williams, Yandy's VP of merchandising. "Some things that could be offensive to one person isn't to another, but if we even had to have that conversation, it was gone." This summer's Black Lives Matter protests played a big role in reshaping the Halloween assortment. "There was this heightened awareness that really raised the stakes," says Alicia Thompson, Yandy's director of brand marketing.
Yandy also has renamed some of its products to be more inclusive and welcoming, showing that even brands that formerly used controversy as a marketing tool can embrace DE&I initiatives.
---
CATCH UP WITH OUR REPORT
More than half (57%) of social media managers say they plan to leave their current position within two years, according to a new survey from the Institute for Public Relations, Ragan Communications and the University of Florida. Though these managers are ambitious, the career path to social media leadership roles remains unclear.
The report sheds light on social media pros' career trajectory as well as the challenging lack of resources and employee burnout that's on the rise. Check out the findings here.
To learn more about how to prepare for the future of social media and more, join us at Ragan's Future of Communications Conference, Nov. 10-11.  You'll learn from PR, social media, marketing and internal communications experts about the top trends and what's on the horizon for the industry.
---
SOCIAL BUZZ
McDonald's social media manager recently grabbed online buzz after sharing a humorous peek into running an online community for a brand:
it's always "when is the McRib coming back" and never "how are you doing person who runs the McDonald's account"

— McDonald's (@McDonalds) October 23, 2020
As the tweet's engagement went viral, brand managers for Adobe, Uber Eats, Instagram, Pizza Hut, Facebook, IBM and more shared empathy with the sentiment:
Starting a social media manager support group lmk if you want to join

— Adobe (@Adobe) October 23, 2020
I feel seen. Honestly, I wish I had a promo code to offer you all, but I don't.

Brand Twitter is here for you.

— Uber Eats (@UberEats) October 23, 2020
felt that. sending all the ❤️ 🍟 🍔

— Instagram (@instagram) October 23, 2020
Facts. "Bring back Priazzo, Bigfoot, Cheesy Bites…" Wellness check on all social account managers. 📢

— PizzaHut (@pizzahut) October 25, 2020
Honestly, same. No, idk when dark mode is coming out. 😭 Also, I'm fine thanks.

— Facebook app (@facebookapp) October 23, 2020
We feel you… it's always "when will IBM make computers again" never "how's it going social media person"

— IBM (@IBM) October 23, 2020
The back-and-forth was amusing for many social media users, and highlights the growing trend of brands being more authentic with their conversations. Though McDonald's didn't get as snarky as Wendy's famous tweets or as philosophical as Steak-uum's social media manager, the move is a testament to being real with your fans online.
---
WHAT YOU SAID
We asked for your favorite inspirational quote:
What's your favorite motivational or inspirational quote, PR and communications pros?

Share with us what gets you pumped to produce your best work yet, and we'll share the top replies in tomorrow's #DailyScoop. pic.twitter.com/FAs3sSSBTm

— PR Daily (@PRDaily) October 26, 2020
Communications pros Mariahh and Ahmanielle highlight the necessity for simplicity when crafting messages and strategies:
"If you can't explain it clearly, you don't understand it well enough."

— Mariahh✨ (@ItsMYAlife15) October 26, 2020
"If you can't summarize your objective clearly in one sentence, there is no strategy."-J. Raleigh. Words to live by. If you don't know what you want to accomplish, how can you plan strategically?

— Ahmanielle (@AhmaniRoussell) October 26, 2020
Kate Ryan, PR coordinator for Blast Media, gets her motivation from "Schitt's Creek":
— Kate Ryan (@katemarieryan) October 27, 2020
PR pro Brad Domitrovich reminds us that PR is all about relationships:
Public relations is really people relationships. #PR #SchoolPR

— BradDomitrovich (@braddomitrovich) October 26, 2020
Is there a question you'd like us to ask in an upcoming poll? Let us know!
---
SOUNDING BOARD
Many PR and marketing strategies have shifted to a digital-first focus, but what about your day-to-day processes such as note taking and to-do lists, communicators? Are you more digital or analog?
Many PR and marketing strategies have shifted to a digital-first focus, but what about your day-to-day processes such as note taking and to-do lists, communicators? Are you more digital or analog?

Share your thoughts with us and we'll dish in tomorrow's #DailyScoop.

— PR Daily (@PRDaily) October 27, 2020
Share below and under the hashtag #DailyScoop, and we'll share the top replies in tomorrow's roundup.
Editor's note: Ragan Communications may earn a commission through our affiliate partnerships when purchasing items in our content.
COMMENT
2 Responses to "Snapchat and Twitter prepare for Election Day, Kazakhstan takes after 'Borat', and Macy's Santa goes virtual"
I am really a big fan of your blogs, your blog is really awesome and I would like to say thank you to share such good information. I have started doing your tactics. Let's see how it goes.

Katelyn Lambert, Writer/Editor for Platform Magazine

says:

I enjoyed reading about how social media platforms are using their voice to encourage users to vote. Snapchat with its young demographic is reaching first-time voters. This is really important since most young voters probably need help on how to register or where to find their polling station. Snapchat and Twitter both have made it super easy to find out this information on its apps. I think it is really smart how Snapchat made this information into filters and stickers where users could post and share with others to help them with their voting plan. It was overall a very smart move.