Spotify tests 'Stories' feature, Salesforce mulls Slack acquisition, and 'pandemic' is Merriam-Webster's word of the year
Also: U.K. grocers unite for anti-racism campaign, The Walt Disney Co. brings layoffs to 32,000, Black Friday is currently second-largest online sales day in U.S. history, and more.
Hello, communicators:
Merriam-Webster has announced "pandemic" as its word of the year:
It's the story of the year and now the word of the year.

'Pandemic' is our 2020 #WordOfTheYear. https://t.co/ZmB7xfRWko

— Merriam-Webster (@MerriamWebster) November 30, 2020
In a blog post, Merriam-Webster wrote:
This has been a year unlike any other (the word unprecedented also had a significant spike in March), and pandemic is the word that has connected the worldwide medical emergency to the political response and to our personal experience of it all.
Other top words for 2020 include "coronavirus," "Mamba," "kraken," "quarantine," "antebellum," "malarkey" and more.
Here are today's top stories: 
Spotify tests 'Stories' feature
The music and podcast platform is experimenting with its own Snapchat-esque feature that features short video clips from popular artists such as Kelly Clarkson, Meghan Trainor and Jennifer Lopez attached to certain playlists.
Several Twitter users criticized the feature, including tech influencer Marquez Brownlee:
Me: Not
Spotify: Not
Me: everything
Spotify: everything
Me: needs
Spotify: needs
Me: stories
Spotify: stories
….
Me: Not everything needs stories
Spotify: https://t.co/bdm8ff2rIK

— Marques Brownlee (@MKBHD) November 28, 2020
Spotify has stories now….

S P O T I F Y

This has got to stop pic.twitter.com/xsurbrJblx

— TmarTn (@TmarTn) November 27, 2020
Reporters shared similar sentiments, with The Next Web's headline reading, "Spotify's Stories should feature music suggestions, not artists' video messages" and Mashable's article declaiming, "Spotify now has Stories and can this please stop."
Why it's important: Though Spotify has racked up criticism for the feature, adding short-form video content plays into the continuing trend of bite-size multimedia content. For communicators working with artists, the feature could offer additional opportunities to interact and offer "extras" to consumers in the way of trivia, stories and interviews.
---
TACTICALLY SPEAKING
 Several grocery chains in the United Kingdom, including Aldi, Co-Op, Lidl, Iceland and Tesco have united with the country's Channel 4 to stand against racism after supermarket chain Sainsbury's ad, which featured a Black family enjoying the holidays, was met with racist backlash.
Christmas is a time to come together. This year, we're coming together with @AldiUK@asda @coopuk @IcelandFoods @LidlGB @marksandspencer @sainsburys @Tesco &@waitrose to stand against racism. If you're not into that kind of thing, feel free to unfollow.#StandAgainstRacism #Ad pic.twitter.com/EwKw3fdwHr

— Channel 4 (@Channel4) November 27, 2020
The full version of the Sainsbury's advert, which was met with racist abuse on social media when it aired earlier this month, was also broadcast. It shows a father and daughter talking over the phone about looking forward to Christmas, interspersed with flashbacks to past Christmases while the dad boasts that he makes the best gravy.

Rachel Eyre, the head of brand communications and creative at Sainsbury's, said: "We strive to be an inclusive retailer and we're proud to unite with our industry colleagues to stand up against racism. We're passionate about reflecting modern Britain and celebrating the diversity of the communities we serve, from our advertising to the products we sell."
Our Christmas ads are about putting food and family at the heart of Christmas. Sadly a small but vocal minority shared racist views.
⁰Tonight we are taking a #StandAgainstRacism with @Channel4 @AldiUK @asda @coopuk @IcelandFoods @LidlGB @waitrose @marksandspencer @Tesco https://t.co/ujGZuXtAdE

— Sainsbury's (@sainsburys) November 27, 2020
The effort is an important reminder to not stay silent and build industry consensus when it comes to racial equality and social justice, even if you experience backlash. Lean into your brand's values when sharing your messages to ensure consistency across your campaigns.
---
SOCIAL BUZZ
Kraft Heinz's Philadelphia Cream Cheese brand took advantage of consumers clamoring for Sony's new gaming console, the PlayStation 5, by offering limited-edition cheesecake kits dubbed "Philly Series 5": 
Breathtaking flavor.
Stunning ingredients.
Next-Generation Joy.
It's the Philly Series 5.
Get yours today for just $4.99.#PhillySeries5https://t.co/58MhSicbsc pic.twitter.com/OKccZKKhqN

— PHILADELPHIA (@LoveMyPhilly) November 17, 2020
Philadelphia's marketing team played up the spoof by listing the kit's ingredients as "five bricks of power filling," "next-gen baking sheet," "3D cookie crust" and more. The price for each is $4.99—another reference to the PlayStation 5, which runs for $499. The brand has been selling out with each restock of the offering:
According to online resellers, the Philly Series 5 is officially sold out.

ⓘ 𝗧𝗵𝗶𝘀 𝗰𝗹𝗮𝗶𝗺 𝗵𝗮𝘀 𝗯𝗲𝗲𝗻 𝗱𝗶𝘀𝗽𝘂𝘁𝗲𝗱 𝗯𝘆 𝗼𝗳𝗳𝗶𝗰𝗶𝗮𝗹 𝘀𝗼𝘂𝗿𝗰𝗲𝘀. 𝗣𝗵𝗶𝗹𝗹𝘆 𝗦𝗲𝗿𝗶𝗲𝘀 𝟱 𝗿𝗲𝘀𝘁𝗼𝗰𝗸𝘀 𝘁𝗼𝗱𝗮𝘆 𝗮𝘁 𝗻𝗼𝗼𝗻 𝗼𝗻 𝗣𝗵𝗶𝗹𝗹𝘆𝗦𝗲𝗿𝗶𝗲𝘀𝟱.𝗰𝗼𝗺 pic.twitter.com/U2nynN9tJG

— PHILADELPHIA (@LoveMyPhilly) November 20, 2020
Hungry for the next-generation? Philly Series 5 returns Black Friday at 5AM EST. Camp out on https://t.co/ohdH8iohIN to grab yours.

— PHILADELPHIA (@LoveMyPhilly) November 26, 2020
---
MEASURED THOUGHTS
Adobe analyzed Black Friday sales for 80 of the top 100 United States retail companies, reporting that U.S. consumers purchased $9 billion in items online on Nov. 27—a 21.6% increase from 2019.
This year's Black Friday online sales numbers are currently the second-largest in U.S. history, with last year's Cyber Monday holding the No. 1 spot. With the continuing e-commerce trend, that record might soon be usurped.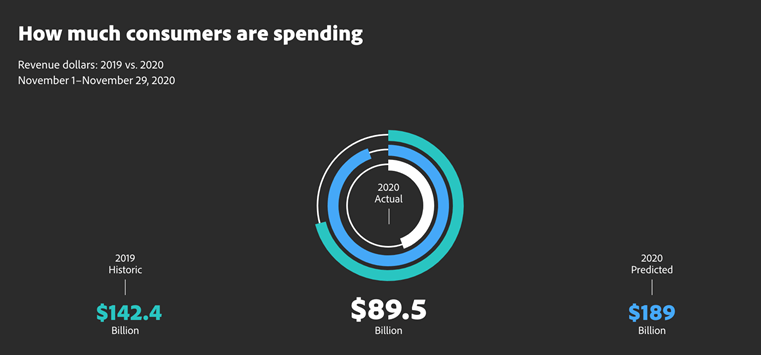 Along with shopping more online, consumers are also purchasing more items on mobile devices.
Smartphones continued to account for an increasing proportion of online sales, with this year's $3.6 billion up 25.3%, while alternative deliveries—a sign of the e-commerce space maturing—also continued to grow, with in-store and curbside pickup up 52% on 2019.

Adobe predicts Cyber Monday 2020 will see spending of between $10.8 billion and $12.7 billion.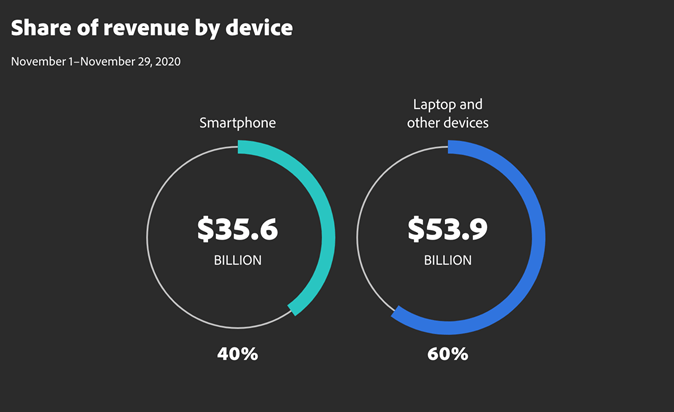 You can see the entire report here.
---
CRISIS LEADERSHIP NETWORK
Looking for more insight on how to address the current global crisis and lead your organization into a strong recovery?
Join Ragan's Crisis Leadership Network to network and brainstorm with peers, get the latest intelligence and research and start to strategize for the future of your organization.
Learn more about this exclusive membership here.
Salesforces aims to aquire Slack
Slack's shares rose 24% after news broke of the two companies discussing a deal. With the purchase, Salesforce could better compete with Microsoft, which has been focusing on boosting its Teams features as many organizations grapple with remote and dispersed employees. 
Forbes contributor Ilker Koksal wrote:
According to the mobile application analytics platform Sensor Tower, its app has been installed about 12.6 million times so far this year, up approximately 50% from the same period in 2019. And, Slack has always been more than a mere chat service. It enables companies to embed workflows, and this would fit well in the Salesforce family of products of sales, service, marketing and more.
Why it matters: The acquisition might mean that Slack's messaging platform will become more embraced across organizations seeking to connect employees while they work from home. Communicators should keep their eyes open, as the platform offers competitive advantages—and could be even more appealing when bundled with Salesforce's suite of offerings.
---
CRISIS COMMUNICATIONS
The Walt Disney Co. recently announced additional layoffs, bringing the number of job cuts from 28,000 to 32,000 employees. The layoffs will take place in the first half of 2021's fiscal year.
"Due to the current climate, including COVID-19 impacts, and changing environment in which we are operating, the Company has generated efficiencies in its staffing, including limiting hiring to critical business roles, furloughs and reductions-in-force," Disney said in its November SEC filing.
Additionally, Disney said apart from those being laid off, about 37,000 employees are on furlough as a result of "COVID-19's impact."
The increased number is due to continued park closures and limited attendance numbers during COVID-19. Though Disney World's parks in Florida and Asia remain open, the company's Disneyland Paris parks were forced to reclose in October after France issued another lockdown to combat its second wave of COVID-19 cases. Disneyland's parks in California have remained closed as well.
---
WORKPLACE WELLNESS
As communicators face unprecedented challenges around crisis management, shifting consumer behaviors and more—and as many work to connect, engage and support their employees as the workplace landscape dramatically changes—wellbeing has become an important focus.
That's why we launched Ragan's Workplace Wellness Insider. Our new offering is a treasure trove of research, guidance and insights for wellness, employee communications and HR pros. Get the help you need through our website, newsletter, Slack group, research, complimentary reports and more showcasing trends and revealing how organizations are addressing and managing their employees' wellbeing.
Subscribers also receive discounts on workplace wellness conferences, award entries and Ragan webinars, for additional takeaways and insights to help power your initiatives and strategies.
---
WHAT YOU SAID
We asked what you're thankful for, and the teams at Media Strategy Experts, Golin Miami and Connect2 Communications are grateful for outstanding clients:
We are thankful for our amazing clients who've worked with us through our adjustment from in-person to @zoom_us media training. It's a tough time to be a small business, but we're making it thanks to all of them!

— Media Strategy Experts (@experts_media) November 23, 2020
— GOLIN Miami (@GolinMIA) November 24, 2020
We are thankful for our amazing clients, colleagues, family, and friends for all that they do to make us who we are. pic.twitter.com/BHtiNfN0Kf

— Connect2 Communications (@Connect2_Comm) November 25, 2020
Communicators at ARPR gave thanks for each other, showcasing its agency culture:
We are thankful for our Army of Awesome. As much as 2020 changed things, the most important things stayed the same. https://t.co/UkE2XbcyiB

— ARPR (@AR__PR) November 23, 2020
Outside of work hours, Katya and PR student Trevor Stumpo are grateful for BTS and Netflix, respectively—sentiments many of us share as we seek content to entertain us as we stay apart.
I am thankful to @BTS_twt for giving us messages of hope, sharing their talents with us and helping so many over the world! Their music goes beyond borders, race, nationality, gender or taste! It makes us all their fans feel part of a big family! 💜

— katyа⁷ (@fr41l7y) November 23, 2020
— Trevor Stumpo (@TrevorStumpo) November 23, 2020
Is there a question you'd like us to ask in an upcoming poll? Let us know!
---
SOUNDING BOARD
How do you organize your projects and responsibilities as you balance campaigns and communications?
How do you organize your projects and responsibilities, PR and communications pros?

Share your tips and tricks with us below and under the #DailyScoop hashtag, and we'll share in tomorrow's roundup.

— PR Daily (@PRDaily) November 30, 2020
Weigh in via our Twitter poll or below and share your thoughts using the #DailyScoop hashtag.
Editor's note: Ragan Communications may earn a commission through our affiliate partnerships when purchasing items in our content.
COMMENT