The Academy boasts diversity efforts, Essence chief steps down, and 47% of marketers are creating more emotional content
Also: Ford and Disney team up on historic product launch, Facebook refuses to budge amid advertiser boycott, shift your attention to increase productivity, and more.
Hello, communicators:
Author, trainer and speaker Maura Nevel Thomas recently published a Forbes leadership piece focused on improving productivity which features four quadrants of attention management:
My latest for Forbes Leadership channel, detailing my 4 Quadrants of AttentionManagement model & a case study showing the results of productivity training with me at a medical device manufacturer: Make This Easy Mental Shift to Improve Your Productivity: https://t.co/bdHamJkuGS pic.twitter.com/uOydC186sA

— Maura Nevel Thomas (@mnthomas) July 2, 2020
Using "control" and "attention" as the chart's axes, Thomas argues that the most effective way to increase your productivity is to learn how to shift your attention.
Where do you fit in this chart—and how has crisis communications affected your attention management? Share your thoughts below and under #DailyScoop on Twitter.
Here are today's top stories:
The Academy's 2020 class highlights diversity and inclusion efforts
 The Academy of Motion Picture Arts and Sciences extended 819 invitations to its organization and announced its 2020 class is made up of 45% women and 36% "underrepresented ethnic/racial communities." Nearly half of the attendees (49%) are international, coming from 68 countries.
Say hello to our brand new class of Academy members. #WeAreTheAcademy https://t.co/jRJWPQYH1Y

— The Academy (@TheAcademy) June 30, 2020
In a press release, the Academy's chief executive, Dawn Hudson, said:
We take great pride in the strides we have made in exceeding our initial inclusion goals set back in 2016, but acknowledge the road ahead is a long one. We are committed to staying the course.  I cannot give enough thanks to all our members and staff who worked on the A2020 initiative and to our head of Member Relations and Awards, Lorenza Muñoz, for her leadership and passion in guiding us through to this point and helping to set the path going forward.  We look forward to continuing to foster an Academy that reflects the world around us in our membership, our programs, our new Museum, and in our awards.
Why it's important: Organizations across industries are facing more pressure than ever before to make meaningful diversity, equity and inclusion strides within their workforces and membership bodies, as well as adopting partnerships, campaigns and messages that are more inclusive. Evaluate your goals and how far you've come in achieving them, and make it a priority to adopt DE&I strategies that you can actually accomplish, but that also causes you to stretch.
---
SOCIAL BUZZ
The #StopHateForProfit Facebook boycott is underway, which includes more than 500 organizations. However, Facebook's co-founder and chief executive, Mark Zuckerberg, told employees that his "guess is that all these advertisers will be back on the platform soon enough," according to a report published by The Information.
"We're not gonna change our policies or approach on anything because of a threat to a small percent of our revenue, or to any percent of our revenue," Zuckerberg said.
The brand boycott has grabbed a plethora of headlines, but Marketplace reported the organizations involved make up "only a tiny fraction of Facebook's roughly 8 million advertisers."
"By pulling ads, they save money and make a low-risk statement that results in positive publicity and marketing for their brands among constituents," Gerard Francis Corbett, a communications strategy consultant based in Silicon Valley, told MarketWatch. "The Facebook boycott is a lower-risk way for CEOs to make a [political] statement."
Whether or not your organization is taking part of the boycott, ensure that the stands you adopt for social and political issues are backed by clear actions. Doing so will more effectively strengthen trust and bolster your brand reputation.
---
MEASURED THOUGHTS 
LinkedIn recently partnered with Vision Critical to publish a report on COVID-19's affect on marketing efforts, along with marketers' responses.
Most respondents (74%) said budget cuts presented a challenge, with 42% reporting decreased budgets as a large stumbling block for their campaigns. With decreased budgets and shifting consumer behaviors, many marketers are shifting their focuses and channels, with 40% moving events online and 67% producing webinars to reach and engage with their audiences: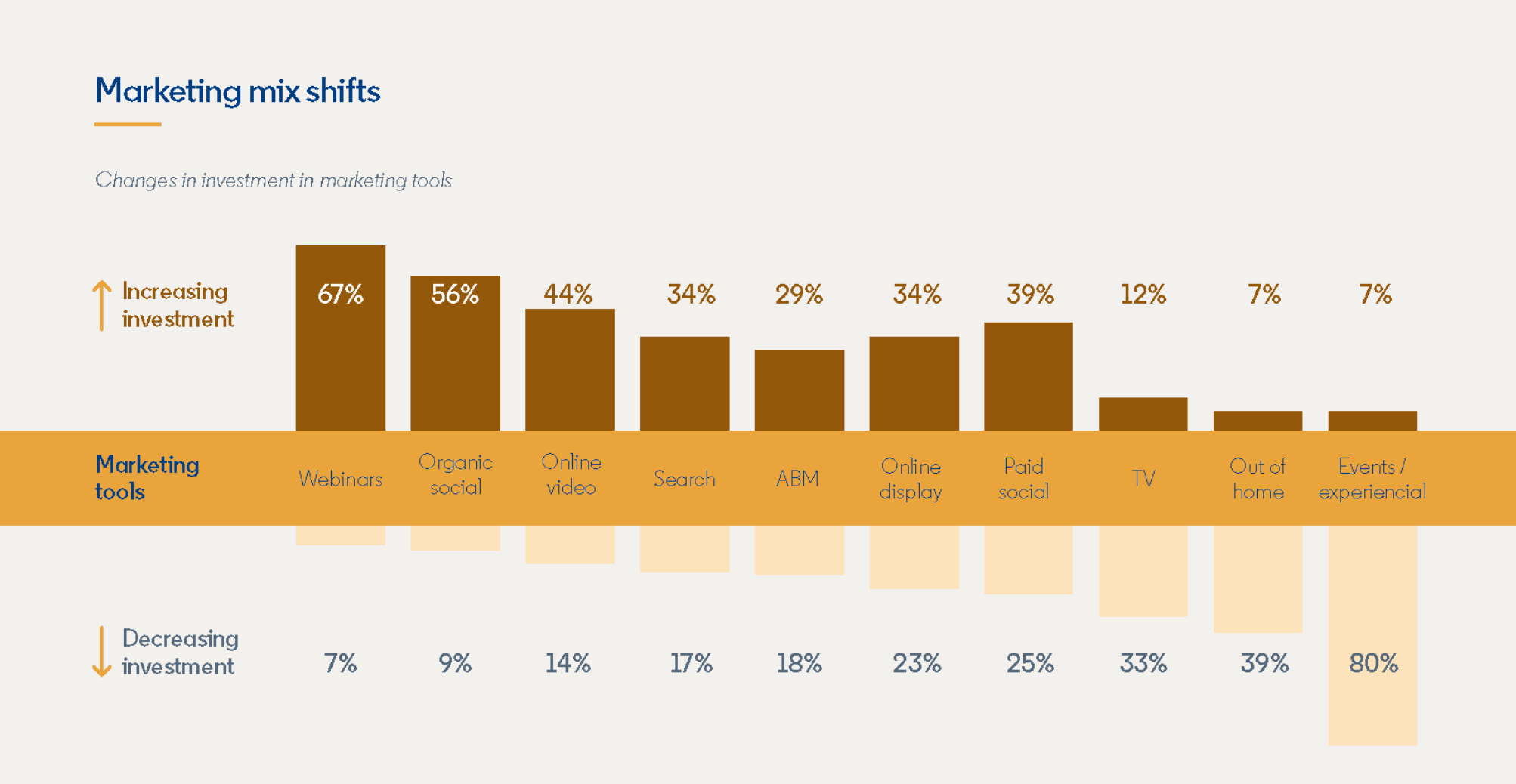 Marketers are also changing their content strategies, with nearly half (47%) increasing focus on human-centric and emotional content, 53% highlighting thought leadership and 46% emphasizing corporate social responsibility efforts: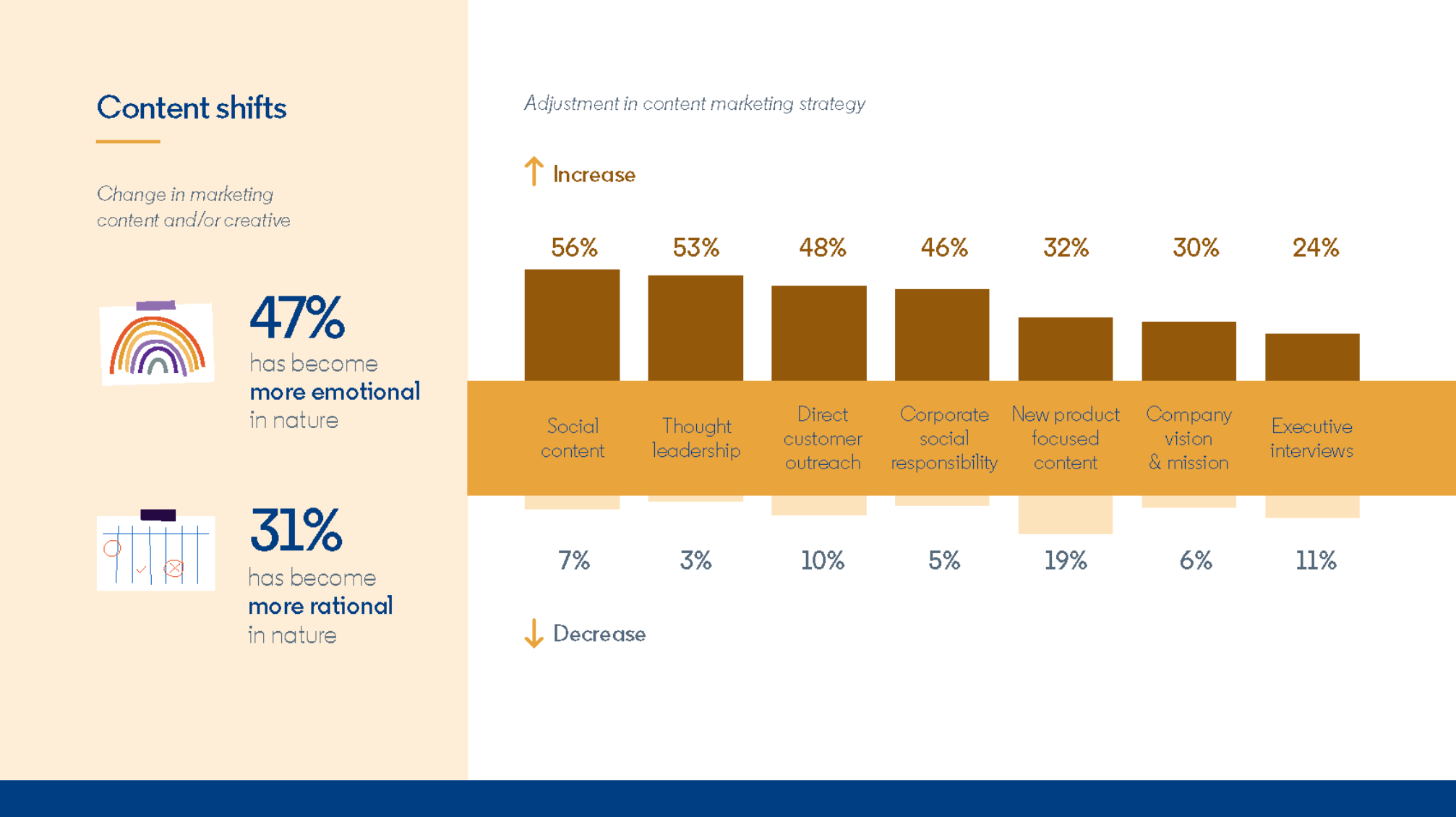 You can view the entire report here.
---
CRISIS LEADERSHIP BOARD
Looking for more insight on how to address the current global crisis and lead your organization into a strong recovery?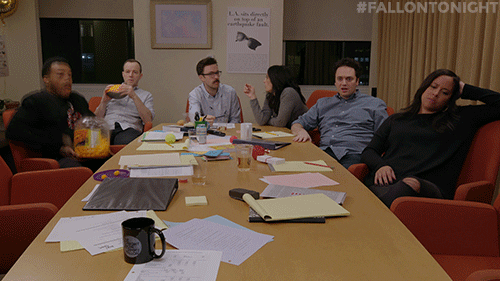 Join Ragan's Crisis Leadership Board to network and brainstorm with peers, get the latest intelligence and research, and start to strategize for the future of your organization.
Learn more about this exclusive membership here.
Essence Magazine owner resigns as chief
The media company's former chief executive, Richelieu Dennis, stepped down following allegations that he and other executives enabled a toxic work environment.
Though Essence at first denied the accusations, it later announced that Caroline Wanga, who recently joined the media company as its chief growth officer, would take over as interim chief of Essence Magazine. The company also announced it was hiring law firms and "other independent external experts" to investigate its corporate culture.
BREAKING NEWS: @Essence Communications just dropped a statement in my in inbox announcing that Carolina Wanga will step as interim CEO of the company, replacing Richlieu Dennis, who owns the magazine. 1/3 pic.twitter.com/DqpRBz5lOY

— rolandsmartin (@rolandsmartin) July 1, 2020
Why it's important: What happens behind organizations' closed doors can quickly become public, damaging brand image and destroying the trust built over years. As you focus on crisis response and creating new business models in light of shifting consumer behaviors, don't neglect your workforce culture or relegate it to a lower priority.
---
TAKE OUR SURVEY 
Ragan has partnered with PoliteMail to ask how COVID-19 has affected your role as a communicator, including what channels you're using more than ever before and what your organization's employees are asking.
When you have a moment today, please fill out this three-minute survey on the state of communications. Thank you! https://t.co/i3bgKR7DcF

— Ragan.com (@RaganComms) June 26, 2020
As a thank you, you'll receive a copy of the results, The State of Communication Summer 2020.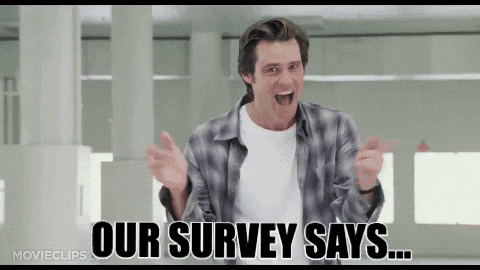 ---
TACTICALLY SPEAKING
Ford Motor Company is teaming up with Disney to launch its line of Bronco SUVs. The reveal is slated for July 13 across Disney's United States networks—including its broadcast and cable properties as well as its streaming and digital properties. It's the first time a brand has debuted a product line in this manner.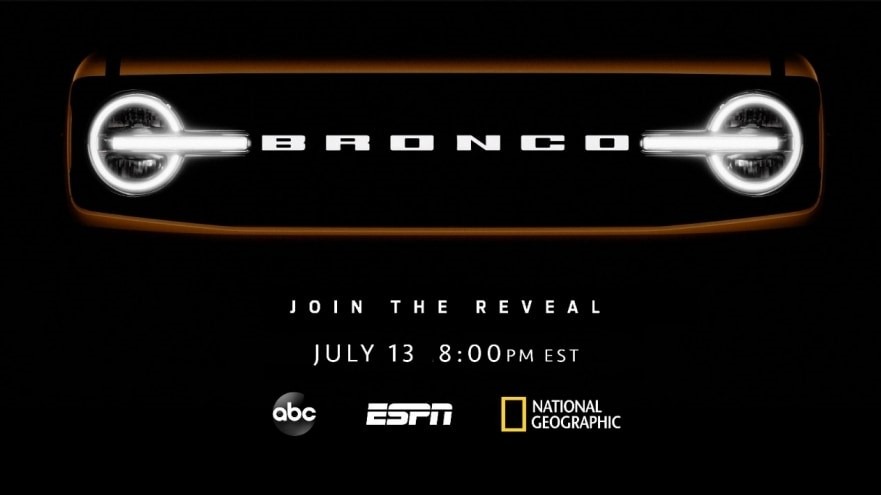 Image courtesy of Ford Motor Company.
"This is enormous for us. This is the return of an icon that people have just been clamoring about for years," Matt VanDyke, director of Ford U.S. marketing, told CNBC. "For us, this is just of huge importance and carefully crafted."
The effort represents future opportunities for organizations looking to break through the clutter of content and messages bombarding consumers' attention spans, especially as COVID-19 messaging dominates headlines and marketing budgets are slashed.
Ad money from large auto companies has been harder to come by in recent weeks. Amid the coronavirus pandemic, automakers are among the marketers paring back their spending. The number of 30-second TV ads from car companies was off by as much as 56% during the weeks of May 4 and May 11, according to Kantar, a tracker of ad spending. During the week of June 15, the number of 30-second ads from car companies was down 31% from the year-earlier period, according to Kantar.
---
WHAT YOU SAID
We asked what communications focus is currently taking up the majority of your focus (aside from crisis communications), and nearly 36% of you said social media is the name of the game, with more than 30% turning to media relations efforts. Nearly 23% said employee communications and engagement are priorities:
Besides crisis communications, what are you currently focusing on the most?

Share your thoughts under #DailyScoop.

— PR Daily (@PRDaily) July 1, 2020
---
SOUNDING BOARD
The Fourth of July and Canada Day, along with "holidays" such as National Social Media Day and National Doughnut Day, offer opportunities for brands to engage. How are you reacting to holidays during current crises?
The Fourth of July and Canada Day, along with "holidays" such as National Social Media Day and National Doughnut Day, offer opportunities for brands to engage. How are you reacting to holidays during current crises?

Share your thoughts under the #DailyScoop hashtag.

— PR Daily (@PRDaily) July 2, 2020
Weigh in below and share your thoughts under the hashtag #DailyScoop. We'll share when Ragan offices open again on July 6. Until then, have a good and safe holiday weekend.
COMMENT
One Response to "The Academy boasts diversity efforts, Essence chief steps down, and 47% of marketers are creating more emotional content"
Ronald N. Levy

says:

Should PR firms and departments fire executives who have reported unpopular opinions, who perhaps had an extramarital years ago or who have been flirtatious annoyingly?

PR Daily reports that Facebook is being boycotted by some advertisers for transmitting opinions considered dreadful
(which they may be since I haven't seen the opinions). Also that an accused executive is leaving Essence. Today's New York Times has a headline: "Fox News Fires Anchor After Accusation of Misconduct."

Ed Henry, the Fox Anchor, was forced out of his job says the Times "after several tabloids reported that he had engaged in an extramarital relationship with a woman he had met in Las Vegas."

Essence CEO Richelieu Dennis will be replaced as reported today by a USA Today story with this lead: "Essence magazine named new temporary leadership days after someone claiming to be an employee posted anonymous allegations of mistreatment and abuse within the company."

Should a PR firm or department fire any employee accused of an extramarital affair? How about editors of the Times, USA Today and PR Daily—should they continue to be employed if accused of infidelity or being annoyingly flirtatious?

How about if a site like Facebook didn't express opinions objected to but only transmitted them with attribution?

And how about our hospitals, schools and financial firms—should they continue to employ even great doctors and others who had an extramarital affair even "years ago" as the Times says of Ed Henry?

I don't know whether it was the Shakers or the Quakers but one of those groups is said to have required celibacy of all members. I guess it must have been Shakers since there have been many generations of Quakers. But should celibacy or a "never on Sunday" rule qualify PR execs and editors for faster promotions?

Is PR Daily missing a bet by giving awards only for excellence of PR achievement, not also for excellence of abstinence?

Or in truth, should firing people over their social lives or opinions be unlawful discrimination? If you are fired for an alleged extramarital affair years ago—or for being accused anonymously of flirting annoyingly —should you in fairness be able to sue for wrongful discharge?