The most valued skill for comms leaders, Capitol One's message on overdraft fees centers inclusion, and CNN suspends Chris Cuomo
Also: Planters launches holiday 'nutstalgia' campaign, Biden administration holds listening sessions about data privacy, and more.
Hello, communicators:
Planters is launching a "nutstalgia" holiday campaign featuring its iconic mascot, Mr. Peanut, engaging in festive "shellebration." From now until Dec. 31, fans can enter for the chance to win a "nutstalgia" gift box that includes '80s Planters swag, a retro board game, a Bluetooth boombox and more.
Planters partnered with "Family Matters" and "Die Hard" actor Reginald VelJohnson to create a music video, "A Nutty Holiday," announcing the campaign:
"Over the past 115 years, the Planters brand has been a part of everyone's holiday celebrations," Planters associate marketing director Jaynee Dykes said in a statement shared with PR Daily. "We are excited to keep this tradition alive by kicking off the holidays with a new music video featuring Reginald VelJohnson that reminds people what truly adds substance to the season."
Planter's pun-laden release shows the effectiveness of leaning into nostalgia with your seasonal messaging.
Here are today's top stories:
Capitol One highlights inclusion with move to nix overdraft fees
Yesterday, Capitol One announced that it will eliminate all overdraft and non-sufficient fund fees (NSF) for its consumer banking customers. Customers opted into overdraft protection will be converted to no-fee overdraft protection, and customers without this service can opt in at any time.
Those without overdraft protection will still not see any fees, and any transactions that overdraft an account will simply be declined with no fee accrued.
According to its press release:
"The bank account is a cornerstone of a person's financial life," said Richard Fairbank, Capital One's founder and CEO. "It is how people receive their paycheck, pay their bills and manage their finances. Overdraft protection is a valuable and convenient feature and can be an important safety net for families. We are excited to offer this service for free."

…"Capital One's complete elimination of overdraft and NSF fees is a landmark moment for American families," said Lauren Saunders, Associate Director, National Consumer Law Center. "This move by Capital One will have tremendous benefits for the most vulnerable consumers. It's critical we keep working to make the banking system more inclusive and fair for all."
Why it matters:
This news makes Capitol One the largest American bank to eliminate overdraft fees, a claim the company prominently displays. The release's inclusion of a quote from Lauren Sanders tethers the announcement to a larger national conversation around how banking fees often come at the expense of an institution's most vulnerable customers—poor and underrepresented communities.
Fairbank's statement puts customers first in a time when financial security is top of mind for many consumers. The order of Fairbank's points offers an exmaple to follow: Start with the "why" behind you decision and address the needs of those the decision affects at the top before explaining the decision from your company's perspective.
---
MEASURED THOUGHTS
A newly released study by HarrisX and Ragan Communications found that 30% of communications leaders consistently view writing as the most important skill for communicators to possess, compared to team leadership abilities (18%) and project management skills (10%).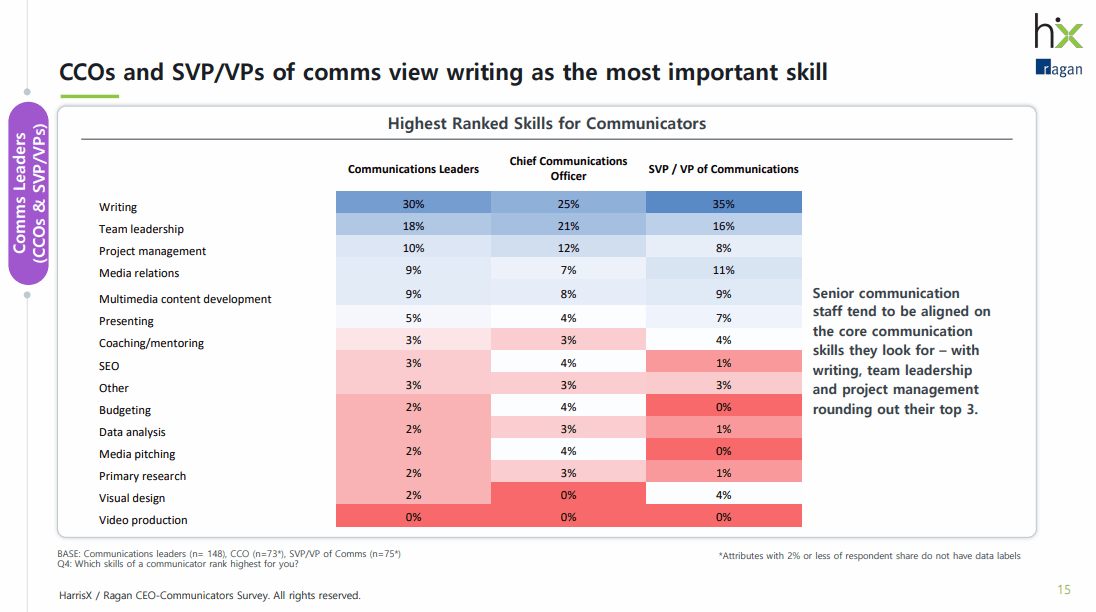 These findings emphasize the fact that writing is a core competency communications leaders look for in their teams. It has remained a cornerstone skill despite the emergence of many image and video-first mediums that many communicators use to reach their audiences.
The journalists you pitch are more likely to engage with someone who they respect as a writer, too. The ability to adjust the language and composition of your message for distinct audiences also requires nimble, versatile writing abilities that aren't going away anytime soon.
Check out the full study here.
---
TECH TALK
The Commerce Department's National Telecommunication and Information Administration (NTIA) announced plans to hold listening sessions to better understand how data privacy issues intersect with civil rights concerns for online users. Journalists see this attempt by the Biden administration to better understand the impact of data collection practices as the first step on the path toward federal data privacy legislation.
According to an agency notice:
The National Telecommunications and Information Administration (NTIA) will convene three virtual Listening Sessions about issues and potential solutions at the intersection of privacy, equity, and civil rights. The sessions will help to provide the data for a report on the ways in which commercial data flows of personal information can lead to disparate impact and outcomes for marginalized or disadvantaged communities.
The NTIA's approach illuminates a clear connection between data privacy and DE&I. Before any imminent federal legislation on data privacy collection is enacted, partner with your marketing and audience development teams to ensure their methods are equitable and carefully communicated to your audiences in language that they can follow.
---
Announcing the PR Daily Leadership Network
PR Daily is launching the PR Daily Leadership Network, a unique membership group from Ragan Communications offering peer-to-peer advisory and team training along with a unique slate of resources and events to help public relations professionals break through the noise, increase their visibility and forge meaningful connections.
The Network provides daily insights and coverage on a range of topics including media relations, social media, measurement, Diversity, Equity & Inclusion, branding, thought leadership and crisis communications.
"The fast pace of change coupled with the demand on public relations professionals to protect and sometimes defend their company's reputation make it imperative for leaders to tap into the wisdom of other communicators and continue to learn and grow," says Diane Schwartz, CEO of Ragan Communications. "The PR Daily Leadership Network provides the answers but also encourages members to question the status quo and push for positive change."
Visit leadership.prdaily.com to learn more.
CNN explains decision to suspend Chris Cuomo
CNN says it suspended Chris Cuomo after the network learned new information around how the primetime anchor helped his brother, former New York Gov. Andrew Cuomo, navigate a recent sexual harassment scandal.
"The New York Attorney General's office released transcripts and exhibits Monday that shed new light on Chris Cuomo's involvement in his brother's defense. The documents, which we were not privy to before their public release, raise serious questions. When Chris admitted to us that he had offered advice to his brother's staff, he broke our rules and we acknowledged that publicly. But we also appreciated the unique position he was in and understood his need to put family first and job second," CNN said in a statement Tuesday evening. "However, these documents point to a greater level of involvement in his brother's efforts than we previously knew. As a result, we have suspended Chris indefinitely, pending further evaluation."
Variety also noted CNN's previous efforts to address blowback that occurred from the Cuomo brothers frequently appearing together on-air, which some considered a journalistic conflict of interest:
"The early months of the pandemic crisis were an extraordinary time," CNN said in a statement in February. "We felt that Chris speaking with his brother about the challenges of what millions of American families were struggling with was of significant human interest."
Chris Cuomo addressed his suspension from CNN during a recent episode of his podcast:
Chris Cuomo responds to suspension from CNN on his radio show:

"It hurts to even say it. It's embarrassing. But I understand it. And I understand why some people feel the way they do about what I did. I've apologized in the past, and I mean it." pic.twitter.com/AgbQs1mL0h

— The Recount (@therecount) December 1, 2021
Several Twitter users felt that the apology missed the mark:
How he feels is pretty irrelevant. It's what he did that's the problem.

— Pierre Asselin (@PierAsselin) December 2, 2021
…. But not embarrassed by the underlying misconduct and complete lack of journalistic integrity that led to the suspension. Only sorry he got caught.

— Bryan Taylor (@BryanTaylorAL) December 2, 2021
What it means:
CNN's decision to suspend Cuomo reignites larger conversations that have dogged broadcast media brands for years, from accusations of nepotism to compromised journalistic ethics. While CNN's statement transparently shares a timeline around when it learned additional information and how it acted, its failure to address the larger implications of the scandal leaves room for critics of the brand to draw their own conclusions about the company's actions.
Cuomo's response, which also demonstrates a lack of concern for the wider issues at hand,  suggests that the company didn't specify any terms in his suspension around what he could and couldn't say. This is a reminder that you should partner with your legal team to craft separation language that protects the brand by anticipating reputational blowback.
COMMENT
2 Responses to "The most valued skill for comms leaders, Capitol One's message on overdraft fees centers inclusion, and CNN suspends Chris Cuomo"
Ronald N Levy

says:

If it's admirable for a newscaster to work hard in personal time for children's rights, Black rights, women's rights and gay rights, is it no disgrace for Chris Cuomo to work hard on his own time for the rights of his brother?

For those of us who believe in the American principle that each of us has a right to be presumed innocent unless we are tried and found guilty, then since Andrew Cuomo has been neither found guilty nor even tried, he's presumably innocent. In all fairness, does Chris Cuomo deserve a right to counsel his presumably innocent brother?

Almost every great American company—including Amazon, Apple, Exxon, Facebook, Google, and Walmart plus all American car companies, chemical companies and healthcare companies—has been accused and will be accused a lot more. So are we guilty if we believe these are nonetheless GOOD companies so we are glad to buy what they sell and we'd like CNN to not only admit a presumption of innocence toward our companies but actually practice it?

If all have sinned, then each one of use and Andrew Cuomo has sinned but should CNN think it's okay for our brothers and sisters and co-workers to believe that each of us has goodness and it's okay for our brothers and sisters to try to help us?

Those who hire for PR jobs want not only the brightest but also the ones who'll CARE the most and work the hardest for the company. Are PR recruiters at fault for feeling this loyalty and in looking for it from job candidates?

A brother in not guilty for feeling what our great religions advocate, brotherly love.

Ronald N Levy

says:

Chris Cuomo faced the same question each of us will face if our brother or our CEO comes under attack: should we do everything we can within the law to protect our brother or CEO, or should we ask some people for non-secret information but not other people? WHAT if anything is Chris Cuomo's sin?

If we are in the hospital and our lives are in danger, should our doctor do everything possible to save us or do some things but not others? If we are on trial facing a death sentence or life in prison, should our lawyer try everything within the law to save us? How about our cleaning ladies and car mechanics, have they a moral obligation to protect us even if we are not family?

For the nuclear electricity industry I once got over 100 million circulation for the question "which statement would you trust more, 'you can be sure if it's Westinghouse, [which made nuclear generators}' or 'you can be sure if it's Mideast oil minister sheik Ahmed Zaki al-Yemani'?

If the sheik had been our client we would have asked who would you trust more, a multibillion dollar company eager to make more and more billions, or an executive who doesn't have billions but has five children who
need oil heat just as our children do?

When couples marry to have and to hold for better or for worse, in sickness and in health, and if Chris Cuomo feels something like that about his brother Andrew in sickness and in health, for better or for worse, does it violate his duty to CNN if Chris Cuomo feels brotherly love?

In truth, might the world be better off with not less brotherly love but more?