United Airlines offers COVID-19 tests, Twitter to suggest a closer read before tweeting, and Kraft Canada offers pumpkin spice mac 'n cheese
Also: Nike aims for half of its revenue to come from online sales, a humorous look at social media management through Bingo, Qantas offers up its retired drink carts, and more.
Hello, communicators:
Higher education social media manager Amber recently tweeted a humorous Bingo card to which community managers can relate:
Social Media Manager Bingo: Round Two. pic.twitter.com/WctZV4Ppvj

— Amber (@ambpersand) September 22, 2020
She later added:
Really wish I'd had space for "asked for the original image but they just sent you a screenshot instead." https://t.co/QUY5vHAFMZ

— Amber (@ambpersand) September 22, 2020
What squares would you add to the board? Share your thoughts and results with us under the #DailyScoop hashtag.
Here are today's top stories:
United offers COVID-19 tests to passengers
The airline is the first in the United States to offer travelers same-day and mail-in COVID-19 tests, which will be available to passengers on its route from San Francisco to Hawaii:
United is the first U.S. airline to make mail-in and same-day COVID-19 tests available for travelers flying from San Francisco to Hawaii. With a negative test result, you can skip Hawaii's 14-day quarantine and get straight to vacationing safely. 😎 🌴🌺 https://t.co/Y6Yr1VDrTP pic.twitter.com/EOScnSln5k

— United Airlines (@united) September 24, 2020
Travelers will have to take the test within 72 hours before their flight arrives in the islands in order to bypass the state's strictly enforced 14-day quarantine. Both tests will allow travelers to satisfy the 72-hour window required by Hawaii's new testing program.

If all goes well, United hopes to expand testing to other cities by year's end.
Why it's important: As airlines and other travel organizations look to entice consumers back, expect additional offerings including COVID-19 tests and features that can expedite quarantine requirements, along with a doubling down on safety messaging.
---
TACTICALLY SPEAKING
 Kraft Heinz Canada is jumping on the pumpkin spice bandwagon in time for fall with its Pumpkin Spice Kraft Dinner:
We're whipping up some new KD, and it's no basic batch. There's only 1000. Sign up to claim yours at https://t.co/R14oHhc8Ab pic.twitter.com/cXcjovsbYs

— Kraft Dinner (@kraftdinner) September 22, 2020
🎶 @AndrewJRoot
Spittin' bars for bowls of P.S.K.D
That's somethin' new we ain't ever seen.
Everyone's been tweetin' "Oh please, please, please"
But this rap just earned you some free Mac and cheese. #PumpkinSpiceKD Multiple musical notes 🎶 https://t.co/SbaL9BHOg0 pic.twitter.com/Yr7NClzKHS

— Kraft Dinner (@kraftdinner) September 23, 2020
Consumers must sign up to be chosen as one of the 1,000 able to receive the limited edition concoction, which Kraft humorously describes:
Ever wondered what KD with Pumpkin Spice would taste like? Like if your mac and cheese had hints of cinnamon, dashes of allspice, and layers of ginger, nutmeg, and cloves all slathered in KD cheese? Probably not, but we made it anyway.
The Kraft Heinz Company is considering bringing it to the United States as well:
Our @KraftDinner friends in Canada had the idea to make pumpkin spice Kraft Mac and Cheese – and now we want to bring it to the US! Who'd give it a try?! 🎃🧀

— Kraft Macaroni & Cheese (@kraftmacncheese) September 24, 2020
Do you want to win a box of limited edition Pumpkin Spice Kraft Mac & Cheese? Of course you do! Tag us in a tweet with #PumpkinSpiceKMC + #Sweepstakes for a chance to win.
No purchase necessary. 18+. Ends: 9/29/20. Rules:https://t.co/9jcGAJfec2 pic.twitter.com/VggsDrsjAl

— Kraft Macaroni & Cheese (@kraftmacncheese) September 25, 2020
The wacky move isn't meant to become a regular offering, but rather, to prompt headlines and social media conversations, which will hopefully boost sales and brand awareness.
---
MEASURED THOUGHTS
Before COVID-19, Nike's goal was to expand its e-commerce sales to 30% of its total revenue by 2023, but in a recent report, the company said online sales made up more than 30% of its revenue in the latest quarter alone. It's now aiming to make e-commerce sales make up 50% of its revenue numbers moving forward.
Even as most of its stores were reopened, Nike's digital sales soared 82% during the fiscal first quarter, pushing revenue ahead of analysts' estimates.

"Nike's decision to evolve into a digital-first organization has proved prudent, as the crisis continues to push consumers toward the digital channel," Susquehanna analyst Sam Poser said. "Digital momentum is sticky. … [And] Nike has embraced the structural shift of consumer shopping habits from traditional brick-and-mortar to digital and will, in our view, continue to capitalize on this shift."
The news boosted Nike shares almost 11% on Wednesday, according to Investing.com: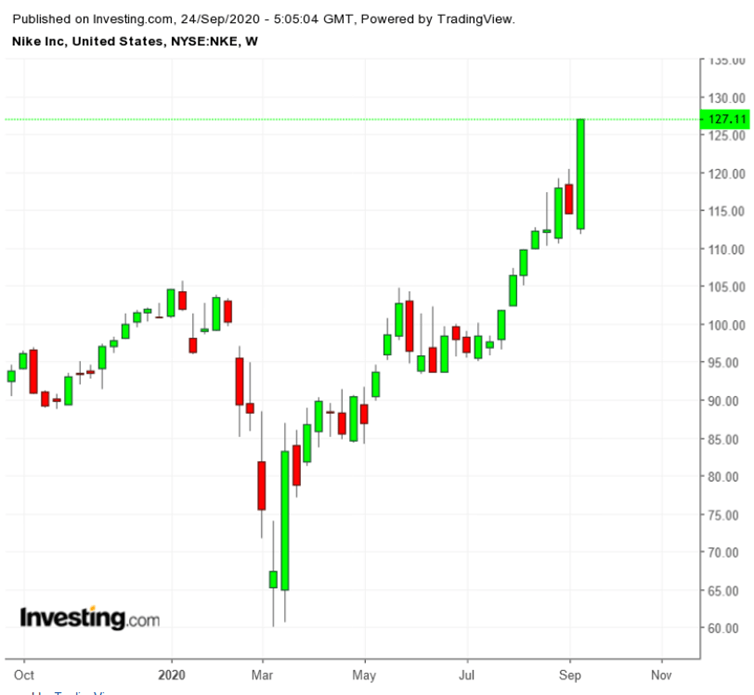 Image courtesy of Investing.com.
The report is a great reminder of the growing importance of e-commerce, so consider how you can support digital-first messaging and content within your next campaign or product launch.
---
CRISIS LEADERSHIP NETWORK
Looking for more insight on how to address the current global crisis and lead your organization into a strong recovery?
Join Ragan's Crisis Leadership Network to network and brainstorm with peers, get the latest intelligence and research and start to strategize for the future of your organization.
Learn more about this exclusive membership here.
---
Twitter to ask users to 'read the article'  
Twitter's test to encourage its users to read articles before sharing them was a success, with the social media platform reporting people opened articles 40% more after seeing the prompt and 33% more people opened articles before retweeting:
📰 More reading – people open articles 40% more often after seeing the prompt
📰 More informed Tweeting – people opening articles before RTing increased by 33%
📰 Some people didn't end up RTing after opening the article – which is fine! Some Tweets are
best left in drafts 😏

— Twitter Comms (@TwitterComms) September 24, 2020
Because of its success, Twitter will roll out the feature to all users worldwide, and will make the prompt smaller for users who have already seen the warning once:
What's next:
🔜 Making the prompt smaller after you've seen it once, because we get that you get it
🔜Working on bringing these prompts to everyone globally soon 👀 pic.twitter.com/08WygQi06G

— Twitter Comms (@TwitterComms) September 24, 2020
 Why it's important: By encouraging users to read before responding and sharing, Twitter is helping to promote more informed discussions as well as decrease misinformation and misunderstanding, which can often occur with sensational and viral headlines.
---
DOWNLOAD OUR REPORT 
Though 70% of communicators are not looking beyond 2020 in terms of strategic planning, they also don't expect our current state of crisis to ease up by the end of the year. Operating in a constant state of crisis and rapidly responding to events throughout the world are top challenges for communicators, our recent report, Ragan Survey of Internal Communicators, revealed.
The survey sheds light on top challenges, with insights including top issues, what the "return to the office" looks like, which departments internal communicators will collaborate with the most and more.
To learn more about how to rise to the challenges facing organizations across industries, join us at Ragan's Internal Communications & Employee Experience Virtual Conference on Oct. 14. You'll learn from internal and employee communications experts from National DCP, Deloitte, Charles Schwab, American Psychological Association and more.
---
EDITOR'S PICKS
Whether you're in back-to-back meetings or are delivering a virtual presentation or interview, we're spending more time than ever in front of the camera and on Zoom, Microsoft Teams, GoToMeeting, BlueJeans and beyond. Thinking of upgrading your WFH setup? You can grab better lighting, a microphone and other items to help your content sing—without busting your budget.
Check out these solutions:
---
TACTICALLY SPEAKING  
Qantas is retiring its Boeing 747 fleet, but the airline is offering up the planes' beverage carts to interested consumers.
In a press release, Qantas wrote:
These pre-loved carts served Qantas and our customers well during their world travels from London and Los Angeles to Singapore and Santiago, with each one averaging around 2,000 flights. While we no longer have use for them, they still have life in them, especially for those with an appreciation for quirky aviation collectables and an eye for unique design.
The full-size cart costs $1,474.70 and the half-size offering is $947.70, which includes delivery costs. Each contain mini bottles of alcohol, including white and red wine, Business Class amenity kits, as well as a First Class Sheridan throw and Business Class sleeper suits.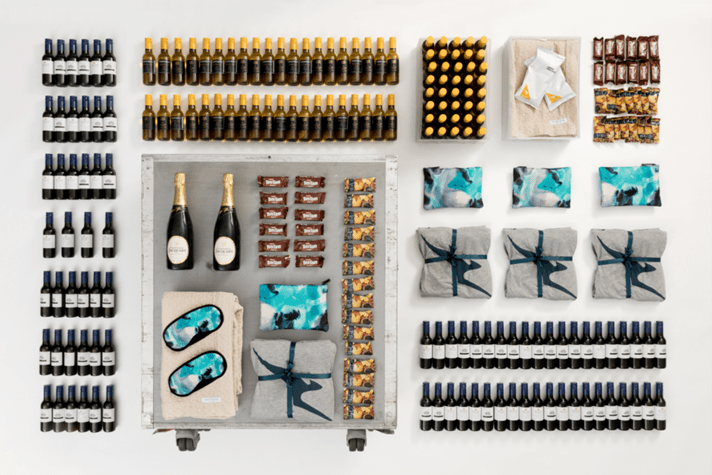 The offering is an innovative way of boosting revenue during COVID-19, wrapped into a sustainability effort. As more organizations create merchandise for brand ambassadors and fans, consider what you can offer.
---
SOUNDING BOARD 
Are you listening to podcasts, communications pros?
Are you listening to podcasts, communications pros?

Share your thoughts and favorites with us below and we'll share in Monday's #DailyScoop.

— PR Daily (@PRDaily) September 25, 2020
Share your thoughts and favorites with us below and we'll share in Monday's #DailyScoop.
Is there a question you'd like us to ask in an upcoming poll? Let us know!
Editor's note: Ragan Communications may earn a commission through our affiliate partnerships when purchasing items in our content.
COMMENT
One Response to "United Airlines offers COVID-19 tests, Twitter to suggest a closer read before tweeting, and Kraft Canada offers pumpkin spice mac 'n cheese"
Ronald N. Levy

says:

PR puzzler: what do you do with a passenger who is positive—let him or her on another plane to fly home with unsuspecting passengers? Or say "no flying with us until cured so go home with someone else?"

Can we sue an airline that knowingly puts a sick passenger on our flight? Or a carrier that pays for Covid tests but says "we paid for the tests but we didn't know who was positive so we couldn't alert nearby passengers to get tested"?

The answer may be to not GIVE the tests but give passengers the money so THEY can buy the tests.

I love great hospitals like NYU Langone and Memorial Sloan Kettering Cancer Center because in addition to top doctors they give patients highly trained, top-of-the-class NPs (nurse practitioners) who guide patients to avoid all kinds of health troubles.

At NYU Langone, a nurse practitioner is sometimes the "doctor in charge" of the whole emergency room with MDs and nurses under her. At MSKCCs famous lymphoma and blood cancer department, an NP guides patients on what to drink so a dangerous level of potassium in the patient's blood doesn't cause kidney trouble: every day, 4 to 8 glasses of water. Water!

PR, the first two letters of "preventive medicine" can lead to not only better public relations but importantly for airlines and hospitals alike, better health.