Washington Redskins and Cleveland Indians consider rebrands, Vogue Portugal pulls psych ward cover, and Uber acquires Postmates for $2.65B
Also: Netflix hires Bozoma Saint John as new chief marketer, Stouffer's pleases a fan with birthday drawing, employees want more diverse workforces, and more.
Hello, communicators:
Netflix recently hired Endeavor's Bozoma Saint John as its new chief marketing officer.
The news comes as organizations are focusing on fulfilling commitments to increase diversity within their workforces, particularly executive positions. Saint John brings marketing acumen to the role, with former leadership positions at Endeavor, Uber, Apple, PepsiCo and more. She also carries a reputation for achieving meaningful diversity, equity and inclusion aims.
Saint John has been a champion of diversity in business. In her role at Endeavor she worked with their client Papa John's after the CEO was fired for using racist language. In an interview on NPR, Saint John said, "When companies face that kind of situation, they have to do everything in their power to essentially rehabilitate. Rehabilitation is not just surface. It can't just be the brand. It's not a new commercial you put on air. There's something wrong with your culture." She worked with Papa John's to increase opportunities for economic advancement through franchising for people of color and to increase female representation at the executive level.
The move can serve as inspiration as you help your organization fulfill its DE&I goals.
Here are today's top stories:
Washington Redskins and Cleveland Indians consider rebrands
The two sports teams recently announced that they're considering changing their names and logos.
The National Football League team's owner, Dan Snyder, said its process will "take into account not only the proud tradition and history of the francise but also input from our alumni, the organization, sponsors, the National Football League and the local community":
— Washington Redskins (@Redskins) July 3, 2020
The Cleveland, Ohio Major League Baseball team said in its statement that it "fully recognizes [its] team name is among the most visible ways in which [it] connect[s] with the community":
— Cleveland Indians (@Indians) July 4, 2020
Why it's important: As organizations across industries continue to grapple with issues of social justice and racial inequality, many are dropping offensive terms or adjusting messages and processes to be more inclusive. If you haven't evaluated your messaging and business practices, now is the time. Don't wait to be called to the carpet because of an offensive or racist name or logo, because your acquiescence won't be seen as sincere.
---
TACTICALLY SPEAKING
Uber is acquiring Postmates for $2.65 billion in an all-stock deal. The Postmates app will continue running as Uber merges the technology as well as delivery processes between its recent acquisition and its own service, Uber Eats.
"Uber and Postmates have long shared a belief that platforms like ours can power much more than just food delivery—they can be a hugely important part of local commerce and communities, all the more important during crises like COVID-19. As more people and more restaurants have come to use our services, Q2 bookings on Uber Eats are up more than 100% year on year. We're thrilled to welcome Postmates to the Uber family as we innovate together to deliver better experiences for consumers, delivery people, and merchants across the country," said Uber CEO Dara Khosrowshahi in a statement.
The merger comes after Uber tried to acquire competitor Grubhub (the deal fell apart after antitrust criticism) and as the COVID-19 crisis has caused the ride-hailing startup to focus more on food delivery.
The virus has taken its toll on Uber, with riding-hailing down about 80 percent. And with the number of cases spiking in many parts of the US, the company's losses could continue to mount. Meanwhile, bookings in its Uber Eats division were up more than 54 percent year over year, thanks to increased demand for food deliveries, the company reported in May.
---
MEASURED THOUGHTS
Clutch's 2020 Diversity and Inclusion Survey revealed that though nearly 76% of employees think discrimination is an issue at organizations in the United States, only 44% think it's an issue at their own organizations. That statistic changes when you only look at responses from African-American employees, however, with 64% reporting that their workplaces are challenged with both racism and discrimination.
The difference between responses might come from how workers notice microaggressions, such as discriminatory comments, gestures and more—something that employees who do not belong to a marginalizied group are more likely to overlook.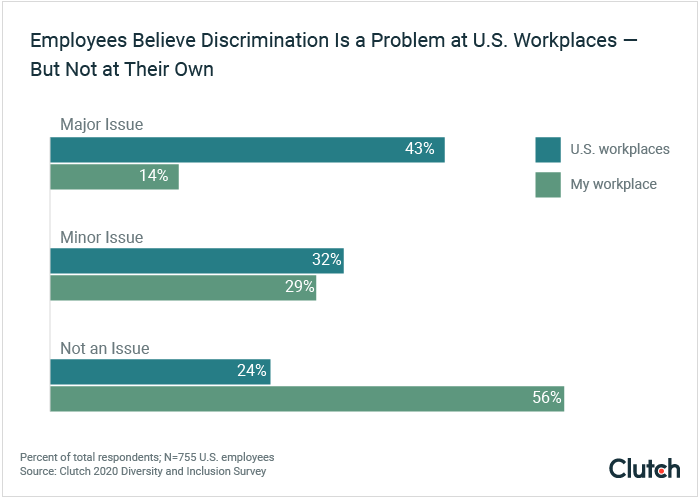 Regardless of whether they think racism and discriminiation are issues within their own company cultures, more than half of employees want their organizations to address George Floyd's death and the continuing racial justice protests (55% of U.S. employees and 59% of African-American employees).
"Addressing" the crisis comes in many forms, and employees list discussions with leadership as a top action, followed by hiring a more diverse workforce and donating to organizations supporting racial equality.
 If you're organization has delayed addressing George Floyd and the Black Lives Matter movement, you can still make your voice heard. Start by listening to your employees and amplifying voices of those marginalized, wherever possible.
You can read the rest of Clutch's study here.
---
CRISIS LEADERSHIP BOARD
Looking for more insight on how to address the current global crisis and lead your organization into a strong recovery?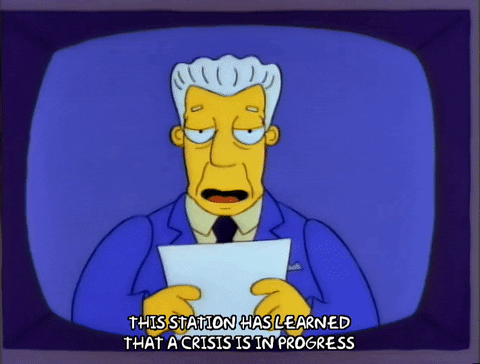 Join Ragan's Crisis Leadership Board to network and brainstorm with peers, get the latest intelligence and research, and start to strategize for the future of your organization.
Learn more about this exclusive membership here.
Vogue Portugal pulls cover featuring psychiatric ward
The magazine published four covers for its "Madness Issue," one of which featured a model sitting in a hospital bathtub as two nurses in dated uniforms attend to her. The backlash was swift across Instagram and Twitter.
THE MADNESS ISSUE.
It's about love.
It's about life.
It's about us.
It's about you.
It's about now.
It's about health.
It's about mental health. #themadnessissue It's about time.

Pre-order the july/august issue at https://t.co/7vQX0f1u8F pic.twitter.com/3PX5nUWOPb

— Vogue Portugal (@VoguePortugal) July 2, 2020
At first, Vogue Portugal defended the cover and issued the following explanation:
One of the covers portrays a hospital scene where the model is being taken care of by her real life mother and grandmother, shot by photographer Branislav Simoncik. Our intention is to open up the topic of mental health, and bring to the discussion the institutions, the science and the people that are involved with mental health today. The cover story explores the historical context of mental health and is designed to reflect real life and authentic stories, inspired by deep research of hundreds of reportage photographs from some of the most relevant and famous documentarists who have captured mental health hospitals. Inside the issue, features interviews and contributions from psychiatrists, socialologists, pychologists and other experts in the field. Mental health forms just one of the topiics explored within the issue and is not linked to the theme of madness, but instead covered as an aspect of human emotions and behavior.

We acknowledge the significance of the topic of mental health and our intention, through visual storytelling, is to shine a light on the important issues of today.
Poorna Bell, a journalist and author who has spoken up about mental health advocacy since losing her husband to suicide, said on Twitter that Vogue Portugal's defence was "unbelievable.
"The discussion has been had," she wrote. "You're late to the table and offensive.

"I don't have patience or time for people and brands that in the face [of] overwhelming upset and evidence around why what they've done is problematic, cannot apologize and say they […] will do better."
As criticism continued—and as people struck out against Vogue's statement—the publication pulled the cover and issued a mea culpa, which read, in part:
Vogue Portugal deeply apologizes for any offence or upset caused by this photo shoot. On reflection, we realize that the subject of mental health needs a more thoughtful approach. We sincerely apologize for this.
— Vogue Portugal (@VoguePortugal) July 6, 2020
Why it's important: Don't use sensitive topics and hot-button issues as fodder for controversial campaigns, messaging or images. As more consumers are urging brands across industries to take a stand on social and political issues—and as communicators look to address employee wellness as many workforces remain remote—mental health is becoming a more frequent topic of conversation. You can quickly tarnish your organization's reputation if it appears you're capitalizing off the controversy or seeking to grab attention, instead of addressing the issue.
Navigate these issues by first listening to your employees, consumers and other stakeholders.
---
TAKE OUR SURVEY 
Ragan has partnered with PoliteMail to ask how COVID-19 has affected your role as a communicator, including what channels you're using more than ever before and what your organization's employees are asking.
When you have a moment today, please fill out this three-minute survey on the state of communications. Thank you! https://t.co/i3bgKR7DcF

— Ragan.com (@RaganComms) June 26, 2020
As a thank you, you'll receive a copy of the results, The State of Communication Summer 2020.
---
SOCIAL BUZZ
Stouffer's social media team recently made a loyal consumer smile with a birthday greeting containing a custom cartoon:
Happy birthday to YOU!

We made you something special ❤ pic.twitter.com/6unkR0cwI4

— Stouffer's (@stouffers) July 6, 2020
The effort is a great example of watching and responding to fans in ways that puts the focus on them, instead of your brand's messaging. Consider how you can thank your brand ambassadors.
---
WHAT YOU SAID
We asked how you're reacting to holidays during COVID-19 and Black Lives Matter protests, and nearly 70% of you are thoughtfully selecting the events to which you're joining the conversation. Roughly 17% of you are sharing content as usual for holidays that include the Fourth of July as well as National Social Media Day, while almost 9% of you are stopping your participating as you adopt a more serious online tone.
The Fourth of July and Canada Day, along with "holidays" such as National Social Media Day and National Doughnut Day, offer opportunities for brands to engage. How are you reacting to holidays during current crises?

Share your thoughts under the #DailyScoop hashtag.

— PR Daily (@PRDaily) July 2, 2020
---
SOUNDING BOARD
What's the biggest stumbling block to you adapting a wellness program as you adjust to the "new normal?" How about for your workplace?
PR and communications pros: What's the hardest part about adopting a wellness routine as you adjust to the "new normal?"

Share how you're finding workplace wellness below and under #DailyScoop, and join us at 3 p.m. Eastern time tomorrow for a #RaganChat all about wellness!

— PR Daily (@PRDaily) July 6, 2020
Weigh in below and share your thoughts under the hashtag #DailyScoop. Also, join us on July 7 at 3 p.m. Eastern time as we discuss wellness and workplace wellbeing in our Twitter #RaganChat.
COMMENT