Wells Fargo CEO apologizes for diversity comments, Uncle Ben's rebrands as 'Ben's Original,' and Walmart to hire 20,000 for digital-first holiday shopping
Also: Citi reveals the economic cost of racism and racial inequality, Pinterest adds video storytelling pins, we share tools to drive social media success, and more.
Hello, communicators:  
Wells Fargo's chief executive, Charles Scharf, apologized for his comments that the bank wasn't meeting diversity goals because of a shortage of Black talent.
A statement from our CEO regarding the recent media reports: pic.twitter.com/HBdzDxoTdh

— Wells Fargo (@WellsFargo) September 23, 2020
In a memo to employees released by the bank, Scharf apologized for what he was was "an insensitive comment reflecting my own unconscious bias."

"There are many talented diverse individuals working at Wells Fargo (WFC) and throughout the financial services industry and I never meant to imply otherwise," he wrote. "It's clear to me that, across the industry, we have not done enough to improve diversity, especially at senior leadership levels. And there is no question Wells Fargo has to make meaningful progress to increase diverse representation."
The mea culpa underlines the importance for communicators to work alongside DE&I experts to forward initiatives within their organizations, as well as increase accountability to commitments.
Here are today's top stories: 
Uncle Ben's changes to 'Ben's Original'
Mars announced a name change and visual overhaul to its rice brand:
We listened. And we learned. Moving forward, Uncle Ben's will be known as Ben's Original™. Read our full statement to find out more about our brand's new purpose to create opportunities that offer everyone a seat at the table: https://t.co/0tSE0lnMa1 pic.twitter.com/741JQU1qTI

— Ben's Original USA (@UncleBens) September 23, 2020
New packaging will be available in stores next year.
In a statement, Mars wrote:
We will change our name to Ben's Original™ as well as remove the image on our packaging to create more equitable iconography. This change signals our ambition to create a more inclusive future while maintaining our commitment to producing the world's best rice.

The company's new DE&I initiatives include community outreach programs to help underserved communities get nutritious food, a partnership with National Urban Leage to give scholarships to Black chefs, and educational opportunities for more than 7,500 students in Greenville, Mississippi, where Ben's Original is produced.
Why it's important: Though critics say that changing the name and logo of a brand doesn't solve systemic racism, doing so shows that you're listening to your consumers and employees and are ready to change. The rebrand will be the external symbol of Mars' commitment to increasing racial equality, but its communications and DE&I pros have a lot of work to do now to prove meaningful efforts behind the packaging change.
---
SOCIAL BUZZ
Pinterest is jumping on the video storytelling bandwagon, imitating other social media platforrms with "Story Pins."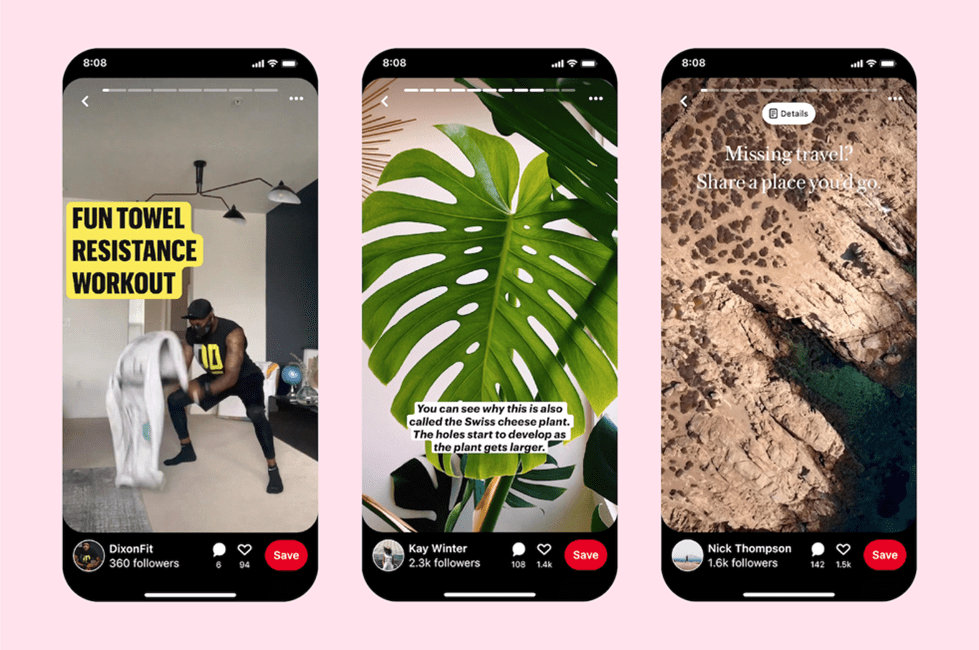 The feature is currently in testing and will accompany a new creator profile as well as analytics tools to track performance. The content format enables creators to "tell dynamic and visual stories with videos, voiceover and image and text overlay." Users can also react to these pins "with a range of positive reactions like 'Great idea,' 'Love,' 'Wow,' and 'Thanks.'"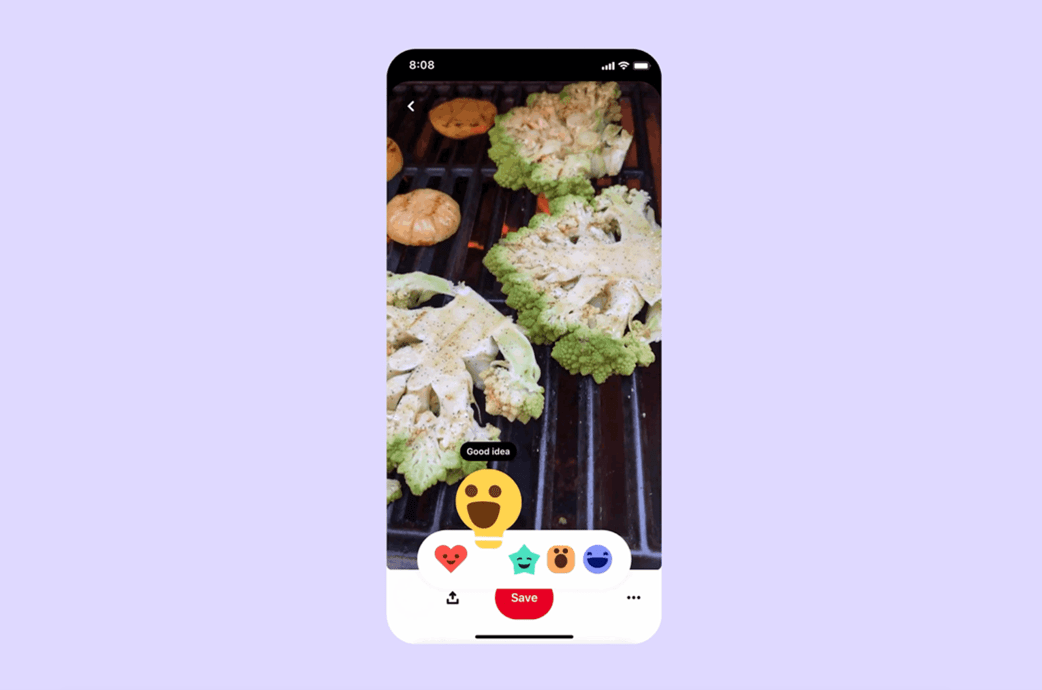 Pinterest is the latest social media company to adapt the format. Snapchat innovated the feature in 2013, and Facebook's Instagram copied it in 2016. More recently, Twitter this year introduced its own version — "Fleets." Similarly, LinkedIn began testing its own stories feature in certain markets this year.
With social media platforms clamoring for similar features and users taking to the content format, communicators should hone their visual storytelling prowess to rise to the demand.
---
MEASURED THOUGHTS
Citi Global Perspectives & Solutions' report, "Closing the Racial Inequality Gaps: The Economic Cost of Black Inequality in the U.S.," revealed the impact racism and lack of diversity in the workplace has on the economy's bottom line.
In a press release, Raymond J. McGuire, vice chairman of Citigroup and chairman of banking, capital markets and advisory at Citi, said:
Racial inequality has always had an outsized cost, one that was thought to be paid only by underrepresented groups. What this report underscores is that this tariff is levied on us all, and particularly in the U.S., that cost has a real and tangible impact on our country's economic output.
The report broke down the cost of wage gaps, housing and higher education access, as well as fair and equitable lending practices: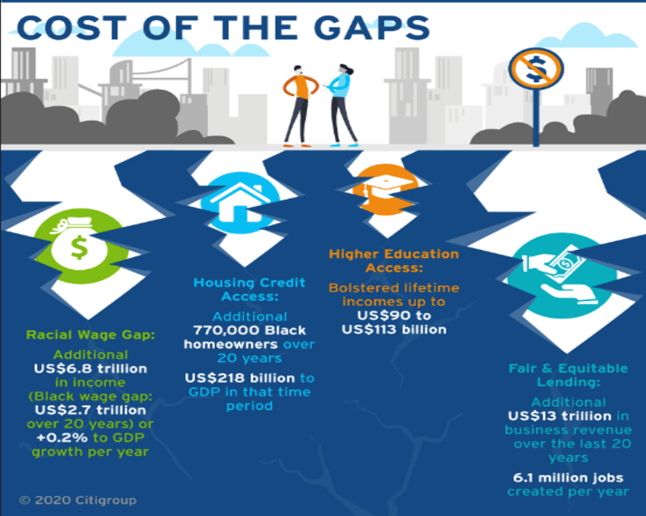 Citi also reported how much closing those gaps would bring to the U.S. economy as well as the global bottom line: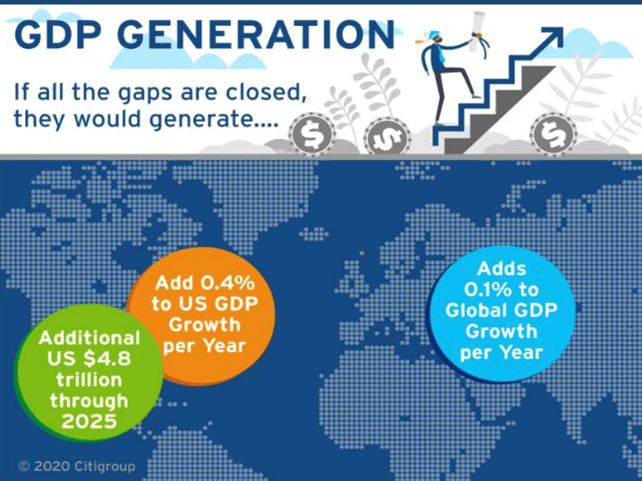 The financial institution said organizations can do their part by recruiting more Black board members, fixing barriers to diverse hiring efforts, getting executives to support DE&I initiatives and more: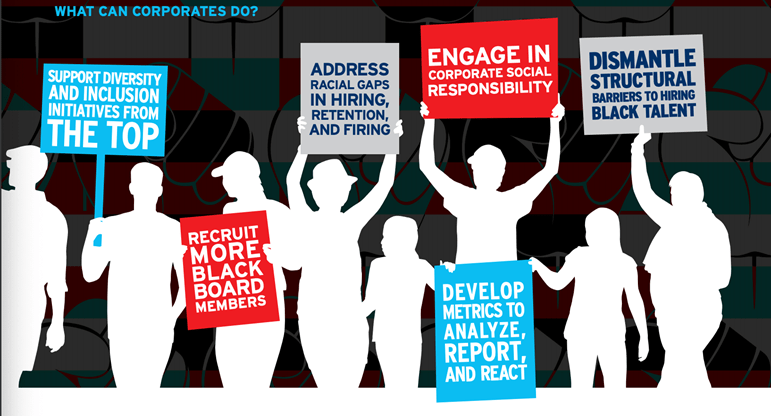 Consider how you can underline metrics and data when presenting the business imperatives behind your DE&I suggestions.
You can read the entire report from Citi here.
---
CRISIS LEADERSHIP NETWORK
Looking for more insight on how to address the current global crisis and lead your organization into a strong recovery?
Join Ragan's Crisis Leadership Network to network and brainstorm with peers, get the latest intelligence and research and start to strategize for the future of your organization.
Learn more about this exclusive membership here. 
Walmart to hire 20,000 seasonal employees for digital-first Black Friday
The retail chain announced it's adding to its fulfilment teams to help meet holiday shopping demands—and that means offering Black Friday and other deals early and online. Walmart said it's also increasing availability for athleisure, loungewear, exercise equipment and pet products—all items that consumers have purchased more during COVID-19.
In a press release, Scott McCall, executive vice president and chief merchandising officer for Walmart U.S., said:
Over the past six months, our customers have been shopping differently, and we expect that will continue into the most important shopping season of the year—the holidays. We've heard from our customers that many plan on starting their holiday shopping well before Black Friday and that they're looking for gifts that fit their current lifestyle. So, we've adjusted our strategy to adapt to these new shopping preferences—we're offering more of what they want now, earlier than ever, and all at the best prices.
Why it's important: Walmart also highlighted its safety efforts for consumers wanting to shop in-store, such as requiring face masks and keeping plastic barriers in place at checkouts and pharmacy windows. However, as more organizations prepare for the holiday season, you should aim for digital-first offerings, content and messages, as many consumers will remain at home.
---
DOWNLOAD OUR REPORT
Though 70% of communicators are not looking beyond 2020 in terms of strategic planning, they also don't expect our current state of crisis to ease up by the end of the year. Operating in a constant state of crisis and rapidly responding to events throughout the world are top challenges for communicators, our recent report, Ragan Survey of Internal Communicators, revealed.
The survey sheds light on top challenges, with insights including top issues, what the "return to the office" looks like, which departments internal communicators will collaborate with the most and more.
To learn more about how to rise to the challenges facing organizations across industries, join us at Ragan's Internal Communications & Employee Experience Virtual Conference on Oct. 14. You'll learn from internal and employee communications experts from National DCP, Deloitte, Charles Schwab, American Psychological Association and more.
---
EDITOR'S PICKS
Consumers are turning to social media platforms more than ever before during COVID-19, and they're looking to connect to brands for information and solutions. Now is the time to hone your prowess when it comes to Twitter, Facebook, Instagram, TikTok, Pinterest, YouTube and more.
These can help you win with your online communities:
---
WHAT YOU SAID
We asked where you stand on the Oxford comma debate, and nearly 58% of you are staunch supporters of the punctuation mark, despite AP Stylebook guidance calling for it only to add clarity. Thirty-eight percent of you agree with that rule.
The AP Stylebook rule remains the same for the Oxford comma: Don't use it unless it's a complex phrase and/or required for clarity. Where do you stand on the debate?

Share your thoughts with us below and we'll share in tomorrow's #DailyScoop.

— PR Daily (@PRDaily) September 23, 2020
Is there a question you'd like us to ask in an upcoming poll? Let us know!
Editor's note: Ragan Communications may earn a commission through our affiliate partnerships when purchasing items in our content.
COMMENT