Yelp launches alert to stand against racism, JPMorgan Chase commits $30B to advancing racial equality, and Slack launches short-form video feature
Also: 'Sesame Street' and HBO Max address racism in an upcoming family special, Chicago pizzeria turns Netflix dis into marketing gold, where execs stand on purpose, and more.
Hello, communicators:       
"Sesame Street" and HBO Max are helping families talk about racism with an upcoming program titled, "The Power of We: A Sesame Street Special":
Join @Elmo, @AbbyCadabbySST, @YaraShahidi, @ChrisisSingin, @AndraDayMusic and Sesame Street friends Gabrielle and Tamir for The Power of We, airing Thursday, October 15 on @hbomax and @PBSKIDS. #ComingTogether https://t.co/kDGNy6Scd3

— Sesame Street (@sesamestreet) October 8, 2020
In it, the "Sesame Street" characters, celebrity guests and more will "explore their own identities and skin colors and come to understand what it means to be 'color-proud.'"  The Sesame Workshop is also offering viewers downloadable activities, certificates and discussion guides to prepare for the Oct. 15 special.
"We believe that this moment calls for a direct discussion about racism to help children grasp the issues and teach them that they are never too young to be 'upstanders' for themselves, one another, and their communities," said Kay Wilson Stallings, executive vice president of creative and production at Sesame Workshop, in a statement.
Here are today's top stories: 
Yelp launches alert to 'stand against racism'
The crowdsourced-reviews platform announced it would warn users about organizations "associated with egregious, racially-charged actions to help people make more informed spending decisions."
Communities have always turned to Yelp in reaction to current events, and our User Operations team already places alerts on business pages when we notice an unusual uptick in reviews that are based on what someone may have seen in the news, rather than on a first-hand experience.

— Yelp (@Yelp) October 8, 2020
Now, when a business gains attention for reports of racist conduct, Yelp will place a new Business Accused of Racist Behavior Alert on their Yelp page to inform users, along with a link to a news article where they can learn more. https://t.co/1K2bJ46uM8

— Yelp (@Yelp) October 8, 2020
Here's the alert notification, which Yelp will place on any organization's page that is receiving a rise in reviews connected to a comment or action from the business' owner or workforce: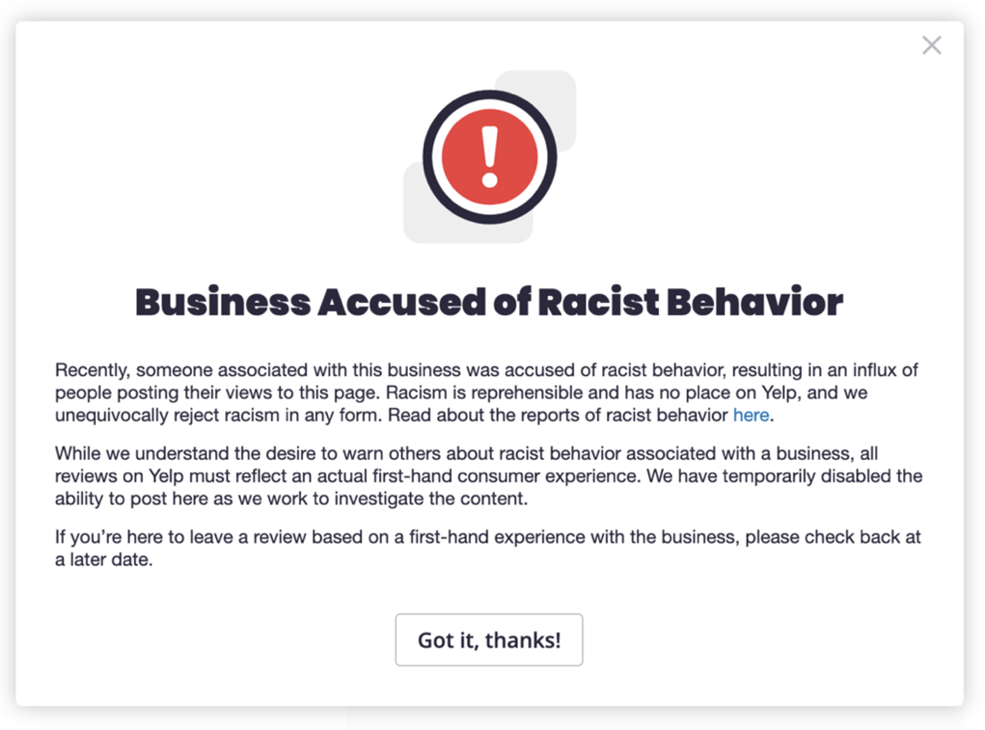 The notification is part of Yelp's zero tolerance policy on racism as well as its efforts to support diversity, equity and inclusion—but the alert is also meant to cater to consumer needs.
In a blog post, Yelp's vice president of user operations, Noorie Malik, wrote:
We've seen that reviews mentioning Black-owned businesses were up more than 617% this summer compared to last summer. Support for women-owned businesses has also increased, with review mentions up 114% for the same time period.

… So far in 2020, we've seen a 133% increase in the number of media-fueled incidences on Yelp compared to the same time last year. Between May 26 and September 30, we placed more than 450 alerts on business pages that were either accused of, or the target of, racist behavior related to the Black Lives Matter movement. We have maintained around-the-clock support over the last few months to ensure that we're maintaining the trust and safety of our users and business owners.
Why it's important: Think about how your products and services can help support the cause of racial justice beyond your content strategy or communications efforts. Organizations that can point to concrete actions on the issue of race will be able to cultivate trust around a topic that has become more essential for many Americans.
---
TACTICALLY SPEAKING
Chicago-based pizza chain Lou Malnati's Pizzeria had several choice words for the writers of Netflix's "Emily in Paris" series after the show's main character compared the restaurant's deep-dish pizza to a "quiche made of cement." 
Emily in Paris thinks Lou's sucks. We disagree. Try it for yourself. Hate it? #movetoParis 🍕
.
.
.#emilyinparis #deepdishstrong #malnatistrong #loumalnatis #legendarydeepdish #incrustwetrust pic.twitter.com/iHBVeoQjM3

— Lou Malnati's Pizza (@LouMalnatis) October 6, 2020
The chain's press release and tweets quickly made headlines after Lou Malnati's Pizzeria issued a strongly worded press release.
"We've been serving Chicago's favorite deep dish since 1971. When Netflix's 'Emily in Paris' writers chose to take a shot at Chicagoans and our pizza to try to get a laugh, it felt heartless and not humorous in the midst of Covid-19," Marc Malnati said in a statement Lou Malnati's representatives released Wednesday.
The statement also read: "Malnati's is always the first to participate in good-natured banter with pizza lovers from New York or California. However, it feels especially unkind to disparage anyone during these difficult times, given that most restaurants are struggling to hang on."
The pizza chain took advantage of the growing conversations by offering consumers a discount—and later moved to bury the hatchet by offering actress Lily Collins a pie:
To say "merci" for keeping us #ChicagoStrong we're giving you $5 off a Tastes of Chicago shipped 4 or 6 pizza pack! Place your order by Wednesday, October 14th and use code TCXCHISTRONG at checkout. P.S. #emilyinparis doesn't get any. #shippizza #lous https://t.co/VPUL30SpBI pic.twitter.com/CcaINpf9V3

— Lou Malnati's Pizza (@LouMalnatis) October 7, 2020
Thanks for the love, everyone! ❤️

We've simmered down some & we're thinking this was all a big misunderstanding, right @lilycollins? We know you were just delivering your lines. Let's call it a truce over some deep dish. Tell us where to send it! 🍕#emilyinparis #loumalnatis pic.twitter.com/uKBRyEyd4p

— Lou Malnati's Pizza (@LouMalnatis) October 8, 2020
---
MEASURED THOUGHTS
Porter Novelli's "Executive Purpose Study: Leadership, Action & Accountability at the C-Suite" revealed that 76% of executives acknowledge the role organizations play in "perpetuating systemic racial inequality and are committing to action now more than ever." Seventy-one percent believe that in order for an organization to be purpose-driven, it must "take risks that address social justice."
Executives' beliefs are aligning with the average U.S. consumers' as well—a good sign, provided the 33% of executives that are nervous to discuss their past missteps or biases within their organizations don't allow that fear to deter purpose-driven efforts.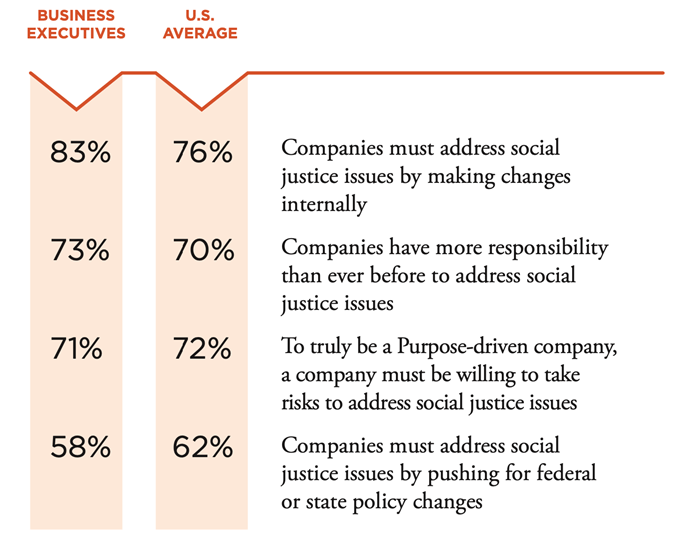 Image courtesy of Porter Novelli.
You can read the entire report here.
---
CRISIS LEADERSHIP NETWORK
Looking for more insight on how to address the current global crisis and lead your organization into a strong recovery?
Join Ragan's Crisis Leadership Network to network and brainstorm with peers, get the latest intelligence and research and start to strategize for the future of your organization.
Learn more about this exclusive membership here.
JPMorgan Chase to donate $30B to address racial wage gap
The bank's contribution is the largest committed by an organization to fight systemic racism and inequality within the United States, and will be delivered over the next five years "to provide economic opportunity to underserved communities, especially the Black and Latinx communities."
The programs include financing affordable rental units, creating mortgage loans for Black and Latinx households, helping those households obtain lower mortgage payments, adding small business loans, opening up more low-cost checking and savings accounts and hiring more diverse talent to "build a more equitable and representative workforce."
In a press release, Jamie Dimon, JPMorgan Chase's chairman and chief executive, said: 
Systemic racism is a tragic part of America's history. We can do more and do better to break down systems that have propagated racism and widespread economic inequality, especially for Black and Latinx people. It's long past time that society addresses racial inequities in a more tangible, meaningful way.
Why it's important: If you're looking to make an impact with donations on the cause of racial equity, JPMorgan just set a high bar at $30 billion. Even if you don't have vast resources to put behind your DEI commitments, don't be afraid to put a concrete number on your promises. Only by setting measurable goals will you be able to build trust on this issue.
---
DOWNLOAD OUR REPORT
Though 70% of communicators are not looking beyond 2020 in terms of strategic planning, they also don't expect our current state of crisis to ease up by the end of the year. Operating in a constant state of crisis and rapidly responding to events throughout the world are top challenges for communicators, our recent report, Ragan Survey of Internal Communicators, revealed.
The survey sheds light on top challenges, with insights including top issues, what the "return to the office" looks like, which departments internal communicators will collaborate with the most and more.
To learn more about how to rise to the challenges facing organizations across industries, join us at Ragan's Internal Communications & Employee Experience Virtual Conference on Oct. 14. You'll learn from internal and employee communications experts from National DCP, Deloitte, Charles Schwab, American Psychological Association and more.
---
SOCIAL BUZZ
Slack is rolling out its own short-form video feature, similar to Snapchat, Instagram, Facebook and more:
What if, instead of attending a lengthy video call, you could watch a quick update on your own time? 🎥 #SlackFrontiers pic.twitter.com/7mH5bJcaVC

— Slack (@SlackHQ) October 7, 2020
What if you could recreate ad hoc office talk, right in your own Slack channels? 🎙 #SlackFrontiers pic.twitter.com/uTfxPA1qQg

— Slack (@SlackHQ) October 7, 2020
Imagine the daily standup meeting that happens from 9 to 9:15 every morning. What if you could record your update at 8:53 a.m. and watch the others at 10:51 when it's more convenient for you? This gives people the information and updates they need, with a measure of flexibility that is usually missing in today's setup.
The announcement underlines the necessity of snackable video and visual content, to help quickly relay information and better connect to your audiences—both internal and external.
---
EDITOR'S PICKS
Many communicators are working longer hours as they handle crisis responses and change both campaigns and business models to adapt to changing consumer and employee behaviors. Especially when working from home, the transition between the "office" and after-work responsibilities can be difficult. Strengthen your wellbeing while you strategize.
These items can help:
---
WHAT YOU SAID 
We asked if you use a productivity or time-tracking app, and nearly 18% of you do, while 25% of you want to start. More than 39% block out time within calendars, but 18% of you said you're fine without productivity apps and platforms:
Do use a productivity or time-tracking app as you work from home, PR pros?

Share your insights with us below and we'll share in tomorrow's #DailyScoop.

— PR Daily (@PRDaily) October 8, 2020
Is there a question you'd like us to ask in an upcoming poll? Let us know!
SOUNDING BOARD
How far into the future are you planning your campaigns and strategies?
How far into the future are you planning your campaigns and strategies?

Share with us your thoughts for planning and adjusting amid COVID-19 and other crisis below, and we'll share in Monday's #DailyScoop.

— PR Daily (@PRDaily) October 9, 2020
Share your insights below and under the hashtag #DailyScoop. We'll share in tomorrow's roundup.
Editor's note: Ragan Communications may earn a commission through our affiliate partnerships when purchasing items in our content.
COMMENT
4 Responses to "Yelp launches alert to stand against racism, JPMorgan Chase commits $30B to advancing racial equality, and Slack launches short-form video feature"